In this series, the Chronicle follows multiple riders as they seek to fulfill their FEI World Equestrian Games dreams in Tryon, North Carolina, in 2018. We'll check in with them in the coming months as they pursue a team spot to see how they're getting their horses ready and preparing mentally.
Since they last checked in, Boyd Martin and Tsetserleg competed in their final prep event, the Bromont CIC*** (Quebec). They jumped a clear show jumping round and added 4.8 time penalties to finish on a 37.1 for 12th. Martin won the CIC** on Contestor.
The combinations named to Land Rover U.S. Eventing Team will attend a training camp with Chef d'Equipe Erik Duvander at Will Faudree's Gavilan Farm in Hoffman, North Carolina, beginning Sept. 4. Eventing competition at the Tryon International Equestrian Center kicks off with dressage on Sept. 13.
---
[Bromont] was good. It was a good little wake-up call; he was phenomenal in the dressage at Great Meadow [Virginia], and then he probably didn't give me his most perfect test at Bromont.
The quality was really good; the frame and the way he went was good; I just had lots and lots of little mistakes, which to be honest is a good thing. It's a little bit of a heads up that I need to really, really focus in on the details of the test, and often when you don't do your best test it gives you a bit of a kick in the backside. It wasn't horrible, but it wasn't his best, so I've got a lot of small things I need to work on, and lucky for me it's a different test at Tryon that suits him a bit better. My wife, Silva, is back schooling the horse [on the flat] for me on the odd occasion, which is a big advantage.
The show jumping is probably [his] weaker phase, and he's a bit of an awkward jumper and a quirky type in his training. Our jumping coach Richard Pickens has really been pulling his hair out to find the best system for jumping him, and I think he figured it out. [Thomas']  final jump school before Bromont we kept it a bit smaller. [In the double and the treble [combinations] he gets nervous, so we jumped it really slow and just worked on Thomas' relaxation and didn't push him or try and test him the jump school before, and it really worked.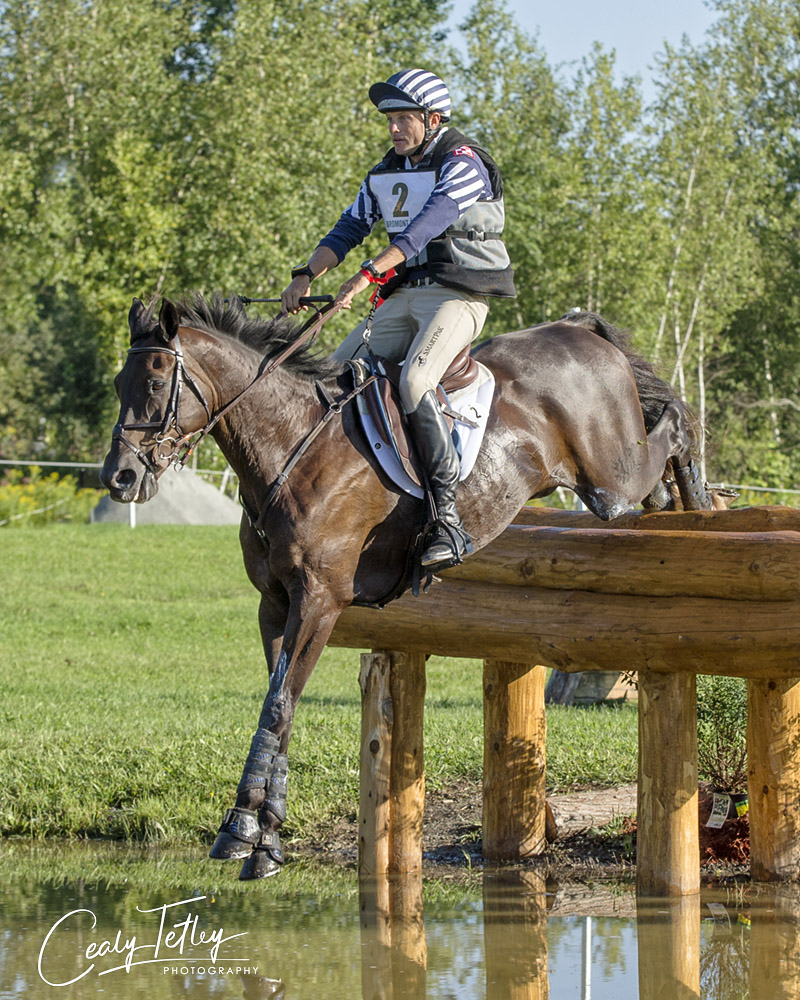 He jumped out of his skin. That was the best round we've jumped on him, so I was really, really pleased, and I think we've got a great formula for our jump schools leading into Tryon.
It was a good [cross-country] course. It was a nice, big, brave course, [Derek] di Grazia builds a pretty awesome track there at Bromont. Thomas is still green, so I set out a little bit cautious, and to be honest he jumped really well. He's very brave and bold and keen to the jumps, almost too keen, so I tried to work on balancing him a little bit early in front of the jumps to make sure each jump he got a good feel.
The ground was great; they had some good rain and some of the big galloping areas I opened him up and stretched his legs, so he came in with 4 time penalties, which was about my plan, but [it was] encouraging to see because I really felt like I rode him slow and cautious, and he could have easily made the time. He felt fresh and full of himself at the end.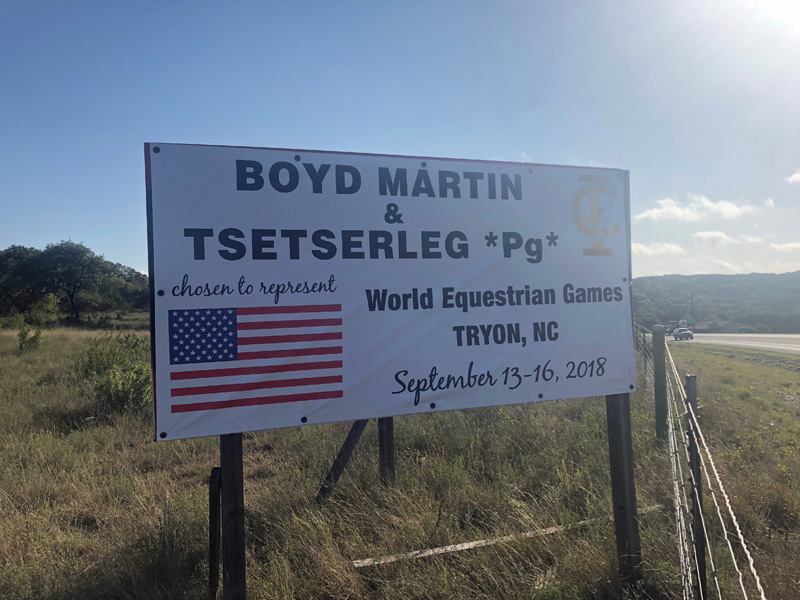 [His owner Christine Turner] has been awesome. Christine has owned this horse from the very beginning, since he was a youngster, and it's just awesome for her and the horse that he's getting this opportunity to be on the team. I think a lot of people didn't believe this horse would become what he is, but Christine believed in him from the beginning and is so supportive. 

Back To Normal
[Our new son, Leo was] in intensive care at the University of Pennsylvania. [He was was released Aug. 29.]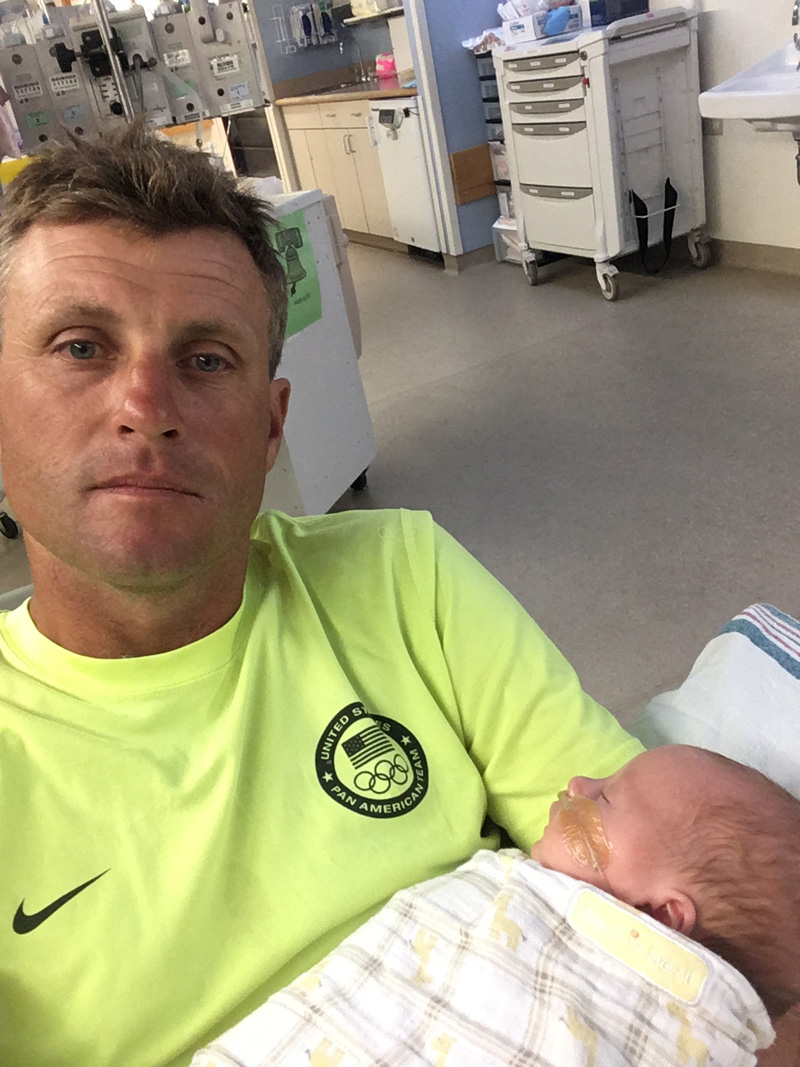 Silva [was leaving] the house at about 5:30 a.m. and headed straight into the hospital and was there until about 3:00 and then came home to teach and ride a bit. I finish my riding at about 4:30-5, and then I jump in the car and do the evenings in the hospital. [I'd stay] there until about 10 at night and come back and get some sleep and same schedule the next day. It [was] quite a brutal schedule, and it's been bit tough honestly.
It's Nearly Go Time

We're having a big cross-country school at my farm this week, I think with Phillip [Dutton] and Erik. The biggest thing with Thomas is his rideability; he gets a bit brave at the beginning and gung ho.
I think I've got him really fit. I've been galloping this horse more than I've ever galloped a horse before, and he's very fit, so I think if I have trouble cross-country it will be with a run-out at one of the accuracy questions. He's very bold, and he fights me when I try to slow him down a bit.
Watch Thomas and Boyd (red shirt) galloping:

The key is not to make [our final schools] too difficult for him. We want him confident and don't overface him at the bigger fences but do a couple of these turning questions to skinnies and corners to really make sure he's thinking when he's going cross-country, [and] he doesn't just switch off and go as fast as he can. He's got to come back to me and listen and not be too brave.
We've been swimming him once or twice a week and galloping him up one of the most famous hills in the racing world, Nelson's Hill. It's a big, long, grueling hill, and usually for a four-star I just gallop it twice. This year I've put Thomas up there three times in a session, and he been doing it well. It was a struggle at first, but now he's got it. I galloped him [recently]. He was still pulling me at the end, which is a great sign.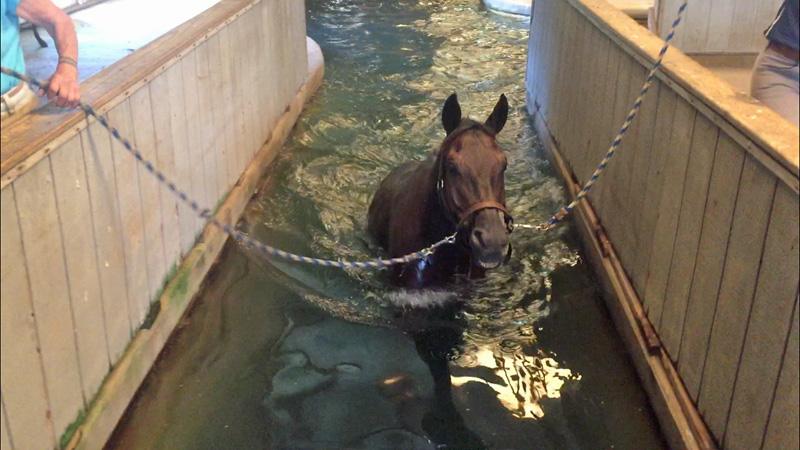 To be honest everyone always tries to figure out what's on the [cross-country] course, but I don't think knowing it actually helps. I don't think if you tried to rebuild what they have there it would make much of a difference. I know Mark Phillips; he likes corners and quite forward distances at the accuracy fences, and then obviously at the end it sounds like there is quite a long hill, you'll want something left in the tank. It's just schooling all the questions. And on Monday we travel down to Will Faudree's to his training facility for the training camp.
All the horses look wonderful and good and strong. Monday we all sort of move in together and live together for a week. We'll probably work out a bit in the morning, and then do training sessions, watch other people's training sessions.
Read all of the Road To The WEG articles with Boyd Martin.
Catch up with our other Road To The WEG riders:
Dressage rider Olivia LaGoy-Weltz
Para-dressage rider Rebecca Hart