After officially making the U.S. Olympic Show Jumping Team with his superstar mare HH Azur on June 29, McLain Ward packed his bags yet again and set off for the prestigious Aachen CHIO in Germany.
Ward brought all three of his top mounts to the event; he won the Prize of StädteRegion Aachen, a 1.50-meter power and speed class, with the versatile veteran HH Carlos Z before contributing to the U.S. team's effort in the Mercedes Benz Nations Cup with Rothchild, in which Team USA tied for second with France. He capped the week with a sixth-place finish in the Rolex Grand Prix of Aachen aboard Azur, rallying from a 4-fault first-round to jump cleanly in Round 2.
Carlos and Rothchild will travel home to Ward's Castle Hill base in Brewster, N.Y., while Azur will remain in Europe until she ships to Rio de Janeiro on August 7. Ward will make his final preparations at Azur's co-owner Francois Mathy's farm in Belgium.
It was a good week [in Aachen]. The plan all along with Azur was to jump the big class on Wednesday [the Turkish Airlines Prize of Europe] and then the grand prix. She jumped super [in the first class] and just had a time fault. I wasn't pushing very hard to make the time allowed, so that was fine.
In the grand prix, I actually think "Annie" was in great form. She was ready to win.
It was a funny class. They had a very difficult time allowed, and late in the course, I had a checkpoint where I was going to check the clock. I needed to be under a certain number [at that point], and I wasn't, so I had to hustle a bit to the last line, and it wasn't the best set-up.
I ran her into a little bit of trouble coming into the combination, and she made a great effort to fix the problem, but it was a little bit too hard at that point. But she jumped phenomenally again and jumped a brilliant clear round [in Round 2]. [A win] just wasn't in the cards for us on the day.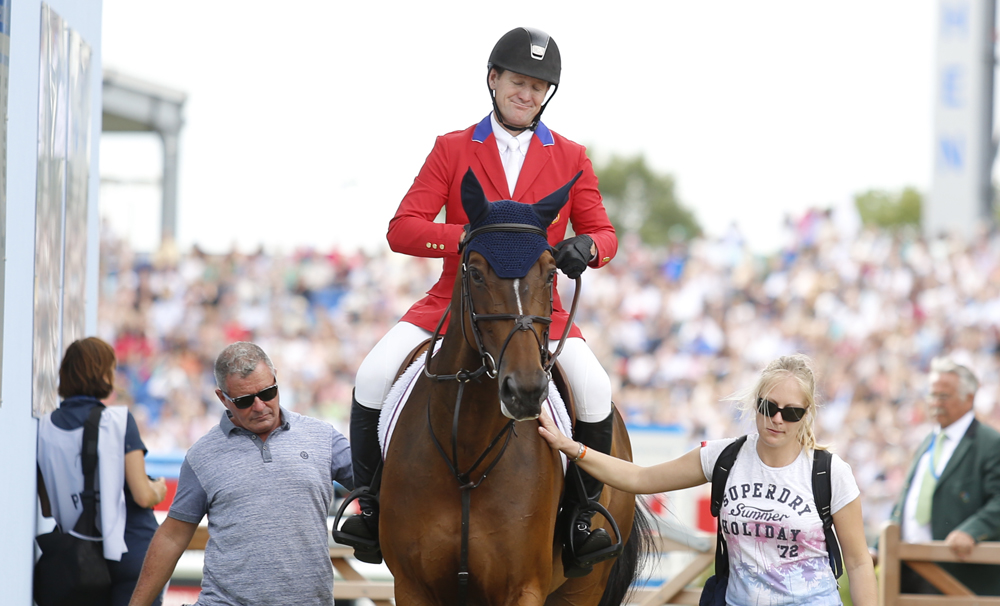 McLain Ward's face said it all as he headed out of the ring on HH Azur after his second round in the Rolex Grand Prix of Aachen with his team Lee McKeever (left) and Kirsty Bond. Photo by Tiffany van Halle
There were the same four riders [in the Nations Cup] as our [World Equestrian Games] team [from 2014]. I think we worked very well together at the WEG and had a great personal relationship and a great deal of respect for each other. I feel 100 percent it's the right team [for the Olympic Games] and the team that earned their spots. I did not see it any differently than [U.S. chef d'equipe Robert Ridland] and the selectors, so I think it's the best team we have to put forward, and I'm very proud to ride with these four other riders.
I'm not going to change much [before Rio]. My horse is ready to go, and I think she's in great form. I came home to New York for a week just to get out of Europe and spend a little time at my farm and with my family and with some other horses. Then I'll go back and have a nice week to 10 days to ride [Azur], but we're pretty much ready to go.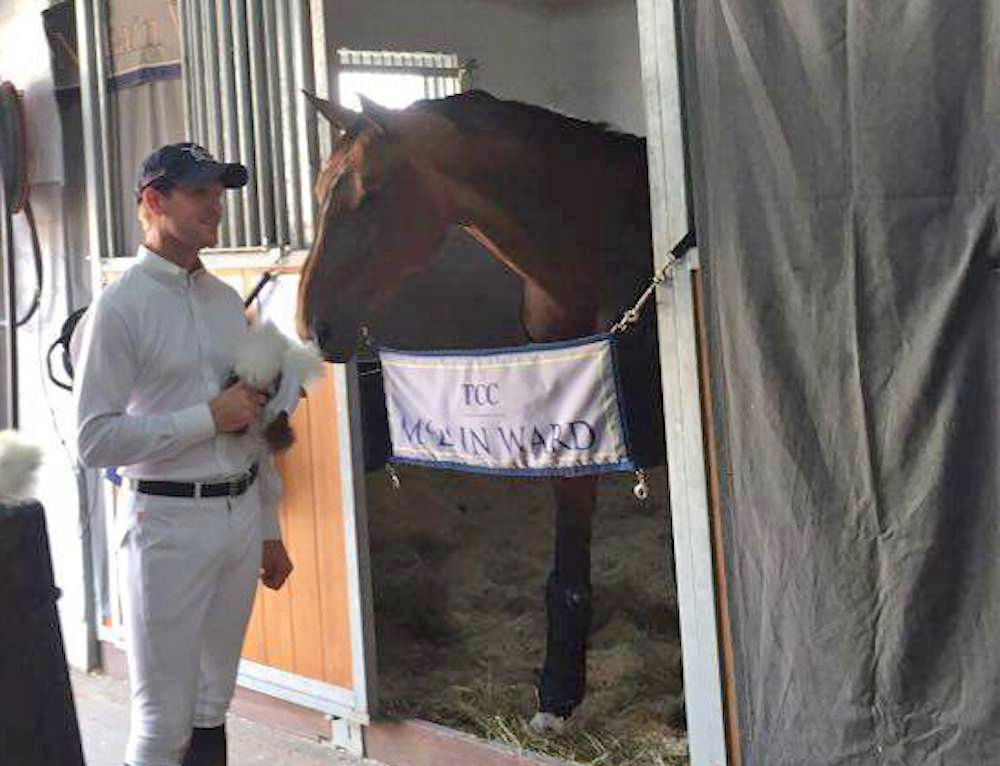 Hanging out with HH Azur back at the barn at Aachen. Photo by Kirsty Bond
There are some pretty difficult quarantine restrictions with Rio, so, in the end, it worked best for everyone to stay in their "home" location and do their quarantine. We'll meet up and we'll travel together. The horses will leave Sunday [Aug. 7], and we leave on the following Monday.
I honestly think if the [Olympic] Games were this week, [Azur] would be ready to go. There's not anything to be done between now and then.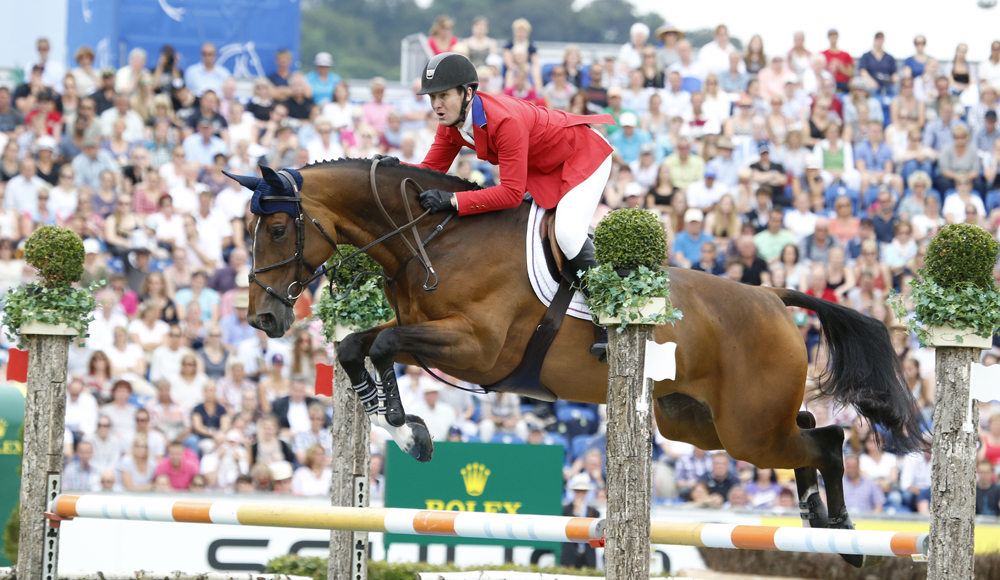 McLain Ward and HH Azur in the Rolex Grand Prix of Aachen. Photo by Tiffany van Halle
We had a plan for more than a year and a half aiming toward this—maybe two years—and the plan came along incredibly well. That's a credit to, first and foremost, the mare, and, secondly, to my team of people—the blacksmith, the vets, the grooms, the barn managers, everybody involved—and it's a testament to their professionalism.
Now, we're down to the moment. It's going to come down to a few things: my performance being up to scratch for [Azur]… and a little bit of good fortune doesn't hurt either.
[Azur] has a great deal of blood, so she's not going to run out of gas [in Rio]. She can handle the multiple days of jumping, and, as we all know, she's an incredible talent, so you certainly need that.
I think the reality is, without being too harsh—as someone said to me earlier this year—this is my moment to win the Olympics. If I don't pull it off this time, it's probably not going to come around like this again. I realize that. I know what I'm sitting on, and I know what the situation is, but I'm also confident that we're going to go [to Rio] and be the best that we can be.
Obviously, I hope that it comes off, and if doesn't, it won't be from any lack of preparation, planning or effort. I don't think we've left anything on the table.
It's the reality of it, and when you have a great partner like Annie and a great team behind you, that's realistic. That's what it is, and you need to be aware of that, and then you put it in the back of your mind and try to do the job.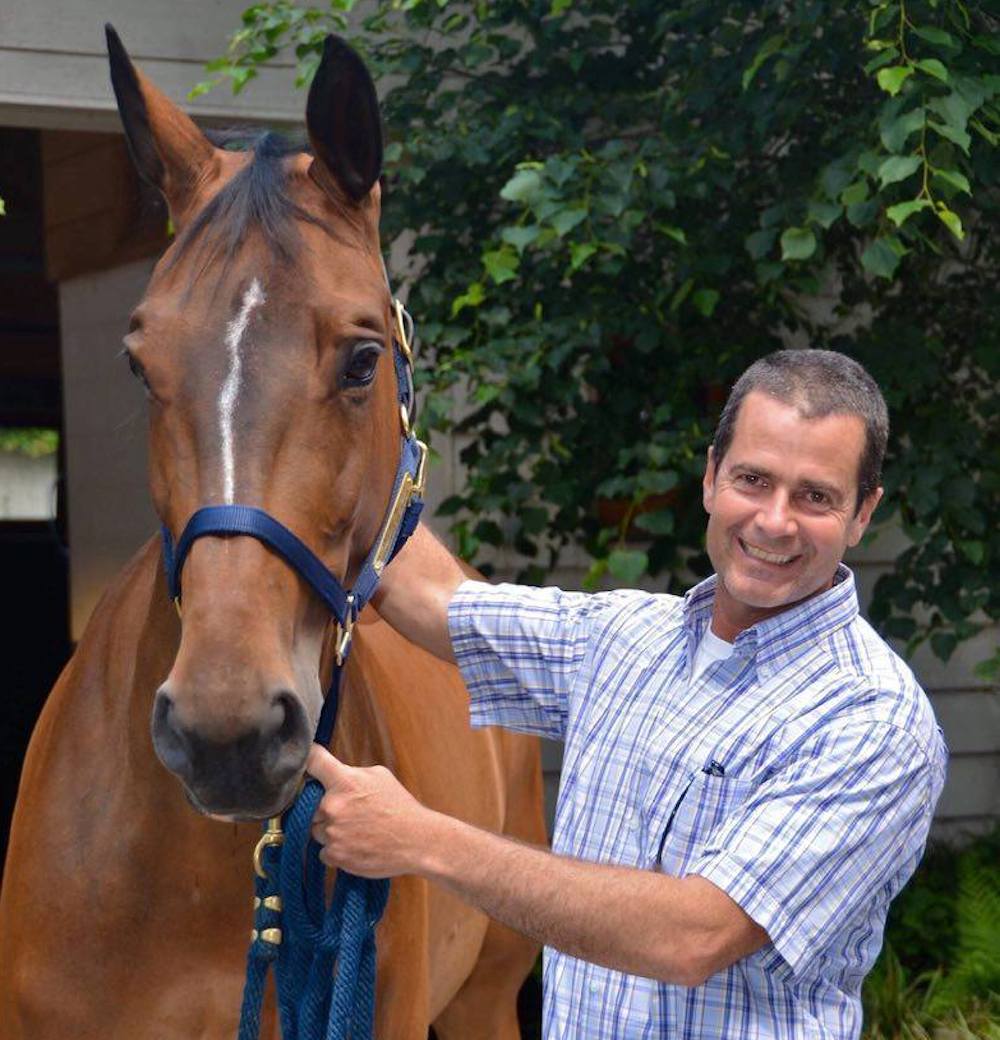 Pedro Nolasco, who brought Azur up and showed her early in her career, visited with her. Nolasco is married to Nathalie Beaufort, who is Azur's listed breeder. Photo by Nathalie Beaufort
I have to say, I probably was [excited], and I'm a bit calmer after Aachen—maybe I'm just tired. But we were a little bit focused on that grand prix. That was certainly a goal along the way, and I'm not going to say we're not a little disappointed not to win it.
About McLain Ward and HH Azur
Home base: Castle Hill, Brewster, N.Y.
Azur's stats: 10-year-old Belgian Warmblood mare (Thunder van de Zuuthoeve—SIon van de Zuuthoeve, Sir Lui)
Azur's owners: Double H Farm and Francois Mathy
Big Performances in 2016:
1st— $380,000 Suncast Grand Prix (Fla.), Feb.
2nd—$500,000 Rolex Grand Prix (Fla.), April
2nd—$500,000 LGCT Grand Prix of Miami Beach (Fla.), April
1st—Loro Piana Grand Prix of Rome, May
3rd—Longines Grand Prix of Rotterdam, June
6th—Rolex Grand Prix of Aachen, July
It's interesting; when you're going well like this, when you don't win—I think we had two classes with Carlos that he almost won, and he won the other, and Azur was a hair from winning the grand prix—you leave feeling a bit disappointed. It was not the week I intended to have.
But sometimes that's also a good going into a championship. It sharpens everybody up, and it kind of takes the focus off the result and more on just doing the job.
In this series, the Chronicle followed six riders as they sought to fulfill their Olympic dreams in Rio de Janeiro in 2016. We checked in with them every few weeks as they pursued a team spot, seeing how they got their horses ready and prepared mentally.
Read all of the Road To The Olympics with McLain Ward
We also followed:
Eventer Phillip Dutton and his groom Emma Ford
Dressage rider Kasey Perry-Glass