Laura Graves and Verdades tacked up for their first show since the winter season in the CDIO5* at Compiègne, France. There, they finished second behind teammates Kasey Perry-Glass and Goerklintgaards Dublet in the CDIO5* Nations Cup Grand Prix. They'll compete in the Roosendaal CDI4* (the Netherlands) held June 1-5 and then will compete in the mandatory observation event at Rotterdam (the Netherlands).
I shipped [to Europe] on the 12th [of May]. Before we left for the show we were barely there a week, and he shipped great. We could not have had an easier flight, so he was certainly ready to go.

Diddy having a snooze.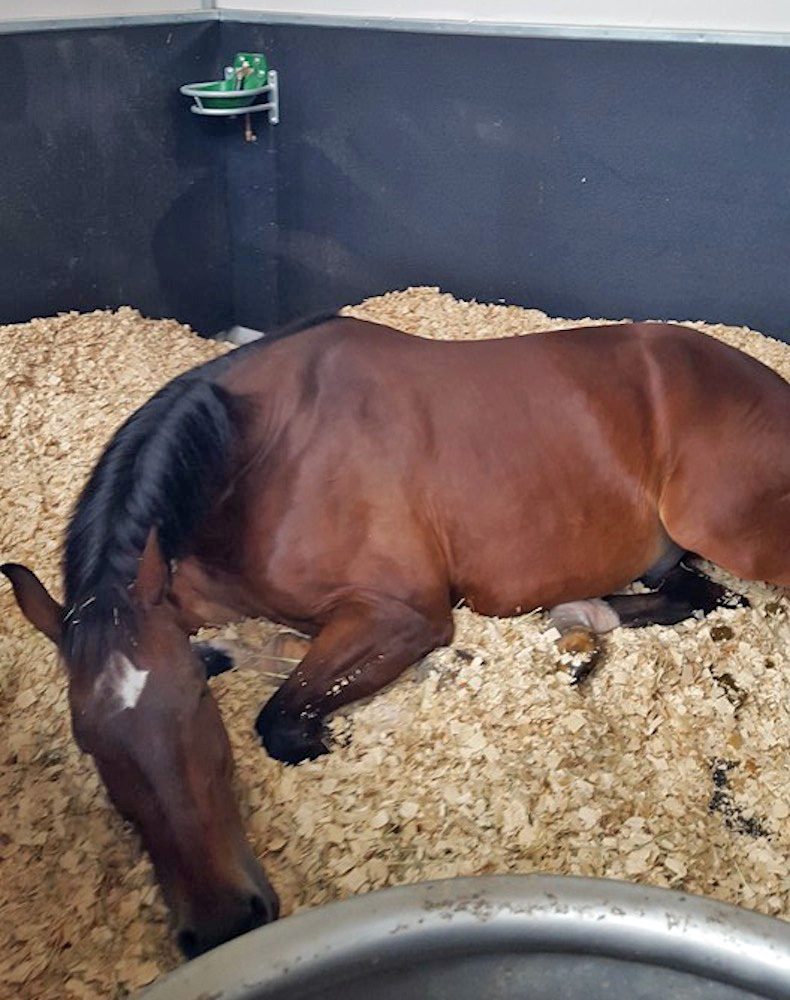 We had a terrific show [at Compiègne]. You know the weather was really difficult [with a lot of rain, which caused the Grand Prix Special to be canceled]. It was amazing, they ended up pinning us as the winners, but it was a little disappointing because we were all so much looking forward to riding the next day, and we just didn't have a chance to. But we're all very grateful to the organizers who made that call on the behalf of the horses because we certainly aren't going to jeopardize our top horses this year.
About Laura Graves And Verdades
Home Base: Orlando, Fla.
"Diddy's" Stats: 14-year-old Dutch Warmblood (Florett AS—Liwilarda, Goya) bred by Herveld P. Crum, owned by Laura Graves.
Big Performances In 2015:
1st—Team, Pan American Games (Toronto)
2nd—Individual, Pan American Games (Toronto)
4th—Reem Acra FEI World Cup Dressage Final (Nev.)
1st—Dutta Corp./USEF Grand Prix Dressage National Championship (Fla.)
We got lucky and it was really nice and pretty warm during the Grand Prix. I think it got into the 70s for the Grand Prix on Saturday and then of course Saturday night the skies just opened up, and it continued all day on Sunday.
It was too bad, but I think it was an exciting performance for us to show what we've been hiding. Obviously everyone's priority was putting in a good performance for the team.
[In some non-championship Nations Cups, all riders do the Grand Prix with a drop score and then two riders go onto the Special and the other two ride in the freestyle. Both scores from the Special and the higher freestyle score counts for team medals.]
It's a lot more planning and having a strategy rather than everyone having to go full tilt for three days, so there was absolutely no individual portion of the competition, which is really nice.
I think it's great. It's certainly nice when we're able to compete in Nations Cups without tiring our horses out having the three-day format. That's more of a marathon, so that does test [fitness]. You see some horses that are maybe not so fit that struggle to get through a longer competition, but it's nice not to have all of them to be so lengthy.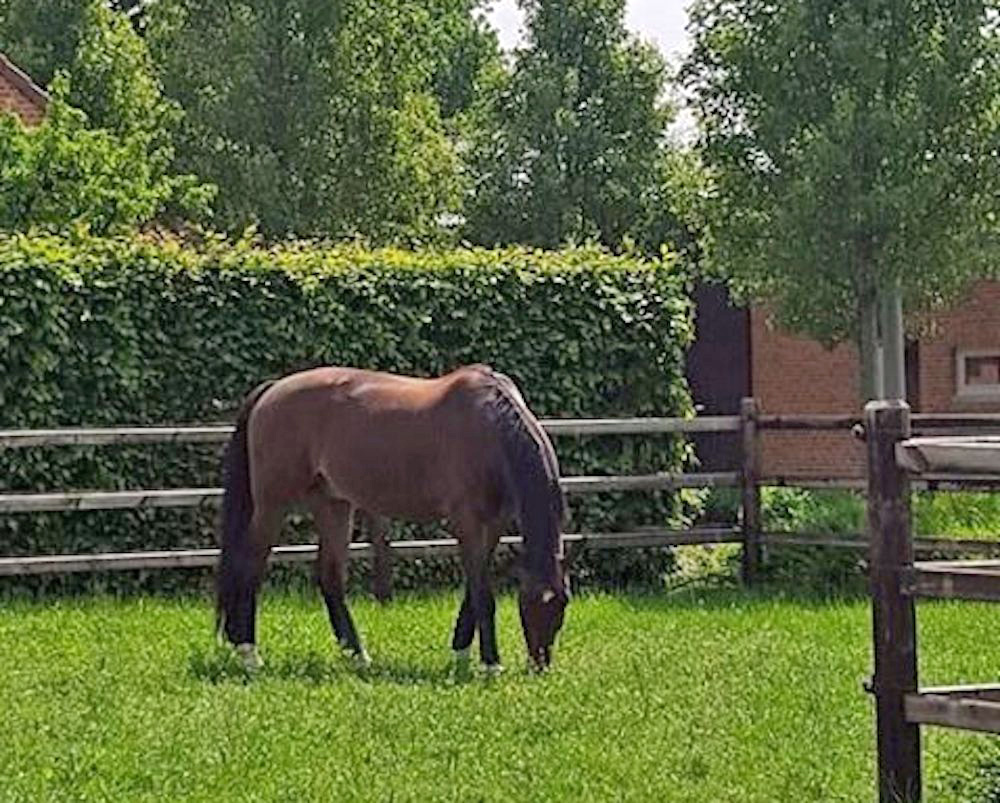 Diddy relaxing.
The [Special has been a highlight for Diddy] for a while. I think there's something to be said about putting in a strong performance in the Grand Prix, and the judges are kind of looking for you to have a good ride. [The Special] tends to be a good test for him. It has a lot of transitions, and it's a nice powerful test for him. If you have a powerful horse, it's a good test to show off.
Finding That Sweet Spot
Every show is so different. Obviously people expect the global events and venues to freak the horses out with all the people. This crowd was very close to the arena—very, very close, and kids were running around and rolling down the test. Every horse is so different—it doesn't seem to be that the bigger venues get to my horse as much as he wants to stop and look and be like, "You're not supposed to be there!"
But we're working on it. Everything's a schooling opportunity, so no matter what happens or where we compete, we aim for having his full attention. I'm looking forward to maybe trying a couple of new things [at Roosendaal]. Just trying to see the best strategy for keeping his attention.
He's so fit. This horse gets so incredibly hot—which is fun, don't get me wrong—but it's borderline when it gets a little too far, and I have to sacrifice a score. I just don't want to put my team in that situation where they can't count on me.
It's great [being able to focus on just Diddy]. For the first time ever I actually have a professional groom [Alex Levine-Nevel] who's traveling with me.
It becomes mandatory at a certain point [to have a groom], like at Olympic Games, World Games. I learned the hard way that bringing someone on last minute is not always the best way, because I like to do a lot of the work myself, and I don't mind cleaning my own stalls and taking care of my own horse.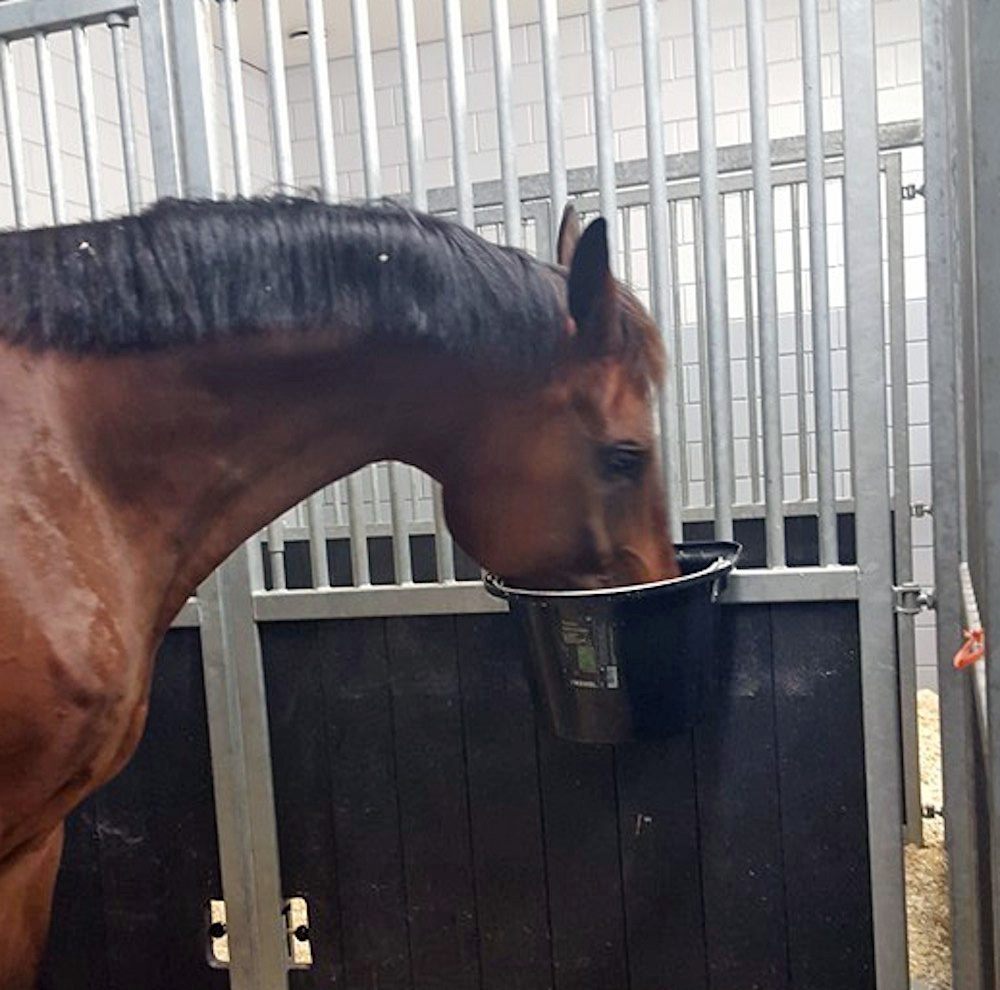 Diddy digging into dinner.
I love that part of it, but when it comes to a big international show, it's the kind of show where I will need someone to hand my horse off to. Even though that's not my preference, that's sometimes just the fact of the matter, so we're just kind of using this time to get into a routine.
In this series, the Chronicle follows six riders as they seek to fulfill their Olympic dreams in Rio de Janeiro in 2016. We'll check in with them every few weeks as they pursue a team spot, seeing how they're getting their horses ready and preparing mentally.
Read all of the Road To The Olympics with Laura Graves
We're also following:
Eventer Phillip Dutton and his groom Emma Ford
Dressage rider Kasey Perry-Glass