The CDIO***** at Rotterdam (the Netherlands) marked the final observation event for those hoping to be named to the dressage team for the Olympic Games. Laura Graves and Verdades led the U.S. team to second behind the Netherlands in the Nations Cup by turning in a 76.30 percent in the Grand Prix for second individually and winning the Grand Prix Special on a 77.31 percent.
The following Monday they were named to the U.S. Dressage Team for their first Olympic Games.
It's a big relief [to be named to the team] and I think when we get to Rio it will be more of an excitement. I'm not the kind of person who struggles with a ton of nerves. I just say, 'You know, you're going to do the best you can everyday where we're all out there to do that," and I know my teammates are the same way. They're going to ride the very best they can. You can't fault anyone for a mistake because it could happen to you tomorrow.
You know, we are all still playing catch-up from Rotterdam. It was such long week and we had owners and family in town, so yesterday afternoon [trainer] Debbie McDonald and I drove to Brussels and we dropped someone off at the airport, and we had dinner up there and then we drove back.
We're all kind of catching colds now that the adrenaline is gone, so we're all just finally trying to rest. [Tuesday] we did laundry all day and a grocery shop. There isn't been much celebrating; we did all have mimosas.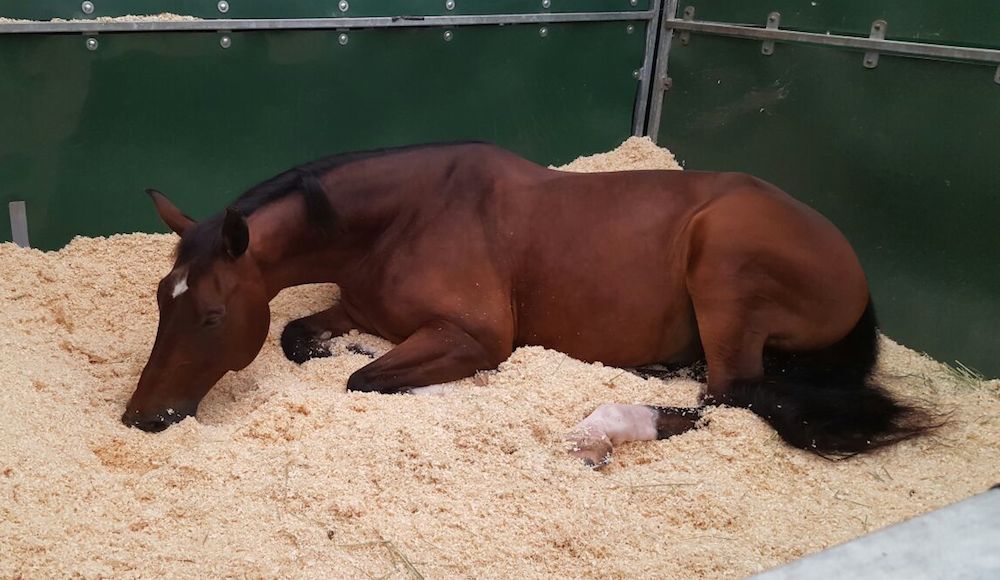 Verdades napping. Photo courtesy of Laura Graves
It's a long process here after Rotterdam where the selectors and committees get together and the selectors suggest who they think should be on the team and then it has to be approved by a number of other committees. So they went through that process and called a meeting. Kathy Connelly, who is the chief selector, was here, so we sat down and had a private meeting on Monday morning where they informed us of the decision.
[The team horses will spend most of July in Europe and will fly directly to Rio with many of the European horses.]
It's a long trip no matter where you come from. If we came back to the States it doesn't really make it an easier trip to get there so there's really no point.
Reflecting On Rotterdam
I'd never been to Rotterdam before. I'd been to watch other teams, but I'd never competed. It was amazing.
I've always felt like the standard of competitions in this world—you have Aachen, and Rotterdam is right up there as far as the best competition in the world goes. It was an honor to be invited and selected for the team. It was great.
To go give the Dutch A team a run for their money and beat some of them on Saturday—it really gives an exciting feeling moving forward.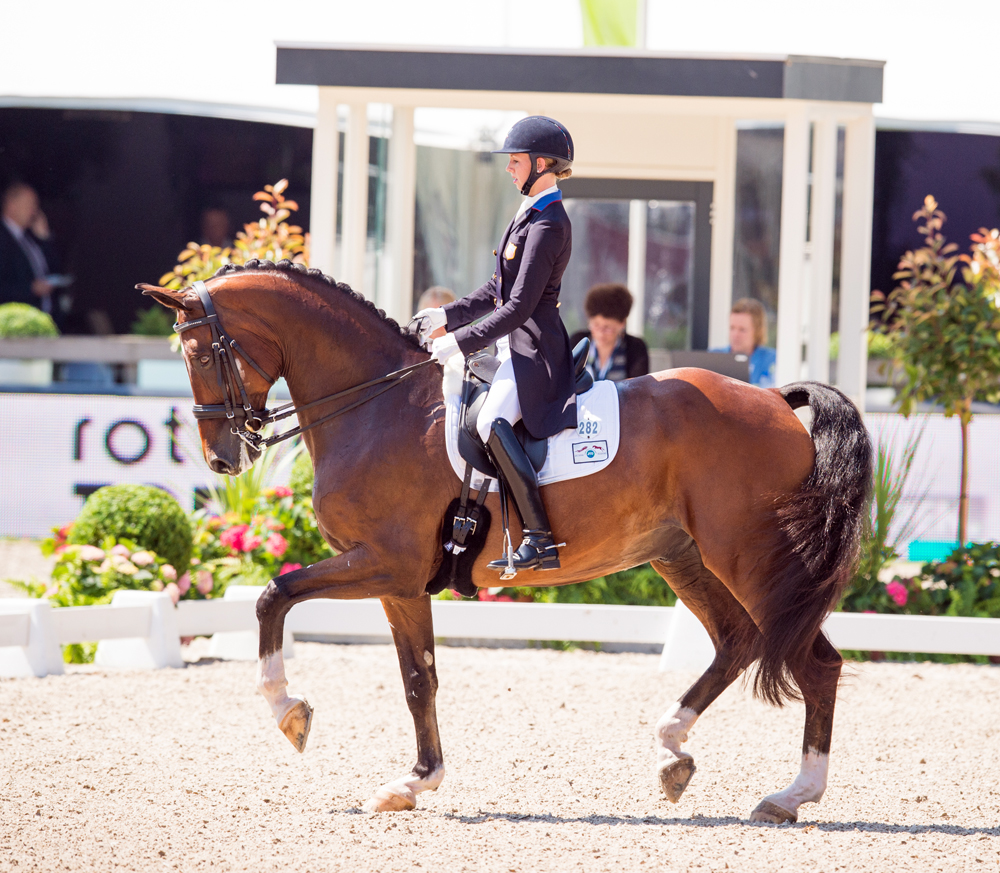 Laura Graves and Verdades competing at the Rotterdam CDIO. Photo by Shannon Brinkman
The stadium is similar to Aachen as far as the size and the distance from the arena to the stands. It was a venue that my horse really liked, and he likes Aachen as well. He doesn't care too much for the arenas that aren't stadium-like where it's just people on the grass. I learned that about him.
The atmosphere was amazing. It was really special to ride on Saturday, and the stadium was completely packed—from what I heard it was actually sold out. It felt warm even though a lot of those fans were there for the Dutch team. It was really a warm applause that we got and awards were just crazy.
In fact we actually found a loaner horse from this school that's at Rotterdam to ride in the awards ceremony, so I didn't have to take my own horse. The first day I took him in the Grand Prix victory lap, and it was much quieter and he was still moving like a wild man, and I thought I would feel much better knowing he's just safe in his stall than making him come out here and move like that and stress like that.
They were generous enough to find us a horse, and [chef d'equipe Robert Dover and our director Hallye Griffin] said, 'Of Course, we'll do whatever we can.' My awesome groom Alex [Levine-Nevel] went with an hour to go to braid this awards duplicate.
We're really in a fortunate position this year where everyone gets along incredibly well. Even though there are a lot of us this year and a lot of grooms it is a big family. The restaurant [we went to after the Nations Cup] could hardly accommodate us.
With owners and family and all that there were close to 35 people, and it didn't even matter where you sat. You could sit down anywhere and be totally comfortable—people you love and good conversation—everybody just feels that way.
Between Now And Rio
About Laura Graves And Verdades
Home Base: Orlando, Fla.
"Diddy's" Stats: 14-year-old Dutch Warmblood (Florett AS—Liwilarda, Goya) bred by Herveld P. Crum, owned by Laura Graves.
Big Performances In 2016:
1st—Grand Prix Special, Rotterdam, the Netherlands (June)
2nd—Grand Prix, Rotterdam the Netherlands (June)
2nd—Grand Prix, Roosendaal, the Netherlands (June)
2nd—Grand Prix, Compiegne, France (May)
1st–Grand Prix, Grand Prix Special & Grand Prix freestyle, CDIO*** Wellington, Fla., (March)
For me, I finished Florida on such a strong freestyle, and I think because it's the third day of competition, you've already had two chance to present your horse to the judge. If the trend is trending upwards, you just ride that freestyle with confidence and there's a good chance things will go your way because it's consistency, and you are already acquainted with the arena, and we all know our freestyles.
Yes, I would like to practice it, but freestyles are individual. It's a priority, but it's secondary to this team which is 50 percent Grand Prix, 50 percent Special. I would have gladly done it at Rotterdam, but it's a strategy when you only have a two-day Nations Cup, so that's the call we made.
I haven't practiced [my freestyle] here, and we've actually made a couple of tweaks to it. Sometimes it's nice that I get a chance to surprise people with it.
It's funny because I love showing freestyles. There's nothing more fun than showing a freestyle, but I hate practicing them. It's something that I procrastinate until Debbie or Robert forces me to do it because you never feel the same magic when you practice it at home.
You're never completely satisfied. You're off your music and you want to do it again and your horse is tired, and so you're fighting all of these things. We'll practice here before we go to Rio as we will the other two tests.
In this series, the Chronicle follows six riders as they seek to fulfill their Olympic dreams in Rio de Janeiro in 2016. We'll check in with them every few weeks as they pursue a team spot, seeing how they're getting their horses ready and preparing mentally.
Read all of the Road To The Olympics with Laura Graves
We're also following:
Eventer Phillip Dutton and his groom Emma Ford
Dressage rider Kasey Perry-Glass