Kasey Perry-Glass and Goerklintgaards Dublet finished their first competition of the European tour by topping the Grand Prix with a 77.44 percent in the CDIO5* at Compiègne, France. They will skip the next observation event, a CDI4* at Roosendaal, the Netherlands this weekend and will compete in the CDI in Rotterdam, the Netherlands on June 23-26, which serves as a mandatory event for those wishing to represent the United States at the Olympic Games in Rio de Janeiro, Brazil.
My goals [at Compiègne] were really to ride a really clean test and really test his ability going into a different environment. Just because [the Adequan Global Dressage Festival (Fla.) was] the only place he's shown since moving up [to Grand Prix], I think it was just finding out his buttons in a different venue and seeing where we can push it and where we have to be a little more conservative.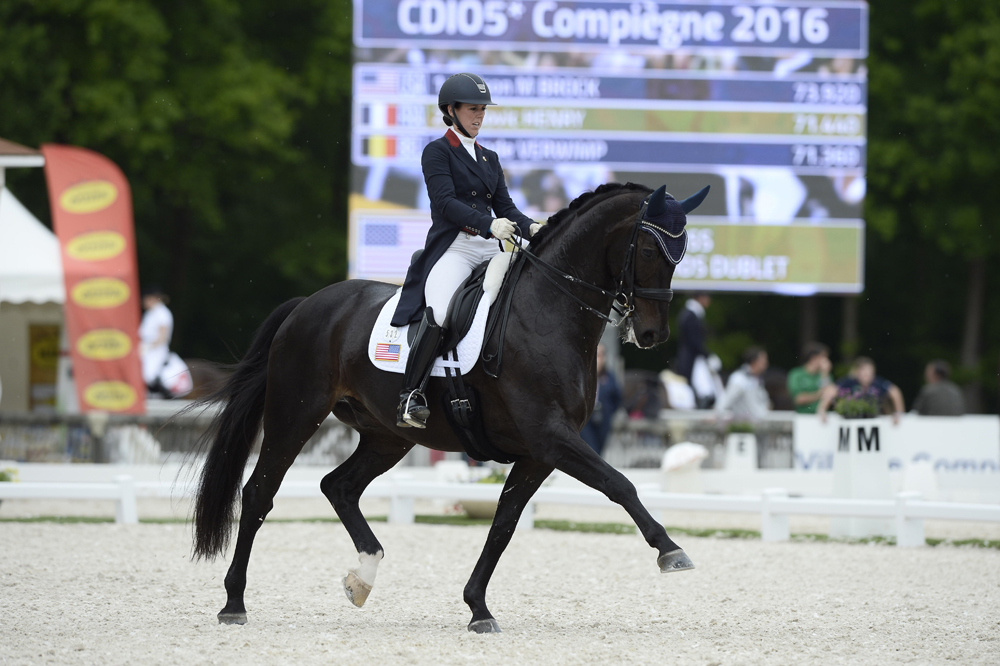 Kasey Perry-Glass on Goerklintgaards Dublet during their winning Grand Prix ride. Photo by Christophe Bricot/FEI
He went in like he's done it millions of times before. He's just constantly improving, and I couldn't be happier with him. He focused, and he was very quiet, but there was a lot of power at the same time.
About Kasey Perry-Glass and Goerklingaards Dublet
Home base: Spokane, Wash.
Dublet's stats: 13-year-old Danish Warmblood gelding (Diamond Hit—La Costa, Olympic Ferro)
Dublet's owner: Diane Perry
Big performances in 2016:
2nd – CDIO3* Grand Prix freestyle (Fla.) (81.32%)
2nd – CDI4* Grand Prix freestyle (Fla.) (75.75%)
2nd – CDIO3* Grand Prix Special (Fla.) (74.88%)
1st – U.S. team in Stillpoint Farm CDI3* Nations Cup (Fla.)
1st – CDI5* Grand Prix Compiègne (France)
It's his first year [at Grand Prix] and I want to be able to show people that he's happy, and he's not getting distracted—he's so relaxed and that's my main goal with him. Any process I go through is just keeping him happy and loose. We'll push him when we need to and keep him fit and then that's really all he needs.
[Until Rotterdam I'll be] just training. This week and next week are going to be an easy weeks for him and then the week that [coach Debbie McDonald] comes I'll kind of step it up a bit and just keep him fit to do what he needs to do.'
Debbie was here a week before this last show and then she's coming back at the end of June to help us prepare for Rotterdam. Then she'll be here all the way until the end of July, so she'll be here a good chunk of the time next time, which I'm really, really excited about. She left [Tuesday] and I was like, "I don't want you to leave!"
Everyone is staying at the same facility. It's been great. We all stick together and help each other when we have the time. We're there for each other when we're having good rides and bad rides.
[Trøstruplund's] Scarlet [her 17-year-old Danish Warmblood mare] went to Debbie's in Idaho for Adrienne [Lyle] to ride [while I'm in Europe]. I wanted to focus on him this trip and not bring other distractions.
It's a little bit strange because you're not as busy. You're trying to find ways to be productive. You get in such a place where it's so easy. Just keeping myself active and fit has been helping a lot, and then it helps your mind stop wandering about your concerns and things like that if you can
I'm just running [but] my sister [Holly Gorman] is going to be coming [this week] to groom for me. She's really big into Crossfit, so I might dabble into that a little bit.I don't want to get hurt, so I won't get into it hardcore, but just to lift some weights and that kind of stuff.
It's nice because she's living the dream with me. We're able to work as a team together to get to a goal. She's been with me since the beginning, so to have her come is like having my comfort blanket. She knows Dublet well because she's been through everything.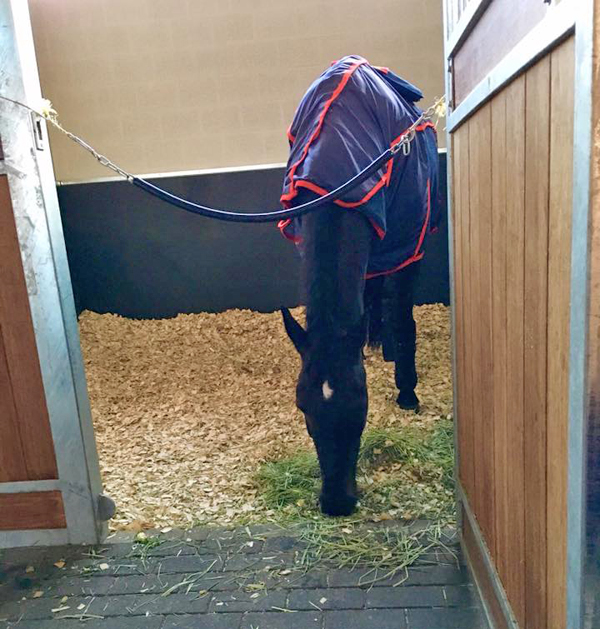 Dublet settling in in Europe.
I usually [groom] by myself. Last week I had my friend Kathleen McMannis come groom for me at the show just because you're doing a lot of running around and getting prepared, and I just kind of need that downtime. But Holly is the one that usually grooms at shows for me, so she'll be here from the end of May until they announce the team for Rio, and then if I get on the team for Rio she'll go with me.
We're a team. She knows everything and the care that he needs, and she knows it's very important for me that he's prepared. I'm not a confrontational person, so it just works. If I see something that I want her to do, I'm very gentle about it, so it's not like I'm yelling at my sister, 'You need to do this!" It works. Our personalities just work together.
In this series, the Chronicle follows six riders as they seek to fulfill their Olympic dreams in Rio de Janeiro in 2016. We'll check in with them every few weeks as they pursue a team spot, seeing how they're getting their horses ready and preparing mentally. You can learn more about Solem and VDL Wizard's challenge-filled path to the top of the sport in our One To Watch article about her.
Read all of the Road To The Olympics with Kasey Perry-Glass
We're also following:
Eventer Phillip Dutton and his groom Emma Ford