Since we last checked in with Kasey Perry-Glass and Goerklintgaards Dublet, they competed at the CDIO***** at Rotterdam (the Netherlands) where the U.S. team finished second in the Nations Cups. The pair was originally slated to ride in the CDI**** at Aachen (Germany), but after some lower than average scores (74.58 percent in the Grand Prix and 71.76 percent in the Special) Perry-Glass elected to skip it and go back to the drawing board.
While she was a bit disappointed in their scores, they were named to the U.S. dressage team for the Olympics, which will be Perry-Glass' first major championship.
The horses flew out of Liége, Belgium and the riders caught a plane out of Amsterdam, the Netherlands on Monday. For quarantine purposes, the horses will return to Europe on Aug. 18 and will ship out to Miami, Fla. on the 26th on their way home to the States.
It was great [to be named to the team.] It's such an exciting thing and something that I've been working toward for a really long time. It started out as a huge goal and something that a lot of people thought was being unrealistic, but I think that to me it was realistic, so I just kept pushing for it. So to actually get named to the team was a big relief and also an exciting emotional time.
My husband was leaving that next day so we went to Amsterdam and had a good dinner together and enjoyed our time together. I celebrated with him.
That first 24 hours I took in the excitement and then you kind of just have to bring yourself back to saying now that I'm on the team I have to focus and really put in the work.
It's a very big first [championship]. I feel like this trip has just been a learning curve for me. I've gone through so much on this trip that I really feel like I can be put through any situation and come out in a good place, so this trip has been the perfect set-up for the Olympics.
I think I'm most looking forward to the competing part about it, but also the Opening Ceremony. I think for all of us that's going to be the realization that we're in the Olympics. We can say it all we want here, but once we get there it's going to be like: 'Oh my God! We're really here!' So the Opening Ceremony is going to be a blast.
When I tried [my team shadbelly] on it was a little tight and I was like "Oh no!" I felt so bad that they had to fix it, but to get fitted for it, you get in it and and you're like, "Oh my God this jacket is so beautiful." It just feels good to be able to represent your country and wear the American colors. It was very surreal.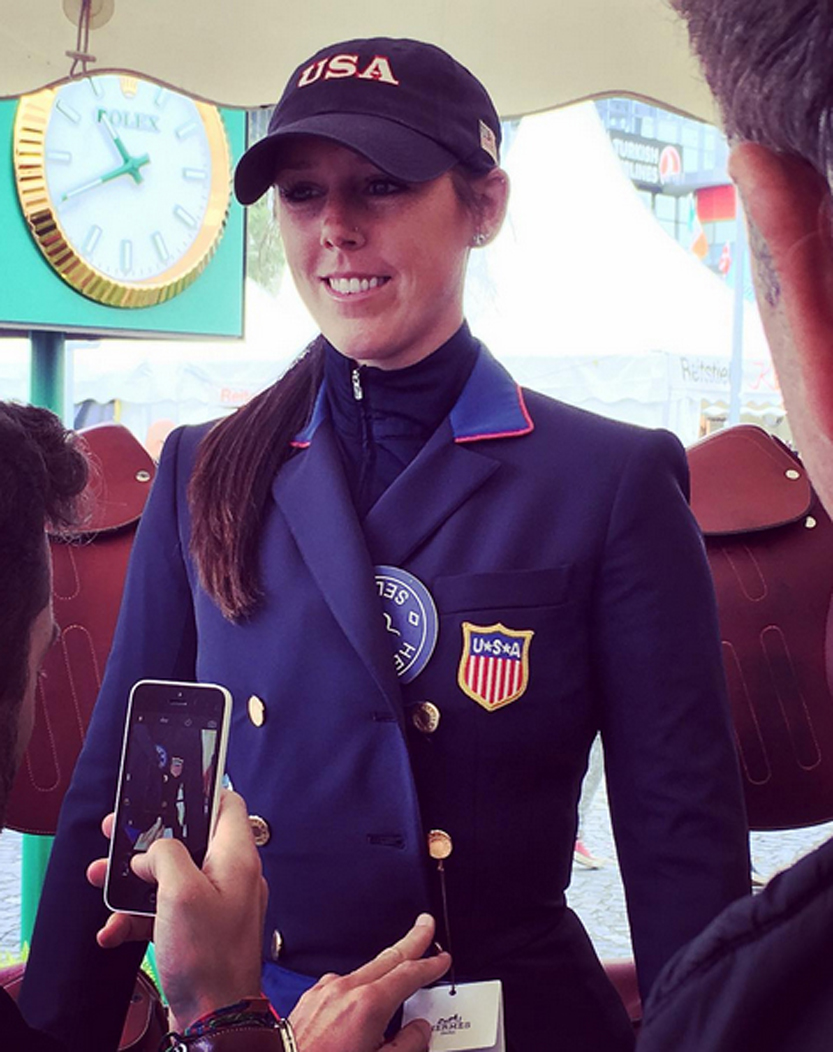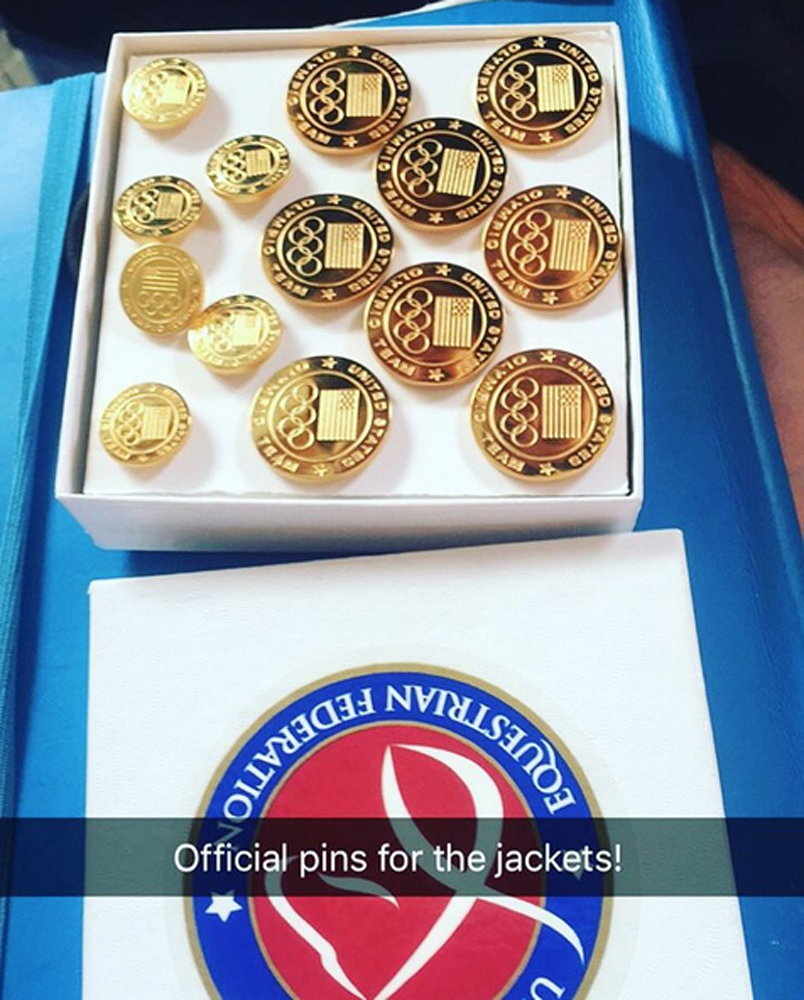 [My sister Holly Gorman] will be grooming, my parents will be there and my husband will be there. Three out of the four sisters are going to be there and then my grandparents are coming. I've got a big group coming. I have huge support system back at home and they've just been really cheering me on. [Her family has all started wearing her "Team Believe" t-shirts in a show of support.] I felt it from way over in Belgium, so it's great to have family behind you.
We have [Steffen Peters' groom Eddie Garcia] flying with the horses. Of course Ali [Brock], Laura [Graves] and I would have loved to fly with our own horses, but they didn't have seats for us, so we're entrusting Eddie to watch out for our babies. He'll do perfect. He's so experienced. He definitely is the one to leave your horse with.
Regrouping And Refocusing
I had a bit of a tough show in Rotterdam and I just really wanted to focus back on his training and his happiness. I think somewhere along the line his body got all out of whack, and we just struggled. That's why I said we had a really big learning curve through this. We kind of hit that moment of a challenge in the training and this is his first year at Grand Prix so everyone kind of goes through that and unfortunately it happened at Rotterdam.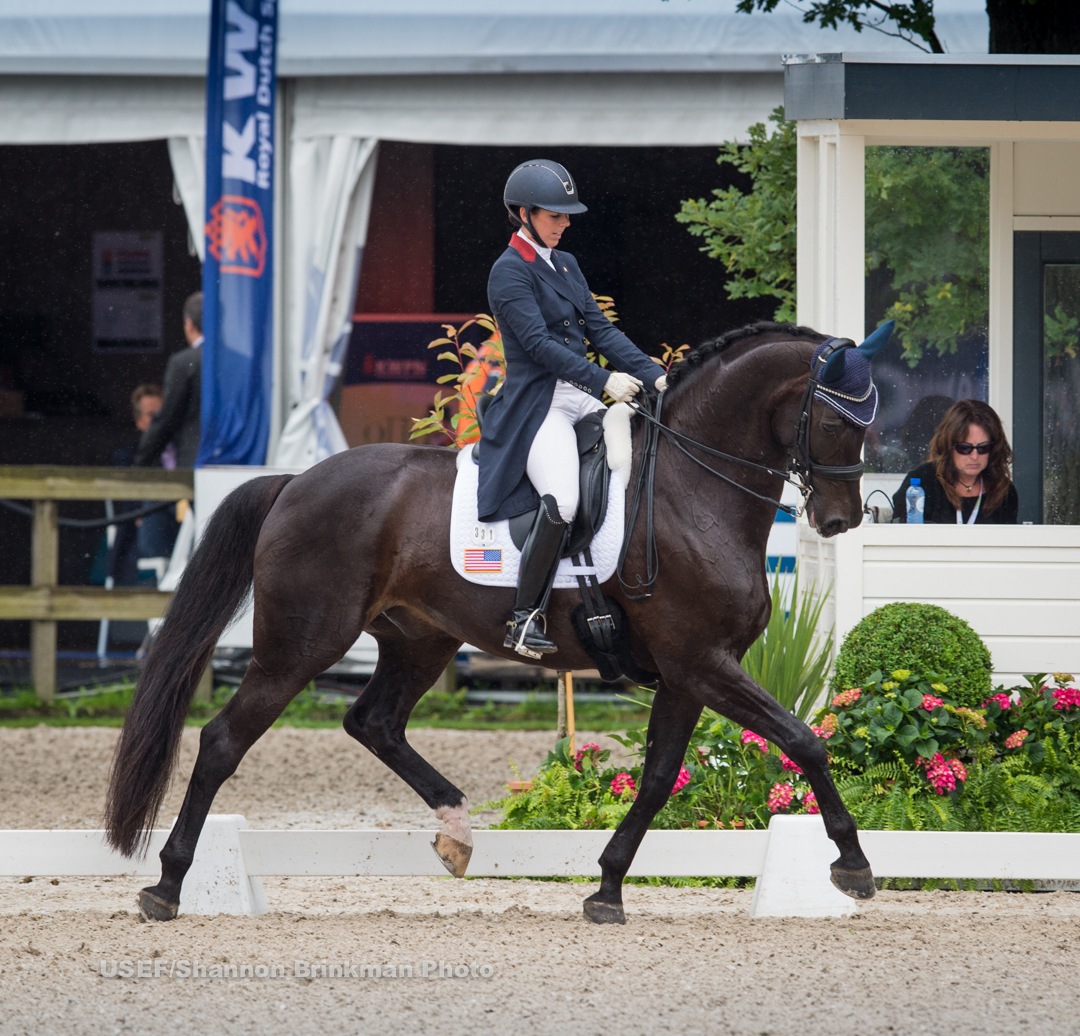 Kasey Perry-Glass and Goerklintgaards Dublet at Rotterdam, where they placed seventh in the Grand Prix and fifth in the Grand Prix Special. Photo by Shannon Brinkman
I just really felt like I wasn't quite ready to put him back in the show ring. I didn't feel like it was fair to him or me, and [skipping Aachen] was the best decision we could have done because now he's been back to his old self—maybe better—and really, really ready to go to the Olympics.
We've just been really working on a true connection with him and really getting him over his back. We also had to switch up the bits a little bit, he was having some TMJ discomfort, and I had to switch some tack and get him comfortable again in his mouth. Once we get the connection down he's perfect.

Goerklintgaards Dublet taking a snooze. Photo courtesy of Kasey Perry-Glass
[Coach Debbie McDonald] has been here since before Rotterdam; she was here for over a month. I have to tell you, that woman has stuck by me through the hardest times on this trip. If you're looking for an Olympic coach she definitely is it. She doesn't give up; she doesn't waiver on you; she tells you how it is and tells you what we need to do about it and then we go forward from that. I would not have been able to be where we are right now without her on this trip. She's small but she's mighty that one.
In this series, the Chronicle followed six riders as they sought to fulfill their Olympic dreams in Rio de Janeiro in 2016. We checked in with them every few weeks as they pursued a team spot, seeing how they got their horses ready and prepared mentally.
Read all of the Road To The Olympics with Kasey Perry-Glass
We also followed:
Eventer Phillip Dutton and his groom Emma Ford