In June, Tiana Coudray announced that the four-star veteran in her barn, Under The Clocks, was for sale. "The much adored 'Ninja' is up for sale. We want only the best home for him and of course if there are any fairy godmothers out there that would like to secure his future with us then please get in touch," she posted on Facebook.
Then, on August 4, she posted again. "So excited to announce that thanks to some very kind donations we have secured the sale of Under the Clocks to stay with us forever!" The fairy godmothers pulled through. Coudray is still looking to sell some syndicate shares in Ninja, but his place in her barn is secure and she's looking forward to some big-time events in the next few years.
Coudray, who competed on the U.S. team at the 2012 London Olympic Games with her four-star mount Ringwood Magister, has been based in England since 2011, slowly building up a business by bringing along young horses and selling them.
She's become a regular winner in young horse classes in England, most recently winning the 4- and 5-year-old Dubarry Young Horse Qualifiers held in conjunction with the Mitsubishi Motors Badminton CCI**** (England) with Donna Sion and Hullabaloo. She had won the 2015 Dubarry Young Event Horse Final with Cavalier Crystal, who was then sold and now competes at the one-star level with British rider Harry Meade.
While she admitted it's tough to have to sell good young horses, she's had a taste of the upper levels recently by periodically catch-riding Australian Murray Lamperd's Under The Clocks for the last two seasons. And now she now owns the 15-year-old Thoroughbred gelding (Woodborough—Regal Kate).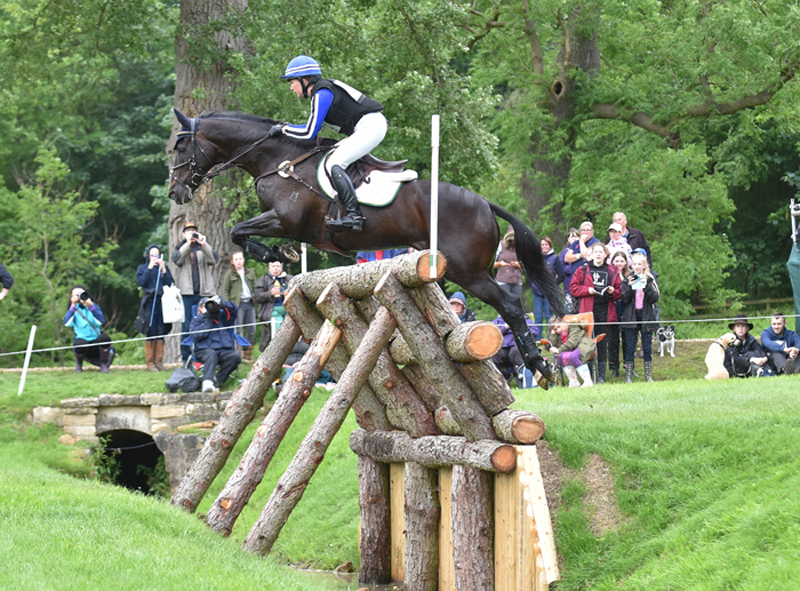 With the help of some private donations, Coudray, 29, will keep "Ninja" going at the three-star level this season and has high hopes for their future.
They were recently fifth in the Bramham CIC*** (England) and seventh at the Barbury Castle CIC*** (England).
We caught up with Coudray as she was returning home from a local event with some youngsters.
How did Under The Clocks come to your barn? 
An Australian rider, Murray Lamperd, has had him since he came out of racing, I think since he was a 5-year-old. He had a huge amount of success [completing the Land Rover Burghley Horse Trials CCI**** twice, the Mitsubishi Motors Badminton Horse Trials CCI**** once and the Adelaide CCI**** once.]
He's spent some time here and in Germany. It's a big trip for them to come from Australia. Murray kept him here the whole time, and he would fly in, compete the horse and then fly home.
The horse has been with a few different people over the years, and he's been based with us since the winter of 2015/2016. Literally I did one novice, one intermediate, Murray flew in a couple weeks before Burghley, went to Burghley, then went home to Australia 8 o'clock Monday morning. It was the best way he could keep things going in two hemispheres.
This year Murray made the really difficult decision that they couldn't justify the costs to come back and compete the horse and the cost of keeping the horse going. It really broke their hearts, but they decided they needed to sell him. That's when I got the chance to [compete him.]
He went to Bramham and was phenomenal there and went to Barbury and was phenomenal there.
I was given some donations, and the people want to stay anonymous. It's an unbelievable gift, and I'm still kind of pinching myself that people were willing to help me out like that.
COTH: Has it been a challenge learning to ride a horse that's had an established partnership and been to the four-star level?
Coudray: It's the first time I've taken on a horse like that, and he's got his own way of going, and as you can imagine, you're not going to change that now. He's got a good way of going, so you wouldn't want to change it. I've had to figure him out a little bit, but it hasn't been difficult. I got on with him really well really quickly. He's probably one of the best cross-country horses in the world, so it's an absolute pleasure.
Every time I ride him I get a little more experience with his way of going and how to get the best out of him.
COTH: You had good placings this spring at Bramham CIC*** and Barbury Castle CIC***. How did those go?
Coudray: Bramham was the first one. At that point I'd only done three intermediates on the horse, so it was a bit of an ask to go straight out at Bramham, which is probably the biggest three-star there is. I didn't know what to expect, and he was unreal. His cross-country round moved us up from 35th to fifth. I've never had a horse feel like that. That was pretty exciting and sort of answered the question to whether I would get along with him around a bigger track.
I had a lot more confidence going in to Barbury, and everybody said, 'Oh, nobody ever gets the time at Barbury,' and he was the first horse out on cross-country that day and was 12 seconds inside the time! I was speaking to the officials, and they said they were worried they made the time too easy to get, and then only two other horses made the time all day.
COTH: What's next for you and Ninja?
Coudray: The Blenheim Palace CCI*** [England] is the plan. Now that I've gone quite quickly on him his last two runs he's going to go intermediate and have a nice quiet, slow jump around cross-country to make sure he's not having too much fun!
COTH: What's he like in the barn?
Coudray: He's an absolute soldier. He's got one job in life, and he takes that job very seriously. If you tried to change his routine or change his plan in life he wouldn't be very happy. He loves to work, and if he wasn't working he'd get quite offended. If you changed his routine he would get offended.
COTH: Do you have any other up and coming talent in the barn?
Coudray: Since coming to England it's been a process of trying to build up horses. Certainly without backing and lots of owners it doesn't happen over night. It's going to take years.
I've mostly had just babies for the last few years. Unfortunately my circumstances are that they all have to be for sale.
I've got [Jatial Ltd. and Diana Chappell's] Cancaras Girl. I found her this time last year, so she's only been eventing a year. She's done a bit of show jumping.
She jumped around the two-star at Barbury, which I think is a pretty phenomenal feat for less than a year's worth of eventing. She's probably one of the best cross-country horses I've ever ridden. She's obviously very green in everything, but she's just got such an unbelievable work ethic and trainability. I think she's quite a good one. I hope I won't have to sell her any time soon.
I've got a really lovely 6-year-old called G. We call him Rupert. We bought him as a 3-year-old, and he was going to be one to sell two years ago, but the lady that owns the other half of him is very fond of him, and he's been so successful that we held off selling him.
The plan with both of those if they qualify and get selected is to take them to Le Lion [D'Angers, FEI World Eventing Breeding Championships in France.]
COTH: What has Ringwood Magister been up to?
Coudray: Since he went to [Rolex Kentucky CCI**** in 2016 and retired on cross-country] we don't quite know what happened. He wasn't himself. When he came back he wasn't right, and we struggled with him trying to get him right. We couldn't really find what the problem was but he definitely wasn't right.
He just had some time. He seems to be coming good now. But we'll see. He's of an age now [16], and he certainly doesn't owe me anything. We'll see what his future might hold. I'd like him to have a job, but it doesn't have to be a big job. He loves working.
COTH: Are you planning on staying in England? 
Coudray: It's a really great place for the horses. The climate suits them and the ground suits them. I've found a nice place here, and I'm very happy with it.
It's a great place to do youngsters. I've always doing youngsters. I did them when I was at home. It's just so easy to find quality ones and bring them on here. The goal is always to have horses to go to the big events, but my situation doesn't allow me lots of those, so in the meantime I enjoy the youngsters. I'm just so thankful to have the chance to have a go with Ninja.