Dawn White-O'Connor may chalk it up to luck, but her ability to take over horses once competed by her coach and mentor, Olympian Steffen Peters, is the result of talent, hard work and dedication. Based at Steffen and Shannon Peters' Arroyo Del Mar in San Diego since 2007, the 29-year-old Colorado native has become a valuable member of the team, riding some of Steffen's top competition mounts when he's out of town and taking over the rides on three, including Legolas 92, with whom Steffen won team bronze at the 2016 Olympic Games (Brazil) and team and individual gold at the 2015 Pan American Games (Canada).
But she's also getting the chance to ride a couple of promising youngsters. At the Adequan West Coast Dressage Festival IV, held April 11-14 in Temecula, California, White-O'Connor and the 5-year-old Dutch Warmblood gelding Jackstar (Bordeaux—Tingka, Negro) she owns with Carla Hayes, scored 74.65 percent at first level. She also rode the 8-year-old Ravel son Galeno Gimli out of Lolita by Locksley II, who earned two wins with 73.10 percent and 70.13 percent at third level), and she and Akiko Yamazaki and Four Winds Farm's Oldenburg gelding Bailarino made their CDI3* Grand Prix debut, scoring 65.65 percent in the Grand Prix for the Special and 64.95 percent in the Special.
The Chronicle caught up with White-O'Connor to find out about her development as a trainer and hear more about her three competition horses.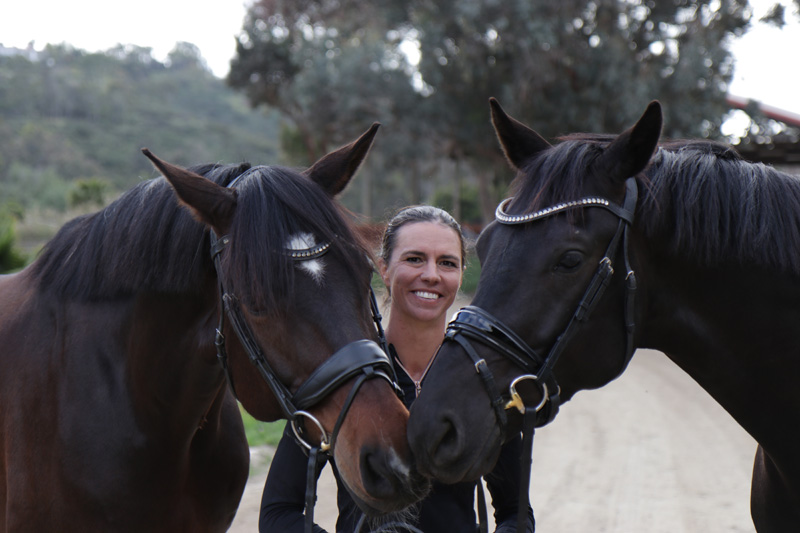 Chronicle: You've ridden and competed some extraordinary horses. How have you managed to do this in a very bright spotlight?
White-O'Connor: It's an amazing opportunity to take over any horse that Steffen has trained, and I'm very fortunate to have been able to sit on so many amazing horses. It's helped my riding tremendously. When you can get on and understand how something should feel or how simple an aid should be it's such a helpful piece of the puzzle and something you can take with you and strive for with all of the horses you ride.
At the same time, it's not always easy to take over the ride on a horse that's very much in the spotlight. I try to be reasonable about my abilities and experience and try not to be as hard on myself as I might be. Steffen has always been incredibly supportive. In the beginning, he might sit on the horse first, and then I'd get on, so I could understand the feeling I was after. It's been a huge learning curve. You still have to figure out for yourself how to make it all work.
You've said in the past that Steffen doesn't overcoach. Any advice that has stuck with you?
He can say one little thing, and it'll make all the difference. Sometimes I make things overly complicated, and Steffen just finds a way to simplify it. He's very good at giving you confidence and pushing you to do more.
Something I've always admired about Steffen's riding is how he's able to get so much done while looking like he's doing so little. When he's on a horse, it always has that look: a very soft picture, and a horse that's enjoying his work. That's something Steffen is very passionate about, and it carries over to everyone who rides with him or is around his training.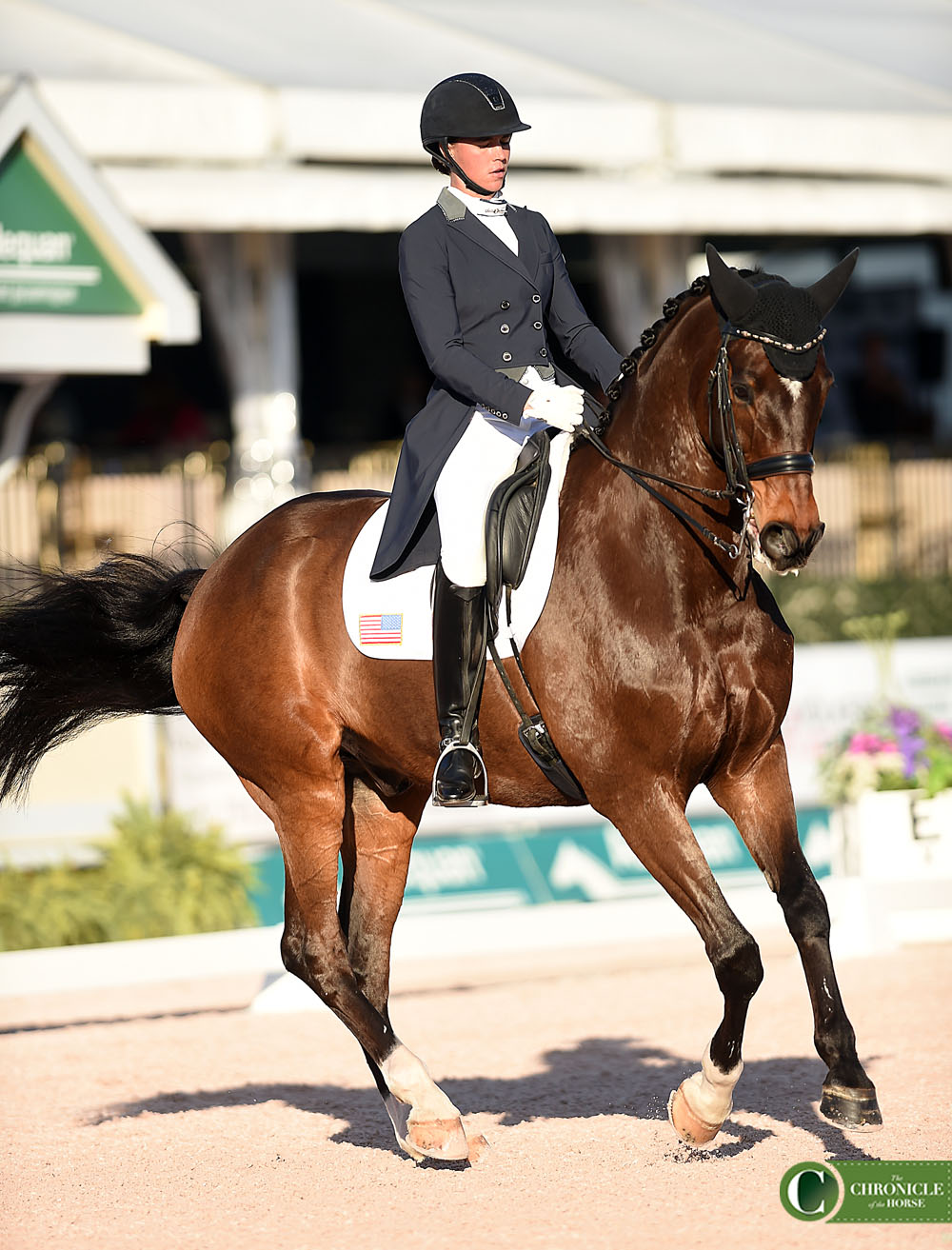 Of the horses you've ridden since you've been at Arroyo, is there a favorite?
I'll always have a soft spot for [2009 World Cup Champion] Ravel. After he was retired, I spent the summer of 2014 riding him at Arroyo when Steffen was on the WEG team with Legolas and Akiko's daughter Miki was on the WEG vaulting team. You could ride his canter all day. That combination of power, suppleness and athleticism together with his amazing temperament makes him such a special horse that I will never forget riding.
And now you're riding his son Galeno Gimli. What's he like?
Akiko bred "Galeno" in Europe, and he came over as a 6-year-old. I started riding him when Steffen was gone last summer, and he just let me keep riding him.
A lot of the Ravel sons have a similar feel in the canter, like you could ride it all day. He's 17.1 or 17.2, and like his dad, he's very athletic and very supple, with lots of power. He's doing third level right now. We need a little more time to get to know each other before he's doing more in the show ring, but he's an incredibly fun horse to work with and really exciting for the future. We're aiming for small tour or maybe the Developing Prix St. Georges next year.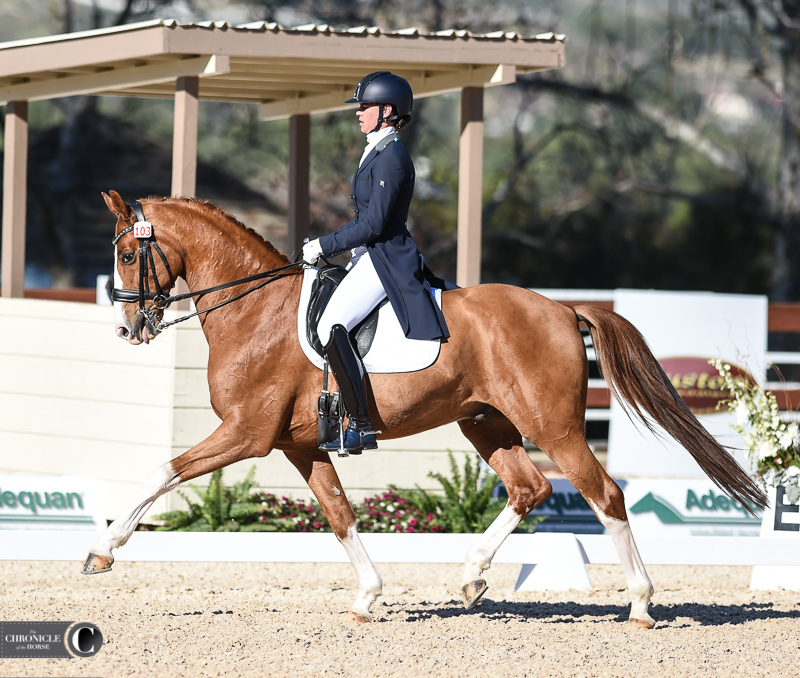 What about Bailarino and Jackstar?
Akiko bought Bailarino [Breitling W—Schila, De Niro] as a 6-year-old in 2014 thinking he might be a nice horse for herself and eventually for her daughters. He came down to Arroyo sometime in 2015. I started competing him in 2017 after Steffen showed him at the small tour. He's really smart. Akiko says he's "wicked talented" and can do anything.
He's small, just over 16 hands, but people are always surprised when they see him out of the ring because he looks much bigger when he is going. He's a really sweet, quiet horse, but he can be a little quirky. He can get goofy in the jog, or every once in a while something will get him excited out of the blue, and he'll piaffe and leap around right next to you, and then a few minutes later he's totally quiet again. He's really talented for most things in the Grand Prix—he has really good mechanics for the piaffe/passage and pirouettes; he's got big flying changes, and he can do everything in the test really well.  Right now it's just about building up his strength and putting it all together consistently, so that we can have a clean test!
Carla found Jackstar at Joop van Uytert's stud in Holland. I went and tried him when he was just a few weeks under saddle and loved him, so Carla bought him. Renate van Vliet, Joop's wife, competed him as a 4-year-old in Holland and did an amazing job. He came to California last spring, and I started riding him here. He's 16.2 and a very athletic, compact horse with a really uphill canter and a lot of power. I'm aiming him for the 5-year-olds at the Del Mar National [California], so we'll see how that goes. He's another one that's very exciting for the future.
It's fun to have horses at so many different stages that are all different types. "Jacky" and "Little B" are on the smaller side, and Galeno is big. They all have different strengths and give you a different feel, so it's a nice mix.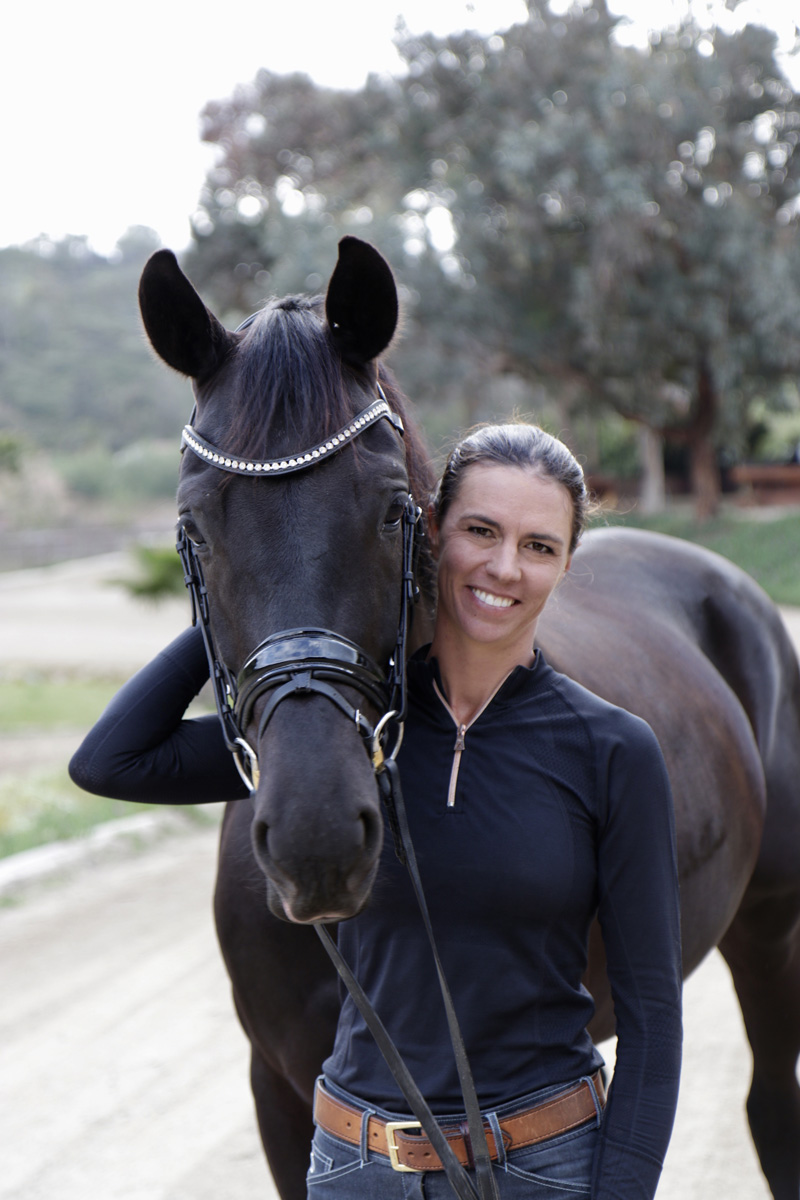 Any favorite shows or show memories over the years?
Aachen [Germany] is my favorite horse show, whether as a spectator or as a groom. There's so much history, and the show is so well done, and there's always something to do or watch. It would be a dream to compete there.
The 2012 Olympics in London, where I groomed for Steffen and Ravel, will always be a special memory—just the experience of traveling with the team and going to the training camps was amazing.
Do you ever miss Colorado?
I've been in southern California for so long, and I really love it here, but it's nice to visit Colorado when the weather's nice and it's green. I talked to my parents a week ago, and my dad told me it was snowing there. He reminded me that that happens all the time, and I was like, "I forgot. I'm in a T-shirt."