Olympic gold medalist Will Simpson is on a hot streak at World Equestrian Center—Ocala (Florida). On Jan. 15, he won the $75,000 Stella Artois Grand Prix with Whoop De Doo. They topped a field of 39, outrunning fellow Olympic gold medalist Rodrigo Pessoa of Brazil, who finished second and third, in the jump-off.
"Whoopy," an 11-year-old bay warmblood mare (Mr. Whoopy—Double Trouble X) owned by Five Roosters, won back-to-back welcome prix classes at WEC—Ocala in December. That's after Simpson won a grand prix during WEC—Ocala's Fall Show Series aboard his top mount Chacco P, one of a string of grand prix victories for the horse in 2021.
While most competitors at WEC—Ocala are visiting for the winter, Simpson is there to stay. He relocated from his home in Thousand Oaks, California, to Ocala last summer. We caught up with Simpson to find out about more about Whoopy, his new home, and his plans for 2022.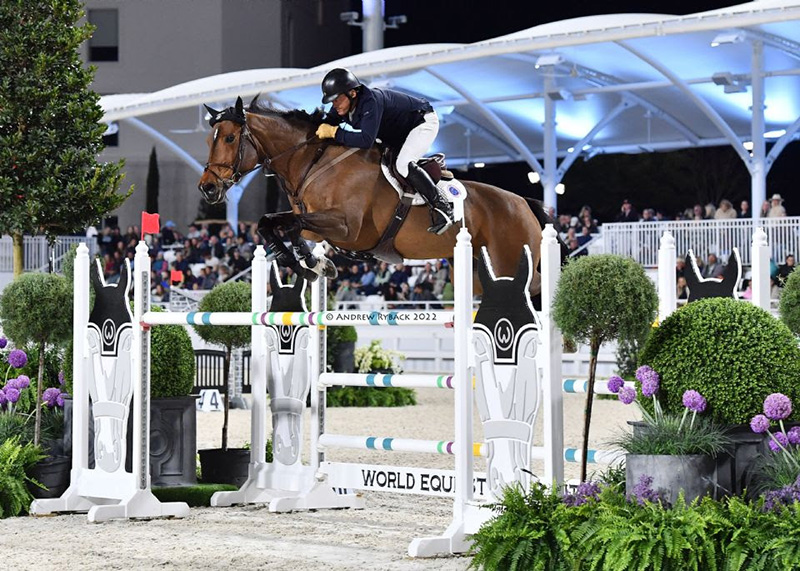 What has the journey been like with Whoop De Doo?
I've been riding her since she was 6, and she was a little tough to get started. She had a mind of her own; she's a big, strong-willed woman. Now she's coming into her own and has become rideable, and I think she's going to go right on up the ladder. She has all the scope and all the heart to really enjoy the sport and to do well in it.
What made you decide to relocate to Ocala?
We came two years ago for a World Cup qualifier, and we kind of fell in love with the town a little bit. And then we took tours of the World Equestrian Center when it was being built, and we really, really liked that. With the HITS circuit, it's the only town in the world with two circuits in the same town for the winter. I've always wanted to live in a place where the show jumping comes to you.
We've been enjoying the town as well. Yesterday was my wife Amelia's birthday, and we went to an amazing restaurant in the square. So there's a little culture here too. Tonight I've got a round robin tennis tournament at the club, and tomorrow we've got people coming to our house for a ping pong and pool tournament.
What is your operation like?
The ranch is 22 acres of sand with grass growing out of it. There isn't a rock on the whole property. You can put a jump anywhere you want. It's a lot of mowing in the summertime, but it's worth it for the turnout. On the business side, I've partnered with Olympic eventer Clark Montgomery who is focused on show jumping now. He's an excellent rider and horseman who also keeps the barn running incredibly well.
Chacco P finished 2021 with some big wins. What's he up to these days?
He's been living outside most of the time, and he really loves it. Then I ride him on the flat a bit around the farm. No ring work, just around the farm. Then we bring him to WEC on Friday, and he shows on Saturday night then goes home again. I've never been able to do that program before, and so far he really likes it. I think he's just going to get into the routine of things and be like, "It's Saturday night, let's go for it." Kind of like how people are!
Any plans to visit Wellington this season?
In the back of my mind, if the horses are jumping really well, I'd like to see if we can go down and go head to head with some of the best riders in the world that are there. Hopefully Chacco P and Whoop De Doo both peak at the same time, and we can make the trek down. So that's in the back of my mind, if it all comes together.
How about California, any plans to visit there?
Well, Amelia and I have lifelong friends there that we miss, and of course I have a granddaughter, and I really want to see her a lot. So we'll definitely be back and forth!