When she was a teenager, Morgan Ward earned one of the biggest wins of her career aboard Comissario in the 2014 USHJA International Hunter Derby Championship Section B final (Kentucky).
The now-17-year-old warmblood gelding (Calido—Amabilita) was sold afterward and went on to compete in the junior, amateur and open hunter divisions with riders including John French, Kaitlyn van Konynenburg, Laura Sexton and Carleton Brooks. But in 2019, as a gift for Ward's 21st birthday, her family bought the gelding back, and he returned to their Willow Brook Farm in Pittstown, New Jersey, and Ocala, Florida.
During their years apart, Ward continued to compete in the equitation, hunter and grand prix jumper rings and turned professional.
Now 24, Ward is getting back into the derby ring with her old partner, known around the barn as "Calido." On Feb. 5 they won the $20,000 3'3"-3'9" Hunter Derby at the World Equestrian Center—Ocala.
We caught up with Ward to learn more about their reunited partnership and her place in the family business.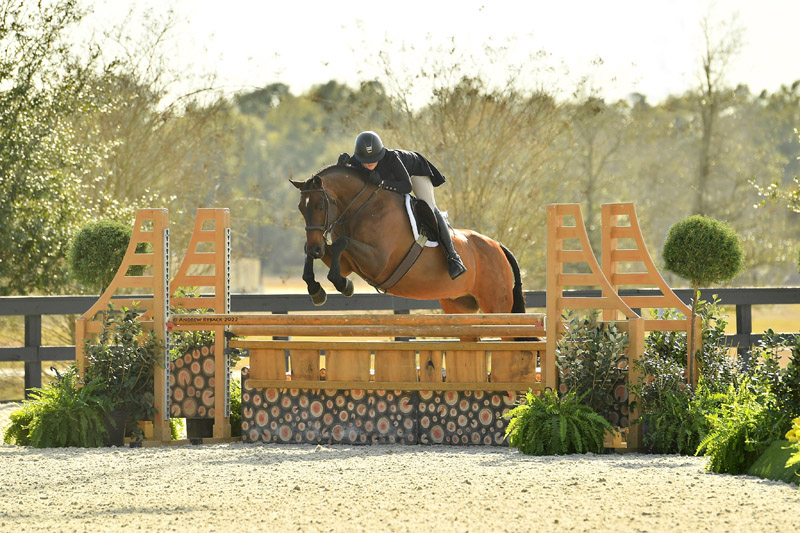 Tell me about Calido.
When I used to train with Emil [Spadone] he imported him and sold him to us. I rode with Emil for 14 years. [Calido] did the jumpers in Europe before we got him.
He is the sweetest. He is so easy going. I'm always joking around with him at home. I'm riding him around with no bridle. He's just so easy. I can jump a whole course with no bridle. He doesn't care at all!
He does flatwork [at home during the week]. He only has a little jump school on Wednesday, then he shows on Friday for the derbies. He doesn't do much during the week at all. I like to save him.
Why did you buy him back? Has the partnership changed at all?
I showed him as a junior when I was 16, and he used to be a junior jumper. Then we made him a derby horse, and he did Derby Finals with me. When I was 21 my parents bought him back as a birthday present for me. Now he'll never leave again.
It has not changed. We've always had a connection together. He's always been so straightforward and so easy in the hunter and jumper rings, 24/7, and now as a derby horse he's so competitive.
You come from a horsey family. What's that like?
We live in New Jersey as well as Ocala, Florida, now. I have a very supportive family that backs me on everything. My mom [Kim Ward] does the sales and helps run the barn. My sister [Lindsey Ward Philhower] is an amateur and helps organize the barn. My dad [John Ward] and brother [Nick Ward] are both farriers. It's nice that we have it all.
It's nice we do it all together. It's easier that way. It's kind of run like my own business. My mom just helps keep everything organized and going the right direction.
Who else do you have in the barn who's exciting?
I have a few nice young hunters coming up who will hopefully be nice derby horses for me, and then I have two new grand prix horses, Colorful S and Cesar De B'Neville.
What are your goals and aspirations for the sport?
I just want to keep continuing in the direction we're going. I want to keep showing the hunters and jumpers and do the derbies and grand prix. I think it's awesome as a rider that you can go between rings. It gets very complicated sometimes, too, but I think it brings out the best in a lot of riders.
Growing up with Emil I had the opportunity to do hunters, jumpers and equitation all the time, so it really got me to where I am today.