Temecula, Calif.—Jan. 27
Emily Miles' Grand Prix partner WakeUp has been the poster child for the U.S. Equestrian Federation's young horse and developing horse pipeline throughout his career.
The U.S.-bred warmblood (Wagnis—Maiden Montreal, Macho) stallion has also helped Miles climb the dressage ranks and establish her career on an international level.
WakeUp's last CDI start was in 2014 before he had a break due to injury, and Miles has kept busy getting married to her husband Jeff Miles and having son Oliver Miles, who's almost 2, as well as bringing up the next generation of horses in her barn.
Based at Wally Woo Farm in La Cygne, Kansas, Emily has come west for the winter.
We caught up with her at the Adequan West Coast Dressage Festival, where she's basing at Galway Downs through March with a big string of horses.
She and WakeUp finished fourth in the CDI3* Grand Prix for the Special this weekend (67.04%) and she also won a national Grand Prix (65.00%) and developing Grand Prix (69.04%) class with Floretienne.
In the CDI-W Grand Prix for the freestyle she finished second with Quantum Jazz (66.15%) and second again in the CDI-W Grand Prix freestyle (68.90%).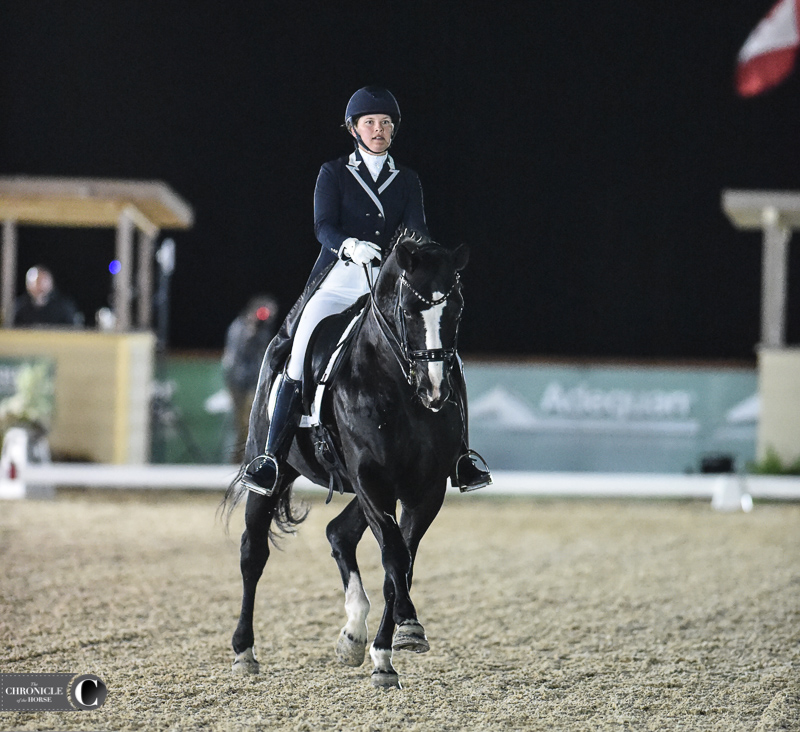 Chronicle: The last time WakeUp was in the CDI ring was in 2014. What's been going on with him since then?
Miles: We got a grant to go to Europe in 2014, and he got injured over there. It was a suspensory,  then he got injured again. Then I had Oliver, and then he had a splint bone removal surgery, and that seems to have fixed the problem. We were really slow bringing him back because it had reoccurred twice, and we were hesitant. Last year I brought him out for two shows nationally to see if he would hold up because the other two times I'd brought him back out, it was right after a show. He was never really lame, but you could tell he wasn't himself anymore.
This year I felt like he was strong, solid and he feels good, so I might as well try it and see how he does. I'm so excited to have him back. He's my heart horse, having had him the whole time. It's because of him that I have all the opportunities that I have, so to bring him out and even if this is the only one we do, it's nice to come back. It's been really special for me.
I'm going to take every day as a huge blessing and say I'm happy he's sound today. What tomorrow brings, who cares? But every day is like icing on the cake. He's done so much for me in his career and in my career, that it really doesn't matter at this point, but it's so special that he can help me get more experience and keep going. It's fun.
How was your CDI3* Grand Prix ride on Friday?
I was really happy with it. In typical WakeUp fashion he went around the ring and saw the screens from the judges and thought, 'What the heck is that?' But in the actual test he went to work and didn't make any mistakes. Yeah, I could have had better transitions and things, but at the same time, for him not having shown since last May, I was super proud of him.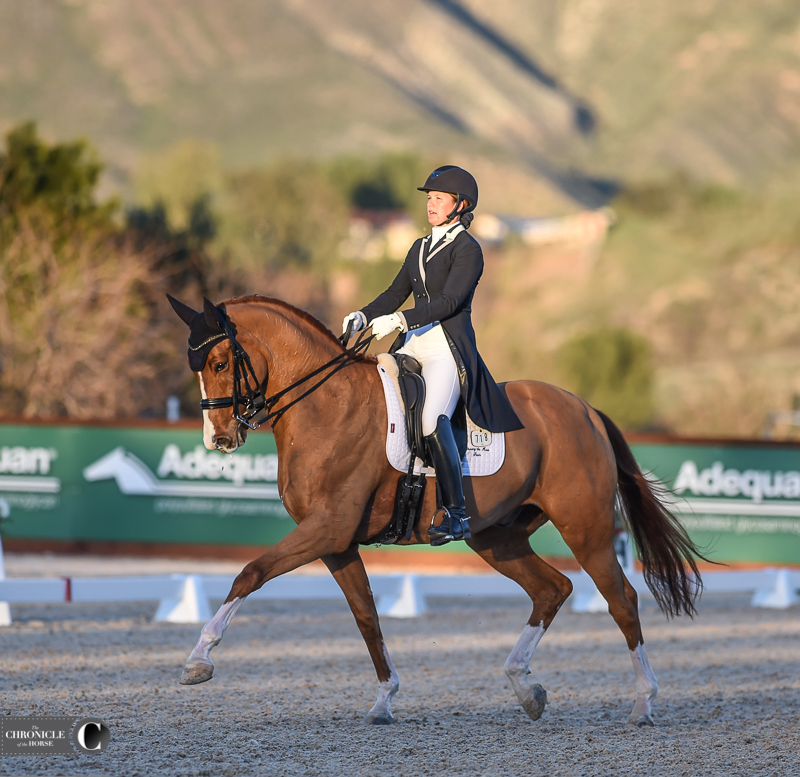 What brings you to California for the winter?
We came last year. WakeUp actually came as a 4-year-old and trained with David Wightman for the winter. We're here through the third show [at the beginning of March.]
I brought eight horses for me and one for Leslie Waterman, who's the owner of most of them.
I felt like I had more of a support system here [versus Florida] with David and Christine [Traurig.] I've been to Wellington before when I was a working student, but we had a good time last year in Del Mar, and Leslie is from California, so there's more connection here that way too.
It would be nice for the dressage world as a whole if it wasn't just Wellington. It would be nice if there were two meccas, and we want to support this and make this be the big exciting place to be as well. It's obviously not nearly as big as Wellington, and we have to see if it grows and hope it grows.
I'm really lucky to have an awesome sponsor like Leslie. I think it's really special to have an owner so invested in their horses, and she's also invested in the next generation. I have a 4-year-old, M, who's a Millennium baby, and I have Sole Mio, who was the 4-year-old champion last year, and Daily Show who also did the 4-year-olds here.
I think as a sponsor it's an amazing thing that she not only gives me the opportunity to show the older ones and to get that experience, but also to cultivate and bring up the next generation.
It's a big project, but it's fun. It's not just about this year, but it's about years and years and years.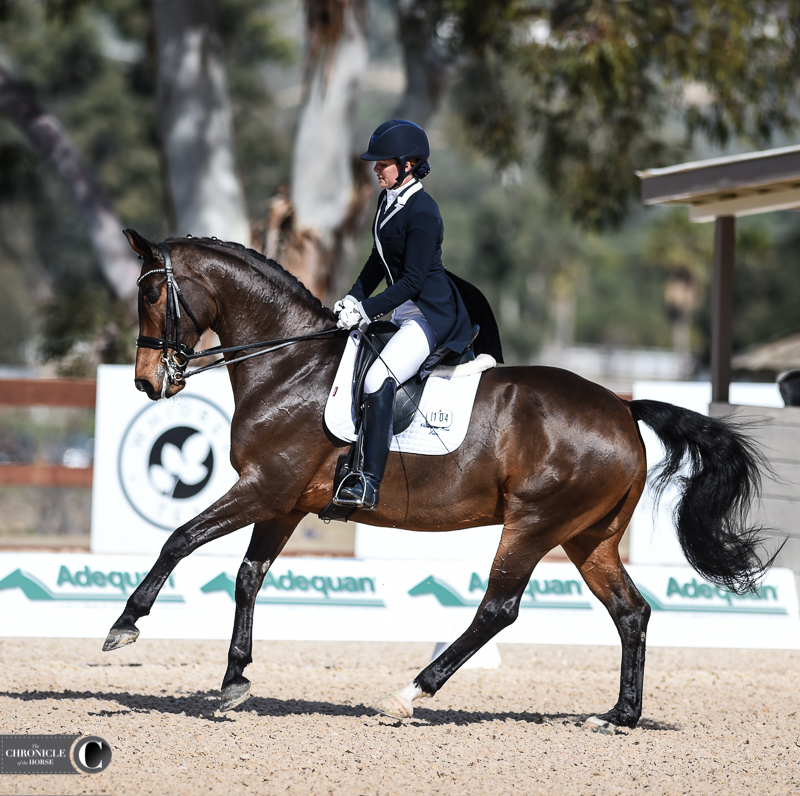 Can you tell me about your other two Grand Prix horses?
Floretienne is owned by Leslie, and he and Quantum Jazz are actually half brothers. They're bred by Judy Yancey, and they have the same mother, Tamarinde. [Floretienne's] a Florestan, and was raised by his biological mother. Quantum Jazz is by Quaterback, and he's the embryo transfer. They're both 10.
I got them when they were 4, turning 5, and Leslie had bought them in utero. That's when we started working together, and these were the first two I started working with. It's really special. Quantum Jazz did the developing Grand Prix last year, but Floretienne wasn't quite as strong. He did his first Grand Prix yesterday, so that was kind of fun.
It's huge [to have three Grand Prix horses.] They're no crazy, amazing Suppenkasper-beating horses, but what an amazing opportunity to be able to show these horses and just get down that centerline time and time again and learn. Every time you learn you go through those experiences. I don't think they're tapped out. They're only 10, so I hope they'll keep teaching me and I'll keep getting better.
These experiences bring you to another level. I think that pushes you to ride better and get better. You see other people riding so nice, and you want to raise to their level. It's an amazing opportunity to have these three all going. They're all so different.
Floretienne ["E.T." in the barn] is nothing like his brother. We joke he's maybe a little metrosexual! He's a little bit smaller and wider and more refined and Quantum Jazz ["Qbert" in the barn] is a big powerhouse of a horse. You wouldn't think they're half brothers.
What are your goals for them this year?
We'll see. I'm going to do the developing Grand Prix on E.T. today. I would love to be able to do the USEF Festival Of Champions [Illinois] with Qbert and WakeUp. I'll try to qualify him for the developing Grand Prix.
We just have to keep going and see what happens and how the year turns out.
For full results, click here.
The AWCDF is live streaming the international ring. Visit their Facebook page for the feed.
We'll have much more from the AWCDF all weekend at coth.com and in the Feb. 11 print edition of the Chronicle.