Irish show jumper Shane Sweetnam proved over the weekend that he's back on form with his No. 1 horse Alejandro. Following up a tantalizingly close second-place finish in April's Longines Global Champions Tour Miami Beach Grand Prix, the pair took the top spot in the $140,000 Hagyard Grand Prix CSI3*, held May 14 at the Kentucky Horse Park.  
Sweetnam and the 13-year-old Rheinlander gelding (Acorado's Ass—Contenga, Continue) who he co-owns with Seabrook LLC, and Spy Coast Farm LLC, topped a five-horse jump-off to take the victory, knocking almost 2 seconds off the time of their closest rival over Oscar Soberon's short track in the Rolex Stadium.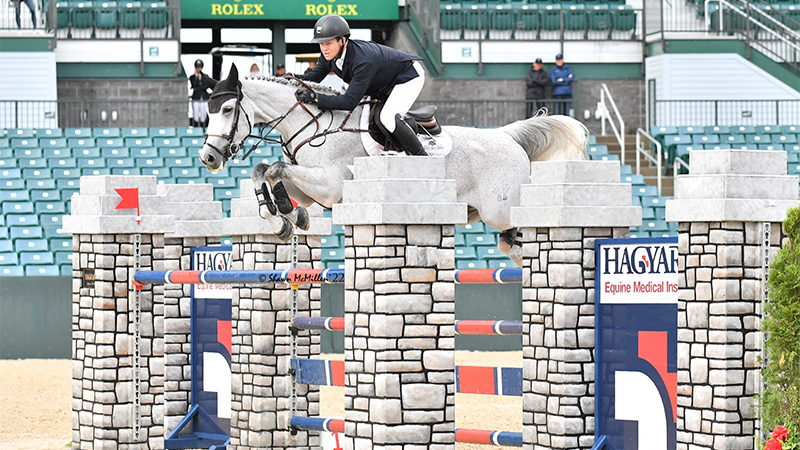 The win was a capstone on a steady rebuilding the pair have been doing since their "gutting" experience in the Tokyo Olympics, where Alejandro pulled a shoe early in the team qualifier round and got increasingly rattled until the pair fell at Fence 9.
Returning to their home base in Florida after the Games, Sweetnam backed the horse down to rebuild his confidence. That plan has worked, and 2022 has found the pair back near the top in a number of big classes. During the Winter Equestrian Festival in Wellington, Florida, they took third in February in the $75,000 Adequan WEF Challenge Cup Round VII CSI5* and fourth in March in the $75,000 CaptiveOne Advisors 1.50-meter Classic CSI5* in March. In April, they were sitting in the top spot of the LGCT Miami Beach Grand Prix CSI5* until the final rider of the day, Germany's Katrina Eckermann aboard Cala Mandia, pipped them by just more than 1 second to shift them to second place.
We caught up with Sweetnam to learn more about Alejandro, his up-and-coming horses, and how he balances a top-level competition schedule with being a father of three young riders in Olivia, 14, Collin, 12, and Lucy, 8. 
What is Alejandro like to ride, and what's he like around the barn?
He's a real sweetheart in the barn, and he's a good character. He's a very sensitive horse, in general. He's very aware of everything, and to ride at times can be a little strong. He can just be a little bit sensitive but he has a big heart, and he's a real competitor, as he has proven over the past three years, so he's a great horse to have.
Especially the older he's gotten, he likes being pampered, and he likes going into the spa, and he likes his time in the paddock. He's quiet. 
You and Alejandro had a tough Tokyo Olympics. You said afterward that he was fine physically, but did you need to regroup with him after that, and if so how?
It took four or five months to get him back to the proper 1.50-meter classes. But you know, each week he got better, and he was just trying to work through it. We wanted to make sure he got confident again, and he did. We started in Michigan in September, a couple of weeks after the Olympics, and we took our time. And by the WEF circuit he was up and running, and he was getting placed in some very big classes. And as he's proven recently, especially with Miami, he's definitely back to his best. 
How were you feeling ahead of the $140,000 Hagyard Grand Prix?
He was good in Miami, so I was hoping he'd have a chance of winning the grand prix in Kentucky. It was our first grand prix win in a while, though he had some good results throughout Wellington and of course was second in Miami.
He felt great, and when we got to the jump-off, I really didn't want to finish second, so we went pedal to the metal. He knows that ring very well and was fairly relaxed.
Are you particularly excited about any other horses in your string? Do you feel like one is your next Alejandro? 
I have another horse who started doing the five-stars this year, James Kann Cruz [(Kannan—CSF Telly Cruz), an Irish Sport Horse owned by Gizmo Partners, LLC] and he's only 9. But he's got fantastic potential, and he's proved that already a little bit. He was unlucky in the [$500,000 Rolex Grand Prix CSI5*, the final grand prix of the 2022 WEF circuit] in Wellington, which would be a very big class for that age. He just had one rail. He competed in April in the [$225,000 Kentucky Invitational Grand Prix CSI3*] and he was sixth place, so I'm very excited about him.
I have another up-and-comer, Holliewood [a 10-year-old Dutch Warmblood (Nabab de Reve—Diva) owned by Triple S Group], showing a lot of potential, so it's a little bit of a rebuilding year, actually. The oldest horse I have is Alejandro, and then I have these couple of up-and-coming horses which have great potential and I think in six months, hopefully, they will be in the right place. 
James is also a bit like Alejandro: very aware of everything, very smart. He's really too smart sometimes, but he learns. He learns quickly and has good character. And he really enjoys his jumping in the ring, really the easiest place for him is in the ring. He's definitely brave, brave, brave at his job and he really, really does love to jump. 
And then Holliewood is a chestnut mare. She has a bit of a moody side to her but also is a real fighter in the ring. She likes her space in the stall—it's a little bit as they say with chestnut mares: they're fine once they're working with you in the ring, not against you. She definitely wants to work with me in the ring, but she likes her space outside of it. 
How do you balance parenting and riding, being a father of three and also an international athlete?
I'm lucky; my wife Ali's fantastic at multitasking and also as a mother, so she definitely helps me be a better father. I think we're lucky with the circuit here and being based in Wellington all year round. During the winter there's a good six months where there's no traveling for us because the shows are all in Wellington, which really helps me. 
My kids go to school in Florida. When you're sleeping in your own bed every day, and when I'm normally finished [with work] when they come home from school, it's nice. 
It gets a little bit more tough in the summer, but they do a lot of the same shows I do in the summer as well. And it's not as competitive as a few years ago; I don't have as many competitions in Europe. So it's worked out well. We all have a similar interest in jumping, and we get to spend a lot of time together. 
Outside of the barn, how do you like to take care of your physical health and your mental health? 
I think physical and mental are quite similar for me. Running for me is not just for physical ailments, but it helps me to switch off of mentally and can give me a release. When I was traveling a lot years ago, I started having a little bit of lower back problems. And then I started doing different exercises and different weight programs. Now, if I go a week or if I haven't enough time to do the exercises, then I start noticing it. So I think physically and mentally it does help me to have my jog and my workouts a few times a week. It's been quite good for my back. 
What's next on your agenda? 
I'm on a Major League Show Jumping team, the Spy Coast Spies, and we're in Kentucky again this week, and then we start again in Langley [with the $200,000 MLSJ CSI5* on May 28 at Thunderbird Show Park in Langley, British Columbia]. That's our first team event, and then the week after there's a Nations Cup, and I'll compete in that for Ireland, so I'll be there two weeks. 
Then I'll possibly go to Europe for maybe a couple of shows. And then I will be following the Major League shows for the rest of the year.