Silva Martin knows a thing or two about buckling down when things get tough. First her husband Boyd Martin lost several horses in a 2011 barn fire. Then Silva sustained a serious brain injury when she fell from a young horse in 2014.
More setbacks came when Silva's homebred Rosa Cha W, a 15-year-old warmblood (Regardez Moi—Jasmine W, Richmeed Medallion), contracted Potomac Horse Fever in 2017. Then Silva gave birth to her second son Leo Rossco Martin via emergency C-section after a difficult pregnancy last July. The Martins' older son, Nox, is 3.
But now things are returning to normal, and Silva is planning "Rosa's" comeback to the Grand Prix ring for the Dressage At The Park (S.C.) show at the end of January.
COTH: Tell us about what Rosa Cha went through. 
Martin: She was ready to do her first CDI at Grand Prix at Dressage At Devon [Pennsylvania] in 2017, so I put a freestyle together, and I was pretty pumped to get there and do the CDI. And literally the week before the competition, she could not walk out of her stall. To me, it seemed like a horse that ties up really bad. It turns out that she foundered.
After all these diagnostics it turned out she had Potomac Horse Fever, and that made her founder in pretty much all four legs. So with my vet and the farriers, everyone put in 120 percent, and we had special shoeing. My friend Mary Griffin, who's a vet, came out pretty much every day and checked on her. She was in the stall for one total year. She never left a stall, which is also amazing because every other horse probably would've gone nuts, but she does not like turnout, and she loves her stall, so she was fine. I had big rubber mats in there and sand and lots of bedding, so she was standing on soft [ground]. She was in there for a whole year, and she never even got out of the cross-ties.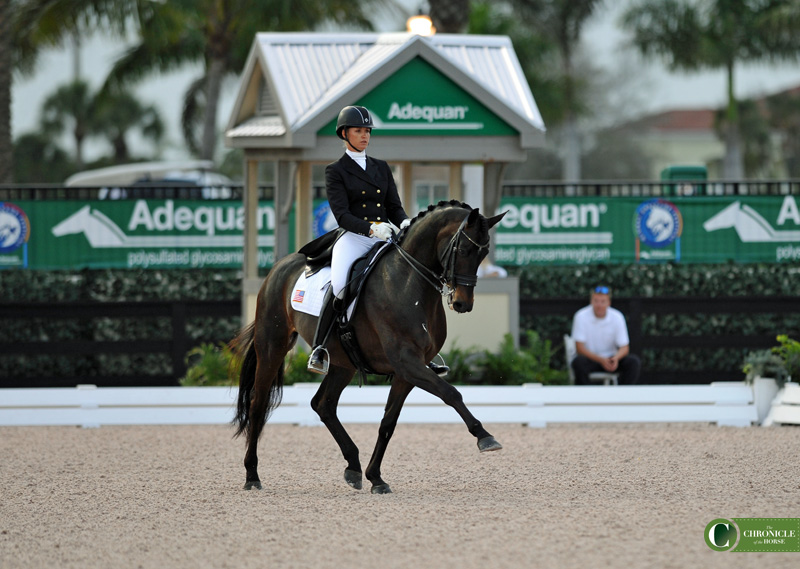 Then finally the year was over, and we took her out, and she looked really good. The X-rays looked amazing, so we slowly started her back not expecting anything really, and she hasn't looked back. She looks better than ever. We started walking her in September 2018, so we really only just started.
I'm holding my breath, and we'll see how it goes. Not that there's ever a good time for that kind of thing [to happen], but I had my second child, so I was kind of out anyway. It's amazing how you don't realize how much you miss the horse until you have her back. I love her, and she's probably not the best horse in the world, but for me she is. She's a great horse, and she's my friend. I was there when she was born, so we've gone through a lot together.
COTH: How do you feel being back to riding after having Leo?
Martin: Good. Now that I'm in Aiken [South Carolina], and I'm entering some shows, I'm starting to feel back to my old self. I had a very difficult pregnancy, so that was rough, but everything turned out fine. The baby is doing really well. I have a schedule going again, so I feel like I'm back.
COTH: How did you deal which such a difficult pregnancy?
Martin: My first pregnancy was so easy. This one was difficult because I found out [I had] this blood condition; it's very rare, called Kell positive. My antibodies were attacking the baby's red blood cells, so the baby became very anemic. So for the entire pregnancy I had to get these IVIG infusions every Thursday for nine hours. Your Thursday was done, but those infusions make you feel terrible for the rest of the week as well. The entire time I was pregnant, I was feeling terrible, so it was rough, but looking back, it's fine. He's a perfect child, and it's so worth it. But it was not easy.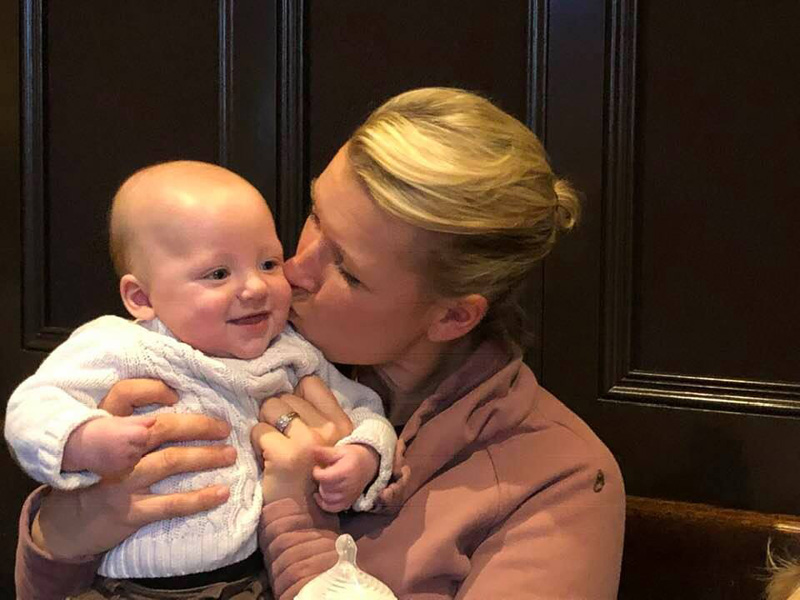 COTH: How does Nox like being an older sibling?
Martin: I was so proud of Nox, because I thought he'd be real jealous, because he's a real Mama's boy, but he loves that little child. From the moment he met Leo, he was so happy to have him, so I couldn't be happier about it.
COTH: Is Nox riding much?
Martin: We didn't bring the pony to Aiken. I don't force it. I could care less whether he rides or he doesn't. He'd rather hose the pony off or lead her around than actually ride her. He's not riding right now; he doesn't ask for it, and he's busy going to school and growing up. It's cheaper for us if he doesn't do it! He can do whatever he wants.
COTH: Do you have any other horses you're excited about?
Martin: I have Rosa's daughter; her name is Hannah Lu. I bred her out of Rosa when Rosa was a 3-year-old. She's a 10-year-old now, but she was wild growing up, so I couldn't ride her for a long time. Boyd had to ride her for me because she was so naughty. She's come around. She's going to do her first Intermediaire I, and I'm going to do a CDI probably in the spring, so I'm pretty excited about her.
She's her mother's child. I think she's going to be good—God knows, but I think she will be. She does [ride like Rosa] very much. She looks identical to Rosa except that she's a bigger version, but she rides very much like her mom, and I'm in heaven riding those two.
Then I just have younger ones that are still projects. Because I'm also a mom I can't work like I used to, and I'm teaching, so I'm trying to focus on those two and then some sale projects, so that's my plan.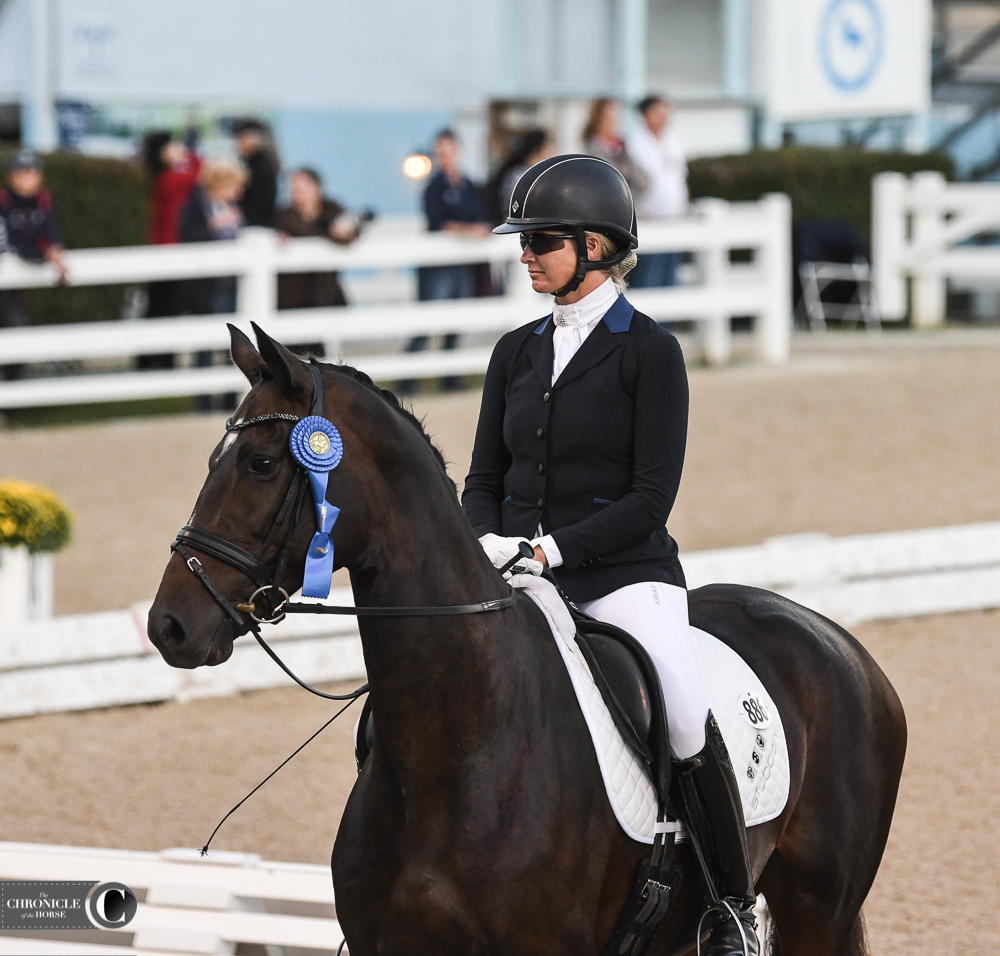 COTH: What are your goals for this year?
Martin: I have to take it one day at a time considering Rosa's just come back. The goal for me is to take Hannah to her first CDI and then hopefully, maybe, take Rosa to a CDI in the Grand Prix, but again it's one day at a time. We'll see how it goes. I'm just going to do the Aiken show and then who knows about the Wellington [Florida] shows, but it's good for me to go in the ring and do the Grand Prix and also be a little bit careful with Rosa. I know those are not huge goals, but we'll have to see. I've only just come back. I'm really excited, and every day is a gift to ride that horse for me.
COTH: Have you thought about breeding Rosa again?
Martin: When she broke down I was thinking about it, but then of course we couldn't breed her because we couldn't add any more weight to her feet. Hannah, I think she's a fabulous horse, but she was a very difficult young horse, so I'm not sure I want to do that again.