When a horse of a lifetime like Cristallo retires, filling the gap can be a daunting task. But Richard Spooner's up-and-comers have proved they're up for the challenge. Headlining that group is Quirado RC.
The 9-year-old Holsteiner (Quinar—Usuala, Corrado I) stepped into the limelight as the horse that continues to wow. Quirado recently finished fourth twice with Spooner in back-to-back World Cup qualifiers in Las Vegas and Thermal, California.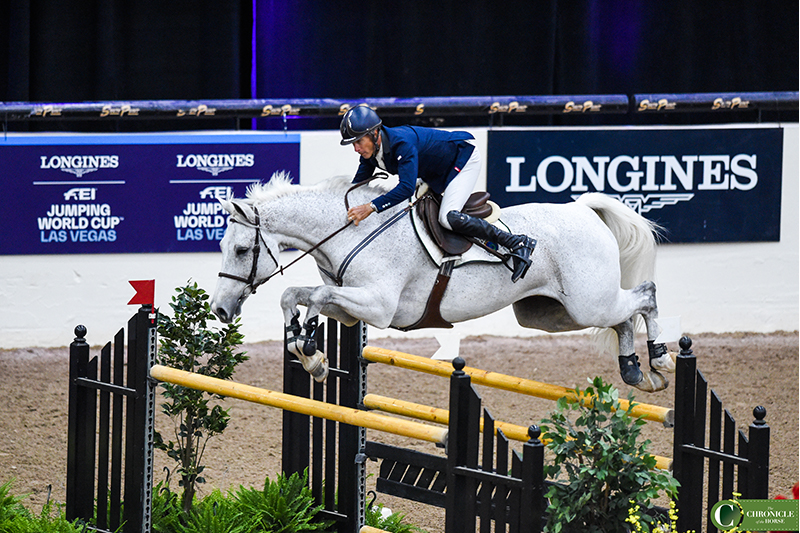 "I've had him for about three years, and he's just knocking my socks off," said Spooner, 48, Los Angeles. "Last year I rode him in a few grands prix, but this year I started to push a little bit. He's a huge horse; he's about 18.1, but he somehow is still very elastic with his body. I just feel graced every time I get to ride him because the power that you feel with that horse is absolutely awesome."
With Spooner currently leading the Longines FEI Jumping World Cup's North American Western Sub-League standings, the Chronicle spoke with him to discuss horses, the climate of sport and athlete longevity.
COTH: Tell us about your current string.
Spooner: I have a wonderful new string. Cristallo retired at the beginning of the year, and it was well deserved. About the same time, I got a horse named Chatinus (Chacco-Blue—Argentina, Argentinus), and he has been incredible. He had a slight injury; optimistically, he's going to be ready to go for next year.
Quirado is very young but an extraordinary talent, and then Arthos R (Namelus R—S. Adermie 2, Mermus R) is really a wonderful horse who helped me qualify for the World Cup Finals [Paris] this year.
I have another new horse named Love (Heartbreaker—Anemoon, Indorado) who's 8. Love is owned by Molly and Clarke Ohrstrom, and they've owned wonderful horses with me in the past. They've been nice enough to let me have a crack at Love. I think his 9-year-old year is going to be great, and he's going to be a wonderful grand prix horse.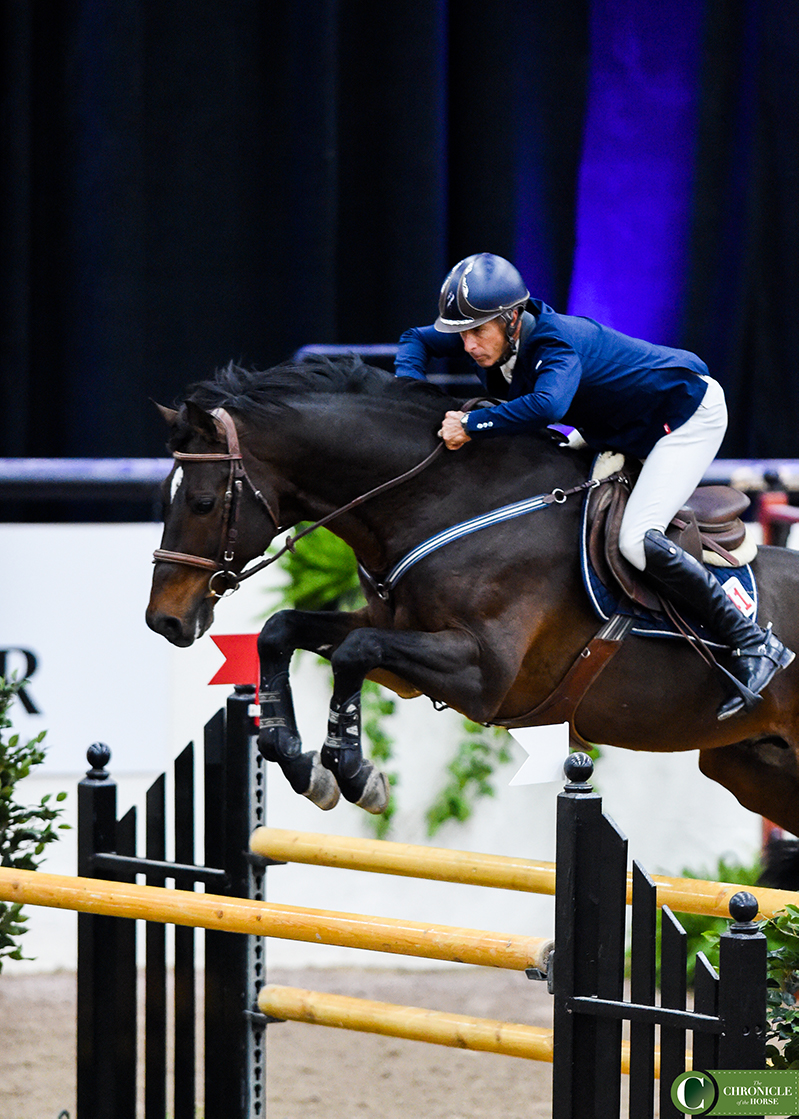 Of course, Tracy Katayama Esse owns part of Quirado and Chatinus with me and Kyu Jin Whang owns Arthos, so I have a good group of people behind me and a very nice group of horses. I'm really looking forward to next year.
COTH: Does your daughter Taylor ride?
Spooner: She does ride, but she doesn't ride professionally. She just rides for fun, so she's that much smarter than I am. She's moving right now to San Francisco; I'm really excited for her. She has a new job, and I'm happy she's getting to see new parts of the world but  that she's not too far away.
COTH: What are you currently working towards?
Spooner: I'm really excited that I'm in the lead right now in the [Longines FEI Jumping World Cup's North American Western Sub-League standings], but that's not what my goal is to do. [Quirado] is 9 years old; he's very green, and I don't know for sure if he'll even be ready to go to [the 2019 Longines FEI World Cup Final in Gothenburg, Sweden]. It's far away from many things.
There's Spruce Meadows [Alberta]; there are shows in the winter—there are five-star shows everywhere, and Quirado and the other horses just have to tell me how they feel. I'm a little older now, so I pretty much just do what they want to do.
COTH: Why did you decide to end your breeding program?
Spooner: The breeding for me was a distraction. I feel as though I would've been better off investing my time, energy and money in buying horses that other people bred, for example, like Quirado, instead of trying to reinvent the wheel. You can't do everything; I can't be a breeder, rider, trainer. I just can't do everything. I would say that it was a very expensive distraction, and I think I should've left that to other people. That being said, I'm happy I did it because of the experience, but I know enough now to know that I don't want to do that.
I have one horse that's still from my breeding program named "Skittles". [She's registered as Ace Of Diamonds]. She is Ezrah—Ace, and Ezrah (Heartbreaker—Madona, Pachat II) was a wonderful grand prix horse for me in the past, as well as Ace (Acobat II—Umina, Fernando). She's a wonderful mare, and I'm optimistic that she might do some big sticks as well. She's still very young; she's just 8 this year.
COTH: What are your thoughts on the growing cost of horse sport? 
Spooner: There's no question that the sport's very costly. As the prize money goes up, it's going to be more and more expensive to do it at the top level, but if you look at the sport you can see that it's growing across the board, and a rising tide lifts all ships. There's a lot of choices out there, and good riding and good horsemanship speaks for itself, and you don't have to go to horse shows necessarily to do that. You need to go from time to time, but you don't have to go every week.
Yes, it's a very expensive sport. Yes, it's unfortunate that the horses cost so much money, but it's also the nature of the beast. You have to do a lot of travel with these horses, so the prize money has to be excessive in order to get you there. The prize money grows, which is fantastic, but as prize money grows, then proportionally the price of the horses is going to grow. Like anything, the top of the pyramid—the top 20, 30 horses in the world—are going to be pretty much untouchable, and shouldn't they be?
COTH: How do you feel about longevity of horses in sport?
Spooner: For riders that are looking for longevity in their horses, they have to always put their horse's welfare first. You have to make sure that you do what's right for your horse and not what's right for you, and that your goals revolve around your horse's preparation. Whether they're ready for something or they aren't ready for something, it's your responsibility to be honest with yourself about that.
Too many times people want to go do shows to gain experience. That's fine, but keep in mind that sometimes you're just going to gain bad experience. You're going to the horse show because of the second part of that phrase. It's a show, so unless you're ready to show, don't go. There's no reason to really take a horse that isn't prepared, that isn't healthy, and that isn't ready to go.