Eleven Paralympic gold medals plus two silvers and a bronze, 14 gold World Championship medals and five gold European Championship medals. A total of 37 medals during a 19-year career. A string of awards, including an honorary doctorate, a Member of the Order of the British Empire, an Officer of the Order of the British Empire, a Commander of the Order of the British Empire, and, most recently, a knighthood for services to equestrianism. With all that under his belt by the age of 44, Sir Lee Pearson CBE must be running out of his space in his awards cabinet.
It's an achievement that's all the more extraordinary as he was born with arthrogryposis multiplex congenita, a disease which causes joint contracture and abnormal thickening of the muscle tissue. As a result, he can't move his ankles or knees, walks with sticks, and struggles to stand for long. His extraordinary talent and drive have led to him being nicknamed "the godfather of para-equestrian dressage," and he's proved an inspiration for both para and able-bodied riders across the globe.
Along with fellow para-equestrian riders Natasha Baker, Sophie Wells and Erin Orford, he's been selected as part of the British team for the 2018 FEI World Equestrian Games to be held in Mill Spring, North Carolina, in September.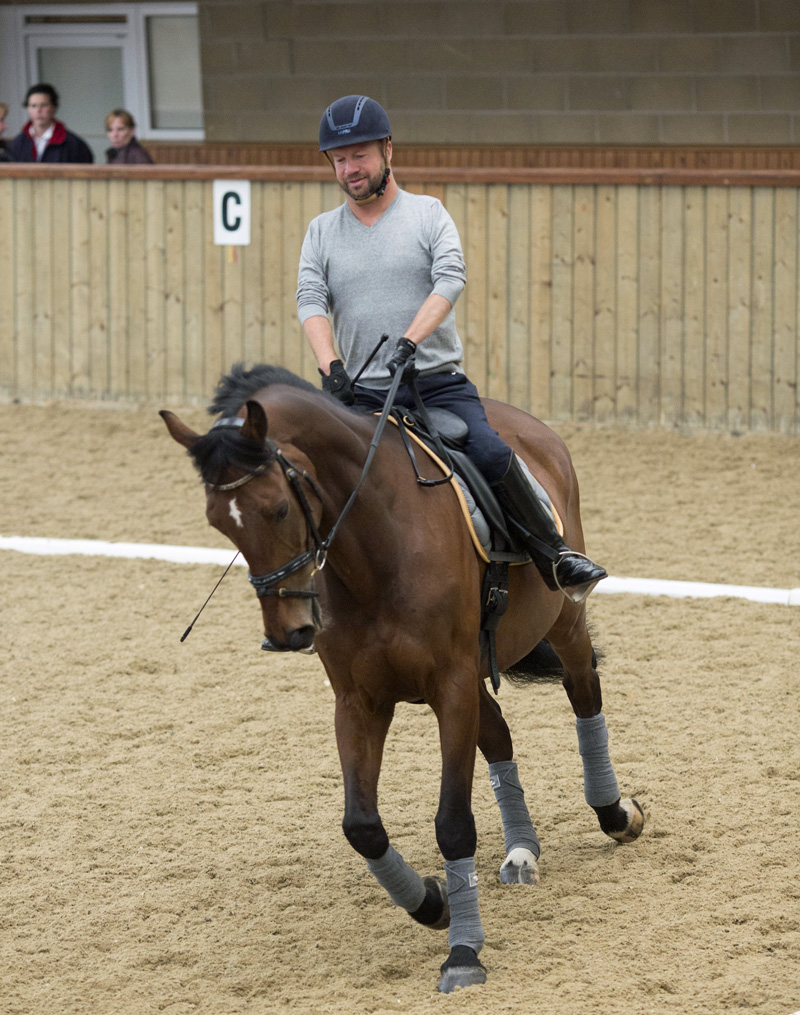 COTH: What sort of childhood did you have?
Pearson: I grew up in Staffordshire in the U.K., the youngest of three brothers. My immediate family wasn't really horsey, although my eldest brother and dad rode a bit, and my middle brother ended up joining the Household Cavalry. I always thought we didn't have a horsey heritage, but I recently found out my great-grandfather was the local horse whisperer!
I didn't start trying to walk until I was 6. Dad brought me home a donkey called Sally, who was my first foray into horsemanship, and she became my "hairy BMX bike," so I could try to keep up with my brothers. Later on, my mum took me for riding lessons even though she was petrified. My parents always treated me just the same as my brothers—when they wanted to go water skiing, my dad built me a ski out of plywood, so I could join in. Mind you, he didn't put a lip on it, so it was like dropping a penny into water; I sank like a stone!
We lived on a farm, and everyone had to pull their weight, so when it was baling time I'd be driving the tractor while the others stacked the trailer. It gave me confidence in myself.
COTH: When did you decide to make horses your career?
Pearson: I was working a desk job and hating it. I was suffering from depression and anxiety and knew I didn't want to spend the rest of my life working indoors. I saw the 1996 Atlanta Paralympics on TV and decided to take up riding seriously, although I was (and still am) seriously allergic to horses! I took some lessons with Stephen Clarke, an FEI dressage judge, and he was using all this terminology I didn't understand. In the end, he said, "Right, get the horse to do this; get the horse to do that," and I could do it, even though I had no idea how I was doing it. That was when I realized I might be good at this.
COTH: Since becoming a professional rider, you've never hidden the fact that you're gay. Do you think that makes you inspirational?
Pearson: I think it makes me honest! I came out to my parents when I was in my 20s. My mum asked me if I thought I might be gay, and first of all I said no. She said, "Good, your dad wouldn't have been able to cope with it." I said, "Well, he'll have to cope with it, won't he. Would you like a Bacardi and Coke?" That was literally me coming out! My dad was a lorry driver and always very rigid in his beliefs, but he's developed enormously in how he felt about me being gay; in fact, he gave me away at my civil partnership in 2010.
I've never set out consciously to be inspirational. I never asked to be gay. I never asked to be disabled. I've got no agenda, and I'm not going to hide things about myself just to make others more comfortable about themselves. I'm just getting on with life with what I've been given.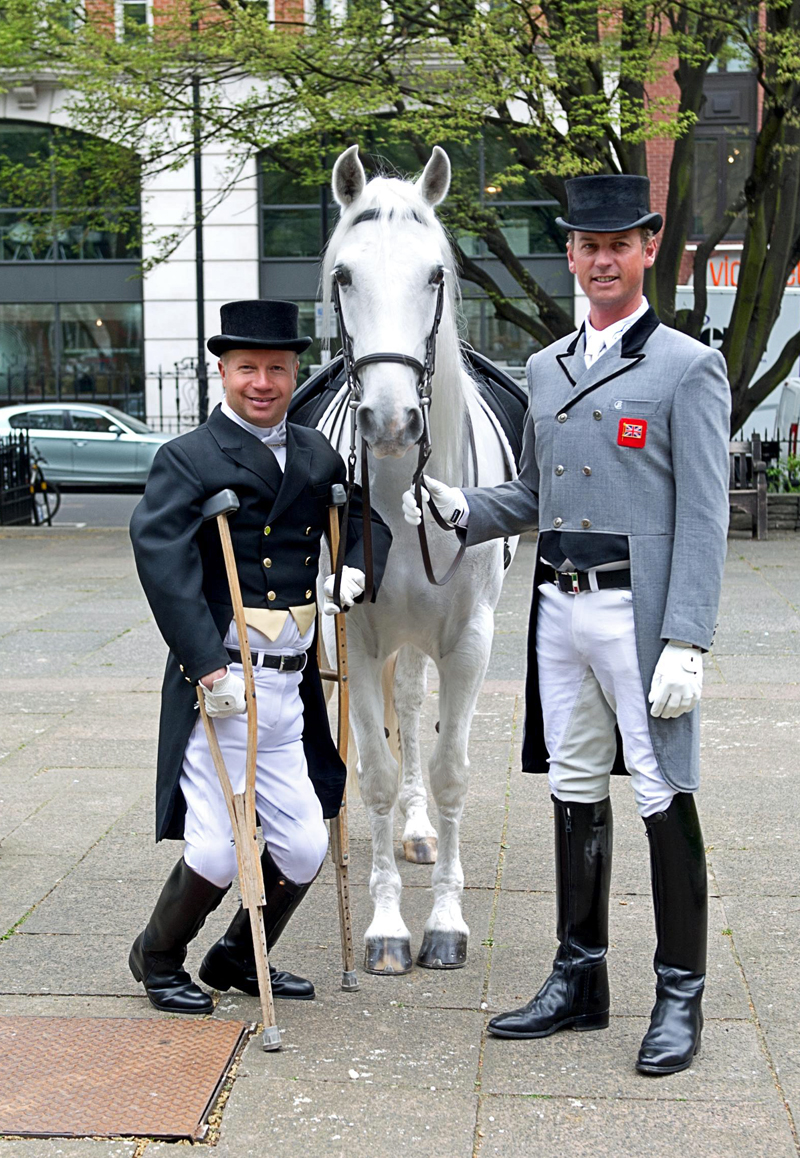 COTH: Tell us about your horses.
Pearson: My special one is still and always will be Blue Circle Boy [Gus], the horse who put me on the map and with whom I took on the world. He died last year [in September 2017] at my parents' house. My current up-and-coming star is my homebred mare, Styletta. I'm hoping to take her to the 2018 World Equestrian Games. It's even more nerve-wracking than usual competing on a horse you've bred yourself! She can be tricky to ride; she hasn't got the same confidence as Zion. In fact, her nickname is the Arab Princess Cat because it takes everything I've got to hold her straight down the centerline!
COTH: If you could have achieved the same level of success in a different sport, which one would it have been?
Pearson: Motor sports! [He's a talented driver and drives an unmodified car.] I wanted to be a racing driver when I was a kid. In fact I'd still like to do that now. There's still time!
COTH: Which other riders do you admire?
Pearson: All riders. I know that sounds a bit daft, but it's really true. Think about what it entails, getting on that horse; it's a unique feeling. I teach a lot of varied riders and admire every one of them.
COTH: How would you encourage more boys to get involved in the sport of dressage?
Pearson: I'd make it more fun. My teaching style is enthusiastic to say the least, and I think boys—in fact most young riders—want a bit of danger and adrenaline! Riding should be about having fun.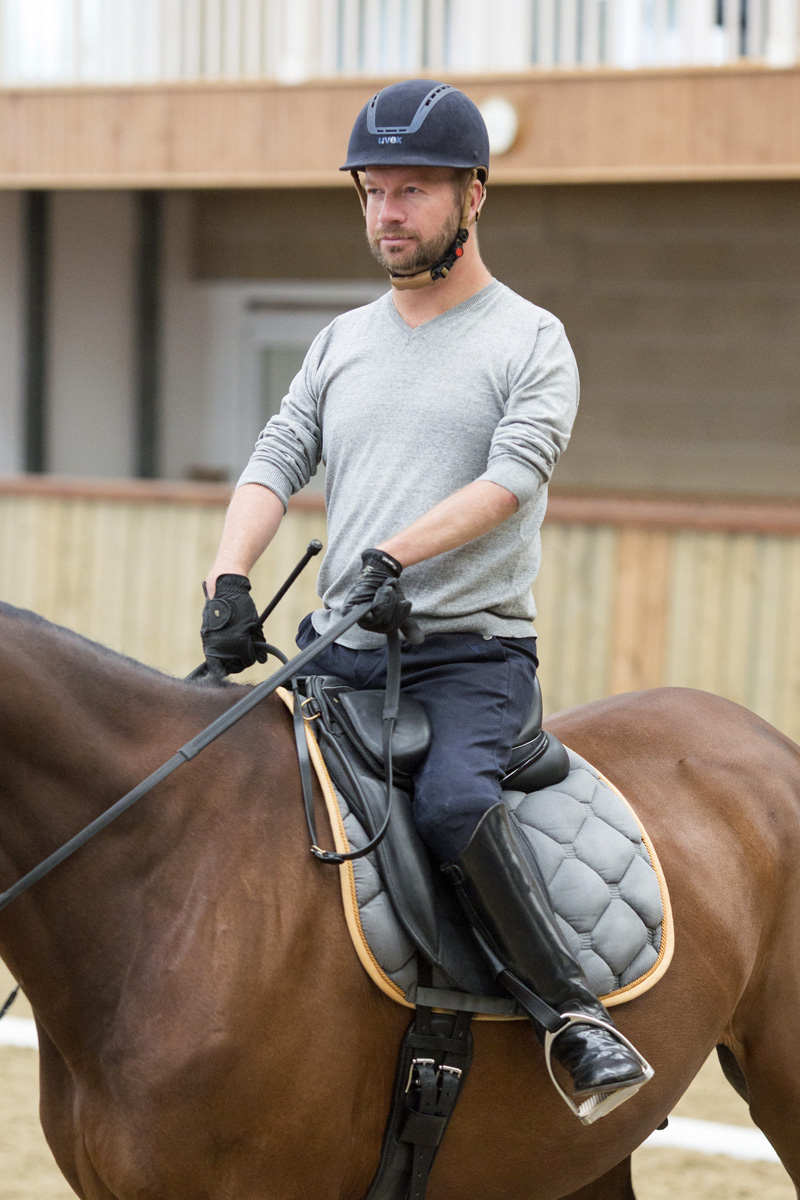 COTH: You were No. 1 in the world for so long, and now there's more competition. How do you feel about the evolution of the sport?
Pearson: It's exceptionally strong at the moment, which can only be a good thing. Britain used to be No. 1 in the world, and other countries learned from what we were doing. Now we're having to push to stay ahead. Competition is what helps the sport evolve.
COTH: You're famously outspoken about a range of issues. How do you cope with life in the limelight?
Pearson: There was a moment at the 2012 London Olympics where it all got a bit out of hand—I had death threats! The police got involved and everything. Did it affect my performance? I'll never know, but I was a bit nervous riding my test and wondering if someone was just lining up the red dot of a laser beam sight on my helmet! [He was tipped for an individual gold medal and ended up with an individual silver and bronze.]
On the whole though, I don't think I'm better than anyone else, but then I don't think anyone is better than me, either. There's a psychological element; you have to know yourself very well. I tend to brush off any comments at all, whether they're good or bad—it's enough just to be me.