Since moving to California in April of this year, 20-year-old Jose Maria Quintana, who hails from Mexicali, Mexico, has been making a name for himself in the show jumping arena with Catoki Boy, his 12-year-old stallion.
Quintana and the Holsteiner (Catoki—Vinula, Cassini II), whom he purchased as a 7-year-old, call Cross Creek West in San Marcos, California, their home base in the United States, where Quintana trains with Michelle Parker and Alex Alvarado while attending college.
Quintana didn't compete "Catoki" for most of 2020 and 2021, owing to the horse's health issues—first ringbone and then testicular torsion—but returned to competition in April to the win in the $10,000 1.35-meter Spruce Meadows NEEd for Speed Derby at Temecula Valley National Premier (California).
From there, they notched their first grand prix victory in August in the $25,000 Blenheim Summer Classic Grand Prix in San Juan Capistrano (California), and on Nov. 12, in their first visit to the Desert International Horse Park in Thermal, California, the pair out-jumped 51 other pairs to win the $100,000 FarmVet Grand Prix at the National Sunshine Series II for their second big win. They were one of nine pairs to go clear in the first round and remained clear in the jump-off, besting the field by one-tenth of a second to take the win.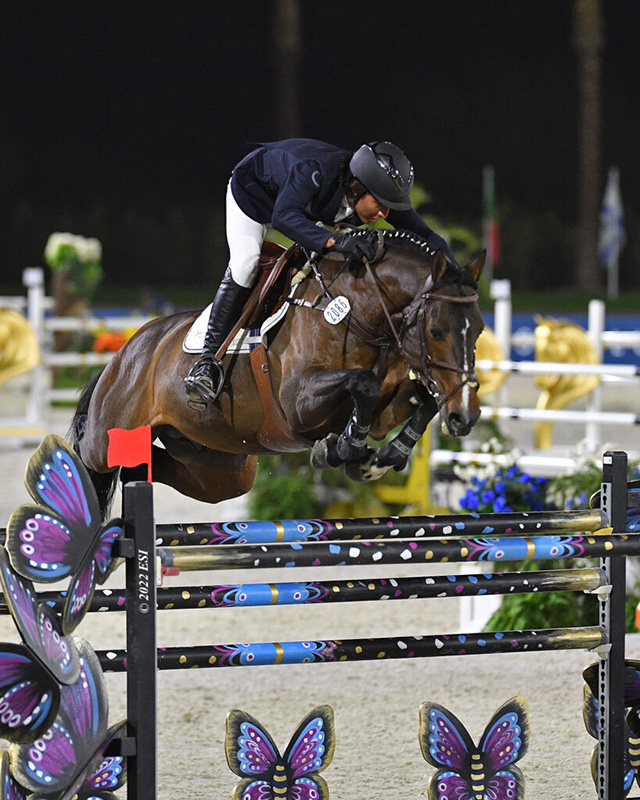 "He's my horse of a lifetime," Quintana said after the win. "I jumped my first 1.40-meter with him, I jumped my first grand prix with him, and I won my first ranking class with him. We have come a long way. He's been out the past couple years so it's been tough for me, but this year he's come along very well. I'm super thankful to have him."
We caught up with Quintana this week to learn more about his horse, his riding career, and his future plans.
Congratulations on your win last weekend. Can you us about your partnership with Catoki Boy?
It's a funny story. My former trainer [Mauricio Guerra] told me, "Hey I'm leaving for Europe on Wednesday, can you come with me?" I wanted to go to Europe, but I didn't have the money. I wasn't looking for a horse at that time. I couldn't afford one.
[The seller in Germany said] "Young boy, are you afraid to ride stallions?" He saw me maybe as skinny and young, but I'm just the kind of rider that always rides what you give to me. I started riding him and jumping him. I called my dad back in Mexico and started convincing him, "Hey dad, I found a horse. He has the heart, the strength, the good mind." He didn't want to buy him, so I come to my trainer and told him my dad said no deal. But they convinced him.
At the beginning I couldn't even do a 1.20-meter class on him. I had one [rail] down, two [rails] down, for six months, I was really scared. One of my trainers, he told me, "With this horse you've got to ride him this way," and I started riding him like that and I started winning.
I used to ride him like the American style—light on the seat. I was not as mature a rider as I am now. He told me, "You need to ride this horse forward, and he needs to be in front of your leg." So, I started jumping him like that—forward and waking him up—and that's where the magic started. I jumped my first 1.40-meter with him, I jumped my first grand prix with him, and I won my first ranking class with him. For two years we won a lot in Mexico … and then all of a sudden for two years he was out. He didn't jump a single show [after January] 2020; he didn't jump a single show in 2021. He had a ringbone on one of his hind legs that stopped him for 2020; he was out eight [or] nine months. And then when he was coming back, he was coming back perfect and the day I was taking him to the first show, a testicle twisted, so that took out most of 2021. And now he's working like nothing happened.
What is Catoki's personality and training routine at home?
I have felt a change in him every year. He has matured more in a good way. His personality, it varies a lot—he's a stallion. In the stables, he's really quiet, but sometimes he can be a little bit too stallion when he's in the ring or something. But he will never do something wrong.
He doesn't like to train a lot. He knows already by memory all of the exercises, so he doesn't jump at all at home, maybe once every two weeks, and no more than 1.30 meters. I work him six days a week, from Tuesday to Sunday. It's mostly flatwork. I take him out of the stable twice a day, once to the ring and one more time to walk.
The flatwork is really easy with him because he already knows everything. He's so smart, he's in front of my leg and then he's balanced, out of that there's nothing out of the ordinary. I do a normal 50-minute work [where] I jump cavaletti only. I jump some gymnastics, but no more than 1.30 meters.
When he gets into the ring, when he gets into the show, his attitude, his mind, his heart changes 100%. It's so incredible. I have one horse in training, but at the shows he knows he has to get the job done.
How did you start riding in Mexico?  
My dad Roberto is a rider. He was an amateur rider; he introduced me to the sport when I was 6 years old. I'm from a small town in Mexico on the north part of Mexico, Mexicali. The [show jumping] levels where I live it's really good until 1.20 meters, and more than is not too good [because there are] not many riders.
I got to a level where, if I wanted to keep escalating in the sport, I wouldn't be able. So, I moved when I was 13 years old to train with a really top trainer in Mexico, Mauricio Guerra, to get to the next level. I was [from] Monday to Tuesday in middle school and every Thursday night I took a three-hour long flight to my trainer's home [in Guadalajara]. I rode Friday, Saturday to Sunday, came back Sunday to go to school, I did that for two years every weekend.
I finished high school and I lived by myself in Guadalajara when I was 17 years old to pursue my dream of riding. I was riding there for my trainer. It was really, really tough because I have always been a family man. I have two brothers and one sister, so my house has always been noisy. I'm always with my family, so it was really tough on me. I was right into depression because I missed my family, but at the same time I want to ride. So, it was tough, but it was worth it for the other end.
And this year I came to live in California in March, now that Catoki is back. I came to college here and I moved here, and I live by myself and ride.
How do you balance college, family and riding?
My parents want me to go to college, so I'm starting business administration so I can be a part of my family business and my dad's business. My dad is a farmer, so it's agricultural. He grows all different vegetables like garlic, onions, artichokes. Right now, I'm at the community college and I'm transferring to University of San Diego. My hometown is a two-hour drive, so I go there every week. Every Sunday after riding I'm there, and I come back Monday night. And they also come here a lot, so I'm really in touch with them. I talk twice a day on the phone with them. I rode yesterday, and after that I went there because it was my mom's birthday.
In August, you and Catoki Boy had your first grand prix win at the Blenheim Summer Classic. What was that like for you?
For me after two years of Catoki out, it was something I never saw coming. So that has a really special place in my heart. It was something I couldn't believe—something I work for all my life, and at the end of the day, us riders, the reason we are at the barn every day is for those kinds of days. So that grand prix win, that had a real impact on my mind to keep working ever harder, to be more hungry, to get more grand prix wins, to keep me motivated and keep my feet on the ground as well.
You train with Michelle Parker and Alex Alvarado. How did you meet them and what is it like to train with them?
When I went to Guadalajara to ride when I was 13, at that time I jumped 1 meter or 1.10 meters. So, I rode with Alex and Michelle for six to eight months, that's where I met them. Now that I'm back in California for college, I'm back with them because I have a lot of trust in them. They always want the best for the horses; that's why I love their system.
What has been your biggest challenge as a rider?
I think my biggest challenge as a rider was when I went from home to a city to train every weekend. That was my biggest challenge as a rider and a person, because I wanted to come to the next level riding. I was a king back where I lived in my [region of] Mexico—I was the best rider—but when I went to Guadalajara and I really got in with the big guys, I noticed I wasn't the king, I was not even close to it.
After winning every weekend back in my state, when I went to Guadalajara for one year [and] I did not win a first place, not even one first place. That was really tough on me. I was thinking is this really for me? Am I made to be a rider?
They changed all of my riding style, my mentality, they opened my eyes. I wasn't the rider I thought until that moment. I realized I had to work a lot more because I was changing all my riding to real riding—you know, not anymore cowboy rides. And at the same moment, I had the mental thing of being far from my family. It was really tough.
When I survived that—when I didn't quit—I knew this was for me. And now it's paying off, all that suffering at the moment.  As a normal 13- to 14-year-old, I wanted to quit riding, to be with my family and friends at home, but I owe that to my dad. He didn't make me do something I didn't want to, but he made me realize that this was what I really wanted to do, so he kept pushing me in a good way, to pursue my dream.
What's next for you and Catoki Boy?
Right now, I'm grateful I have him sound. My objective is to be a really, really solid rider because I'm a new face here in California. My goal in the short term is to be a solid competitive rider and professional here in California and the States and [compete at] the Thermal circuit this winter. Grand prix is my goal, and hopefully be on a five-star team for Mexico in the Nations Cup. I don't like to talk about me, I always use the word "we." I wouldn't be where I am without a huge group of people being around me, all of my family, they are always there for me, and my current trainers.