When professional rider Nayel Nassar exited the ring after Round 1 of the inaugural $150,000 CSI3* CaptiveOne Advisors Grand Prix of Greenwich (Connecticut), the 30-year-old was proud of his horse's performance but disappointed to have an unlucky rail down.
As the class went on, however, rails kept falling for other competitors; not a single rider went clear. That meant a jump-off for the nine horse-and-rider combinations who had 4 faults. There, it was Nassar who crossed the timers first to take the win aboard Igor Van De Wittemoere, a 13-year-old bay Belgian Warmblood gelding (Cooper Vd Heffinck—Dahlia Vd Heffinck, Orlando) who was also Nassar's Olympic mount.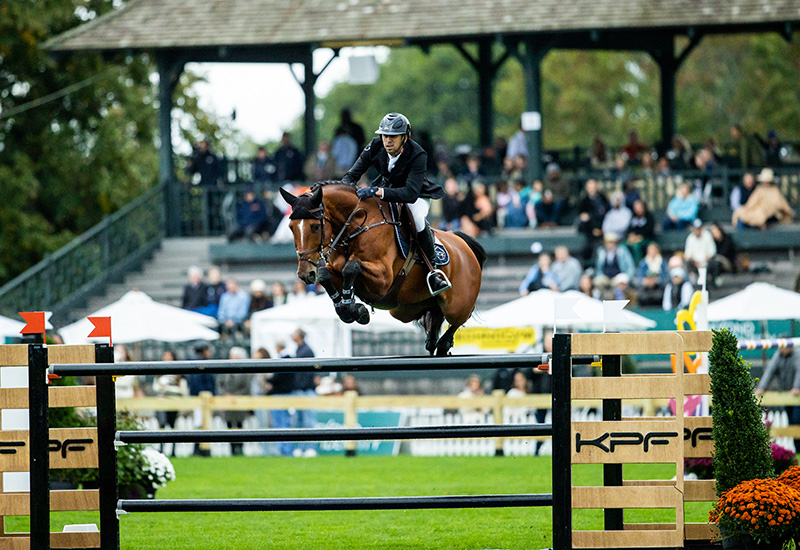 By any measure it's been a great year for Nassar, who rides for Egypt. After spending the first part of the year in Wellington, Florida, he competed in CSI5* events across Europe from May to July preparing for his first Olympic Games in August. In Tokyo, he and Igor performed well and made it to the individual final. A month later, Nassar took Spruce Meadows (Alberta) by storm with impressive wins aboard Igor, Darry Lou and Oaks Redwood, all of whom he owns with Evergate Stables LLC, as well as top podium finishes with much of the rest of his string. As if he hasn't been busy enough this year, he will marry fellow show jumper Jennifer Gates this weekend in a ceremony in upstate New York.
We caught up with Nassar to talk about his Greenwich win, his experience in Tokyo, and what's next.
 Tell us about the Greenwich Grand Prix and that four-fault jump-off.
It was really a mixed bag of emotions. My horse [Igor] jumped great, so I was slightly disappointed coming out of the ring. I thought he jumped too well to not be clear. But then we kept watching, and fences kept coming down, and when there were five left, we started to get ready for the jump-off because it just seemed like that was the direction the class was going. Obviously, it's a very rare thing to happen, and I don't think I've ever been in a situation like that. But I knew that if I could just get to that next round that I'd have just as good a shot as anyone because Igor has been so reliable, and he's so fast. So yeah, it was a different kind of class, but it was really great to be a part of it and glad that we could come out on top.
Watch their winning round here:

Your family was there to watch this class. Do they get to see you ride often?
No, not at all. My parents live overseas, but they're here in New York for the wedding, and I have a bunch of friends in town as well. I didn't think they'd want to drive an hour outside of the city to come watch, but they were really enthusiastic. It's been a long time since we've all been together at a horse show, so it was wonderful.
You and Igor have formed an impressive partnership. What's he like, and how have you developed him to this level?
He's so cool. He has a ton of blood, probably one of the most bloody and sensitive horses I've ridden. I have to say it's been a bit of a process with him. We got him at the beginning of 2020, kind of as a backup Olympic mount, but the COVID delay gave us an extra year, and he really stepped up and became my Olympic horse this year. That extra year was huge for him.
The last year and a half have really just been about getting the gears into him. Just like with any horse, it's been about finding the right buttons and figuring out what makes him tick. It's been a bit of a longer process with him just because he is so sensitive, but he really feels like he's hitting his stride now at age 13. I always kind of suspected that he was a horse that would probably peak in his older years, mainly because of how much energy he has and how he has to learn to channel that the right way.
Let's talk about the Olympic Games. Was riding there a dream of yours?
Oh, 100 percent. Absolutely. For a first Olympics it was little weird because of the COVID situation, but in a way it was a good one to get a feel for what the courses look like and what to expect at the next ones. It was a long journey for sure. It took a lot of planning, but in the end to make it to the individual final and to be there with the team for the first time in so long, it was really special. I was really proud of the way Igor held his own during the week.
It was the first time that Egypt has had an Olympic equestrian team in 60 years, correct?
Correct. It was really amazing to get a team qualified and to do it so easily. We were head and shoulders above the rest of the countries who were trying to qualify [from Group F, representing Africa and the Middle East], and that's a position that we worked hard to be in. I had a lot of pride being there representing my country, and to do it as a team was so fun because you get to spend time with your teammates and really bond. It was definitely a remarkable week.
You've already had an incredible year, and you're doing well in the rankings. What's next for you, and what are your goals in the future?
I'm trying not to get too wrapped up in the ranking lists. I have an unbelievable string of horses right now, so I can afford to show pretty frequently without feeling like I'm taking too much out of the horses. I believe that your rank is just a product of how well you manage your horses, and I'm just going to try to stay consistent and not over jump my horses. Our biggest goal on the horizon is probably the FEI World Championships next year. And then, of course, the Global Champions League and all the 5* Grand Prix we have here in the states.
Last question, how's our favorite horse Lordan doing?
He is doing so well. He was here in New York, but he just headed down to Florida a couple of days ago with the rest of the horses. He is 17 this year, and honestly he feels great. He had an easy summer in New York, but I jumped him a few times last week. My goal is to hopefully get him up and running by the end of the year and then probably give him another half season and then retire him. He feels too good right now to stop. I'd like to keep going when he feels this good, and he's been really fresh and still enjoying jumping. Obviously he doesn't owe me much, so I'd just like to give him one final push, and then he'll probably retire at some point next year.