Mandy Porter's winning streak in the grand prix arena is as hot as August in California. On Aug. 9, Porter and Eminent, owned by David Murdoch, won the $40,000 Bentley Grand Prix at the Menlo Charity Horse Show. A week later, on Aug. 16, they rode to the top of the $30,000 Markel Insurance Grand Prix at the Blenheim Summer Classic.
But until Porter picked up the ride on the 10-year-old, Oldenburg mare (Larino—Gratina, Stakkato) at HITS Thermal, the seasoned rider, with three appearances at FEI World Cup Jumping Finals under her belt, has largely focused on developing a string of young horses.
"'Luna' is the only horse I have competing at the grand-prix level right now," Porter said. "Most of the other horses I have are young—5, 6, 7—horses that are up-and-coming and maturing."
Currently based in Encinitas, Porter and her partner Craig Starr decided to stay mostly local based on the needs of their current barn, ACP Enterprises. Especially with a nice selection of shows in what Porter describes as their "backyard"—at Blenheim EquiSports' Showpark in Del Mar and The Oaks in San Juan Capistrano—she doesn't see the need to travel.
"Northern California always has felt like my home," said the East Bay native. "I try to go up there for competitions whenever I can; I still have family there, and that makes it feel like home for me. The decision to be based in Southern California was primarily because I was tired of traveling so much after my seven years in Europe. I didn't want to be driving the I-5 that much, after so much time spent on the road [while showing abroad]."
Following Luna's recent success, Porter's immediate goals are to qualify the horse for the Markel Insurance 1.40-meter Grand Prix Series Final that will take place at the Las Vegas National in November. But because Luna is currently for sale, she's prepared for plans to change. At the same time, she's also preparing her young horses for Young Jumper Championships and training a small group of students.
We caught up with Porter to learn more about her new and successful partnership and to get a glimpse into her well-regarded training program for young horses.
Chronicle: Tell us about getting the catch ride on Luna, and how the partnership has developed.
Porter: I started to ride Luna at [HITS Thermal Desert Circuit] this year when David Murdoch and Lauren Kardel asked me to ride her for them. David bought the horse through Alex Duffy in Ireland, and Lauren is working for Duffy Sport Horses and was instrumental in the purchase, as well.
I think I showed her two different weeks at Thermal; not a whole lot. I showed her one more time in Sonoma, that must have been in May. In the meantime, she was living with David, and he's in Northern California and I'm in Southern California.
The horse went to Spruce Meadows with Michael Duffy, who was her rider in Europe. I was unable to go. She came back from there, and she had a little rest. David sent her down for a couple Showpark shows in July—two shows and she was really quite good there. She was in the ribbons in almost every class that she did—a couple 1.40-meter grand prix and 1.50-meter grand prix. Then she went back up north, and David said he wanted her to show in Menlo because that's his home area, where his business is and where a lot of his clients could come and watch her go.
That was really fun to be able to ride her with everyone there to see her. She's a special horse in that way—she draws people in. From there, David and I spoke about trying to qualify her for the Markel final in Vegas in November. That's kind of our plan now, and that's how she ended up down at The Oaks last weekend. She is for sale, so I'm happy and grateful to David for giving me the opportunity to ride her for as long as she's available for me to ride her.
Luna is the first horse that I've worked with David on, and he's been really great to work with. We talk all the time about plans for the horse and her routine, and since he knows the horse better than I do, we discuss different things so everything is out on the table. I don't really do anything without discussing it with David, but he's been really fun to work with. That might also be because the horse is so straightforward and she's not complicated at all. Her main thing is—a horse of that caliber—she just needs to remain fit, that's the main thing that I focus on.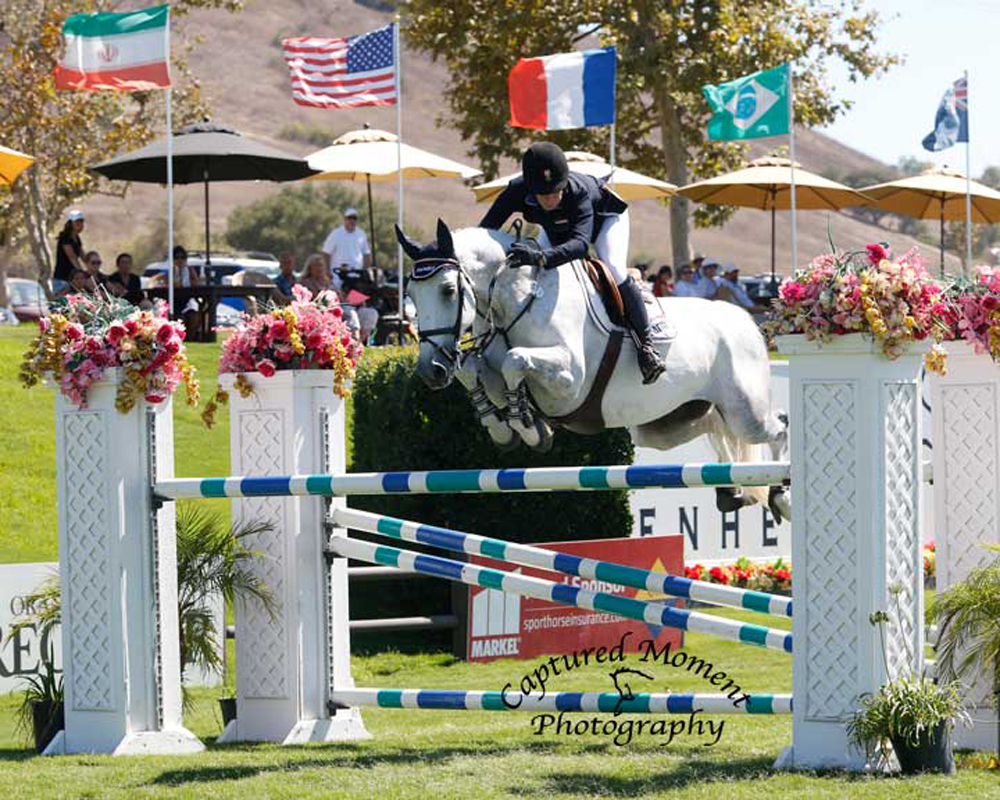 Mandy Porter and Eminent won two grand prix classes in a week, including the $30,000 Markel Insurance Grand Prix at the Blenheim Summer Classic. Photo by Captured Moment Photography
How would you describe the way Luna rides?
She's a super, super competitive horse. I think she sort of likes to feel like she's in charge, and I think she feeds off a rider who she really feels like is being competitive. The more you sort of challenge her, the more she responds and the better she really gets. She really likes to go fast, and she really rises to an occasion.
She can be a little bit lazy at home. I haven't had her in a home situation that long. She came home with me after this last show. I'm judging if she's tired, or if she's lazy—that's what I've had to figure out with her.
She can be a little lazy, but when you get on to warm up for a class, there's a lot more horse in there. She's a real fighter in a good way, and is a lot of fun to ride. You know when you step into the ring, you can do the best possible when you're on her.
What's your current focus at ACP?
Craig and I train a handful of clients. We purposefully keep it on the smaller side by design so we don't spread ourselves too thin. It just happens that in the last few months, or whatever, the way the business goes, it can ebb and flow, and just right now, it's shifted more toward young horses because that happens to be what's come our way.
We've been pretty successful with the young horses, too. I think people have confidence in us. Maybe a lot of people don't have time to do the young horses. I know when we had a larger field of horses doing upper level class, the young ones are the ones you don't have much time to develop. It's really fun. It can be really rewarding as long as you have the time to do it.
Having good young horses is a bonus, any time you work with good stock. That makes it fun, as well.
Where are you finding your young horses?
Some of them have come to us from owners with young horses, and some of them we searched out from breeders in the States—mostly on the West Coast because that's been the easiest for us. We haven't gone to Europe to shop for horses in a while. We'd really like to promote the breeders here. There are some people who are doing some really good work. We're open to whoever has the stock that suits us.
Wild Turkey Farm up in Wilsonville, Ore., and Barbara Ellison are producing a lot of young horses each year that are quite nice. I rode several of Barbara's stallions.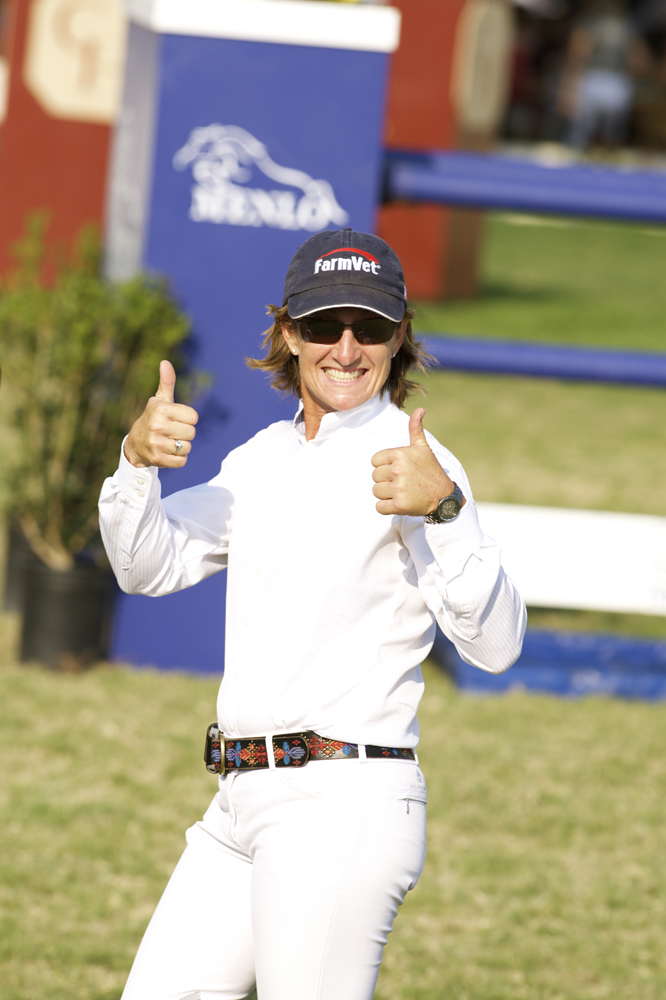 It's thumbs up for Mandy Porter as she's got some
talented horses in the barn.
Photo by Alden Corrigan
What draws you toward the young horses?
I sometimes wonder if developing young horses is underrated. It can really make or break a young horse, obviously.
It's helping developing them to be the best that they can be—their best. They don't all have to be amazing grand prix horses, but if they can be developed into what appears to be their specialties, whether that's grand prix for some, or solid amateur horses for others. But it's really about developing them to their fullest potential. It's finding the fine line.
Some may require more work in certain areas than others. We have some young 5- and 6-year-olds, and it's about knowing when to push and when to back off. One might progress super fast, but then you want to make sure you don't push them too fast.
How would you describe your program at home and at shows?
Our horses get to go out on the trail and get exposed to different stuff without showing them too constantly. We want to expose them to different situations but don't want to show the youngsters too much. We don't want them to get burned out. They really do seem to enjoy going to shows. None of our young horses are chasing points. If they're ready to do Young Horse Finals, it's based on their experience, but they don't have to be. It's not the absolute end all.
In many respects, Craig and I, we are really more old school in that we want them to be fit to be able to do their jobs, like working out on the trails. It helps with the mental state. The horses are pretty darn fit, and in our opinion, that can be reducing injuries. Athletes are athletes, and they're going to get hurt sometimes.
We don't do anything extreme. We use a Theraplate. We feed good feed—Purina. We don't have to feed a ton of supplements. We keep it pretty basic and old school, and the horses are physically fit and mentally happy and interested in what they're doing.
Depending on the individual horse's needs, we do ice a fair amount. Maybe not every single young horse is going to get a huge ice treatment, but generally speaking, the upper-level horses are going to have ice and have a magnetic blanket. Almost all of them will get bandaged. An occasional youngster will rip them off, and then they can do more damage if they're trying to pull them off. We do a fair amount of packing feet, but that depends on the conditions at the show—how hard or firm the ground is. Some horses may feel like they need it more
Last week at the Oaks, the footing was absolutely fantastic in the grand prix ring so we didn't have to pack feet there. Sometimes on the newer, synthetic footing that feels more firm, we'll pack. It's paying attention to the conditions and the needs of the horses. But we don't do absolutely everything to every horse every time because sometimes that doesn't give the full effect in the moment when it's most needed.
And what's your personal fitness program?
I'm not one of those people who goes to the gym. I'd rather ride extra horses or work around the barn instead of doing the gym thing. I probably ride six horses a day at home. I tend to spend a little bit more time on the horses. I want to give them the best of what I have.
As soon as I get on a horse, I like to have a clear mind and not be thinking about a lot of other things. I prefer my own time when I'm riding horses. They deserve the attention that I'm asking of them. When I'm riding, it's my time to be in our world. When I go to a show, when I'm warming up for a class, I'm really in my own place with myself, the horse and the immediate team with us. I'm not generally one to hang out and get distracted. A focus just turns on, like a switch in my head. I almost sometimes feel rude because I don't engage with other people.
What's next for you and your horses?
The Young Jumper Championship Finals at Showpark are coming up, and we have a couple of young horses in that. There's another young horse final in Blenheim in September. At a couple of those same shows, I'm planning to do Luna in the other Markel classes to keep qualifying for the Las Vegas finals. There are so many nice shows.