Laura Graves and Verdades hadn't been seen in competition since last August, when they splashed onto the international dressage scene with a fifth place in the freestyle at the Alltech FEI World Equestrian Games in Normandy, France. The new darling of U.S. dressage was a crowd-pleaser, and she and her 13-year old Dutch Warmblood gelding Verdades (Florett AS—Liwilarda, Goya) finished to a resounding ovation in front of an appreciative crowd.
But the pair remained conspicuously absent from the Adequan Global Dressage Festival in Wellington, Fla., for the first few months of 2015. That was until Week 9 of the festival, the Palm Beach Dressage Derby CDI-W.
Graves and Verdades, whom she calls "Diddy," proved they are back and up to snuff on March 6 when they clinched the Grand Prix freestyle under the lights. The two bested the rest with a 78.87 percent, with the Belgian judge at E, five-star judge Freddy Leyman, awarding them an 81.50 percent.
The 27-year-old Graves is based in Geneva, Fla., near Orlando, and trailers for 2 1/2 hours each way to Wellington to train with her coach Debbie McDonald. Graves loves being away from the crowds in Central Florida, but she will remain in the midst of the excitement for the rest of the South Florida winter show season. The Chronicle caught up with Graves about what she's been doing and her plans for Diddy in 2015.
Where have you been? We've missed you.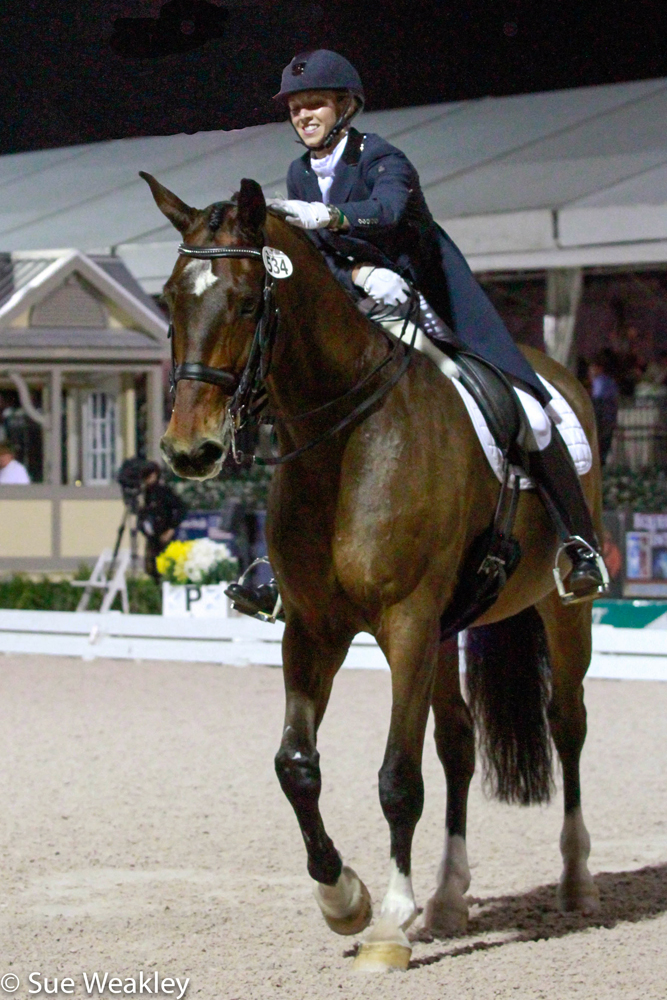 Laura Graves and Verdades.
When we got back from France, we had a little bit of a break. And then we moved into our new place. It's a nice little nine-stall barn, and it has housing for us and housing for my staff, which is important to me so that we can live on-site.
We've been working hard on the little stuff. Last year was his first year at Grand Prix, but now we've got all the pieces, and we can make it better. When I came off of [the World Games], that was awesome, but now I feel like we just started our training.
You had such an amazing competition at the World Equestrian Games. How does it feel to be famous?
That's so weird! I joke about it. You really feel that way when you're back cleaning stalls!
Why do you remain in Central Florida instead of basing yourself in Wellington?
It's 2 1/2 hours away and it's all highway, so it's not bad. I just enjoy it up there. It just makes it worth it. Wellington is so busy every day, and it's all about work. It's business all the time. When I go to Publix [the supermarket] or when I go to get my fingernails painted, I don't want to see anybody who rides horses.
What are you and Diddy working on when you train with Debbie?
We are really looking for improvement instead of staying stagnant. I want to post a higher score. That would be my goal−to see some consistency in the piaffe/passage. We know his pirouettes are strong. We'd also like to see the [flying] changes improve.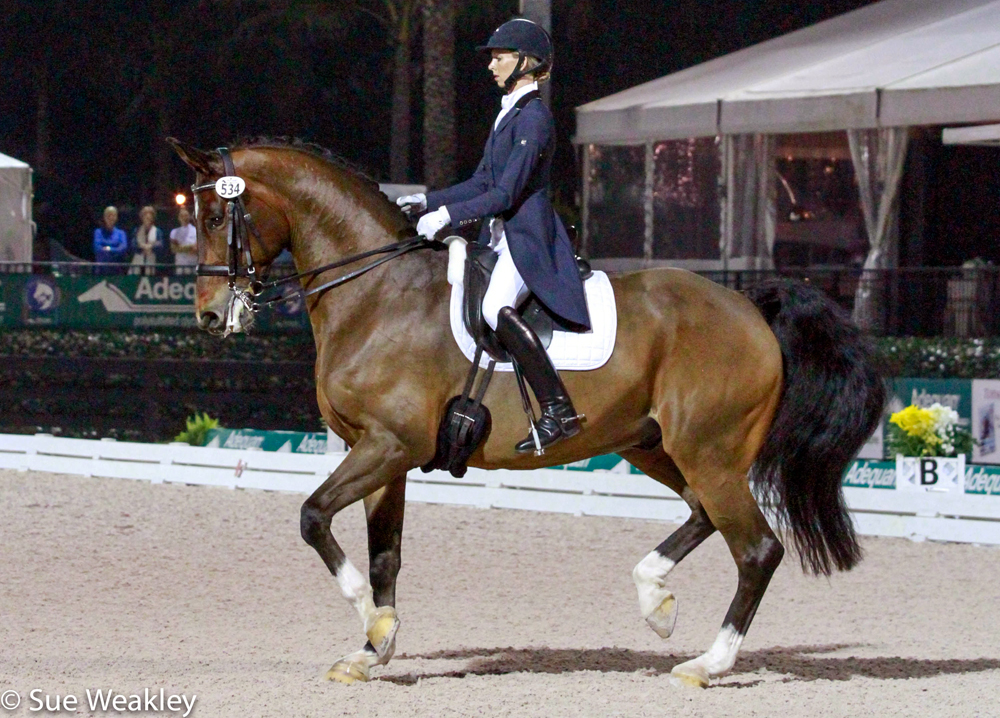 Laura Graves and Verdades on their way to the Grand Prix freestyle win at
the Palm Beach Dressage Derby CDI-W.
What are your plans for the year?
Hopefully, cross your fingers for us, we'd like to qualify for the [Reem Acra FEI] World Cup Final. We'd like to go to Vegas. We have next weekend for the second World Cup qualifier [AGDF 10 CDI-W, March 12-15], and we're debating on the Nations Cup at the end of March. We submitted out paperwork, and, if we are needed to help Team USA, then we will probably be here for the Nations Cup.
I'd like to go to the Pan American Games [Ontario]. If given the option, we will sit out the European tour [this summer], and a really good outing at World Cup would allow us that privilege. Last year was an awesome opportunity and, with the final destination being France, it made sense. This year, I just feel like it would make more sense to us to stay here.
It's a little bit of a risk I'm taking not going to Europe, because, if some other Grand Prix American goes to Europe and then whups my scores, then I don't make it to the [Pan American Games]. But if I can improve upon last year's scores, I feel pretty confident that we will be OK. Especially if we have a good outing in Vegas, then we can secure a position to stay here and train and then meet everyone in New Jersey if they do need us for Pan Ams. It would be optimal for us.
Do you have any other horses coming up the pipeline?
You can't count on other people to keep you well mounted. I don't blame people. If I had a really nice horse, I'd be riding it myself too.
I don't think it's fair to think, "Why hasn't a sponsor come through for Laura?" Why would they? I'm just as happy on my own horses. It's a privilege. It's a big responsibility financially, but it's a privilege too.
To be able to own something and be vested in it is like stock. When you invest in it when it was nothing, and you had a good feeling about it, and it goes up, you think, 'I could never afford to buy this stock at this price,' but you did because you bought into it at the right time−that's what I mean. I feel a little bit the same way about the young horses.
I have two colts in Vermont. You'll see them in a couple of years. I usually buy colts. I like the boys. It's not a quality thing. For me, it's like a management, an emotional thing: how to manage a mare's cycles and how to get things consistent. Sometimes I see a mare that is exceptional, and I break my own rule.
I have a very nice, probably national quality coming 6-year-old gelding. And, I also have what looks like an exceptional quality American-bred young mare you'll hopefully see out next year.
These two will be brought up with selling them in mind just because if I don't, then I keep them all. But if one proves to be extraordinary, then I will become attached. It's not business savvy to have a barn full of horses I own that aren't the quality to keep me where I want to be.
Watch Graves and Verdades' winning Grand Prix freestyle from the Palm Beach Dressage Derby…