Veteran show jumper Laura Chapot has topped more than 100 grand prix classes in her career, but her victory in last weekend's $50,000 Marshall & Sterling/Great American Insurance Group National Grand Prix at the Winter Equestrian Festival (Florida) had a special quality. Chapot, 50, Neshanic Station, New Jersey, had a simple fall last summer that lead to complex surgery and lengthy shoulder rehab, and while it did not keep her out of the saddle for long, it's kept her out of the big classes until recently. So when she bested a 45-horse field and an 11-horse jump off in the Jan. 22 grand prix with Chandon Blue, it felt like a punctuation mark on that long process.
"I feel like this is just a nice way to be like 'I'm back,' " Chapot said after the win. "Tonight, [Chandon Blue] was really on a mission. It all came together, which is a great feeling when it all just happens like that."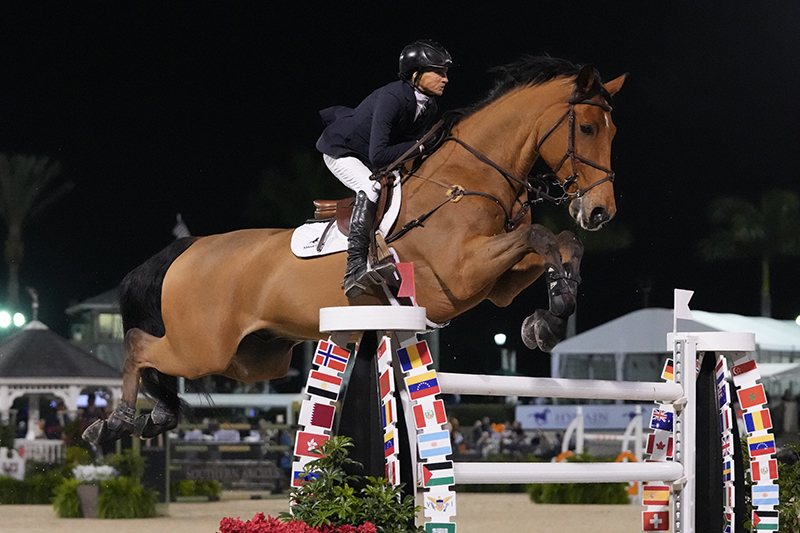 Chapot got Chandon Blue (Chacco-Blue—Bluebell, Landcapitol) from Irish Olympian Cian O'Connor, whom she credits with helping her along the way with the 17-year-old Oldenburg gelding. Chandon Blue is special to Chapot, who co-owns him with her mother, Mary Chapot. His personality and try-hard attitude make him a barn favorite, she said.
We caught up with Chapot to find out about her recovery, what Chandon Blue is like to ride, her formula for helping her horses have competitive longevity, and her plans for 2022.
You're coming back after a lengthy rehab. Tell us about how you recovered from your broken arm.
It was such a simple fall, I never expected it to be such a complicated injury. I was riding a green horse. He went left and I went right—I just wasn't expecting it.
I fractured the upper tip of my humerus, which goes right into the shoulder socket. The surgery was fairly complicated: They put a plate and nine screws in; they had to detach the rotator cuff, do a bone graft, and attach it again. I was lucky that all the stars aligned and someone was able to get me into a great hospital and a great surgeon. He did an amazing job—as complicated as it was, it needed someone special.
I was surprised that the recovery took as long as it did, but everyone around me said, "You're recovering so much faster for the injury you had, you have to understand this was a severe injury."
I was back to riding after seven weeks. My first show back was Devon Fall (Pennsylvania) in September. Once I started riding and felt strong enough to hold the horse, I really didn't worry too much about it. My arm still doesn't go over my head and I can't lift weight over my head, but anything below shoulder height is 100% fine. I'm glad I can do what I need to do, because I don't intend to hold any horses over my head!
I've been very lucky with the help I've had coming out of the surgery, both my rehab in New Jersey and the people I work with down here in Wellington, Wendy Coren and David Lundquist. They've been very helpful with making the recovery a lot speedier than it would have been.
I always feel that as unlucky as it was to have that kind of fall, I was really lucky to be in the right place at the right time and have the right people around me.
The fall happened at the very end of July, so my horses and I missed a lot of the summer shows that we normally do. But because we had a bunch of clients at those shows, I was back at the horse show grounds helping everyone the day after the surgery. It was nice to have something to do that kept my focus on the horses.
Does this win carry special meaning for you in light of your injury and recovery?
For sure. My horse is older but he's had a lot of vacations in his life. After this break, he was over-the-top enthusiastic. I love it when he has a really good win like that because he has a great personality and tries his heart out. He's been really good for me the entire time I've had him. It was rewarding for me to have him have such a good class. He knows he's done well so he's super happy about it.
Watch their winning jump-off:
Tell us more about Chandon Blue.
We got him a few years ago from Cian O'Connor, who supplies a lot of the horses I get. He had been off for about a year with a minor injury, so when I got him he was just coming back. I brought him to Wellington in 2019 and he did great. I think he won six FEI classes that year, so he was really successful.
The following year in 2020 he had a minor injury, so it was kind of lucky that his extended break happened when a lot of shows were shutting down due to COVID. He came back last year in Florida and did really well. I think he ended up winning one of the two stars and has been really great for me over the summer until I got hurt. So he had another break.
But he came back down here firing in every single class. He does this little dance, we call it, like he jumps the jump in the schooling area and jumps into the air. He's been so excited every time he's come out down here.
I was a little afraid that under the lights he would be too over the top excited and not focusing, but he rode as well as he's ever ridden. He was really on it for me, in every respect.
What is he like to ride?
He's a little bit taller than I normally have, but he doesn't feel like a tall horse. He's quite energetic, and most of the time he knows that when you're riding he should behave, but sometimes he gets a little full of himself and has to explode. I know what to expect from him now, and he doesn't surprise me. After a break he can be a little overly strong and bury his head a bit through the turns, and I'm not sure he's actually looking at the jump. But on Saturday night he was really focused and on every single jump. He was really there with me.
I've had him a while and we've come to understand each other pretty well. He likes that I give him the opportunity to think at the jumps and he's so careful. Once he locks in, it almost doesn't matter what I do because he's intelligent and thoughtful enough to stay away from the fences.
What is your formula for helping your horses have long careers?
Both my parents [Olympic veterans Frank and Mary Chapot], having been in the business for a long time and—none of us having had the millions of dollars to just go buy another horse— learned how to manage the horses. So taking care of your horse and treating them as individuals and not machines is key to keeping them going for a long, long time.
We pick our places to show, and we show a lot in Florida and then they get a full month off after that. We pick our shows carefully over the summer, assess how they're going and whether they need a break or not. The next great horse isn't going to come around the corner.
I've been around a lot of fantastic horses in my life, especially seeing my parents' involvement with the U.S. Equestrian Team, and have seen that a special horse is special and isn't replaceable. You might have all the money in the world but you still can't replace them; they're a rare find. Even if I had all the money in the world, I couldn't replace Gem Twist or [2007 Rio de Janeiro Pan American Games bronze medal partner] Little Big Man or even this horse.
You really have to take care of what you've got. It's not easy to find the ones with all the talent and all the desire and traits that make them a great show jumper.
We treat them like real horses. Sometimes in this world, we've come to where we have so much at our disposal in terms of caring for our horses that we forget they need to be animals. It's not natural for them to have all the primping and preparing, and we want to take the best care of our horses as we can but sometimes you have to let them be a horse as well.
What are your plans for the year ahead?
We'll show Chandon Blue several more times down here, he likes this venue and likes the footing. You always have to come out of a competition and see how a horse is feeling. He's entered in the two-star this week, and we'll take it from there. There are a few more good opportunities for him down here. He gets a big break after that.
Then we'll look at the summer. We like to do Devon and Saugerties (New York) and Lake Placid (New York). We always try to do Devon Fall and [The Pennsylvania National] in the winter. Those are all good places for him, and as long as he's enthusiastic and telling us he wants to go and feeling good and jumping well, he can certainly do as much as he wants to do.
For a lot of them, age is just a number. Last year I had a 22-year-old down here and I think he won more that year than he ever had before. I have a 21-year-old here now who isn't doing the biggest classes, but he's been great and has been clear almost every single time here.
As long as they're sound and happy, age isn't as important. Chandon Blue has had a few breaks because of injuries, but the way he's jumping this year and his enthusiasm, you would never know that he wasn't 8 years old.