Upperville, Va.—June 11
It'd be difficult to find a hunter rider who hasn't dreamed of one day showing under the famous old oaks in the main ring at the Upperville Colt & Horse Show, and top hunter professional John French was no exception. Growing up in Maryland, French often trekked to the historic showgrounds to watch the legends battle it out. Eventually, he took his own tours around the picturesque ring, but after he moved west, showing at Upperville once again became something he hoped to do but was out of reach.
Over the years, French, 59, earned a reputation for being a top catch rider, winning championships at Devon (Pennsylvania) and indoors on a variety of horses. In 2009 he won the inaugural $100,000 ASG Software Solutions/USHJA International Hunter Derby Finals (Kentucky) with Rumba. On April 15, 2020, the National Show Hunter Hall Of Fame announced that French was one of its 2020 inductees. 
In the past couple of years, French has made a lot of changes.
After 32 years in California, he closed his business and moved to Washington state to base with show jumper Lauren Crooks. Not eight months later, he picked up again, this time heading to Florida to ride hunters for Olympic show jumper Kent Farrington.
We caught up with French ringside at Upperville to talk about being back at the country's oldest horse show—39 years after his last appearance—his move east and his Hall Of Fame induction.
What's it like being back at Upperville?
I always remember coming here as a little kid—and this was such a big prestigious show—and seeing the riders like Charlie Weaver and Rodney [Jenkins] show in this ring. I always aspired to do it one year. I did come in 1982 and had a green horse. I did the small hunters with him and a couple horses that did well. And I did some ponies my last couple years as a junior. It was all grass back then. It was different. And across the street has made a lot of changes. That was a big grass field they had the jumpers in.
It's been great to come and see people that I haven't seen in decades. I said to [Tom Brennan] today, "I haven't been here since 1982." He said, "That was the year I was born," so it makes me feel a little old.
It's a different kind of show, with the trees and the country in Virginia. I was on the West Coast for over 30 years, and those are sort of horse show facilities just made for that, nothing else. It's different now. There seems to be a lot more of those circuits people go to. When I was growing up, you just did this show or this show. They're all one-week shows. It's just special here. They do a great job decorating the jumps and making it feel special. I love it here.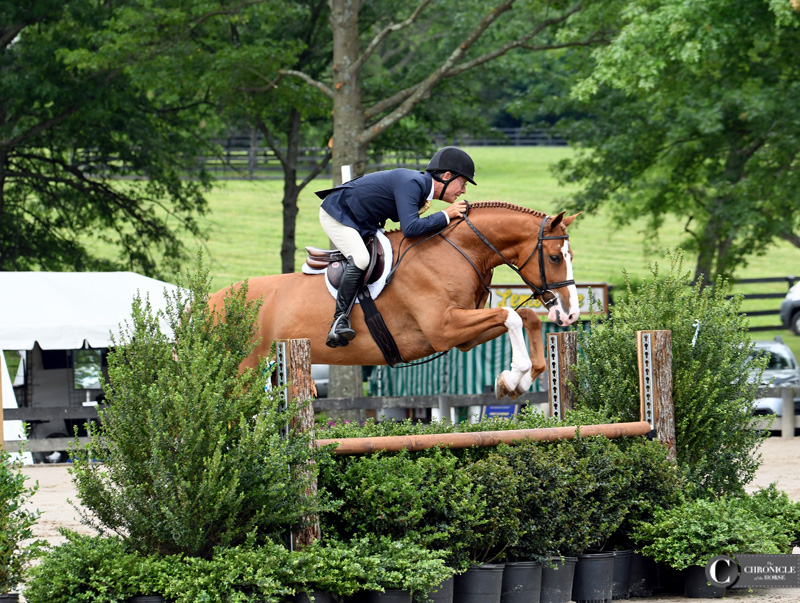 What make you decide to come back to Upperville this year?
I ride for Kent Farrington, and we were planning to come to Devon, and since we'd up here for Devon then we would come here. But Devon didn't happen, so we stayed in Florida. We'd been there since everything kind of shut down … so it's been nice to get out of town and come up here. We're going to do a little bit of a circuit here, and then we'll go on to Brandywine [Pennsylvania].
For me, it's close to my family. I grew up in Maryland, so I'm able, between shows, to go and see my mom and my brother and sister. I think this will be on our stop now. It gets too hot in Florida, so in the summertime I think we'll come around here, do some shows on the East Coast and this area, and then maybe go to Kentucky or whatever shows we go to after that.
I've always wanted to come back here and show again, but when I was on the West Coast, it was always a World Champion Hunter [Rider] week. When we did come for Devon, it was like we had to rush back to California, so I was never able to come here. Now that I'm an East Coaster, I can make sure that we come here every year.
What made you decide to come back to the East Coast and work for Kent Farrington?
I didn't really plan on it. I thought I'd be on the West Coast forever. I did want to make a change, and I had moved to Seattle to maybe wind down with the riding and get more of a home business instead of doing so much catch riding. I figured, in California, it was always going to be the same. I was always going to be catch riding. So I needed to do something different otherwise I'd never change. I moved up there, and I liked it.
We were showing in Canada and going to different shows. Because in California, you basically show against the same people every week. There aren't different circuits. There are some northern shows and some southern California shows, but at the bigger shows, it's the same people. I wanted to change, and I was showing in Canada some. I had only been there for like eight months when Kent called me up and said, "Hey, do you want to work together with me and do the hunters?" I said, "No. I just moved to Seattle. I just bought a house, no." He said, "Oh, well, think about it. Maybe we should talk during Washington [International Horse Show (District Of Columbia)]." So we talked. He said, "Why don't you come to see Florida and see my operation for Thanksgiving?" I did that, and I was like, you know what, this is more for me.
He runs a great operation, and I can focus on the riding and the teaching and not so much on running the business and hiring the grooms and doing the billing and all those things. He's got a team that does all that, and I thought it was the right decision. I'm really happy that I'm with him. I don't do as much riding as I used to. I'm doing more training clients, but still Kent brings horses over from Europe to buy and sell. It's the perfect situation.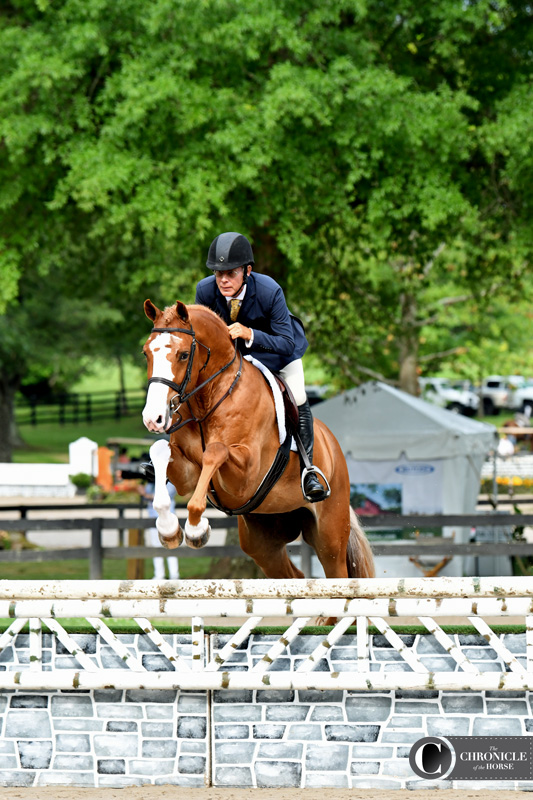 What's the program like?
Kent always has maybe three or four of his own green horses that I'm bringing along, and we have a junior and a few amateurs. A couple of the amateurs live in Florida, but some of them live in other places and just come down to Florida or meet us at the shows, so at home I still ride a lot because some of the clients aren't there. But at the show, maybe I have a young horse and a first-year horse. I always have a couple horses to show.
I used to do 50, 60 rounds a day, catch riding and stuff. I have to save my body now and just ride the special ones, the horses that are really in our program that we know. I don't want to ride horses where I don't know what's going to happen, whereas before, I would just get on anything and ride it. I had a couple bad falls on catch rides a couple years ago. Kent's very protective of wanting to make sure I don't get hurt. We know these horses well, so he looks out for me which is good, because I'm the type of person who just says yes, yes, yes. That's another great thing about working for him because I have someone who can say no, because I can't.
How does your business relationship with Kent work?
When I first went there last year, he already had about five horses, so we sold those last winter. Now we show each other videos: Maybe we should get this one?
Before [he hired me], he used to give his hunters out to different people to ride, and he decided he rather be in-house. So that's why he wanted me to come in and join the program, because he wanted it to be all in-house instead of not knowing really what's going on with his horses.
When I school them or show them or video them, Kent will watch and give me suggestions. It's nice having someone that can look at the horses with me and decide what they need. He's got great riders, too, who help him with his jumpers, so if I have a problem with a horse on the flat or a horse is pretty green, and I really need some intensive flatwork, he's got Claudio [Baroni] who rides his horses, and I can have Claudio ride the horse for a week, see what he thinks. It just works out well.
Do you have any horses you're excited about currently?

I have that horse Babylon [an Oldenburg gelding (Crumbie—Die Cera]. Because of COVID, he really hasn't gone very many places. He's mostly shown in Florida. He went out for a few weeks last year before everything shut down. He got second and third this week, but is a little green. This ring is a little bit different from what he's used to. He's been showing in Florida for so many weeks; he knows that place really well now. I'm really excited about him. He's only just turning 6.
He was reserve circuit champion [at the Winter Equestrian Festival] in Florida this year in the 3'6" green. He's just going to get more experience and more exposure now to everything. I'm looking forward to him for the rest of the summer and doing the [USHJA Green Hunter Incentive Championships (Kentucky)].
Do you think he may be a derby horse?
He definitely has the scope to do it, but I think just turning 6, he needs a strong year of going to shows like this because you never want to scare them and do something too soon. We'll take our time because we're going to keep him in the barn. Next year, he should possibly be doing the junior division with one of our clients. We're not in a hurry. We're going to have him a long time.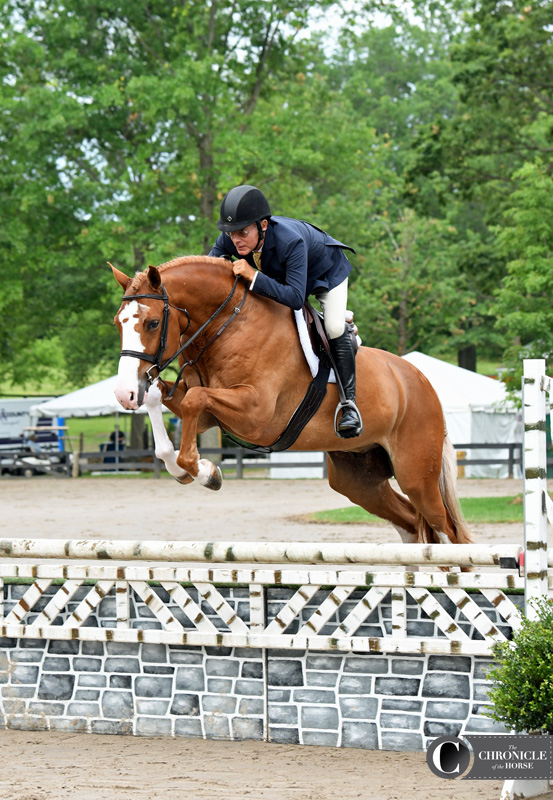 What were you up to during COVID?
It was kind of nice. We just had moved. The first part of it, [my husband Carlos Sosa and I] were renting …  then we were able to buy a house in Florida and mostly fix it up. We've been decorating our new house, also spending a lot of time at home. For a while there, we watched a lot of TV.
[In Florida] the shows luckily were able to keep going, so we were able to keep going where a lot of other people weren't able to. It was a good thing I left the Northwest, actually, because that totally shut down, and nobody can go to Canada anymore, so it was a blessing that I made the move at the time that I did.
What kinds of things did you guys watch?
We would watch show after show, just watch them all in a row. The whole series of "Big Little Lies." "Your Honor." A lot more TV than I'm used to.
How did you feel when you heard you were being Inducted Into The National Show Hunter Hall Of Fame?
It's definitely an honor to be inducted into the Hall of Fame, if it ever happens! [The ceremony, which normally happens the week of the Devon Horse Show, has been canceled the past two years.] I've had plenty of time to get my speech ready, no excuses now! Hopefully it'll happen next year. Some of the people that I started working for are inducted into the Hall of Fame. I was lucky enough to ride for Danny Lenehan and Brian Lenehan. I worked for them, and they're inducted, and Patty Heuckeroth is inducted—people who started my career, and to now be one of them is nice. I just hope I can keep doing it for many more years.
Your mom, who is 90, was still riding until about 10 years ago. Are you going to be riding as long as your mom did?
I bet you, if I can, I will for sure. And teaching. I don't know how many more years in the show ring, but riding, when you're teaching sometimes you're like, "Let me get on! I've got to show you." So I think that'll be the case, but hopefully I keep doing this and keep riding if I keep taking care of my body and don't ride crazy amounts like I used to, I think I'll go for several more years.
Do you have any big goals you'd still like to accomplish?
I'd like to maybe win the derby finals one more time, and then I'd like to have a few students win [major championships]. I've had students do well, but I want to ribbon in the medal finals, and I want my amateurs to win at the biggest shows. I think I get more nervous for training my clients than for myself sometimes; I want them to do so well. That would be great if I can have clients that can win at that level as well.