Quebec native Isabelle LaPierre exceeded even her own expectations when she and her own Cescha M topped a six-horse jump-off field to win their first Longines FEI World Cup qualifier at Bromont (Quebec) on Aug. 6, the first event of the 2017-2018 Longines FEI World Cup Jumping North American League series.
For some, it may have seemed that LaPierre and her 10-year-old Dutch Warmblood mare came out of nowhere. After all, the pair took most of the 2016 season off, and LaPierre's previous World Cup horse, Vicki Vale, was forced into retirement in 2014 due to illness. With only one horse competing at the FEI level, LaPierre may have seemed like an underdog. But with the support of a hometown crowd, LaPierre's victory is confirmation that the careful and calculated plan for success which she laid out this spring is simply coming to fruition.
LaPierre and Cescha M, or "Princess", as she is often called, are not strangers to success in the jumper ring. In 2015, the pair won the Jump Canada National Talent Squad Series Championship at the Royal Winter Fair (Ontario). They have also competed in 1.50-meter FEI classes at the HITS Ocala Winter Circuit (Fla.), Tryon International Equestrian Center (N.C.) and Kentucky Horse Park this year, winning the $50,000 HITS Grand Prix (Fla.) on Feb. 12.
"I have won a lot with her, but this was her first World Cup," says LaPierre. "All year, we were working to be ready for this class. We went to Kentucky and Tryon to jump the bigger classes. It really helped me to prepare by jumping some of those more technical courses. I needed some practice there."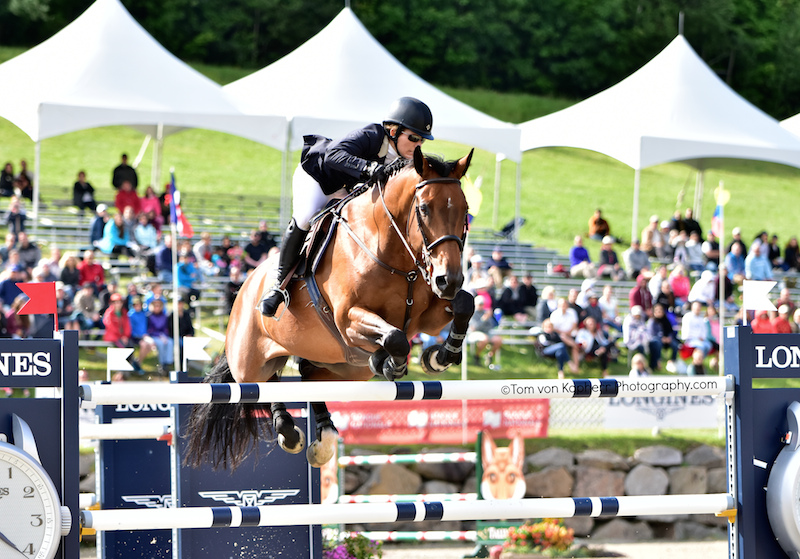 LaPierre, 38, trains and coaches out of her family's farm, Les Ecuries de la Chaudiere, located outside of Quebec City. In her native French, the farm name rolls off the tongue; it is named for a local river and translates to "the Stables of the Chaudiere." Isabelle's mother, Nicole, organizes the business and keeps the books while her father, Langis, is a farmer. The 38-stall barn is home to boarders who compete in hunters, jumpers and equitation. "We do it all," said Isabelle. "I do training, give lessons, and go to shows with clients mostly around Quebec City and Montreal. For my level, I have to go to Toronto and the United States."
On a typical day, Isabelle is in the barn by 7:30 or 8:00 a.m. She rides five or six horses, then teaches lessons in the afternoon and evening for those who attend school or work. "I spend maybe 80 hours a week," says Isabelle. "This is how I pay for my shows. We started the business at a small level but now that I go to the bigger shows, I have some clients who do as well."
While Princess is enjoying some time off after her big victory, we caught up with Isabelle to learn more about this rising star.
COTH: Tell us about Cescha. What makes her so special?
LaPierre: Everything she has done, she's done perfectly. She has a drive to win, it is just who she is.
With so many horses, you go crazy fast but then they lose their shape and take down rails. With her, you can take a chance. I can gallop really fast and she is still really careful. We have been together for five years, and really took the time to get to know each other. We really trust each other, and the relationship we have is strong.
The best thing with her is she really tries to win every time, and I like to win, so we are a little bit the same.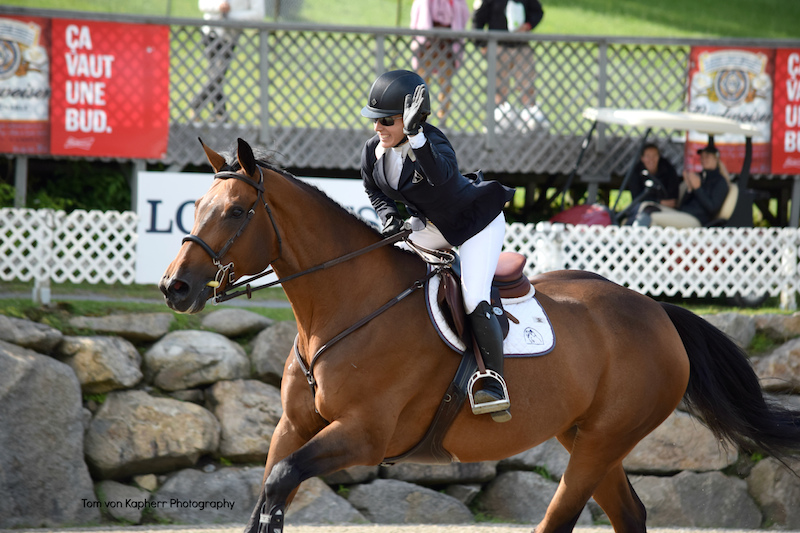 In this sport, it is all about the connection with your horse, that relationship. I don't have a groom, and because I have only her, I have time to take care of her myself. You get to know them, all about them, and they give it to you back.
I really try to take care of her. Horses are not machines. We have to take care of them; they have to know that we will do that. I believe in that.
I am lucky to be able to have a connection with my horses. Some people may be lucky to have 52 horses. I am lucky to have one who I have a connection to.
COTH: Cescha M is a mare and your previous top mount, Vicki Vale, is a mare. Are you drawn to mares over geldings?
LaPierre: No, it is just what happens. When I look for a horse, I often go to Paul Hendrix's auction house, and they always show me mares. I do think mares give more than geldings and stallions. But I am not opposed to mares like some riders. Vicki Vale qualified for the World Cup Final, and I competed her from 2012 until 2014. She is now in the field having babies.
COTH: It is unique to be competing at the elite level in show jumping with just one horse in your string. Was that your plan?
LaPierre: At the moment, I only have her. I normally also have a young horse, but right now, I am really focusing on her, which is fine with me. I got her when she was a 5-year-old turning 6, and she had done nothing.
I first saw her at the Hendrix auction. Someone was trying her and she was jumping big jumps. I wasn't looking for a horse then, but she caught my eye. She was then sold to someone else. A little later, Paul Hendrix called and told me "I have a horse for you." But I had to come now to see her and buy her now.
I sat on her, and it just felt good. I remember asking [Paul] if I could do a course with her, because I just had a feeling. I didn't really try her out; I just knew that she felt good. When she was 6 and 7, she won a lot around here. We started the grand prix at 8 years old, and I think now she is only just starting to be really competitive at this level.
COTH: Do you think it is an advantage or disadvantage to have only one horse compared to the riders you compete against?
LaPierre: It is a good thing and a bad thing, but I am coming to think it is more good.
Because I do a different level than my students, when I show I can really focus on my horse, and I am not trying to run to all the rings. So in one way I can really focus. But I also don't have other opportunities to practice, because every time I go in the ring it is for a big class. So there is lots of pressure.
In the morning of a class, I will practice using poles on the ground, to practice my eye and my pace. I have to work in the morning on my eye, because I won't be riding another horse to warm up with. If I go to a show, I am only going to compete two or three times, so I have to make my practice count.
Nothing can be perfect. I must focus on the positive things. I may only have one horse, but she really wants to win. What I do, I do for myself. I don't [compete] to prove anything to anyone else.
For me, it is more about doing this level with her. I put enough pressure on myself, so when I go in the ring, I can focus on what I really want to practice. If you do things for other people, you won't survive. This sport is too difficult for that.
COTH: You and Cescha sort of disappeared in 2016, and then have still come out strong this season. Can you tell us about that?
LaPierre: We had a really good start in 2016. We won a grand prix in Ocala at the beginning of the year, but then she got a huge abscess, which took a while to get better. Then she got hurt in the stall. What happened was just a stupid thing but she needed rest. I only have one horse; I have to be very careful and don't want to take a chance.
So I gave her three months totally off. Then I started getting her back in shape last fall. I think we took a total of eight months off from showing. But because I took all fall to get her back in shape, when she was in Ocala this winter, she was fit and ready to go. I believe in time. I don't really have another choice!
COTH: Was there added pressure in competing at Bromont in front of the hometown crowd?
LaPierre: The pressure I have is all mine. Because I had succeeded in executing my plan for preparation, I knew she was ready and we felt really good. As I have said in some of the other articles, and I don't mean to repeat it but it is true, I felt like the crowd was jumping with me. They help to push me to go faster and do better.
COTH: What are the next steps in your plan for Cescha?
LaPierre: At this level, I believe in going show by show, and seeing where it brings us. Is she going to keep up the same way?
Right now she will have a month off because she deserves it. We will aim for the [American Gold Cup, a World Cup qualifier at Old Salem Farm (N.Y.) in mid-September]; we will see how she goes there, then three weeks off, then we will go for the next World Cup qualifier. We will also aim for the Canadian Championships in November. We will see where all of that brings us for next year, and whether we plan on going to the final or not. She is just starting out; she is a young horse, and it is not easy to know what will happen. I take it show by show.