As a teenager two decades ago, Irish show jumper Andrew Bourns won a training bursary at the Dublin Horse Show that allowed him to come to the United States for a two-week training session with Missy Clark of North Run. Bourns enjoyed every minute of it, and when it was time to leave, he vowed he would return to Wellington, Florida.
Bourns, who grew up in Ballinasloe, Ireland, in a family of professional riders, made true on that promise by moving to Wellington in 2007. He hasn't looked back since. He now owns a sales and training business focused on producing young horses to the upper levels, Andrew Bourns Sport Horses, a 10-acre farm in Palm Beach Point, and has several top FEI horses in his training program.
Just last week, he scored his biggest win to date with his family's 11-year-old Irish Sport Horse gelding Sea Topblue (Chacco-Blue—Sea Top Lady), in the $216,000 NetJets Grand Prix CSI4*, held Jan. 29 at the Winter Equestrian Festival in Wellington.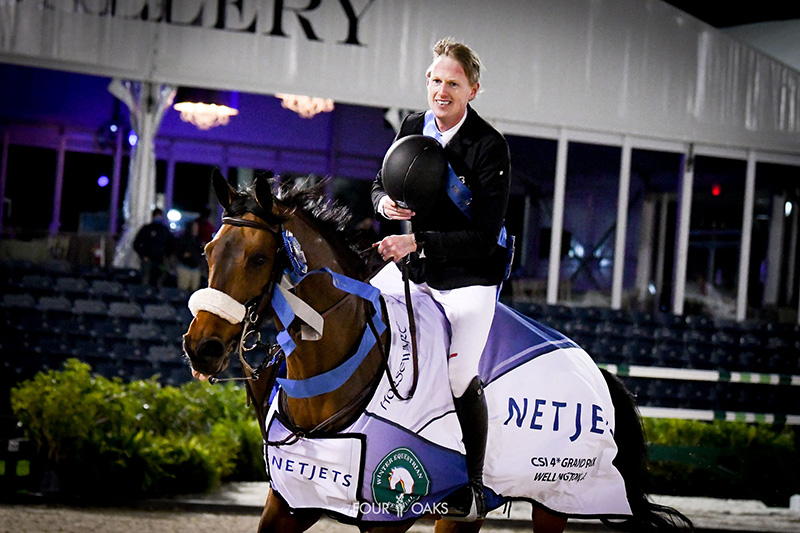 We caught up with Bourns, 39, after his big win in Wellington to find out more about his win, his horse and his plans for the future.
How does it feel to win one of the coveted night classes on the WEF circuit?
Actually, it was quite a strange feeling for me. I was absolutely elated, but I have conditioned myself to not get carried away, stay in the game, and stay level. Part of my routine is to meditate quite a bit. When I realized I won, I stayed very calm. It wasn't until later that night or the next morning that it hit me, the magnitude of what I did.
In the moment, I was very focused and wanted to make sure things were done right. To be at this level, I need to have that concentration and focus. It's so competitive nowadays. The emotion is for later on after the class.
After walking the course, I went back to the barn, saw my horse, and talked with my groom in order to distract myself a bit. I brought my focus back onto the horse and the reason why all of us do this: We love the horses. Ultimately, I think doing that helped me quite a bit.
Can you tell us a bit about your horse, Sea Topblue?
He's by Chacco-Blue. He was bred in Ireland, and my family bought him as a foal at an auction in Cavan, Ireland.
"Blue" has been in our family for his whole life. He knows nothing else but us. My parents raised him, taught him and broke him with the help of several riders. They produced him until he was 7 years old, and then I moved to Europe for his 8-year-old year and rode him there. When he was 9, I brought him to America; that was in 2020, right around when COVID happened, so that was a quiet year for Blue. In 2021, he finished fifth at the American Gold Cup Grand Prix CSI5* in Traverse City (Michigan) did the 5* Major League Show Jumping Grand Prix at Angelstone (Ontario), and then he was clear in California at the [$230,000 Adequan Major League Show Grand Prix CSI5*, where they finished fifth of 35].
Blue has been knocking on the door for a win for quite a while; this wasn't a surprise. He's so focused and dedicated to what he does.
What is his personality like?
By nature, Blue is a funny horse. One thing he likes to do is to nuzzle you and pretend he'll be your friend. Then he'll nip you, like grab the edge of your skin. He thinks it's funny; he does that to everyone. It hurts! Later on, I found out that his sire, Chacco-Blue, did the same thing.
He's generally relaxed day-to-day, but when it comes to work, Blue is extremely serious, and he loves his job. He's incredibly careful—I have to be really conscious of that. When you get on Blue, you have to give him your full attention. He is demanding; you must take your job as a rider seriously. I think Blue is more popular and well-known than me, which is the way it should be! At home in Ireland, he's very popular because he's Irish-bred.
Over the years, what has been something you have spent a lot of time working on with Blue?
I think his rideability more than anything. The scope, the attention to detail, and the quality are already there with Blue. He's tricky to ride, and a lot of it is acceptance of the bit and leg. He's not the type of horse that you tell him what to do. He wants to be shown, not told. You cannot micro-manage him. It took me a while to figure that out about him.
He has so much power—he's left out strides in lines before at the shows. That behavior isn't smart or sustainable in the long run. Blue needs to accept my aids; I've done a lot of work with different riders over the years, including Chris Kappler. We do a lot of flatwork and cavaletti exercises with Blue. At home, I add a stride in almost everything I do to practice with him. If you constantly allow Blue to gallop at home, it's harder to control him in the ring. I know he can leave strides out, which is why I want to practice the collection work at home. Blue's rideability won the [$216,000 NetJets Grand Prix CSI4*] class; I could turn him tightly and go faster.
Can you tell me more about your choice of bit for Blue?
Blue has three different bridles:
His flat bridle is a three-piece snaffle with French link in the middle with a roller key. It's on a Rambo Micklem bridle. The goal of that bridle is to be a zero-pressure bridle; to them, it feels like they aren't wearing a bridle.
From a low level up to 1.45-meter jumps, he wears a bridle with a twisted snaffle with a very large ring on it. The idea is that it's not as strong, but there is enough control, and he finds it acceptable.
For 1.50-1.60-meter jumps, we use a hackamore combined with a Waterford snaffle connected with a connector with a curb chain wrapped in Vetrap. It is not a strong bit, but Blue likes the connection. He accepts this better than a stronger bit. The trick with Blue is he gets used to a bit really quickly, and then he becomes too strong. I alternate the bridles so he doesn't become used to one.
When Blue was younger, we were struggling with bits. Shortly after that, the dentist discovered that Blue's tongue is unusually big for his mouth. So if we loosen the bridle and let him stick his tongue out more, he is more controllable and doesn't get as strong. There's no set rule book for horses—you have to find what works best for them. You must be open to trying new things.
Tell us a bit about your business.
I stay as long as I can [in Wellington] every year, which is usually six to seven months. When the shows get quiet here, I leave to go up north. Last year, we went to Lexington, Kentucky, for a bit, and then I did the Major League Show Jumping Series in Traverse City, Michigan, and Caledon, California, and I also went to the Angelstone International Show Jumping Tournament in Ontario.
Right now, we have eight horses total in my barn; it's the perfect number. I try not to keep more than six to eight at a time. My dad keeps 20 horses at our barn in Europe because it's cheaper to maintain horses there. Young rider Alexandra Pielet is my only client at the moment; she's been doing the U-25 grand prix [classes] with us. In my barn, I like to be the one giving the lessons and training—I don't want to be so busy that I can't train or teach my clients. I also don't want to hire an assistant trainer. I like it better when I'm the one doing the work on the ground. My program is very personalized, and it's been very effective that way.
I also have a small team of staff, and they are the best in the business at what they do. You don't stand a chance at success if you do not have a good, strong team. I have the best vets, bodyworkers, farriers, chiros and grooms. I think that's an imperative part of my success right now. I don't do this on my own; I have not gotten here by myself. It's a team effort.
What are your goals for this year?
I'm competing in the 5* grand prix [this] week in Wellington, I want to be on a Nations Cup team, and I want to compete with Blue in the 2022 World Equestrian Games in Denmark in August. My dream is to jump the Grand Prix of Aachen (Germany).
Not that you get many of these, I'm sure, but how do you spend your off days when you're not showing?
[Bourns laughs.] I do enjoy spending time on my farm and working on it. On the rare off days, my girlfriend and I usually plan an adventure like hiking or going to the beach. I'm a bit of a foodie, so we like to explore restaurants too. We don't like to sit and do nothing. I also like to play poker from time to time with a few friends.