Ten years ago, Heidi White was aiming for the FEI World Equestrian Games with her horse of a lifetime, Northern Spy. In the meantime, there's been some tragedy and a few horses that didn't work out. While it's taken her a while, now she's back at the FEI levels with another rising star.
From four Rolex Kentucky CCI****s to a World Cup Eventing Final to Badminton and Burghley, White and Northern Spy were a formidable pair from 2001 until "Farley's" retirement from upper level competition in 2010. At the 2006 WEG (Germany) they jumped clear with time faults on cross-country to help the U.S. team earn fourth place.
While Farley, now 23, continues to teach young riders the ropes at the lower levels (he took Lawlor Brown around two training level events last year), White's been on the hunt for her next star, and she thinks she's finally found it in Captain Fernhill, an 11-year-old Irish Sport Horse gelding (Captain Clover—Parkmore Princess, Punch Line) co-owned by White and Nancy Hathaway.
We caught up with White, 50, of Aiken, S.C., and Millbrook, N.Y., at her first trip to the Red Hills International Horse Trials in eight years and her second FEI event since Farley's retirement, to find out what she's been up to.
Chronicle: Tell me about Captain Fernhill.
Heidi White: He came from Carol Gee in Ireland through Julie Richards. She happened to be at my barn two years ago, and she had a couple shipping in on quarantine, and she asked if she could spend the night. She said, "You know, Carol said you should sit on him," and I was like, whatever. He was little and scrawny looking.
But she said, "Wait until you see him jump." I jumped him over four jumps and thought, "Yeah, this is pretty cool." He was green on the flat, but I cross-country schooled him the next day and vetted him the next day, and that was that. Nancy Hathaway owns him with me. I've been teaching her for years.
We hoped he would step up to the plate. I still work with Phillip [Dutton], and we've been working hard at a few things, and he really seems to be coming into his own. I thought [cross-country at Red Hills] would be a big day for him with the crowds and atmosphere. He's just a super jumper.
Yesterday I felt that we started to become a team like Farley and I used to be, and it's really cool. It's been a long road trying to find the right one, and I've been through a few. As I'm getting older I'm a little more picky on what I sit on.
He's a bit fresh and a little sassy to get on. I have to walk him—he's a little cold-backed, and he's bucked me off! But he's got that good old Irish blood in him. He's such a brave horse. He's a super talented show jumper. If the mistakes happen or if we have a rail, it's usually my fault.
How did he go in the CIC** on cross-country?
I thought it was proper right off the start. You really had to go out there galloping it. I thought there were some good questions. It's a little hard to make time with the trees and the galloping lanes, but I just felt he gained experience as he went on. It was fun to see him to do that.
What's it like being back at the FEI levels?
After Farley, that was a hard one to step in and fill his shoes. He was a horse of a lifetime. I always said everyone's dream is to get back to Kentucky some day. It's a personal goal, not [to aim for] the team. I've done that. This was more of a personal thing for me that I wanted to do. You know, Kentucky's Kentucky. It's something I got to do four times on Farley. It would be fun to do it one more time. He seems to have the right stuff.
But it's a lot being back at the FEI levels. It's different than the horse trials. There's a little more pressure and atmosphere.
How does Captain Fernhill compare to Farley?
They're very different. Farley was very calm, and Captain's very sharp and sassy. Farley was a lover, and Captain's like, "Feed me and get away from me." He doesn't love to be groomed. But we're developing a relationship, and he's getting attached to me. I saw that yesterday too. He knows who I am.
As much as Farley did, this one's probably a little fancier on the flat and a little better show jumper. Farley was always great, but this one really, really jumps. On cross-country, he'll never replace Farley, but he keeps seeming to step up to the plate.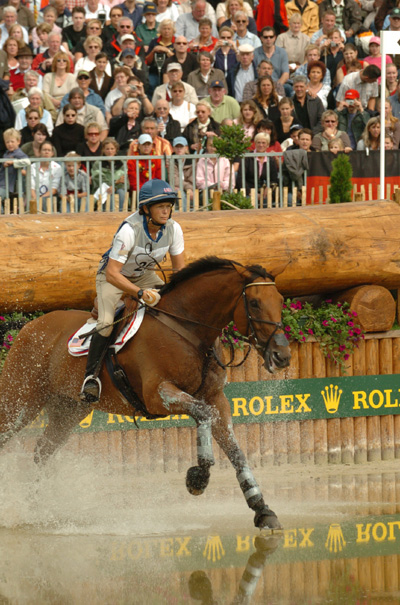 Heidi White and Northern Spy, or "Farley" on course at the 2006 FEI World Equestrian Games (Germany). Photo by Beth Rasin.
He's like a little sports car. He's very compact. Farley was a pretty big horse with a big step. It's been fun to develop a new partnership.
I felt like we were a team yesterday, and I haven't felt that in a while. I've been kind of piloting him around. But yesterday I was thinking it, and he was doing it.
What else have you been up to since Farley's retirement?
[I've been doing] a lot of teaching and coaching. It was always kind of my thing, and I'm not sure why. I really do enjoy it. I've brought some young horses along and sold them, but I have a lot of clients.
We have 15 to 16 horses and 40 students or better, but I'd like to concentrate a little on "Cappy" this year and get down to Phillip's and see where we go with him the fall.
What's Farley up to?
He's competed with Maude Quinn, Paris Beddingfield and Lawlor Brown. He goes hacking every day. He still jumps crossrails with a variety of people, and he's very happy doing that. We ship him up and down the East Coast with us.
He looks great. Everyone practices their flying changes on him. It's really pretty funny. I thought Paris and he got along very well, and he was very cute in how he took care of her. We kind of retired him, then he gets braided and trots down to the trailer. It was all he did his whole life.
It was a blast to see him out there and back at it for the kids. I think now he'll just do some dressage and crossrails.
And you're also engaged!
Yes, to Martin Sandoval. We've known each other for probably 15 years. He worked at our barn for a race horse lady, and we've been engaged for about five years. We just haven't had a weekend off to go get married! So someday when we get a break we'll go do that.
He's my groom, my right hand, he manages the barn for me. He used to ride a bit, but he hacks them for me once in a while.
[White was married to Gerry Carty, an Irish horseman who was killed in a motorcycle accident in 2007.]
That was a tough couple of years. I rode a bit, but I put life on hold for a little bit and dealt with that. I'm not the only one—we've all had tragedy in our lives. I don't not think of him, but I'm back to doing what I do, and I've got a great guy now, and a super horse and a great family and support crew who I could not do any of it without. So we'll see where it takes us.