Kristen VanderVeen scored her ticket to the Longines FEI World Cup Final in Paris in the nick of time with a win in the $100,000 Longines FEI World Cup Jumping qualifier at the Live Oak International Horse Show in Ocala, Florida, on March 18. It was 28-year-old VanderVeen's first time competing at Live Oak, her first World Cup qualifier win, and come April it will be her first time competing in a World Cup Final.
"I'm over the moon excited about it," VanderVeen said. "Just winning the grand prix is a big deal for me, but going to Paris, I'm really excited."
We caught up with VanderVeen after her amazing weekend at Live Oak and three weeks before she and Bull Run's Faustino De Tili hop on a Paris-bound plane.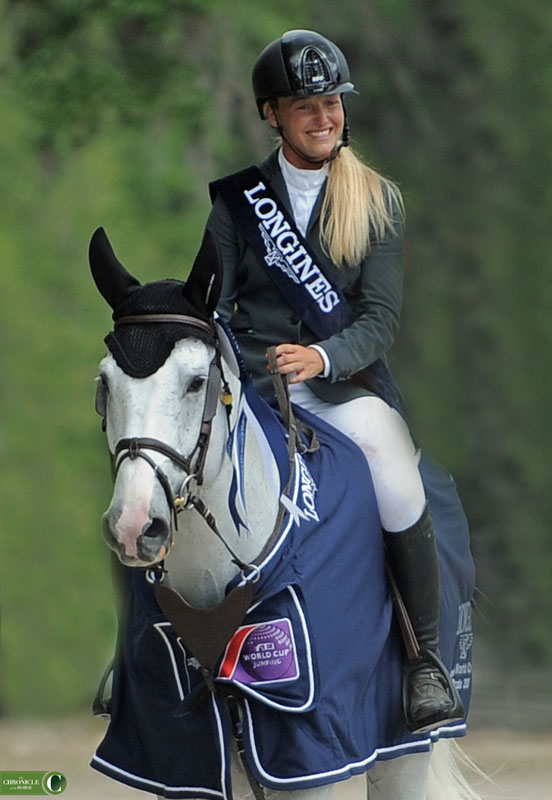 COTH: It's been a couple days since your big win in Live Oak. Has the excitement really set in now?  
VanderVeen: It has, and also the craziness of all the organization sets in, which is not my strong suit! I haven't even flown to compete in Europe before, but in a weird sense it's great that it is for the World Cup Final and Paris because everyone else is so organized, and I'm able to lean on other people going. Lizzie [Chesson, USEF managing director of show jumping,] has obviously been great.
COTH: You've talked a lot about the role faith plays in your riding, and you often have Bible verses stitched into your show jacket. What verses will you have on the jacket you wear at the World Cup Final?  
VanderVeen: It definitely is a big part of my life, and I do want to continue doing that, but Lizzie said it's going to be hard enough just getting my pinque coat in time! It's too last minute to even measure for it; we're just eye balling it off one of my other coats.
There are some new verses I want to put on a jacket though. Psalms 16:8, "I keep my eyes always on the Lord, with Him at my right hand, I will not be shaken." Psalms 20:7, "Some trust in chariots and horses, but we trust in the name of the Lord our God." and Romans 8:38-39 "For I am convinced that neither death nor life, neither angels nor demons, neither the present nor the future, nor any powers, neither height nor depth, nor anything else in all creation, will be able to separate us from the love of God that is in Christ Jesus our Lord."
COTH: You've said you often don't jump your horses at home and focus on flat work, cavaletti and poles—is that true for Bull Run's Faustino De Tili?
Yes, we keep it really simple at home, just cantering different numbers in lines with the poles to work on strides and adjustability. I really try and save their legs and their jumps for the shows, so he's fresh and ready when he competes.
VanderVeen: We heard you were helping Marilyn Little school her show jumpers while she geared up her event horse for the Red Hills Horse Trials. How did that come about?
Marilyn had a fracture or an injury and that big event to focus on, so I just stepped in to help her out a little bit and take the pressure off her to keep all the horses going. We know each other from around the shows and were both at Tryon quite a bit. I really quite like her and her parents, and I think we both have a lot of respect for each other's riding.
COTH: Has she invited you to go cross-country schooling yet?
VanderVeen: Luckily she has not because I would have to find a way to decline! She is a brave soul and really shines in both sports, but I'm good sticking with just my one. If I did it I would have to jump like the beginner level, that would maybe be fun, to just jump a really tiny log.
COTH: Have you ever worked with a sports psychologist or personal trainer to help your riding?
VanderVeen: I haven't done the sports psychology, but I really enjoy fitness. For me going to the gym is a nice way to kind of get my mind off the horses for a bit. I used to do CrossFit, I actually competed, but I have a larger string of FEI horses now, so I did ease off of that. But I for sure still do quite a lot of weight training.
COTH: There is potential for you to be long listed for the U.S. team for the FEI World Equestrian Games in September. Have you given any thought to that?
VanderVeen: It is something I've given a lot of thought to before season started, and now I've just kind of eased off thinking about it too much and decided I'm going to wait and see how it plays out and see if that stays a possibility. It's obviously a huge deal and something that would be super exciting.
COTH: The World Cup Final will be your first international championship appearance as a rider. What does that mean to you and your career?
VanderVeen: It's really special for me as a rider, because you always believe that you're good enough and you could do it, and you're getting closer and closer to doing it. But to finally actually qualify and get to do something at that level is a pretty special feeling because it validates the work we've put in to where I've always wanted to go with my riding.