In December 2018, a young German wunderkind wowed the world when he came from relative obscurity to win the Grand Prix CDI-W freestyle under the lights at London Olympia, scoring over 80 percent on Duke Of Britain.
Now 33, Frederic Wandres sits 26th in the FEI World Rankings, and he's spending his first season in Wellington, Florida, competing at the Adequan Global Dressage Festival. Wandres, who is the head rider for Hof Kasselmann in Germany, arrived in the U.S. with 15 horses to compete and sell. On Jan. 29, Wandres and 12-year-old Rhinelander gelding Rebroff kicked-off their first U.S. competition together by winning the CDI3* Grand Prix. The next day, Rebroff died in his stall.
While saddened by the loss of his new partner, Wandres stayed on in Wellington to compete two other Hof Kasselmann horses, Quizmaster and Harrods 3, as well as Hot Hit 3, owned by Terry Lan. We sat down with the tall, blue-eyed German to talk about the highs and lows of his first American tour.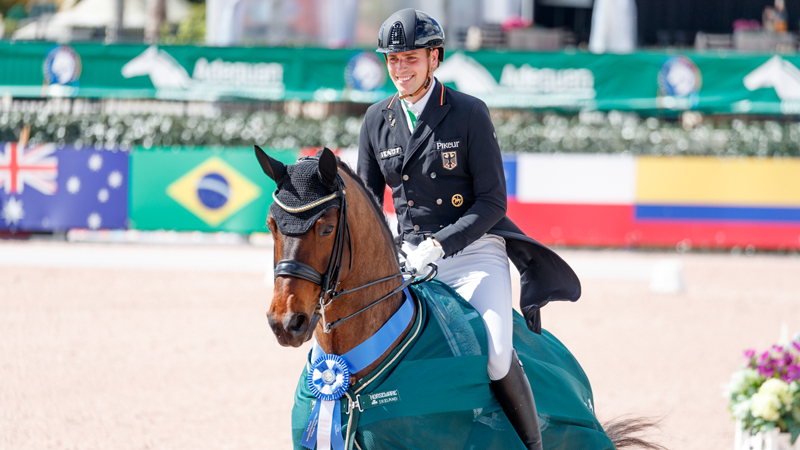 Why did you decide to come to the U.S. this year?
We had a meeting last year in maybe October or November, and we were thinking what kind of plans we could make and what's going on for the next year. And, because of COVID, nothing is really going on in Europe. Already the World Cup season in Europe is not what it normally is. And then we had the idea to come here to show some horses in the competition and also do some business. They [Hof Kasselmann] are well known here, but we never have been here with horses. We decided to do it, and this first thing [with Rebroff] happened in the first show. That was really sad; it was terrible.
How have you been doing with that?
It was the first time [I competed that] horse, and we hadn't been connected for long, but I like all my horses, and I don't want it to happen to any of them. But in the end, we couldn't do anything. He was happy in the morning, and we walked him in hand, and he ate grass. A few hours later he was gone. He was transported to the clinic, and they figured out it was his aorta. There's nothing that we could do. He's always had that. And I said, like with the humans, I always say when Jesus wants to have you up there, he wants to have you up there.
You have no other Grand Prix horse to ride?
They wanted to send me another one, but I'm also a little bit superstitious, and I was like, mmmmmmm.
Why did you leave Duke Of Britain in Germany?
We also talked about that, and, in the end, we made the decision together with the German federation. He stays at home for the winter season, and he has some light work. My boss is riding him. He did some CDIs with really good scores before [the coronavirus ended competition] last year, and therefore he has a break now in the winter to be fit when I come back because this is an important year for us—or maybe it can be, you never know what's going on, but we have to be fit. I think at the end of the summer, the [FEI European Championships in Hagen, Germany], I have them in my eye.
What about the FEI World Cup Final and the Olympic Games?
We decided early not to do this World Cup because I did it the last two seasons, and it was a relief. In Germany, it's a real fight for the points. You have to drive through the whole of Europe the whole winter season and catch every point you can. And I did that. That was hard work for us, but it worked out last year. We would have been allowed to travel to Las Vegas [for the 2020 FEI World Cup Final]. The flight was already booked and everything, and then it was the first big horse show that was canceled. So that was sad.
I already knew that the World Cup season would not be like it is normally with all the spectators, which makes a special atmosphere in the big arena. So I said I will ride the World Cup shows, but only if it fits into my schedule. If there is a nice show somewhere, we go there to show and to see where we are, but not to do this World Cup thing.
For Tokyo, I am also a realistic person. And I know that this is, for Germany, also very, very, very hard, but you never know what's going on with the other [German competitors]. They are good. They're super riders and super combinations with super results. Therefore, I don't have the Tokyo thing in my eye, to be honest, but the Europeans—maybe this could be reachable.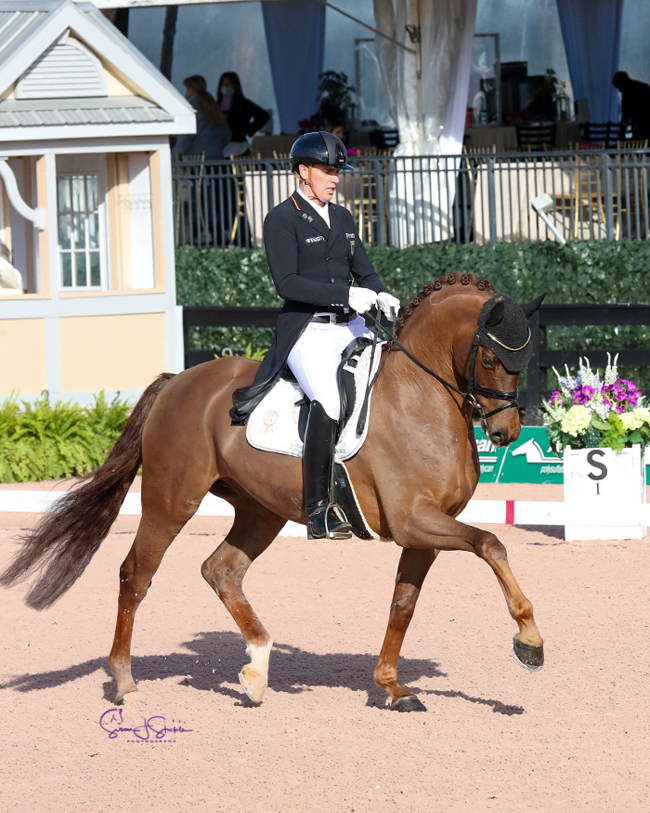 Tell me about the horses you're competing in Florida.
One of them is Hot Hit 3. ["Hottie" is a 10-year-old Oldenburg gelding (Blue Hors Hotline—La Palma, Diamond Hit) purchased by Terry Lan in October of 2020. Wandres and Hot Hit 3 competed in the horse's first CDI the end of February during AGDF 7 and won the CDI3* Intermediaire II with a 74.58%.]
Maybe one of the next shows he will be in his first Grand Prix. He's promising. I'm happy with this horse; he can be really spectacular in all the movements. And sometimes he's a little bit funny and misbehaving.
What does he do best?
The best is the ground quality from the movement, walk, trot and canter. You can make him really, really amazing. And the hind leg is super, and the changes are super, and he can do everything already in the Grand Prix; you just have to bring it together and make it a whole thing. But he's also kind of a nervous horse and a little bit—not doing stupid things, but I always say he wants to be funny sometimes. Every horse has his character, and they are like they are, but with this horse, I have no stress. His owner is very happy that he is getting an education with us, and we have time.
Tell me about Harrods 3.
Yeah, he's a little bit behind Duke [Of Britain] as my favorite horse. He's a younger one. [Harrods 3 is an 8-year-old Hanoverian gelding (Hochadel—Rebecca, Rotspon) owned by Hof Kasselmann. He won the CDI3* Prix St. Georges during AGDF 7 on 72.52%.] I don't want to over-ask him because, for me, he is really promising. He can already do some collected things. I just have to be quiet and wait to bring this into the ring—maybe next year. So I want to give him a little bit of experience in the arena this year and see how he is about it and how we can do everything. And not do so many tests in the small tour. We will use the season here in Wellington to do it, and then, when we are back home, we'll try to develop the next steps in the summer to do it maybe in the wintertime or the beginning of next year.
What are his best gaits? It's what we don't see in this test, but the best is the piaffe. And he's a really, really pretty charming horse. When you see him in the face he's always in a good neck position; he is really a lovely horse. And he is also like Duke Of Britain. He's the same color and a bit of the same temperament. So they are really similar, and they have the same short name in our stable of "Harry." Duke is called Harry because the former owner gave him that name, and Harrods is Harry because it is close. There are many similar things, but none of the breeding is close.
View this post on Instagram
Have you been able to do anything fun while you are here in Florida?
Of course! The [Christoph] Koschel family has been here for many seasons, and we are good friends. Also in Germany, we work together on one farm. So they showed us a lot of things. We have been to the beach and have been shopping and looking around. It's really nice, and we would like to come back.
We are out at the beautiful farm of the Guttenberg family, Mathanna. Behind the fences, the next thing is the Everglades. It's really nice. We say the horses are living like in Disney World. I have been to Miami many times for private things, but this is the first time I have been to Wellington.
How long are you staying in Florida?
I think maybe the middle or the end of March. Then, I have to go back to Europe because I have also some clinics with Duke Of Britain for the German federation. And then we have in Hagen the first outdoor CDI on April 20, and this is also a selection for the Germans. I have to be there.