Eventer Elisa Wallace first made headlines when she won the South Carolina Extreme Mustang Makeover in 2012, which challenged trainers to take a wild, untouched Mustang and turn them into a suitable riding horse in 120 days.
She went on to compete at the Mustang Million in 2013 with two other horses, Rune and Nimh and has since become an ambassador for the breed.
While she kept busy last year campaigning her three-star horse, Simply Priceless, and her two-star horse, Corteo, Wallace found she couldn't resist the lure of Mustangs and decided to take on a 14.3-hand gray mare that she dubbed Hwin, last fall.
The Chronicle caught up with Wallace, Jasper, Ga., a few days after she returned from Fort Worth, Texas, where she placed fourth with Hwin in the Mustang Magic Trainer's Challenge, an invitation-only competition in which trainers have 120 days to makeover a Mustang and bring it to the competition to demonstrate its' training via riding, an obstacle course, a freestyle and a handling test.
Tell me about Hwin.
Her name is from The Chronicles of Narnia: A Horse And His Boy. There's a talking mare in the story.
A friend of mine picked her up for me on Sept. 23rd and I got to see her for about an hour and then I had to leave to go to the American Eventing Championships [Texas] for a week.
She's 6 this year. She was captured as a yearling from a herd called Adobe Town in Wyoming. She was in a holding facility for four years in Canon City, Colo. She was not handled or touched.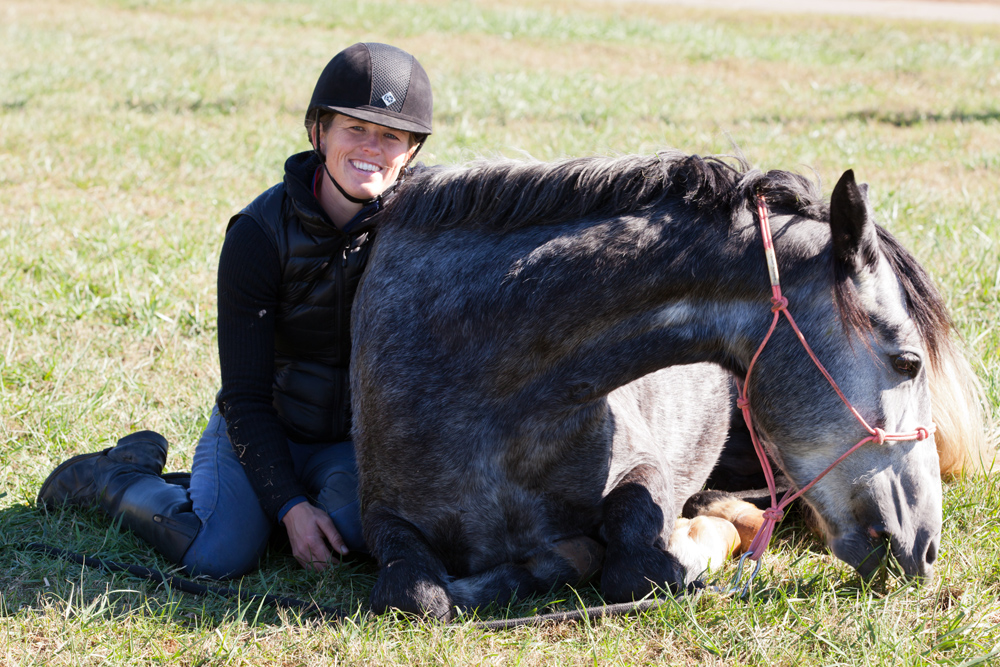 Elisa and Hwin at about the three-week point in their work together. Photo by Pam Doughty
It hasn't been a full season that I've worked with her because I had [to spend time focused on competing Corteo at the Dutta Corp. Fair Hill International (Md.) in October], but she's done really well. She's an incredibly smart mare. I had no intentions of keeping her in the beginning and people would joke and say, 'Oh this is your next eventing Mustang,' and I said, 'No, she's gray and she's a mare. Gray's a beautiful color but it's a pain in the butt to keep clean!'
I said I'd only keep her if she was a freak of nature, and by George, she proved me wrong. She likes to jump four-foot and she loves cross-country.
I decided to raise some money to make sure I could keep her in training with me. She is an opinionated mare. She's got a bit of what's typical of an advanced event horse that has that little quirk to them. I didn't want her to end up going to just anyone. She likes to jump out of her paddock!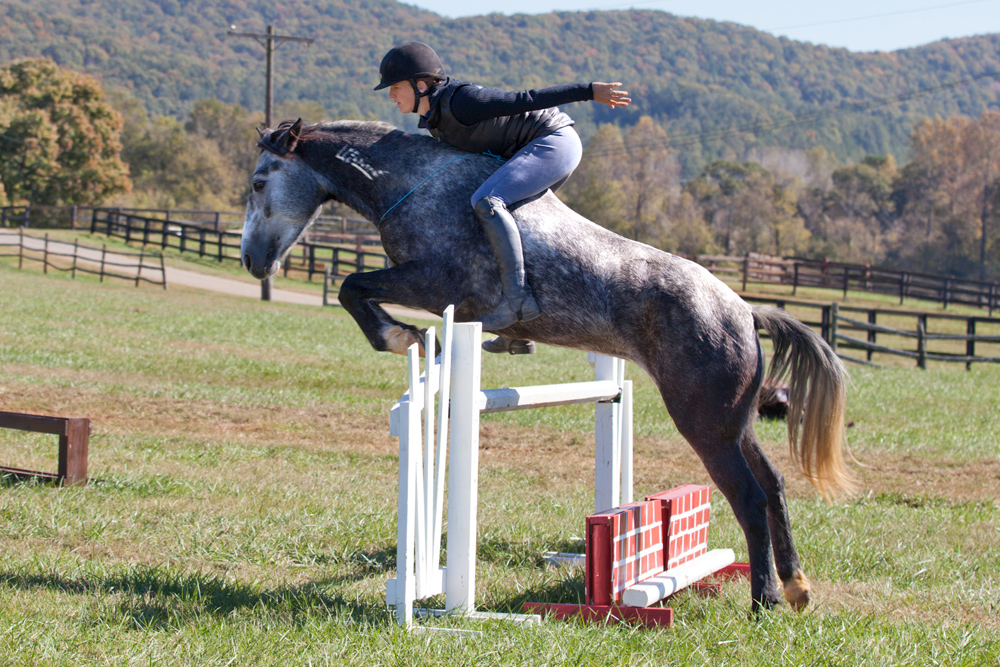 Hwin loves to jump with Elisa. Photo by Pam Doughty
I call her an oxymoron. I was on her the first 30 minutes I had her, but she still had fear and anxiety issues to work through, so we had to build confidence. Her first instinct is to run away when she gets worried. From the very beginning, I had her out going places. I took her to the Special Olympics and did a demo there after only having her for seven days. She has a good head on her, but she's tricky too.
She likes to go and compete. I took her down to the Ocala Horse Trials [Fla.] and did well in the novice [in early January].
Watch Hwin and Elisa on course at the Ocala Horse Trials, where they finished with just one rail added to their score of 39 in dressage…
Her biggest issue has been relaxation and learning to swing through her body. She's more of a tighter horse. When we went to Texas, I knew it was going to be tough for her because it's a very electric atmosphere.
Tell me about the Trainer's Challenge. How is that different than the other competitions you've done?
The Makeovers are put on by the Mustang Heritage Foundation and they've done a really good job of trying to bridge the gap for people. The intimidating part to the public is getting a wild horse and that's what these competitions are for—to demonstrate that these horses are very versatile and also allowing people access to an already-broke Mustang.
[The Trainer's Challenge is] invitation-only and a little bit smaller scale as far as the number that competed. There were 14 of us. I hadn't done one since the Mustang Million a year ago, so I was kind of itching to do another one. It's pretty addicting!
For this competition, they used only mares, a lot of them of color. Not too many mares are sought out, so I think this is a way for them to market the mares.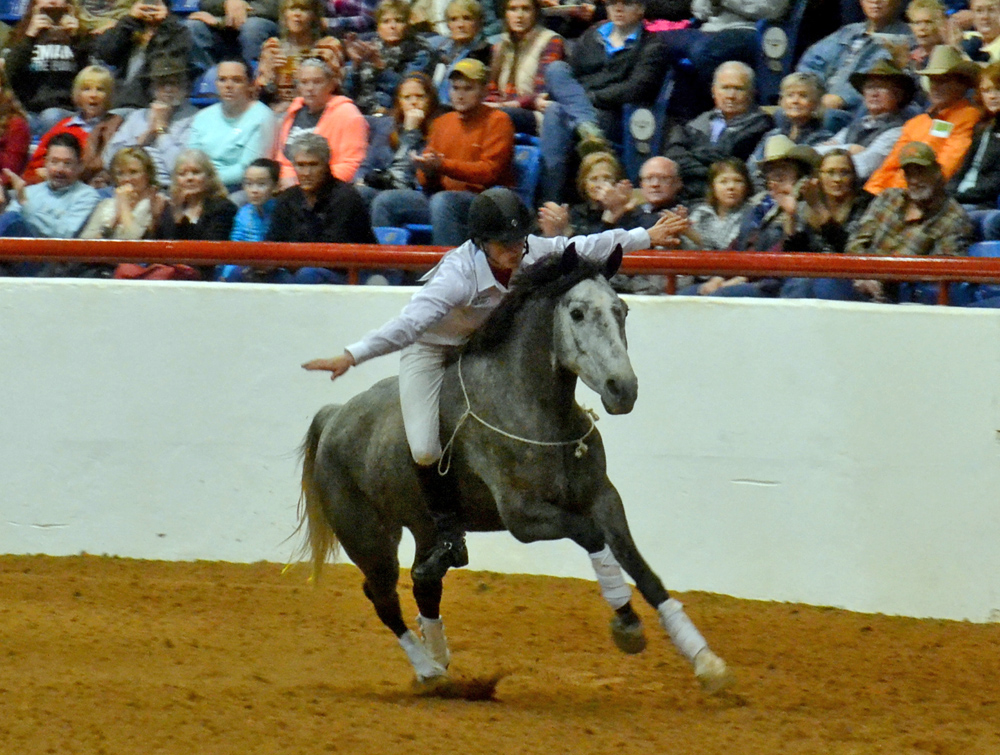 Elisa and Hwin at the Trainer's Challenge. Photo by Aly Rattazzi
The finals were sold out and we got to compete in front of a packed crowd. It's more of a Western-based event, and I went in there knowing that. Hwin is trained to do some Western maneuvers, which I kind of have to undo now, but I went in knowing I was going to do English because she's more of the English type.
Basically, there are preliminary classes. There was a maneuvers class where you have to do lead changes, changing direction, stopping and backing. Then there was a conditioning and handling class where they evaluate the horse's body condition and how easily they're able to be caught.
Then you have compulsory movements, which was a very important class because that score carried over to the freestyle. That was the best thing she did. She was relaxed and felt great and was really soft.
The final class was a trail class. It was a little scary, but she handled herself fine.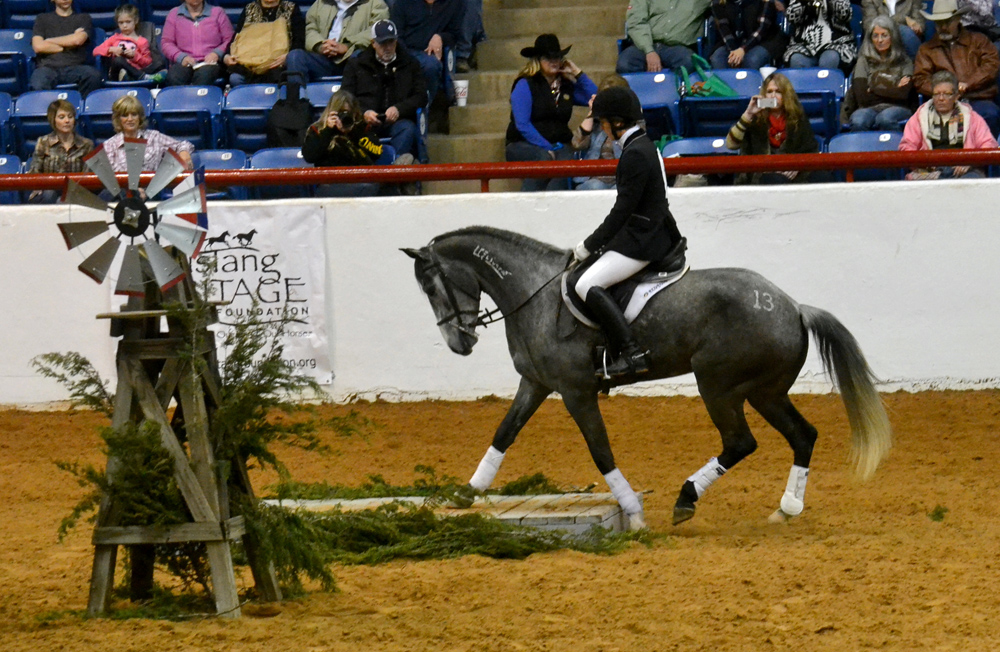 Hwin found some of the trail class obstacles interesting, but Elisa kept her confident. Photo by Aly Rattazzi
The freestyle, you can do whatever you want for 3 1/2 minutes.
Afterward, all the horses go through an auction and I ended up buying Hwin back for $2,100.
What's next for her?
Hwin will be on a little bit of a break and she'll start back up in April. I'm hoping to have her at training level by fall.
How are Fledge and Rune doing?
They've been on vacation because they're just coming 5 this year. I competed Rune last fall in the Young Event Horse classes and he did well. I'm hoping to do that again this year. I'm hoping to have them both at Rolex [Kentucky CCI****] to do some demos. I'm hopefully going to be competing there too with Simply Priceless.
What makes Mustangs good eventers? Why did you want to continue on after Fledge?
You get addicted to the process and the journey that you go through with them. There is a certain sense of magic that's a little bit different with them. I just really enjoy working with them and I've just become really passionate about them. It's something I never thought I'd be spearheading, as far as being an ambassador and doing what I'm doing, but I really enjoy it and I really think there are some nice horses out there that should be given a chance. They love the job. They're like any horse that likes to jump and compete, if you find one they'll give you everything.
I always tend to root for the underdog and I'm the type of person that when someone tells me that my horse can't do something because it's a Mustang, I tend to take that personally and like to show them different.
I want to show people and change their thought process.
See a compilation of Elisa's progress with Hwin in 120 days…
You can follow the progress of Hwin and all of Elisa's Mustangs on her YouTube channel.