Karl Cook has been riding a wave of good results this year with Signe Ostby's 12-year-old Belgian Warmblood mare Kalinka Van't Zorgvliet, and on Dec. 10 they took home a big win in the $450,00 Marshall & Sterling Major League Show Jumping Grand Prix CSI5* during Desert Holiday II (California).
Cook, 31, San Gregorio, California, has been partnered with the mare (Thunder VD Zuuthoeve—Goldfee Van't Zorgvliet, Flipper D'Elle) since early 2019, after he got the ride from Lorenzo De Luca. We caught up with him to learn more about their partnership.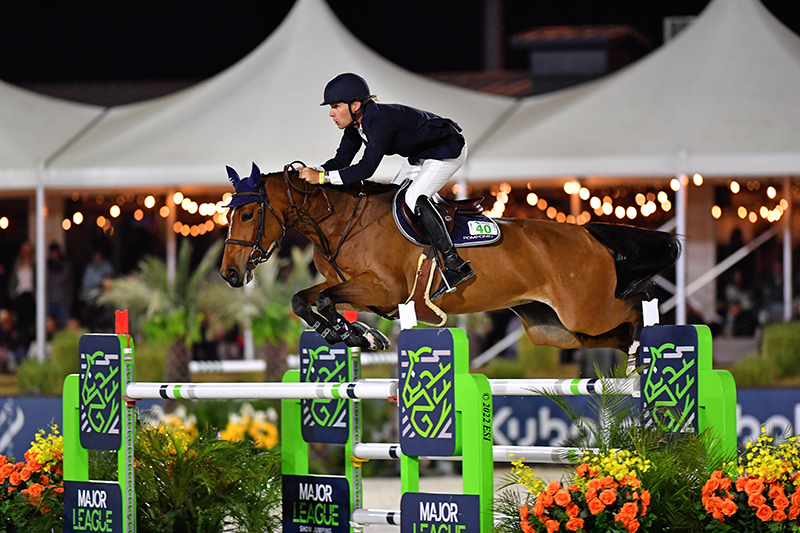 Tell us about your year so far with "Kalinka."
We did our first three-star grand prix in January in Thermal [California], then she just kept jumping better and better throughout the year. We ended the circuit in Florida with the WEF Challenge Week 12 in the five-star, which is really big, and she jumped double-clear. After that she only did five-star shows for the rest of the year. Our last [few] shows, [at the Hampton Classic (New York)] she won the grand prix, San Miguel [Mexico] second in the grand prix, Monterrey [Mexico] we had one rail, and then Thermal won the grand prix. She's crazy consistent.
You jumped off with Kent Farrington and Orafina this weekend. What was your plan for the short course?
I went second. I never do this, but because it was just him and I and it was the last class, I didn't think they would mind, so I got off and watched him go because I wouldn't really get a good view. She's a really hot mare, so she wouldn't stand at the gate and let me watch.
I watched him, and it was one of those where Kent did exactly what you would expect him to do and go flying around, and I didn't think I could go faster. I didn't think it was possible because I'd never gone that fast with her. I knew how fast I needed to try to go, and I knew how the lines walked, and so it was just ride as fast as you can. She was great. She was with me the whole time. I think she was ready to go faster.
Watch Cook and Farrington's jump-off rounds side by side, courtesy of Major League Show Jumping.

How would you describe her in the ring?
She's a gamer. She knows the game, and she loves the game. She's fighting for it as hard or harder than I am.
Do you ride a lot of mares?
It's funny, when I was a junior I just never got along with any mares, ever. At one point I had four stallions. Now I basically only have mares. I don't know how or what that changed, but it changed.
What drew you to her?
I was shown videos of her. She was jumping 1.40 meters before I bought her. I saw a horse that had a lot of drive. She didn't jump with perfect form, and she still has a bit of that form now, but if you have a horse with a lot of drive, you can work on it. When I tried her I felt like if we could work on some things together, we would have a very good 1.45-meter horse.
There were a few classes the last year—there was one in Michigan last year in September where we jumped double-clear in a national grand prix—I couldn't go fast in the jump-off because I couldn't get her to turn, but I felt like that's where I was. Like, OK, things are starting to work.
You've said she's very hot. What do you do to manage her in the ring or at home?
Everyone always wants to know how to deal with a hot horse. The first thing to know is they will always be hot, so accept it. I just ride her a lot. She takes in more work than any of the other horses just because she keeps going. I'm not driving her ever, she just wants to keep going. You need to be calm while you ride her as best you can, and you need to have grooms who are able to be calm when she's not being calm. But she's always going to be fresh, and you just have to endorse that and use it. If I take that out of her, I take what makes her good out.
What's she like in the barn?
Calm and cool as a cucumber. She's great on the trails. Nothing really scares her or intimidates her. She gets turned out, loves her grass paddock. I ride her every day because if I don't then she gets very, very hot.
What's next for you in 2023?
I'm happy with the string of horses I have. The beginning of the year will be mostly about settling in with those horses and getting ready for the second half of the year. I'd like to do Pan Ams if that's the right decision, but I really want to do the Olympics in 2024, so this year is all about making sure I have as many horses as possible going into 2024 to help with that goal. It's not about success in 2023, it's about 2024.