For the past four months, Jennie Brannigan has kept her top horses at home. She gave them seven weeks off after the 2020 MARS Equestrian Tryon International CCI4*-L (North Carolina) last November, and FE Lifestyle and Stella Artois didn't return to the competition arena until March 11-14, when they contested the Red Hills International Horse Trials in Tallahassee, Florida.
A little rest turned out to be just the right formula for success, as Brannigan dominated the Red Hills advanced division, winning with FE Lifestyle (31.8) and finishing fourth with Stella Artois (37.4). She also placed sixth with Twilightslastgleam (45.9).
"I feel like they're getting more seasoned, and I'm trying to look after them better," said Branningan. "[U.S. Eventing High Performance Director] Erik [Duvander] advised me to [bring them out a bit later in the season], so we're 100 percent on the same page. I want them to last a long time."
It's been nearly six years since Brannigan completed her first Land Rover Kentucky Three-Day Event with her great campaigner Cambalda, but this year she'll have two entries in Tim and Nina Gardner's FE Lifestyle and the Stella Artois Syndicate's Stella Artois.
We caught up with Brannigan, 33, West Grove, Pennsylvania, to learn more about FE Lifestyle, or "Foxy," an 11-year-old German Sport Horse (Leo Von Faelz—Berina A, Brandenburger), and what she's been doing with her downtime.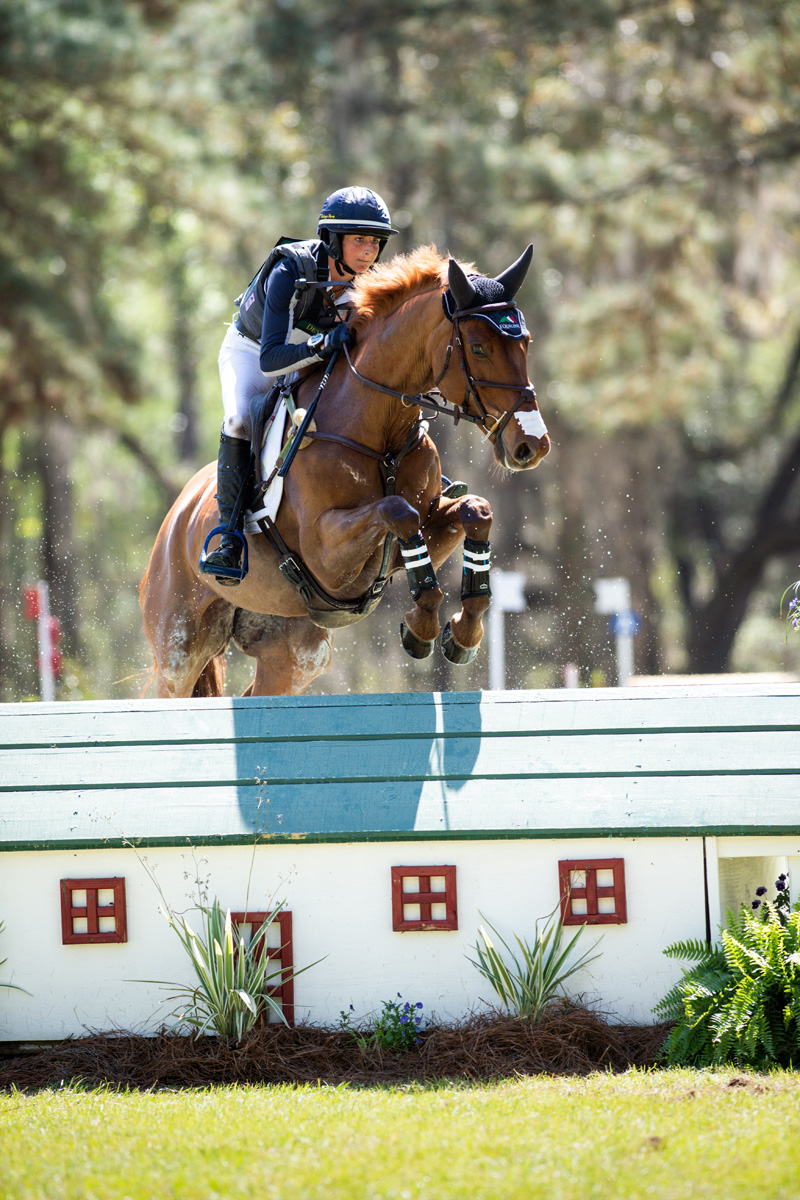 Tell me about FE Lifestyle.
I bought him from Clayton Fredericks in 2016. I remember sitting on him before I purchased him. I quite liked him, but I wasn't looking for a horse at the time. Later on, when I went to go try him, I wasn't actually sure about him, so I brought him over to [Australian show jumper] Scott Keach's, and he pushed me to buy him, which was a really good call because he's ended up being a really neat horse.
He's a little tricky. He's everything you think a ginger would be! I was a little worried because he seems a little bit heavy, but he actually has a ton of blood and gallop.
I know he got tried by quite a few different people who passed on him because he is a bit tricky in his mouth, but he's very, very genuine jumping.
He's sensitive in his skin; he's got allergies. I ride without spurs in the dressage and show jumping, which is pretty unusual I think. He's quirky too. He's funny about colors on the ground. He's like a completely different horse whether you have him warmed up properly or not. If he's a little bit excited he'll be funny about random things like shadows. I've fallen off him in show jumping warm-up because he jumped through a shadow! But he's working out of that slowly but surely.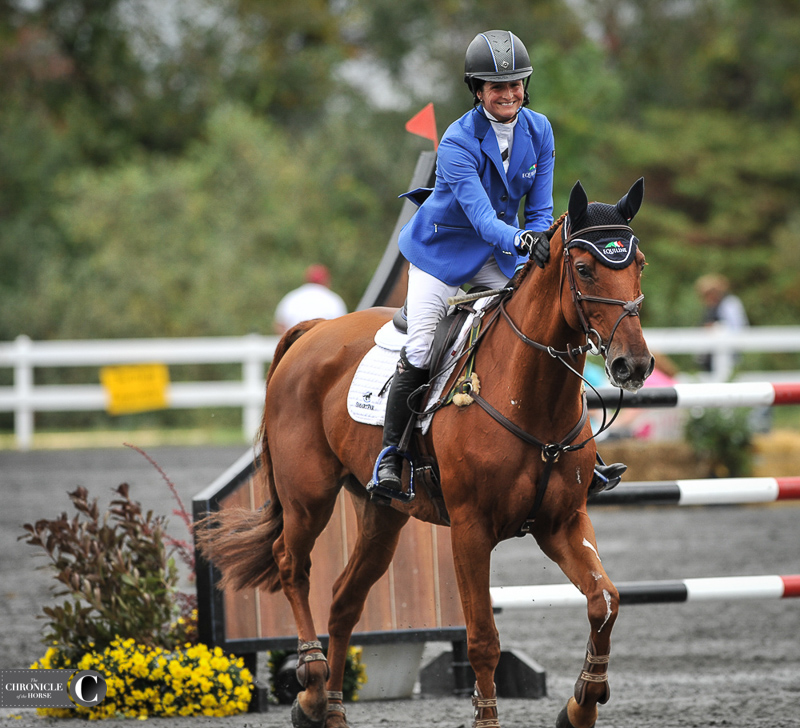 Tell me about your weekend at Red Hills.
I always like to run the horse trials at Red Hills [rather than the international classes] because I feel like you're not as tempted to go fast if you have a good go, but I think they made the time a little bit easier than it has been in the past.
I wasn't trying to make the time, but Foxy is a brilliant cross-country horse, and he's always been quite fast.
You're planning to ride at the Land Rover Kentucky Three-Day Event CCI5*-L, right? It's your first time back since 2015?
I'm excited. Cambalda was obviously a really nice horse, but I think he was a four-star horse and not a five-star horse. That was a little much to ask for him, and these two are real three-day horses. Knock on wood, Kentucky will suit them.
I'm going to run [Foxy] and Stella Artois at Stable View [South Carolina], then have Fair Hill [Maryland] as a backup.
I know [Foxy's] a lot more green than Stella, but I'm excited to take him to Kentucky because he's just a naturally good cross-country horse. I've talked with Erik about it, and we feel like he's ready, so fingers crossed.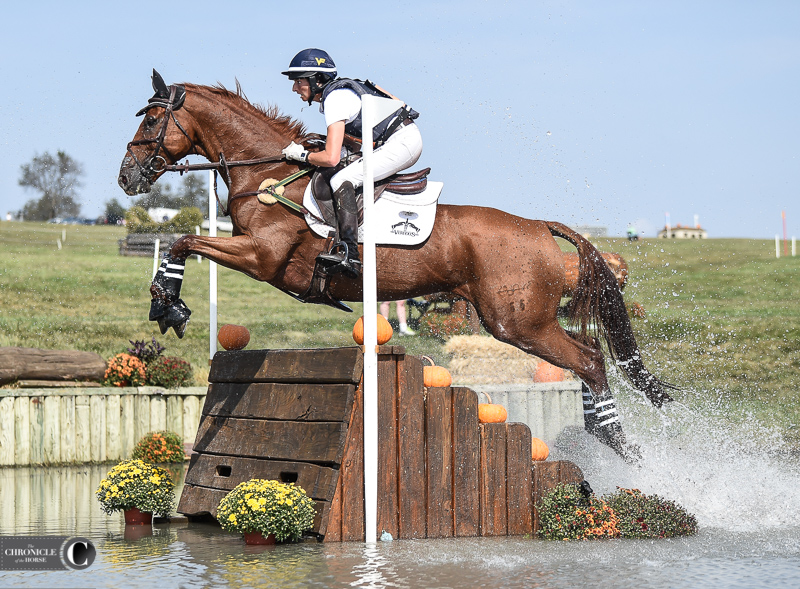 What have you been up to during the pandemic?
I've done a lot of dressage. Between James [Burtwell] and Erik, I took a lot of dressage lessons, which is great. Erik had a lot of time to help me and really turned Foxy around.
We worked on getting him through his body because he's quite tricky in the mouth and teaching him to collect more because he's got a really big stride.
I think James is a good coach. He's really good at getting the horses moving through their body. He's like a physical therapist almost. He's also got a really good temperament and personality—I really enjoy riding with him. He gets a lot done, but he also doesn't drill the horses, which I really appreciate.
I trimmed the number of horses I have. Erik advised me to do that, and I think he's done that with a few different riders. I think COVID really made that possible. I've got a really nice number of horses, and my staff's great, and it's been nice to focus on myself and my riding more than I have in the past. The girls are really happy too, which is awesome. COVID really helped me get to know Tyler [Held], my groom, too. We're in a good place now.
I'm in a good place mentally and trying to stay pretty lowkey and not get too wound up about anything. I've got great coaches, and I felt truly supported for the first time in a long time, so I'm hoping it will be a good year.
Did you pick up any fun quarantine hobbies?
I bleached my hair, which was not very intelligent! I bought a house two years ago that I redid. It's surrounded by the Gardners' farm. It was nice because I actually had some time to do some stuff with it—just little things you don't have time to do when you're running around. Beck Ratte, my farrier, is really good at that, and she helped me. I ended up getting really into doing the interior of it. I like industrial and farmhouse kind of stuff.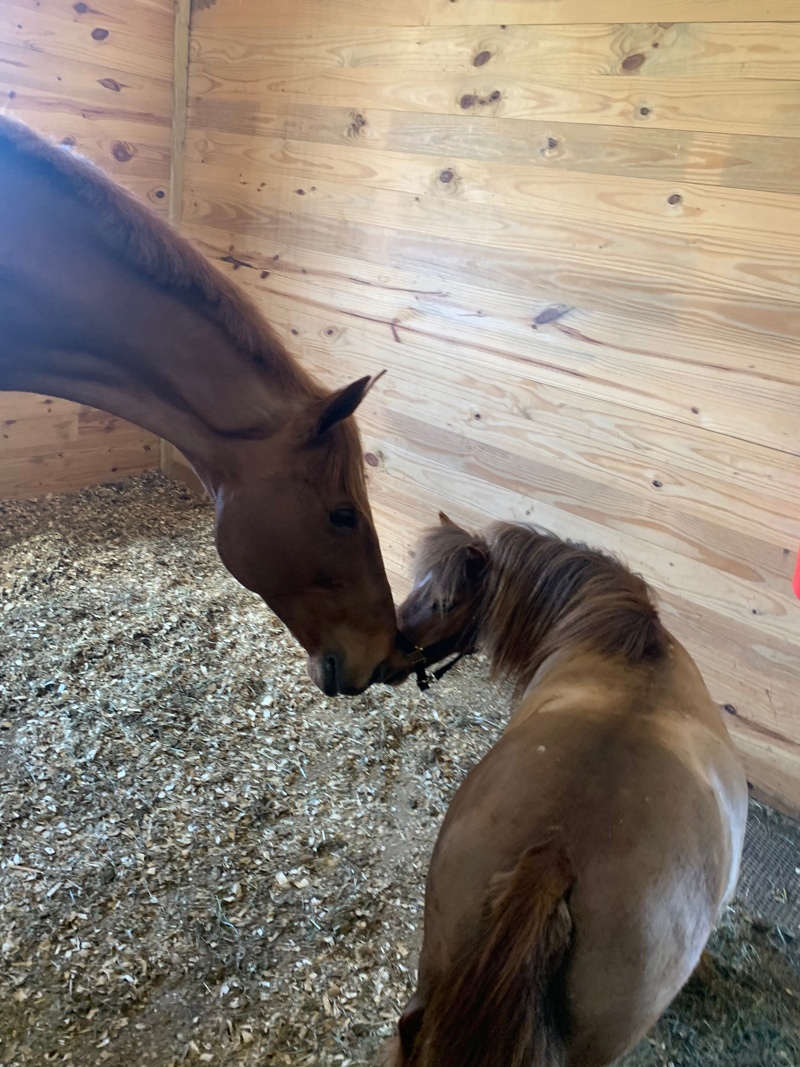 I understand you acquired a miniature horse?

Hank was owned by a show jumper named Oliver McCarthy, and he asked me to give him a ride down to Florida, and then he said he actually didn't need him as a companion horse. I don't think he's going to get him back at this point! My girls will riot if we got rid of him. He's a cool dude.
He goes out with FE Connory and Amazing Anthem, and they love each other. He's a good friend for any horse who needs a friend. He's definitely earned his keep. He lives in the stall with FE Connory.