After a three-year hiatus from the horse world, the accomplished show jumper and hunter rider Bert Mutch is back in a big way. The son of legendary late trainer Ronnie Mutch, Bert won the AHSA Medal Final in 1978 and embarked on a career as a professional rider, showing grand prix horses for S&L Farm in the '90s.
But from 2010 to 2013, he didn't ride at all, choosing instead to focus on building a family business.
But the horses lured him back into the saddle and at the Woodside Spring Classic (Calif.) in May, Mutch achieved a remarkable hat trick. He won the grand prix and the welcome stake on W. Natal and the USHJA National Hunter Derby on Cold Smoke. Bert sat down to chat with the Chronicle about where he's been the last several years.
Has it been an adjustment to be in California after growing up on the East Coast?
This is my third time living in California, so I knew what to expect. I worked for Sam Edelman back in the early '90s out of Woodside, Calif., for S&L Farms. Sam kind of put me back on the map and bought me some grand prix horses and I had a good run with him for four or five years.
It seems like every 10 years I end up out here! In the early 2000s, I worked for John Endicott. He had a sales business, primarily, and he brought me in to generate some clientele income. So, this being my third time, I kind of know everything about California.
What prompted you to move out to California this time?
Oh, boy, I hope you've got some time! I had a private job working for a family in Long Island. I was there for about four years. As that tenure came to an end, I was married to my second wife. Her parents were retiring and they fell in love with a frozen yogurt franchise.
There was only one of these in America, called Yogorino. It's an Italian franchise. Her parents convinced us to move to San Francisco, which is where their oldest son lived with all the grandkids. So we all moved from the East Coast to San Francisco, and in one year I opened three frozen yogurt gelato stores. For three years, I didn't look at a horse.
Was that just because of the demands of running the franchise? Were you ready for a break?
I made a commitment to this family to be a partner in this business and I basically built the stores from the ground up. They all had to be turned into a yogurt and gelato store after being a different kind of store.
Through the process, I was taught by two master gelato chefs to make gelato, and for three years I made gelato every day. I delivered it to stores and did the banking, hired and fired help, cleaned up messes and mopped floors and windows, and was in the food service business.
As the stores started to run themselves a little more, I found that I wasn't there 20 hours a day, so I had time to tinker with horses again. I went to a horse show or two and ran into old friends, and I said to one of them, "Do you mind if I come and ride some horses some day?"
I went and rode like six horses, and they were like, "Do you want to go to a horse show next week?" and I'm like, "Sure!" So, that kind of started the ball rolling again. I hadn't ridden in three years, and I walked into the 3'3″ performance hunters and won the first three classes I was in, and I was like, "Okay, I remember how to do this."
So I hooked up with John Charlebois, who I met in the late 70s. We're old friends, so it's worked out to be a really good thing. We started a little over a year ago, and I was just doing it part-time.
I was commuting 800 miles a week between where I live, to the yogurt stores, around the city, and an hour down the road to ride and give lessons, then turn around to get the yogurt stores at 5 in the morning. This gave me a chance to go back to what I really do well and what I do. Our business has since flourished, and we have some great clients and we have a couple grand prix horses, and we have some clients with a couple grand prix horses, which allows me to go to places like Thunderbird and Spruce Meadows.
That Woodside grand prix, it was a small grand prix, but that was the first one I've won in 16 years!
Can you tell me a little about the horse you won the Woodside grand prix on?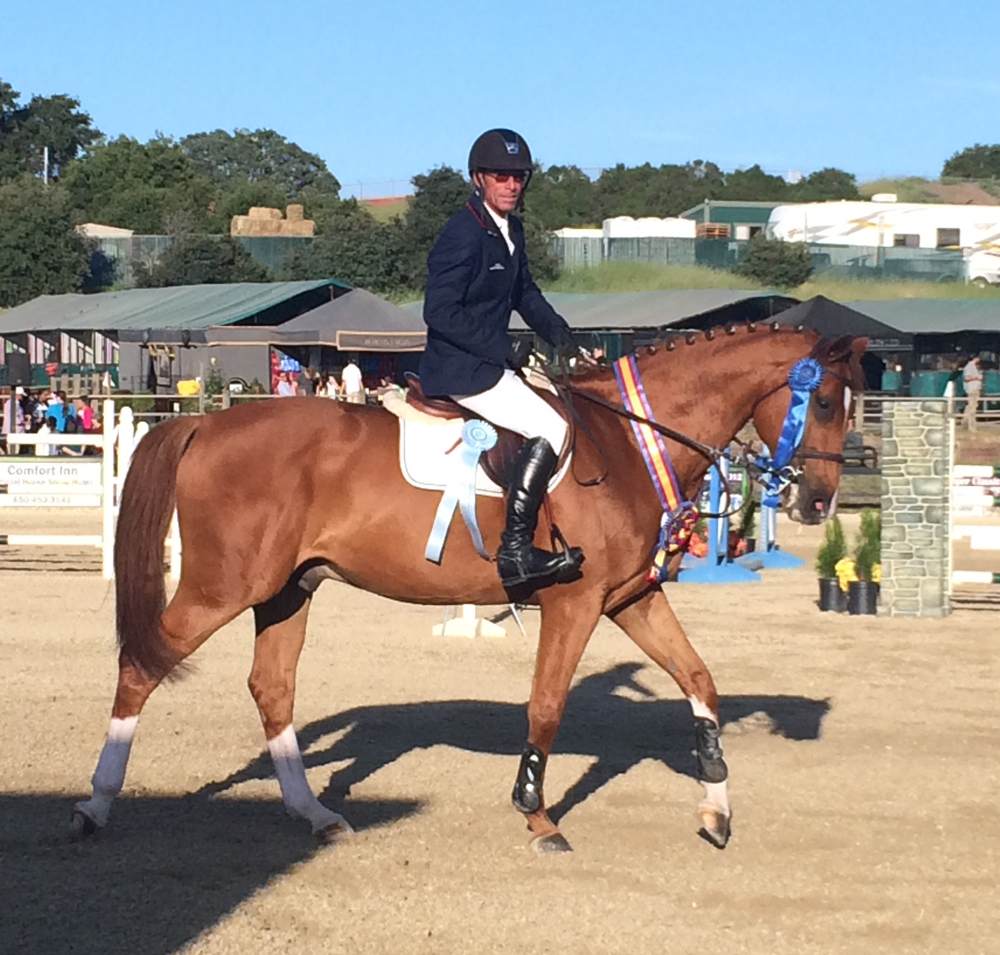 Bert Mutch rode W. Natal to the top of both the
welcome stake and the Woodside Spring Classic
Grand Prix.
Yes, W. Natal is one that's owned by Coxe Show Jumpers LLC. That horse was the owner's personal adult amateur jumper, and she didn't really get along with him. We got to [HITS desert Circuit (Calif.)] and she said, "Why don't you take the reins and see what you can do with him?"
I started at Level 4's, went to Level 5's, and won seven or eight classes with him. Then, we went to Woodside and bumped him up. Every day I asked him to jump a little higher and every day he felt the same as when he was jumping 1.20-meter. He's a nice, legitimate, horse, along with a 9-year-old that I'll take to Spruce Meadows for the second half and maybe do a couple of the international 1.45-meter classes.
Was riding in the hunter derby at Woodside a one-off thing or do you plan on doing more derbies in the future?
I like to do the hunters. There aren't a lot of us that can still do both at this level, a lot of people just specialize. In the era I grew up in, we always did both. Cold Smoke is a really nice horse that does his children's hunter job [with owner Naomi Rubin], but I found out that he is an awesome derby horse, so I will do some more derbies with him this summer.
Is his name a coincidence or is he related to your famous hunter mount Holy Smoke?
It is just a coincidence. Cold Smoke is a flea-bitten grey, just like Holy Smoke, and it was pretty cool. A lot of people say it looks like Holy Smoke going around, and I have to say it kind of feels like it. It brought back some good memories.
What's it like to be showing at Thunderbird and heading to Spruce Meadows and really getting back into the show world again?
It's a great feeling. Horses are my passion. I've taken multiple breaks in my life from horse shows, but I've always come back to it. That has to mean something. I've been fortunate enough to stay healthy. I'm still in one piece. I think I can still ride with any of them on any given Sunday, given the right vehicle! I love it.
It's fun to do it not on the East Coast, where I was always my father's son. I've kind of outgrown that anyway. It's a little easier to be a big fish in smaller pond in California, just because they're aren't as many professionals here. Back East, there are 30 horse and rider combinations that could win on any day in a big class, but in California there are five. We still jump as high and wide, we just don't have the numbers.
It's been a thrill to do it again, and I have to thank John and Denise Charlebois for putting their trust and their business in my hands and letting me do what I do, and I also have to thank our clients. I have a really good group of people and we have a really low-key, really fun barn. Everybody has a good time and John is very motivational. He's a very positive person in life. We have all levels. There are days that I'm teaching kids how to post on a lunge line, and there are days when I'm getting horses ready for World Cup qualifiers. I love doing both.
It's a nice, fresh, breath of air. I like California because it's just a little more laid-back, a little more like the old days. We all go out to dinner together and there's no one person after the other person business-wise. It's a more fun environment.
Do you have any long-term goals at the moment?
Some of my goals that I set as a teenager that I wanted to achieve as a rider may be unachievable now, just because of age. But I don't know. If the right horse came along, I could go ride with any of them. Do I still have Olympic Games dreams, World Cup dreams? Sure. I would love to still achieve that. I've also looked at my life and said, "You know, if that doesn't happen, I'm having a good time doing what I'm doing."
You never know. The right horse comes along and everything falls into place, you never know what could happen. That's what makes me get up in the morning—that dream. That's why I do that. You have to have goals, and you have to dream big. Those that work hard get you places in this business.