Ben Maher, Olympic gold medalist at the 2012 Games in London (England), continues to build his string of both young and experienced grand prix mounts.
The British show jumper recently acquired Tic Tac, Leslie Howard's mount in the 2014 Longines FEI World Cup Finals in Lyon (France). Owned by Jane Clark, who also owns Maher's successful partner Cella, Tic Tac, a 13-year-old Belgian Sport Horse stallion (Clinton—Panama du Seigneur, Darco) has not competed since early 2014 due to an injury, but the bay previously won World Cup classes at Rockwood (Ontario) and Spruce Meadows (Alberta) with Howard, as well as additional grand prixs in Wellington (Fla.) and Caledon (Ontario).
As of Dec. 2015, Maher is listed as a part owner of the stallion in Fédération Equestre Internationale records
Tic Tac was the second new addition to Maher's string in a two-week span. The 7-year-old Sentimentos LS, owned by Amy Carr, joined Maher's team in early February, and in their first show together, the duo turned in a clear round in the 7-year-old Young Jumpers, with just 2 time faults in the jump-off.
Maher also continues to compete his top mounts Diva II and Sarena; he will have options when it comes time to select a team to represent Great Britain in Rio. The Chronicle caught up with Maher at the Winter Equestrian Festival (Fla.), where he talked about his new mounts and his plans for this Olympic year.
COTH: How did the acquisition of Tic Tac come about?
BM: This is my fourth year riding for Jane now. Jane made the decision to change Tic Tac [over to me] from Leslie at the end of last year. It was a mutual arrangement, and we're all still part of the same team and family.
He's a lovely horse. I'm very lucky that Leslie doesn't mind me riding him, because he was her pick. But he's very cute. He's a small, compact horse, and he has a lot of character. At the moment he feels physically in great condition. He had a long break, probably longer than he really needed, but it was nice for him at that stage in his career, and I just hope that I can replicate the success that Leslie managed to achieve on him.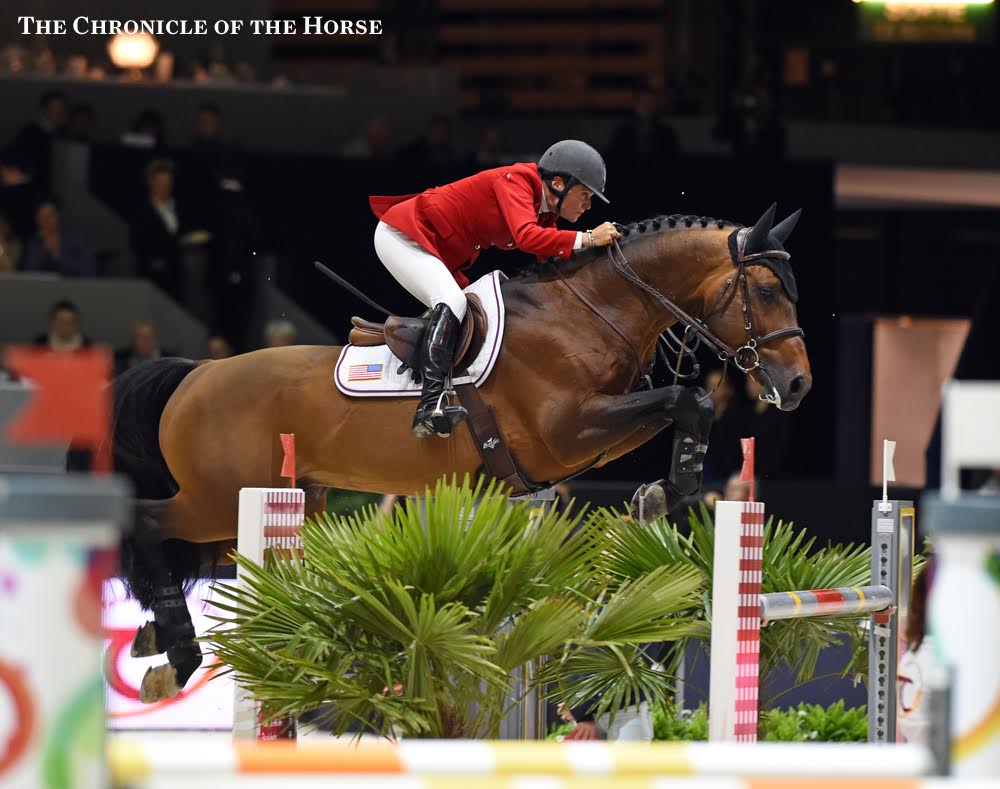 Leslie Howard and Tic Tac. Photo by Molly Sorge
What are your plans for him?
The aim is to try to bring him back to the show next month. He's been jumping since Christmas. Hopefully we'll aim toward some team things beyond WEF, and who knows, maybe he'll be a potential mount for the [Olympic] Games this year.
Tell us more about Sentimentos LS.
He was kind of a surprise arrival. My girlfriend Sophie [Gracida]'s mom got a phone call that there was a nice horse and that maybe I could try it for Sophie to potentially ride. I tried the horse and quite liked him, and I tried him again and, making the story short, I said that maybe he's better for me than he is for her! Her family had bought him, and Amy Carr bought him for us, and he went straight to the 7-year-old class and was double clear.
He's quite inexperienced, and he's tiny—much, much smaller than horses I've had before—but he feels like a big horse to ride, strangely enough, in the ring. Who knows? He's cute, he has a lot of ability, and maybe he's a horse for the future.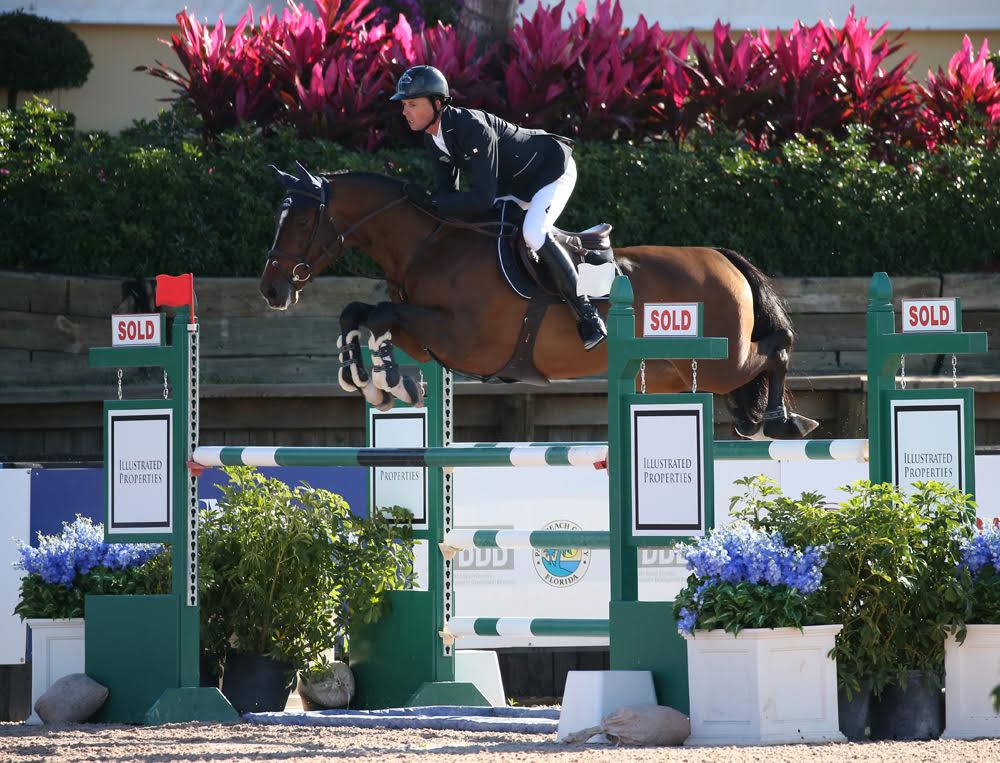 Ben Maher and Sentimentos LS. Photo by SportFot
How are you preparing for Rio? Who do you see as your Olympic mount at this point?
Right now, the decision is that we have a plan beyond WEF this year. Hopefully we can have some success in the latter part of the circuit, but we are a little bit shorter on horses than we have been in the past. Diva [part of Great Britain's winning Nations Cup team at Rotterdam] is here; she will probably only compete in one more grand prix here to save her for team duties later on in the year.
At the moment, she has more results on paper recently than the other horses, but that's partly because she's been available. Sarena has come to the forefront in the last few shows. She had a very slow start her last year and it was a very big change of regime for her with me I think. But the last few shows have been great. She jumped clear in the World Cup qualifier at Verona [Spain] and had one down in the World Cup qualifier across the street here [the Wellington Masters CSI 3*** at Deeridge Farm in Wellington]. I feel like I have some connection there now with her for the first time in 10 or 11 months.
Boomerang [winner of the Christmas Masters at Olympia (England) last December] has been great for me. He was fantastic at the end of last year, but unfortunately he had a little bit of a bruise when we jumped here. The ground is a little firm. He won't jump much here now, but I'm hoping maybe he'll jump once or twice toward the end, maybe on the grass more than here, just because it's going to be softer.
We're really trying to just build a team. We had a little bit of a few gaps missing since Urico is not available [after retiring in 2014 from an injury] and Cella is off still at the moment [after an injury in the summer of 2015] and [2012 Olympic partner] Triple XXX [was sold]. It takes a year or two to rebuild after you're missing one top horse, and we are missing three in the last three years. It's coming a little bit full circle for us right now. Hopefully it's coming back around.
I have quite a few horses, but they've all got to prove themselves. They've got to go that next step and hopefully support Diva and Tic Tac when it's needed.
How is [2013 European Championships team gold and individual silver winner] Cella?
I'm not riding her yet. I haven't seen her in a little while. She's in New York, and she's training a lot in water right now. She looks, physically, like she could go into the grand prix tomorrow. She's enjoying her time. We had a decision, whether to really push for the [Olympics] this year or whether to do what's best for the horse, and I think we made the right decision. We're going to give her a little bit longer, and we're hoping that she'll come back toward the end of the year. It's been a while now, and we're missing her, but we're being patient.
You've been teaching more and are helping Jessica Springsteen this winter. What has that been like?
It's been great. We've been training a bunch of riders for the past few years now, mainly because they want to come to England for the school, like Kara Chad from Canada and quite a few of the younger generation from Europe.
Jan Tops and Edwina [Tops-Alexander] are unable to be here this winter, and Jessica, Athina [Onassis de Miranda] and Alexandra [Thornton] are kind of the Tops group. It's a good opportunity for me. It's nice that they asked me to do this, and I'm working with some great riders and great horses. Within reason, it's a pretty easy job! I've had it harder before. I'm enjoying it.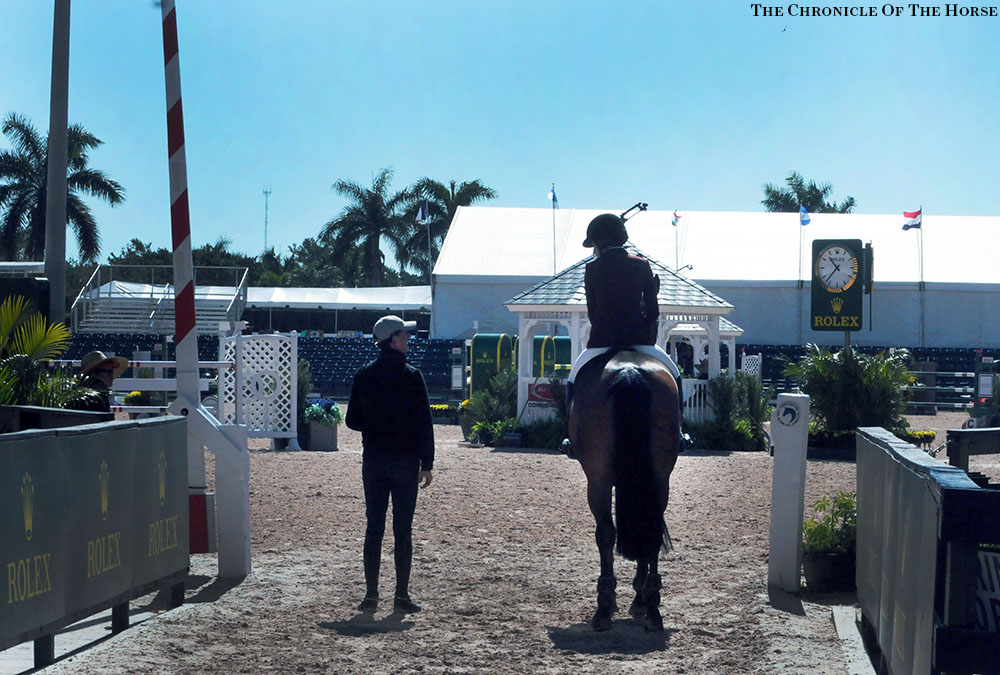 Maher and Jessica Springsteen converse at the ingate before the $35,000 1.45-meter Classic Feb. 26 at the Winter Equestrian Festival (Fla.). Photo by Catie Staszak
What does your schedule look like from here?
We are planning to head back [to Europe] after Miami [the Global Champions Tour of Miami Beach]. We're just putting together the plan now.
I think the first Nations Cup we do will probably be La Baule [France], and then we'll try to incorporate one or two Global Champions Tour shows in between our designated Nations Cup shows. Really, it's an Olympic year, and it's all about the Olympic Games. We need to try to stay up in the [FEI World Rankings], because we need to get to the competitions, but we're really in a six-month period now where we're really trying to build a team for the future as well as guide our way through to making the team to Rio.