Mill Spring, N.C.—April 6
Between 1984 and 2006 Olympic gold medalist Andrew Hoy was a vital part of Australia's championship teams. But Hoy, 59, hasn't been on a team since the 2012 London Olympics, and he's eager to make his return with the FEI World Equestrian Games at the Tryon International Equestrian Center this September.
He's got two strong contenders in Composer and Vassily De Lassos, as well as a promising talent in Basmati. Hoy, who is based in England, brought the 9-year-old Trakehner gelding (Grafenstolz—Blanchette, Suchard) to The Fork CIC*** for the WEG test event to scope out the track with his wife Stefanie Hoy and their 8-month-old daughter Philippa in tow.
The Chronicle caught up with Andrew after his dressage test, where he and Basmati scored a 38.9 in the CIC***.
Can you tell us about your history with this horse?
I bought him in Germany three years ago, and he had done some young horse classes at that point in time, so I've brought him all the way through. He is an unbelievably talented horse, but it's about putting it all together, and it's just working step by step. I'm very happy about many things, and it just confirms that it's a work in progress all the way.
John and Louise Ayre [own him]. They're Australian people and live in Australia, but at the moment they're in New Zealand, so they're unable to be here. If it wasn't for John and Louise and their generosity I wouldn't be here with him for sure.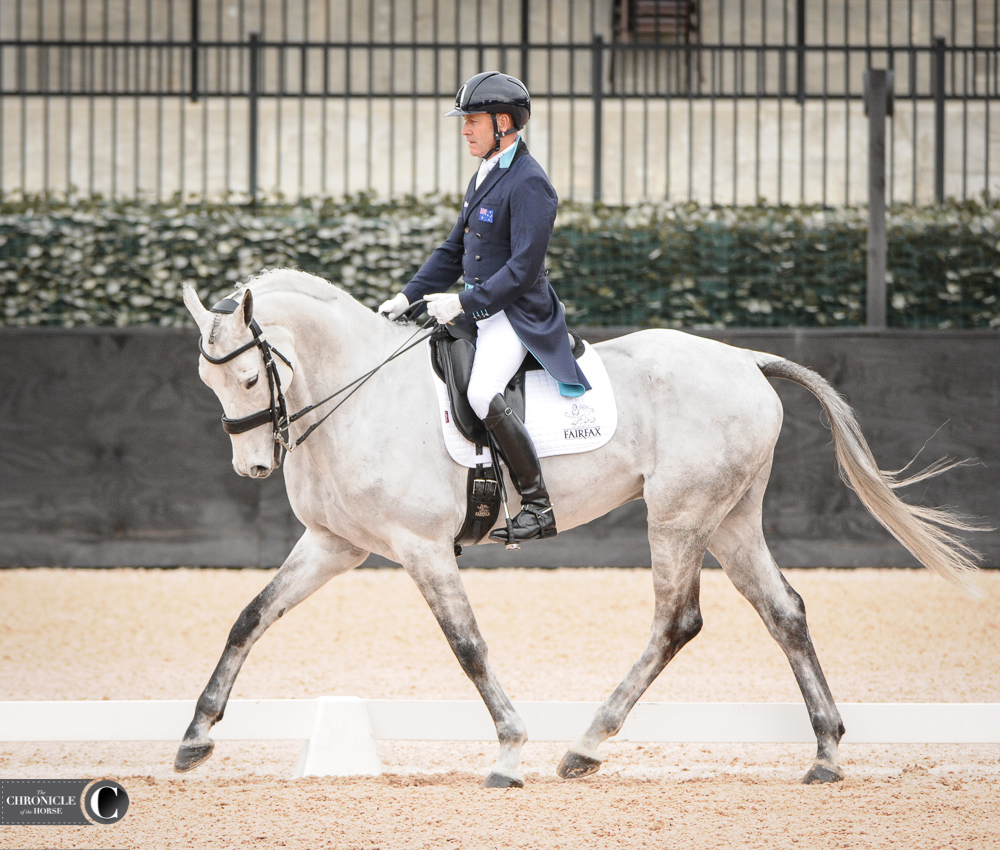 How did you feel about your test today?
Very good. I was very pleased with parts of his warm-up. In the arena, did I put it all together? No. We're a long way from putting it all together. He's a long way from being at the top level, but this is his first three-star test that he's ever gone in, so it's all a work in progress. I'm very happy with so much of the work, and it's about putting it all together.
Do you feel like it's an advantage to get in this arena in case you come back here in September with him?
I just treat this as another competition. This for me is another competition for the horse and for his progression, which it's coming to the next level. Horses have to go compete in different environments all the time.
What did you learn about him today?
That he's going to be very good.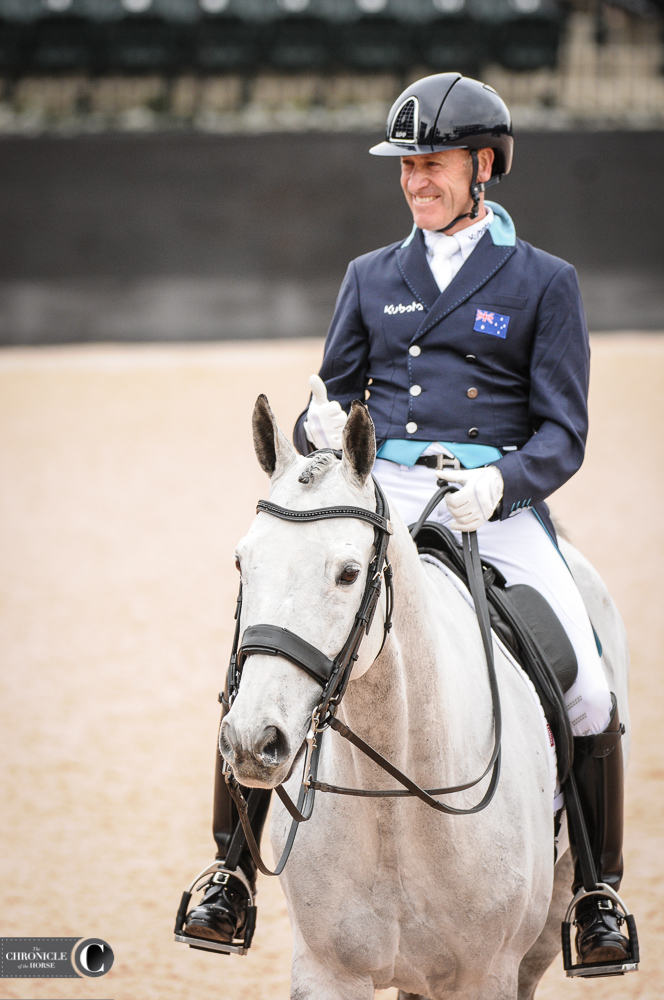 Why did you decide to come to The Fork, and why did you decide to bring this horse?
I felt that for him it was a good event. This is his first three-star competition. I know the courses Mark Phillips designs are very good cross-country courses. You have to be able to run and jump in a good rhythm, have the right speed to the right take-off spot, and his courses always ride well. Then the fact that this is going to be the world championships site in September, so I wanted to come see it as well.
What would it mean for you to get back on a championship team again?
My horse power has changed. It's always good to ride at championships. I enjoy riding at championships, and I enjoy riding at the pointy end of the sport.
What do you think of Tryon?
It is good now, and it's going to be better. It's a venue that is still a work in progress, but it's going to be very good. Not dissimilar to my horse. He's very good, but it's all a work in progress.
What's it like to have your family here with you?
It's great. To have a child, which is my first child, it's an absolute joy that you can—only people who have children know the joy that they can bring and also the challenges they can bring. It's something very special, and it's great that she's able to come here. The weather here is definitely warmer than in the UK at the moment, so it's nice that she can be out. She's only 8 months, so she's well-traveled. She's been to Australia and all around Europe. This is her first trip to America.
---
The Chronicle is on site at The Fork and will be bringing you updates all weekend. Keep up with all of our coverage of the event, and find live scores here.