Lexington, Ky.—April 24

Mention William Fox-Pitt to someone who only has a cursory interest in eventing, and odds are they know his name. The 52-year-old rider is a giant of the sport, and with good reason—he's been on five Olympic teams, represented Great Britain at FEI World Equestrian Games teams and eight European Championships, and won a stunning 13 five-star events in his career, including Kentucky three times.

It has been six years since the British rider last made the trip stateside to contest the Land Rover Kentucky Three-Day Event CCI5*-L. With little horse sport happening abroad due to COVID-19 restrictions and an EHV-1 outbreak, Fox-Pitt felt it was time for another trans-Atlantic trip.
Ninth after dressage Friday, the pair stormed around cross-country this morning until a slip and fall eliminated them just three fences from home.
We caught up with Fox-Pitt on Friday to talk all things Kentucky, how his preparation has gone and to learn about Oratorio, his "horse for the future."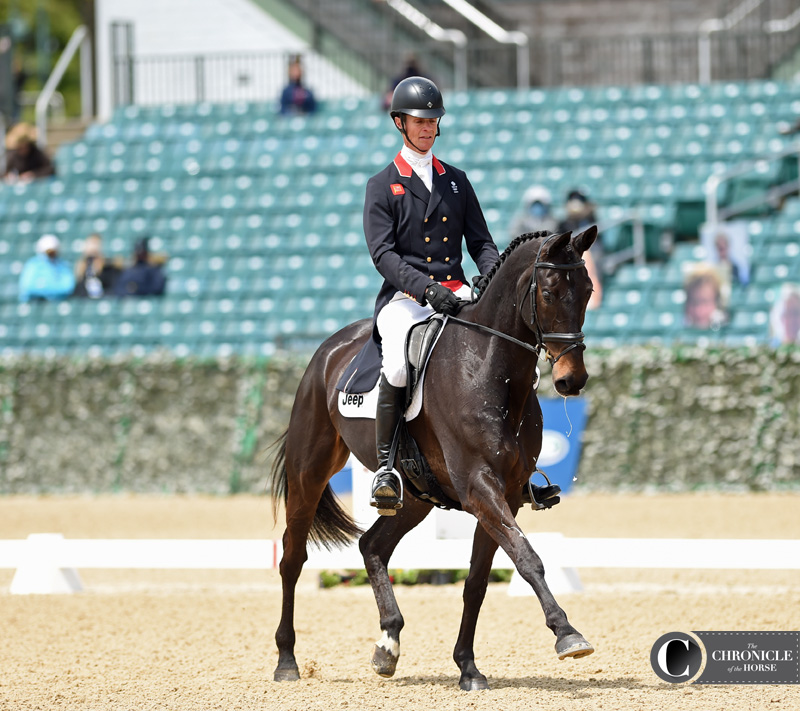 How does it feel to be back in Kentucky?
It is great to be back here. … I was last here six years ago; it is quite frightening to think where have those years gone. I have had some great times here, and it was very nostalgic coming back, and just remembering how beautiful this place is and how spectacular a part of America it is. But then you look at the course and you see the competition and you realize it is not going to be a walk in the park on holiday. It is good to be back.
We have had two very boring years and how lucky are we to have a five-star to attack? It's lovely to have a nice horse at this level. It's great to do something with him because otherwise he would be sitting at home, cantering around Aston Le-Walls or Tweseldown. This is what he's for, so to be able to bring him here and really have a go at a five-star is such a great opportunity. I feel very lucky. It is great that the whole team here has made it happen. I'm not joking, but it is quite a miracle isn't it?
Tell us about Oratorio.
He was bred by a friend and offered to me when he was 3, and I said, "You know what, when he is 8 or 10, I'm going to be well and truly given up. Do not waste him on me; give him to a good rider like [Laura Collett]. And they did, so he went there from 3 til 6, and he is quite a big guy, and I was still going, so they said, "You're still going, would you like to give it a go?"  It's just quite a lot of horse. He came to me later in life, but he was really well started by Laura.
How does he compare to his sire?
He is by Oslo [Biats] . . . a horse I rode at the [five-star] level and my Olympic dream really—he was the horse I was hoping to ride to the Olympics. I really felt he could be in the hunt in London [but] he didn't quite make the grade at the day. He was a bit chunky and we crossed him to Oratorio's mother, [Cinnamon Brulee] who raced as a youngster.
We got a more-blood version of the dad, but he is not a fancy pants mover, jumper. [Oratorio] is not one of those flash horses. He's a real athlete. He is a real blood horse, he is hopefully a five-star long horse through and through.
Do you think he's an Olympic horse?
I have really not done anything for him for two years, so he is not in that bracket sadly. He is a horse for the future. I really look forward to the world championship next year or the Europeans. He is hopefully the real deal.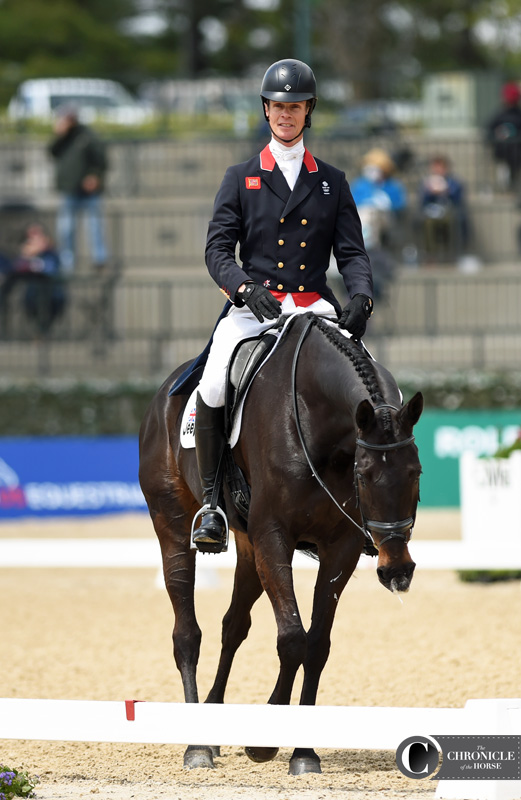 You initially planned to bring Little Fire and switched to Oratorio late in the game. What made you decide to do that?
It was rather late in the [game] that I got funding to come. … So I thought, gosh which one is ready? I'm not sure either were really ready. I would have liked to have known for a couple of months, and I only really knew for three weeks, so which one could I get ready? This one has got class.
Little Fire is a classy horse, but he's a little behind in his work with COVID, maybe. So I felt this one was the one that would cope with the demand of the five-star in a shorter time. I also felt he is very much a [CCI-Long] horse. I do not really relish riding him around shorts too often because you're always pulling the reins and having a battle about everything, whereas here he can gallop a little bit. Little Fire could do the shorts easier, so he could stay back home and do what comes up. Finally, the other thing that skewed it is that I got owner support to come. Although they can't come, they were really behind me bringing him.
What's it like being here without spectators?
Probably the riders will not even notice; we are focused on what we are doing anyway. We're not affected.  Yes, it is nice to get a clap, but you do not really focus on that when you are doing it. I am sure coming out of the arena when you have won on Sunday will be quite strange for somebody, but I do not think they'll care. Kentucky has been known for attendance and a big day out, [so] it will be very weird. Our owners could not get visa waivers anyway because in the U.K., the worry of traveling is also significant. … He's owned by 10 people, so it is a bit of a shame.  We're looking forward to coverage to see as much as possible.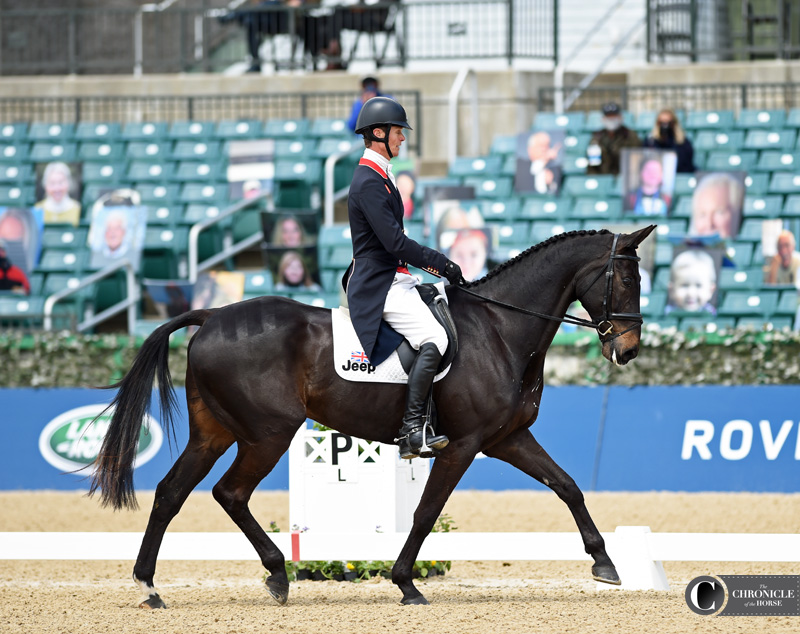 What has your preparation been like, given so many events have been canceled?
It has been tough. Losing Badminton was a real blow for the sport, for the riders, for the owners, for the whole energy of the sport. We are looking at Burghley in the autumn, which is also looking unlikely. It could be 50/50 now. Branham is gone, so we lost a lot of the good ones to aim at. This sport is definitely suffering: Sponsors, owners, everyone's thinking, what for? What are we spending [money for?] Because these guys are not cheap to run. Here we are, paying all this and what are we getting? Nothing. Events like this have definitely made a difference, certainly for my sponsors. Jeep is U.S.-based  … that is a big reason I here. To be here and to show my face to American eventers is a big deal, so I am lucky to have a horse to be here on.
We have had a very light prep, I would like to be a little more prepared. All through the winter, we didn't even have a show to go to, we couldn't even do indoor show jumping rounds. So we are a little bit underprepared. … We had a couple of events this year and a good spin around Weston Park, and we jumped around a few weeks ago, which was quite tight to coming here, but that was the only choice I had. In Europe, we are quite behind. You guys have been up and running since February; our season didn't really start until April. I went cross-country schooling in March.
He is not a newbie so he will remember what to do and stay between those flags. I believe he is fit; I believe he is on the aids. Horses don't forget. They're amazing animals. They can do nothing for a long time, and you're always surprised when they go back like they were before, so hopefully he'll switch back into that mode.
The Chronicle of the Horse will be on-site all week for the Land Rover Kentucky Three-Day Event bringing you reports from each round of competition, beautiful photos and stories from the competitors. Follow along with all of our coverage here, and be sure to read our May 17 Kentucky Results issue for more in-depth coverage and analysis of the event.