I first saw Charlotte Dujardin in Los Angeles a few years ago. I always dreamed since then that if I ever had an opportunity to ride with her I would!
In November, after my rides in Kentucky at the U.S. Dressage Finals, I applied to ride in the Masterclass she was scheduled to teach in Lexington, Kentucky, in January. I didn't hear until just before the clinic that we were chosen for the Prix St. Georges level!
I told my coach, Button Baker, "Let's do it!"
Read all about Charlotte Dujardin's Back To Basics Masterclass in the COTH coverage of Day 1 and Day 2.
We arrived on Friday, delayed a day because of snow in the Carolinas. But my barn manager, my coach and my husband got there in time for me to ride at 5 p.m. in front of Charlotte—no coaching, just an observation ride.
On Saturday, I watched the other riders and enjoyed seeing each horse-and-rider combination start one way and end another way, always for the better. Charlotte is very funny and very demanding, and she put everyone out of their comfort zone.
After lunch it was my turn! EEEK! I tried not to be nervous but I was. I have never done a symposium like this. I am an amateur, and I have taken my 16-year-old Hanoverian mare from third level to small tour. We just won the national adult amateur Intermediaire I and Prix St. Georges championships in Kentucky and won the small tour in Region 1.
Wenesa is a very powerful mare. We have been working on more self-carriage.
Charlotte echoed what my coach says, in that it's a bit late to start from scratch with her because of her age, but we worked on the canter primarily. I concentrated on keeping her between my reins and sitting deeper, reins shorter and having bubbles of air on the reins.
We rode four-, three-, and two-tempi changes very forward. We also worked on clean downward transitions. It was a butt-kick lesson to say the least!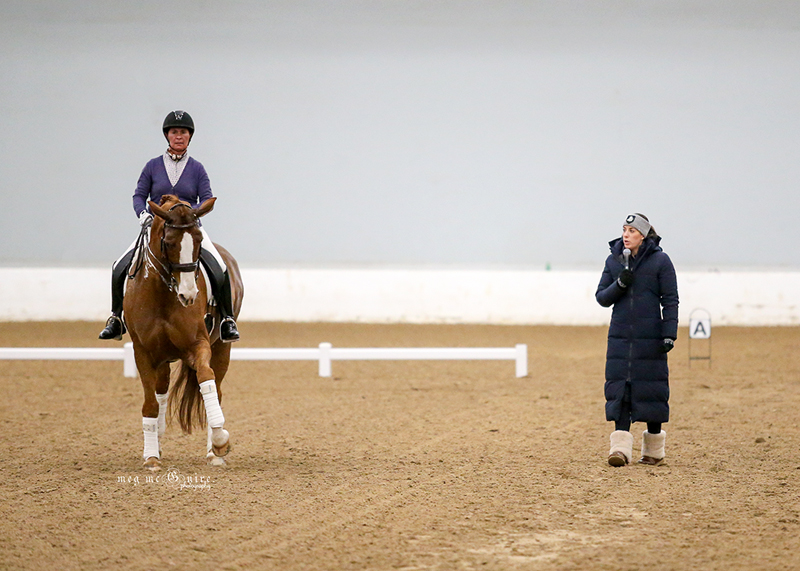 Sunday, I went in with a better understanding of what she was looking for, and Wenesa and I did nice half-passes to shoulder-in to eight-meter half circles back into half-passes and repeated. She asked me if I had studied my tapes, and I said, "No, my coach explained it to me!" She smiled.
We then worked on tempi changes on the rail and then on the diagonal. We did fours, threes and twos. They were very straight, and she liked them. She had me push for more expression.
We also worked on Prix St. Georges pirouettes on the diagonal. When we moved to the trot, she had me riding shoulder-in, an eight-meter circle and half-pass. She reminded me of being more precise with the size of my circle.
We ended with extended trot work, pushing and then collecting, pushing, collecting etc. She said, "Your mare has plenty of power—you just have to control it more."
I was happy to hear her say how much she thought my older mare was happy with her work and how in shape she is. I take pride in the care of my mares. (My three mares are family to my husband and me!)
I told her we do what she and Carl Hester do—we train, we hack, and they have their pasture time.
I got a great photo of her, Wenesa and me giving a thumbs up. I am so happy that I was given the opportunity to ride with her. The vibe back at the barn was that everyone felt so happy and proud. It gave me great pleasure to share my mare with the audience, and they showed their appreciation with lots of applause.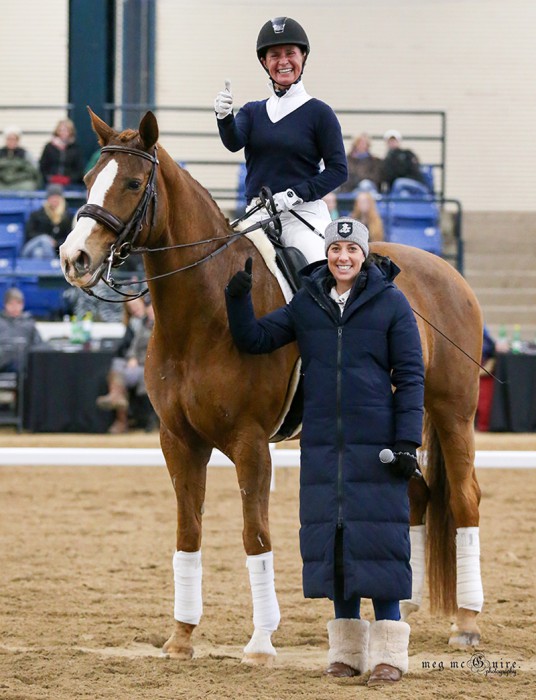 We headed home back to Mill Spring, North Carolina, and I looked forward to getting back to training after a couple of days off for Wenesa.
---
Elma Garcia is a noted director and cinematographer who rides dressage as an amateur at the FEI levels.