Wellington, Fla.—Jan. 3   
I hesitate to call it cold in Florida when most of the country is slogging through below-freezing temperatures, but temperatures in the high 50s and a driving rain greeted dressage riders on the second day of the Robert Dover HorseMastership Clinic.
The inclement weather, combined with the atmosphere of cameras, crowds and loudspeakers, made for some very bright-eyed horses in the morning lessons. Here are some exercises top clinicians Debbie McDonald and George Williams had riders do to relax their horses while still having a productive, working ride, as well as general philosophy advice and tidbits from Dover's lessons with the advanced students.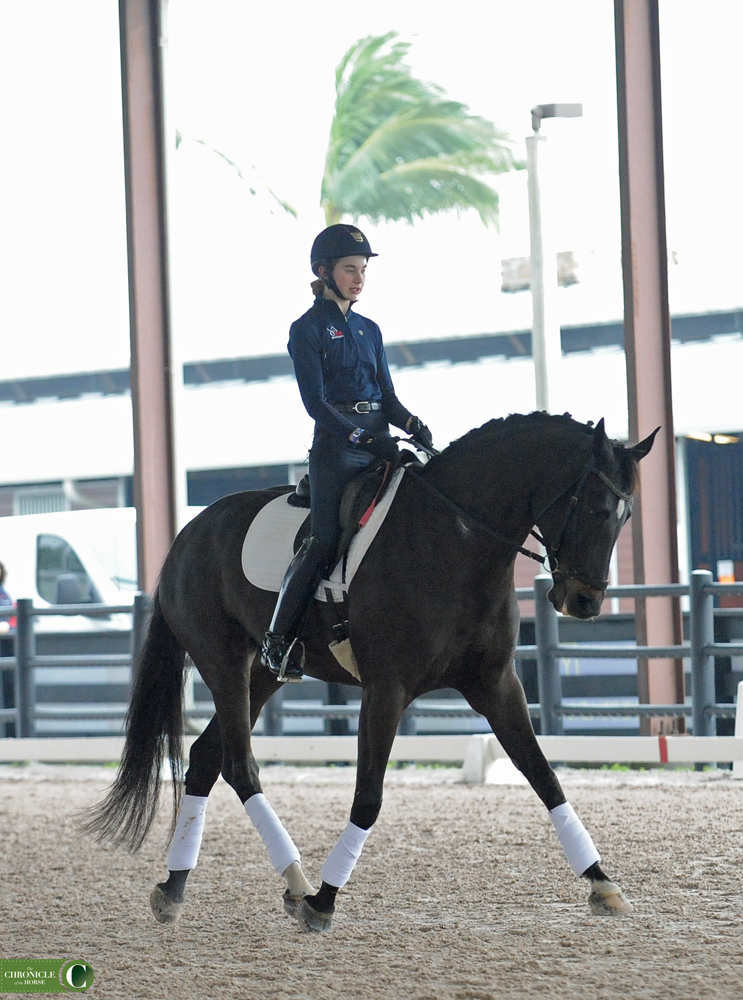 Debbie McDonald's Circle Exercise
McDonald helped a student on a young mare who wanted to throw her head around and prance with this circling exercise: using either a trot-walk transition or a trot-canter transition, the rider puts the horse on a 20-meter circle and at the top of the circle transitions down and immediately does a smaller circle the other direction in a sort of S pattern. After the smaller circle the rider goes back to the trot or canter and does another 20-meter circle the opposite direction—it rides similar to a western reining pattern of small slow circles and larger quicker circles.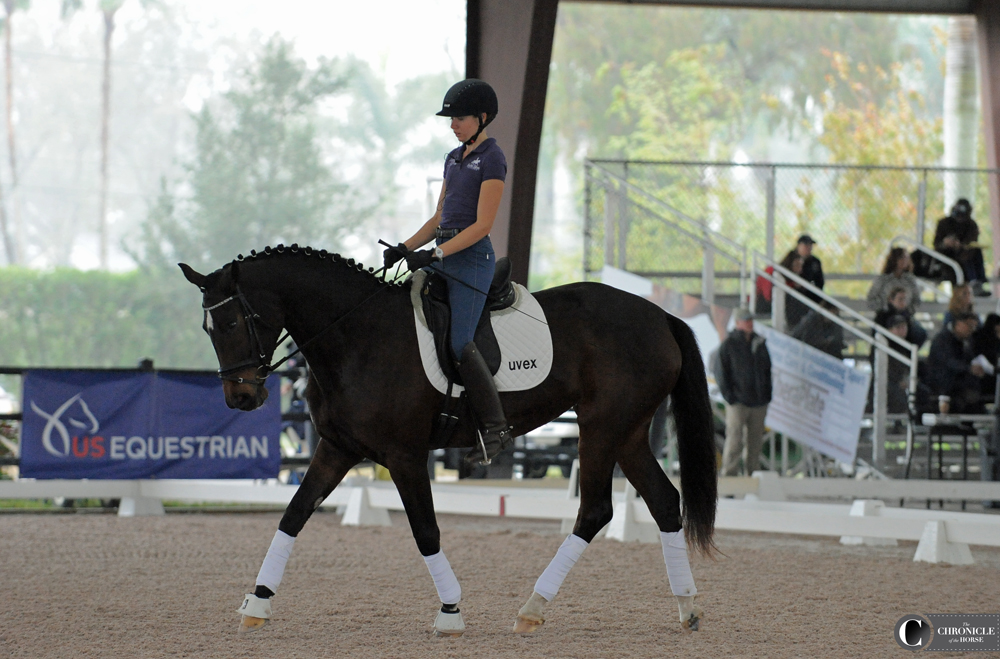 The point of the exercise is to use almost all direct rein to turn the horse the opposite direction in the downward transition.
"Don't feel that outside rein too much, don't be conflicting," McDonald instructed. "When she's not being good in her mouth just play with some circles so she starts to relax and follow the direct rein."
McDonald later worked the exercise into the lesson when they had moved on to canter work, and the mare started to get heavy.
"When she starts to tug at the [right lead] canter I want you to trot and turn left," McDonald said. "Keep doing those transitions so she doesn't barrel through your hand. You're teaching her a lot about the outside hand here; it's a really good exercise."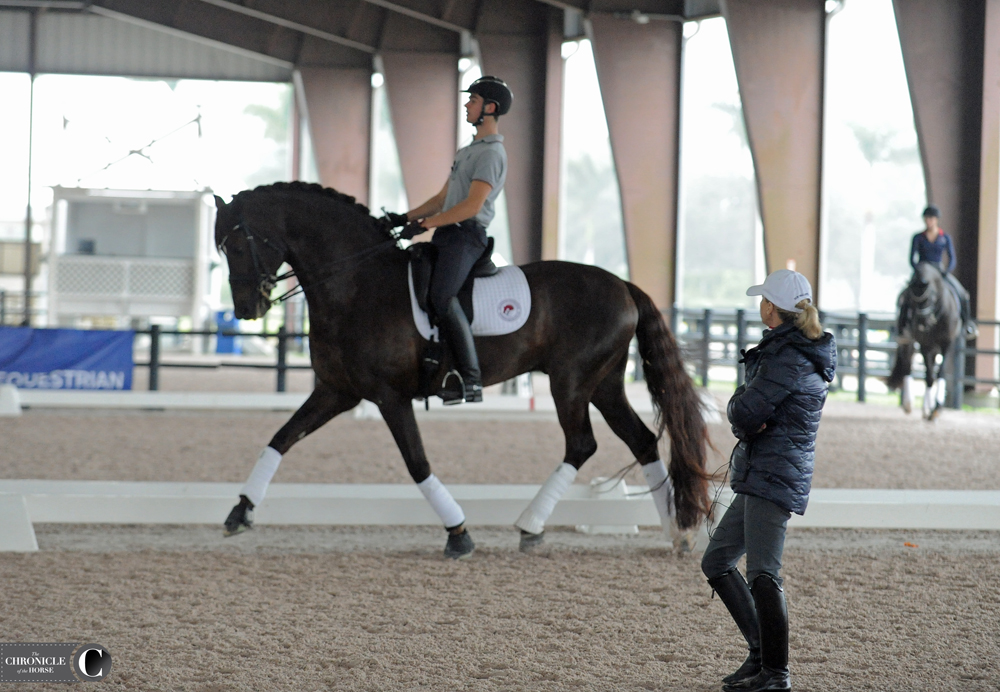 When done correctly, McDonald explained the horse should get to the top of the circle and tune into their rider and almost expect a downward transition rather than to barrel around the circle.
"Babies are so fun," McDonald said with a laugh as she patted the mare after the lsson. "But she's got to accept the outside rein. She doesn't know better now, so just don't let her think she can start grabbing."
George Williams: Move The Haunches
Williams helped a student get her hot mare into the contact and working by having her trot all the way around the arena trying to fit in four haunches-in, haunches-out movements on each long side.
"It's really the ability to efficiently go from one to the other that we're looking for here," Williams said. "The idea is it's a suppling exercise especially for behind the saddle, so they can go from one bend to the other. They have to be very supple behind the saddle to do it, so it gets the hips and the lower back of the horse very supple, which in addition helps the rider gain more control over the horse.
"This horse also has a tendency to be wide when it travels behind, so it can get the horse to narrow its base through training," Williams added.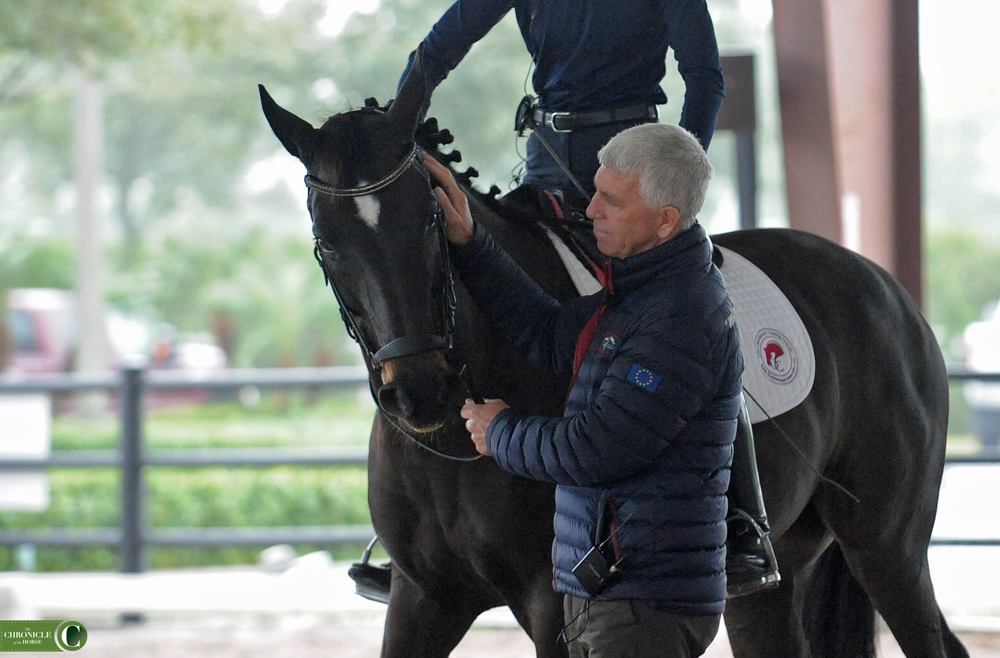 Williams warned against making the mistake of trying to package a hot or nervous horse together too much.
"The thing with a hotter horse or excitable horse is you must first ride them forward. If a horse is being held in, and you hold in too much, that energy has to go somewhere, and it usually goes up," Williams said. "Ride them forward so you direct their energy in a more positive manner."
Robert Dover: No Tricks, And Watch Your Damn Video!  
Dover may not have dealt with as many hot or young horses in his lessons, but he had plenty of wisdom to impart on the clinic's advanced students. While helping one student with her piaffe/passage work Dover had her stop so he could explain the importance of riding the movement, not schooling a trick.
"He's not to do a trick; there are no tricks. You have to stop letting him think life is one trick to the next, because it doesn't have anything to do with who you are," Dover said. "It may be how he is and how he learned, but you have to keep deciding who you are, and every time you get on his back you're redefining and putting out into the universe who you think you are.
"It doesn't matter that he keeps saying, 'This is who I am, and this is how I learned,' " Dover continued. "You're going about the business of good riding and good training to rewire his brain to become a better, easier, happier, more organized version of himself."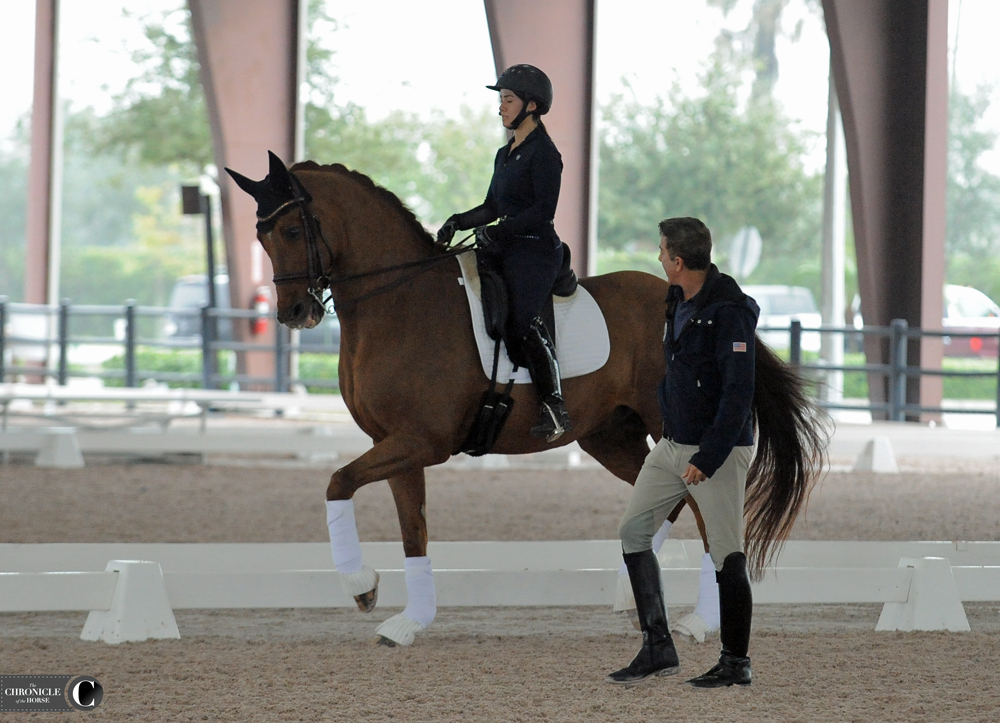 Dover explained that everything riders do in the dressage ring can be broken down into the control of four facets of the horse.
"It's the rhythm of the horse, the tempo of the horse: how fast or slow they're going over every meter, the frame of the horse: how high, low, long or short you want it, and the length of their stride," Dover said. "If you can control those four things all the time, from half halt to half halt, the movements are just where you decide you're going with those four things. You say, 'OK, I'm going to make the rhythm faster while going in a rounder frame with shorter strides, and now I'm just going to turn that,' and that's a pirouette."
Dover's final piece of advice to one rider after his lesson was really more of an admonishment.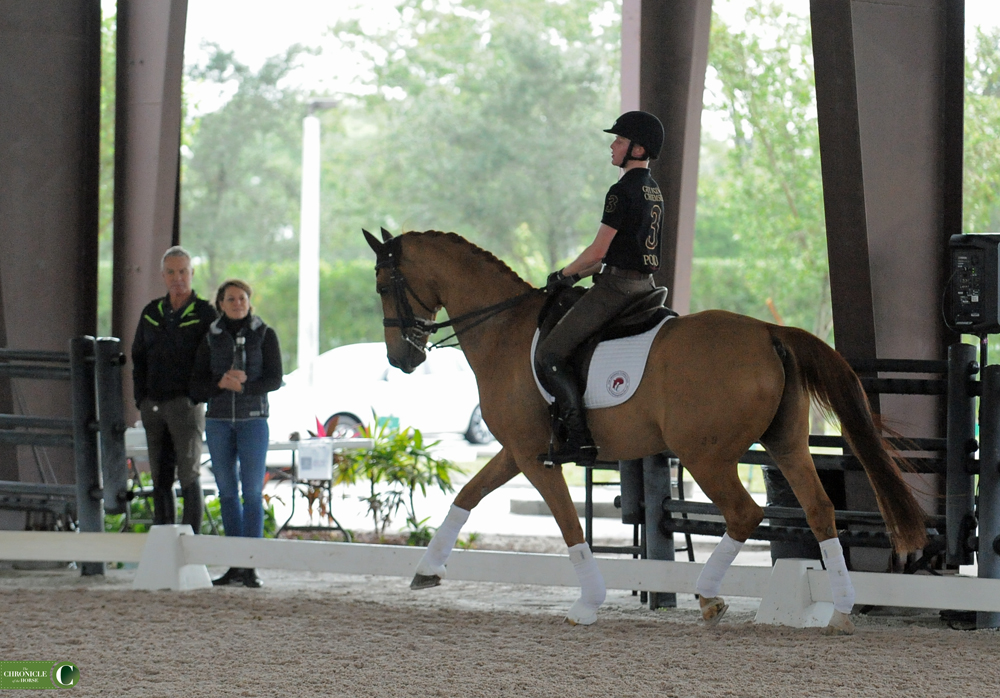 "If you don't go home and watch your video from these lessons I'm just going to kill you," Dover said with a laugh. "Because you're going to learn stuff; you're going to see that I could have asked for more in that moment. I felt I couldn't, but I can see I could have."
USEF Network is taping all of Dover's lessons for the livestream.
"When you're on the horse, you're feeling the emotion of the horse and yourself and in that moment. Sometimes you go, 'Oh, I can't do a certain thing,' " Dover said. "Then you watch it on the video and think, 'What the hell was I thinking; I could have done that,' because the emotion goes out of it in the video. Then you can say tomorrow I'm going to go for a little more of this or that.
"You should watch honestly, whether you're home or at a show, watch every minute you're in a lesson," Dover continued. "I promise you on the way to the Olympics that's what I did, and that's what generally we all do. If you don't you're missing an opportunity to improve."
Read more of the COTH coverage from the Robert Dover Masterclass.