When the news that 17-year-old Australian event rider Olivia Inglis had been killed in a rotational fall on the cross-country course at the Scone Horse Trials in New South Wales, Australia, reached fellow Australian horsewoman Lisa Purcell, she found herself in a position many friends and family members often encounter when someone close to them experiences a sudden tragedy.
"You never really know what to say, or what to do, and you feel like you want to help," Purcell said. Her son, Tyson Purcell, rides and competes in eventing, sometimes against Inglis.
"We heard the news quite quickly after it happened, and I said to my son on the phone, 'Well, when you ride Bella tomorrow you should ride for Olivia.' And I just sort of said it," Lisa said. "And later that night he said, 'Well, that would be a really good hashtag.' "
Lisa ran the idea past Olivia's mother, Charlotte Inglis, who thought it would be a wonderful tribute, and she gave Lisa the go ahead to post the first photo with the caption #rideforOlivia.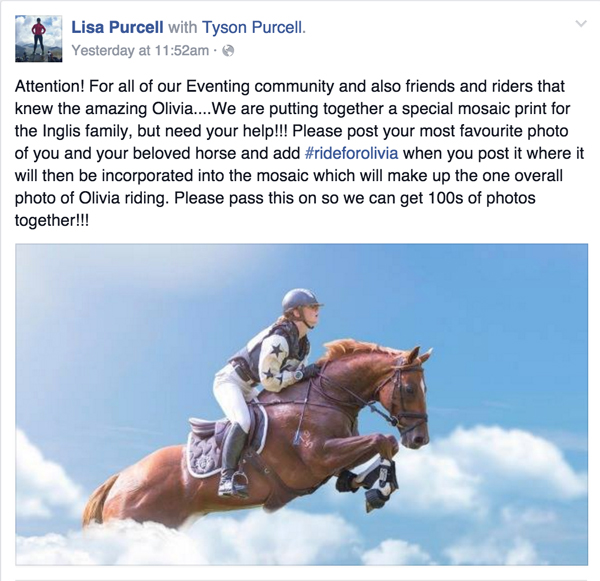 "I just thought this would be a really great way of creating some positivity on social media, so that's why I came up with the post your favorite photo of your horse, and do it for Olivia," Lisa said.
The plan was to collect the photos people shared on Facebook and Instagram and put them together in a mosaic, where each shared picture was a tiny piece of a larger picture of Olivia and her horse.
To do that, Lisa estimated she would need a few hundred pictures. She published her first post on Facebook the morning of March 7, and suddenly #rideforOlivia was viral. Hundreds of riders thousands of miles away from Australia started sharing pictures with the hashtag—in all disciplines, not just eventing.
As of the morning of March 9, three days after Olivia's death and one day after the horse she was riding, Coriolanus, had to be put down for a fractured neck sustained in the fall, managing director of the Inglis family's Thoroughbred breeding company Mark Webster reported on Twitter that the post had been engaged by 8 million people (not including more than 40,000 Instagram posts).
Lisa couldn't believe how quickly and intensely riders responded to her post.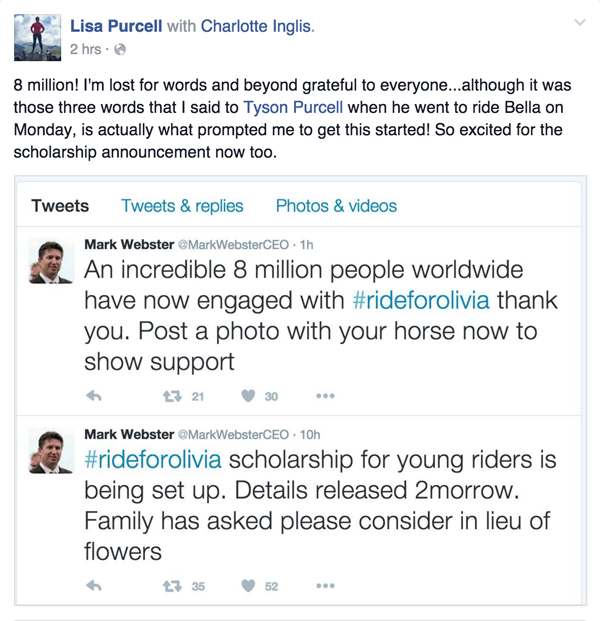 "I think we as riders have such special bonds with our horses, and you never imagine that [accident] could happen, and I think it just touched everybody," Lisa said. "I think everyone just wanted to feel a part of it and do their bit, and it's spread beyond eventing. I think anyone who owns a horse wants to be a part of it, from show jumping, to dressage, to western, to cutting, to barrel racing, vaulting. It's so amazing to see some of the world's best, like Charlotte Dujardin and William Fox-Pitt post it, too.
"I chatted with one of [Olivia's] best friends—she sort of gave me a list. I said, 'Oh, can you send me a list of some of her idols,' and all of the riders that she sent me have posted," Lisa continued. "I didn't even have to reach out; they just did."
Lisa plans to put together a mosaic with a few hundred of the pictures before the service for Olivia (to be held March 14, at St. Judes Church, Randwick, New South Wales), and plans are in the works with what will be created from the many thousands more.
"I've got a bit of nice problem to have," Lisa said.
The Inglis family is creating a scholarship in Olivia's memory, the Olivia Inglis Eventing Scholarship, according to The Australian. The Austrailan reports the purpose of the scholarship is "a fund dedicated to seeing young riders achieve success in the close-knit and highly competitive equestrian community."
They have LIsa's hashtag to thank for showing just how far reaching that community is.
"I think the equestrian community, it's actually a family," Lisa said. "Even if you don't know each other."
#rideforoliviaFollowing the tragic accident which claimed the life of Olivia Inglis in Australia, equestrians around…

Posted by Boyd Martin on Tuesday, March 8, 2016