Dom and Jimmie Schramm's Evention TV has reached a sort of cult status among eventers and their fellow equestrians. The episodes range from parody videos such as Dressage Skillz (with lyrics: I got them dressage skillz / I give them judges chills / Born to shine on the centerline / Just keepin' it real)—to how-to episodes discussing how to choose an off-the-track Thoroughbred.
Dom doesn't limit himself to teaching via Evention TV; he keeps a busy clinic schedule with 18 weekends already booked through the fall. He returned for a second year to Meika Decher's Polestar Farm in Lake Stevens, Wash., for a two-day clinic. I brought my sassy little Irish Sport Horse mare, Queen Of Cairo, to ride with him and discovered Dom's clinics are even better than his Evention episodes, and the Australian accent is even more fun in person.
The Evention shows were on hiatus. "We created a bit of a monster," Dom said, in terms of time and money—and popularity. He and Jimmie worked with Right Start Photography for the last two seasons but haven't released an episode since last September. That hiatus recently ended though, as the couple released a new episode on May 27.
The clinic began on a misty Saturday morning with the stadium fences, and a beginner novice group kicked off the day. Dom competes at advanced with Dana and Manny Diemer's Canadian Sport Horse "with a splash of Friesian" Cold Harbor, and he offered detailed advice to groups over the day that ranged from super green horses or riders in starter to a training group with some riders ready to head out at preliminary.
Dom, who said he himself clinics and lessons frequently—he returned to Pennsylvania after the Polestar sessions to clinic with dressage trainer Christoph Hess and meet up with hunter/jumper trainer extraordinaire George Morris—uses instructions and imagery that resonate for riders at all skill levels.
Noting that many riders, especially those of us who came to eventing after years as hunter/jumpers, tended to overclose over the fences, Dom offered up my favorite visual of the day: "Imagine there's a big knife coming out of your horse's wither."
That, of course, led to spectators shouting back in fake Aussie accents, "Now THAT'S a knife," á la Crocodile Dundee.
Dom started each group with curving bounces to rollbacks in a cloverleaf pattern over a group of four fences. Then riders were asked to go down a line, oxer to oxer, counting and varying their strides. Next he added on a bending line made of a Swedish oxer and what he called an "ugly" vertical. First riders did it in 10, then stayed out (or tried to) for 11 while maintaining the original pace and rhythm and finally slicing the first fence a little for a more direct track for nine strides. He pointed out that these exercises ensure the rider has options and can utilize either one, or both, depending on the situation—changing track or changing stride.
He advised one rider to try to "freeze frame" her mind for a moment and ask "What kind of jump did I have, what kind of canter did I get?" in order to land and make a good decision. "Make good choices," he frequently advised the riders and their mounts.
The clinic was peppered with hot little mares, two of which Dom hopped on to ride and help their riders. He didn't ride Cairo, but as with the other horses, he picked up quickly on what my mare was like and what ride she needed. He offered what was perhaps my favorite piece advice when he first saw her furiously leap into the canter heading for the bounces (and this is best heard complete with the Aussie accent): "Don't ride her like she's hot and strong. Ride her like she's sweet." Dom's "ride her like she's sweet" stayed in my head and worked like a charm.
Cairo got more and more relaxed the less I fought her and rode her like she was calm. "Crazy girl," he called her patting her on her sweaty neck, telling me my hot little 15.1-hand (barely) mare could jump a 7-foot fence from a standstill. I swooned as Cairo is not the easiest horse and not everyone can see past the swishing tail and spice to appreciate her.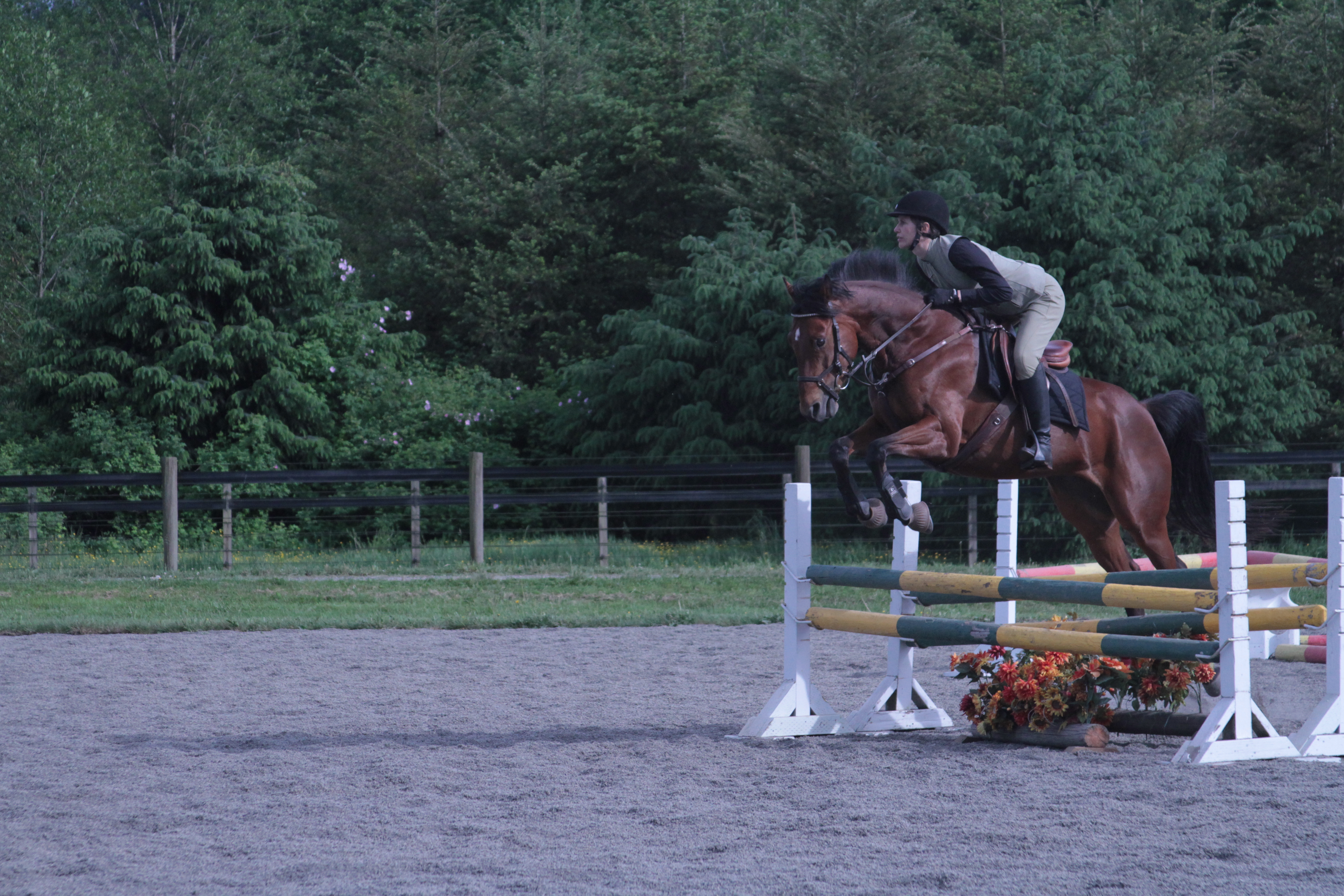 (Clinician Dom Schramm enjoyed Camilla Mortensen's spicy mare Cairo. Photo by Alexandria Gray.)
Each group finished with a course that ended on a liverpool with seven strides to a corner fence. Dom was very clear—riders needed to get that forward seven in order to meet the trickier corner fence going, not holding. The liverpool provided some excitement for the greener starter horses, some of which spooked at the blue color and the sound of dirt on plastic, but it was a good school for the ditches they would do the next day on cross-country as riders had to keep looking up and encouraging their horses quietly forward.
Dom said when he is looking at a green horse to buy he looks first at temperament: Is it trainable? Does it learn from its mistakes? Then he looks at soundness and finally talent.
Cross-Country Day
A couple of the green horses needed encouragement the next day to get over the ditch and also into the water. Dom lunged them using a combination of groundwork and timing to get the horses to safely understand the question in front of them.
For horses that merely refused, Dom used a technique similar to some Western de-spooking trainers who ask a spooky horse to keep focused on the "scary" object. Rather than turn the horse away from the fence, he advocated for backing the horse up, but kept it looking on the fence, then asking it to trot or canter up to the obstacle, often at a lower height.
When he goes out cross-country, Dom said he uses his flatwork to assess the horse. "The number one priority is: Can I ride him?" Then he keeps some "tools in his belt," such as being able to bridge the reins at first. After they simmer down, he said, some horses don't need it so much. And the benefit is they fight against themselves, not the rider who then does not need to battle for a half-halt.
He said his position is a "little bit more defensive" and he likes to "look down my nose and see if I can just see the tip of my boot in front of my knee." Of a rider's position he said, "It's a bit personal you develop your own feel," and he critiqued each rider's galloping position to help them with that, urging them to keep good position in their mind as they went around the course. Dom used Polestar's variety of cross-country jumps to great effect.
Each group did ditches, water, banks and the sheer variety of galloping fences on the course. Cairo and I moved from the novice/training group to the training group for cross-country and encountered our first sunken road, where it was clear just how useful a good position was as we dropped down off the first bank, took one stride and went up the next.
One of the final challenges for the training group was to gallop a pheasant feeder, then turn over a log oxer and then up and over a hill low hill. The base of the hill was three strides from a corner, and riders soon saw why Dom insisted the day before on a forward ride to the corner. In order to get to the cross-country corner, riders needed to make sure their horses saw the obstacle the moment they hit the base of the hill and rode direct to the crossbar of the A shape the corner makes. A couple riders struggled the first time, but all completed the exercise well in the end.
Cairo, who is bold cross-country, locked in on the corner and made it look easy (and full confession, we jumped the wider part of the A, which was more her plan than mine).
For a former jumper/equitation rider and an amateur who sometimes gives the more solid cross-country fences a hairy eyeball, Dom set up the clinic in a way that put a little pressure on but didn't overface the horses and riders.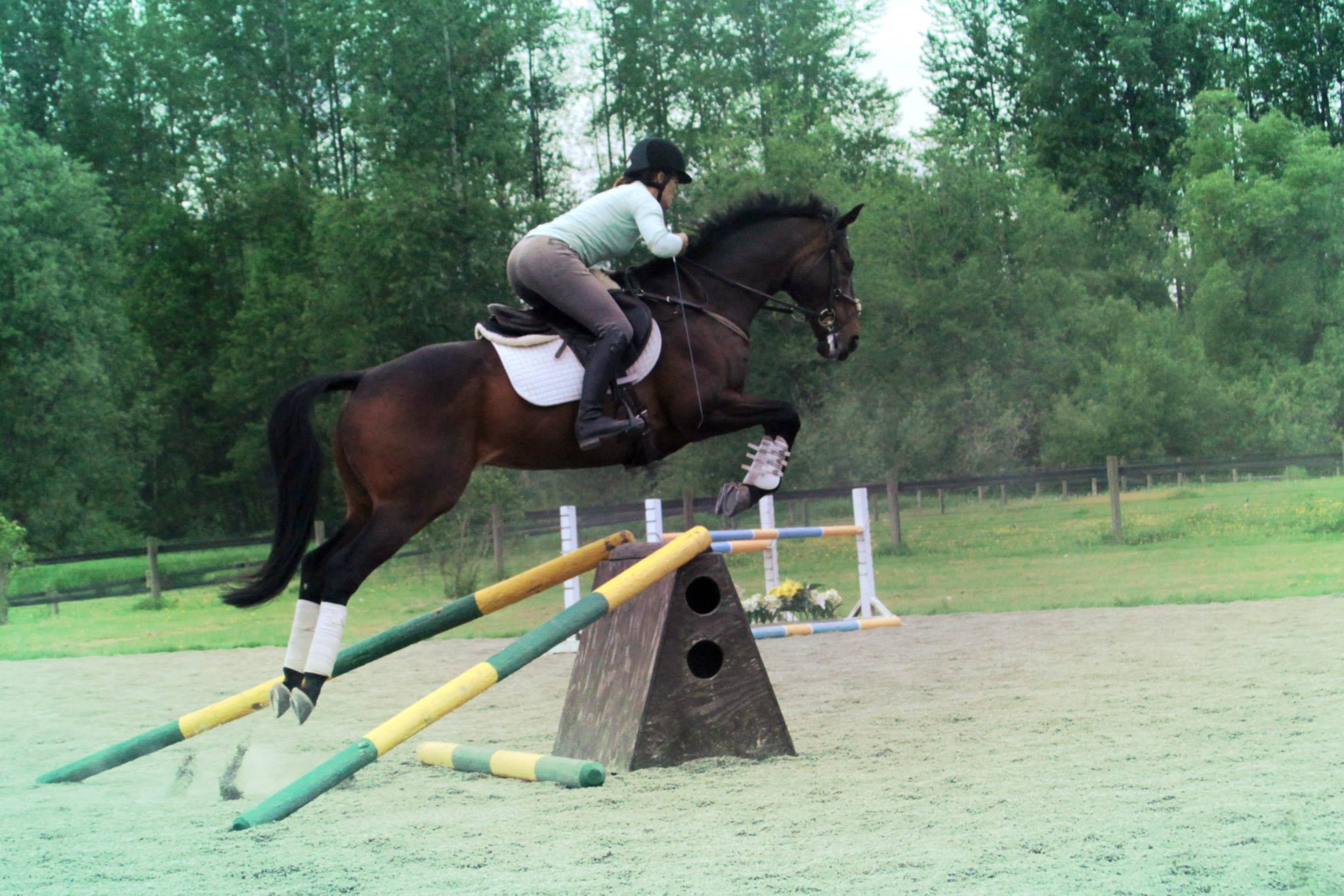 (Polestar's Meika Decher rode Cochlear in the Dom Schramm clinic. Photo by Alexandria Gray.)
Dom, who said he would rather teach clinics than sell horses for a living, said he likes clinics for the opportunity to go to new places and get to know new horses and riders. His least favorite thing about clinics is the limited time frame because he wishes he had longer, but he said it's fulfilling when he hears back from a rider later who tells him a suggestion he gave helped.
I'm just going to keep telling myself, "ride her like she's sweet" and let him know how it goes.
Camilla Mortensen is an adult amateur who competes her Irish Sport Horse mare, Queen Of Cairo, in the Northwest and blogs about her sassy horse at littlemissthingcantering.wordpress.com.