West Palm Beach, Fla.—Dec. 29   
Richard Spooner had a goal in mind when he set up the gymnastics exercises for riders at the USHJA Gold Star Clinic—break the genie out of the bottle.
"This is a trick course designers do all the time—when you're the course designer your job is to get the genie out of the bottle. It's the rider's job to try and get the genie back in the bottle," Spooner said. "If I don't take the genie out of the bottle how are they going to learn to get it back in?"
The genie in this metaphor is less the blue man granting three wishes and more the overly forward, energetic jumper.
"I'm trying to take the riders out of their element a little bit and create an environment where the horse is out of control in the middle of the course," Spooner said.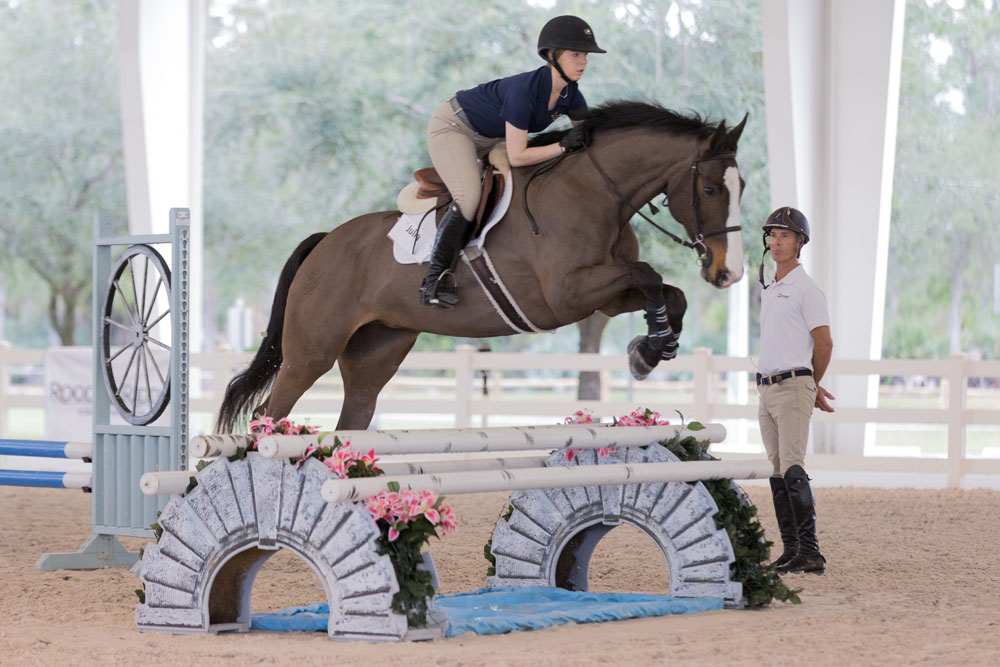 Spooner's track at the Jim Brandon Equestrian Center tested the 26 riders participating in the clinic on their ability to move their horse forward and quickly get them back. In the beginning of the gymnastics course Spooner set up a triple combination with three low fences each set 30′ apart that required riders to really ride forward to make it the proper one stride to one stride, and they immediately rolled back to another small fence.
"If you're going to the [World Games] trials or a really top difficult competition, they might make the water jump the fourth jump, they might make the triple combination the fourth jump," said Spooner, himself a veteran with multiple Word Cup Finals and Nations Cup team appearances. "A course designer will spend a lot of energy early on in the course getting the riders to go faster than they would like to go."
Spooner wanted riders to practice avoiding this pitfall over his exercise, and he emphasized that the trick to getting a horse back after a particularly forward portion of the course is bend. Spooner commented on nearly every rider's course that they needed to focus more on the bend.
"A lot of them were using the outside rein to slow the horse down and keep the horse straight and the horses were not slowing down. Then once they used inside leg and inside rein and got some shape in the horse, got them off the inside leg and rein, the horse would slow down," Spooner said.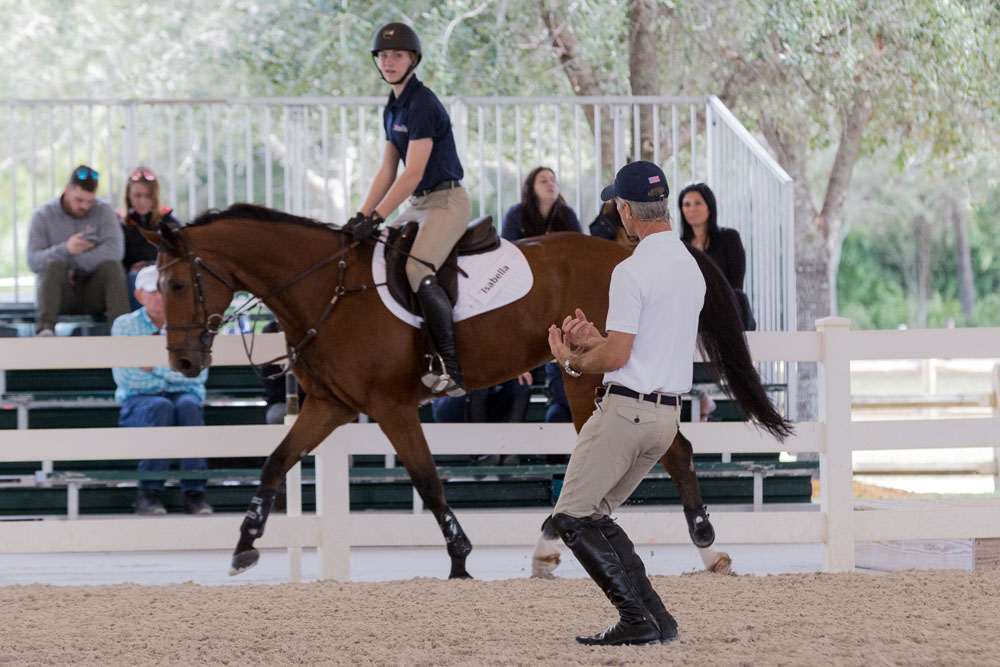 The clinic is divided into three groups listed by height—a 1.10-/1.15-meter group, a 1.20-/1.25-meter group and a 1.30-/1.35-meter group—but Spooner's gymnastic courses were all fences under 2'9", and that was deliberate.
"When I give a clinic, I don't think that the size [of the jumps] matters. My goal is to teach riders and to give them food for thought; I'm desperately trying not to unravel them and their horses," Spooner said. "I want them to leave with an open mind and better off than when they came. So if I can teach them without making them jump gargantuan jumps, then I feel as though I've done them some service.
"I want them to learn about certain concepts and then be able to take that home with their trainers and work on it more and then you can throw in the height," Spooner continued. "But to do that here is just smoke and mirrors—it's not about how big they can jump, it's about learning how to jump and do it right."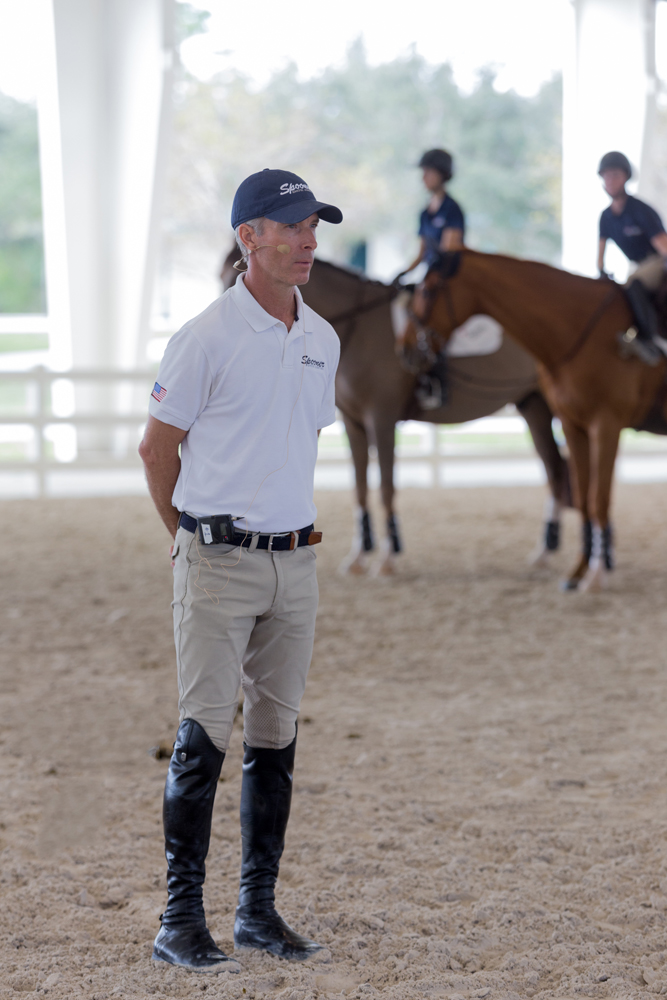 This clinic marks the inaugural year for the USHJA Gold Star Clinic program. Riders qualified by earning an individual medal at one of the USHJA Zone Jumper Team Championships held earlier in the year or by being selected from a pool of wildcard applicants. In addition to four days of lessons with Spooner, riders attended multiple unmounted sessions covering all aspects of horsemanship, including sessions with Anne Kursinski, Callan Solem, and course designer Steve Stephens. The clinic also hosted a dinner and round table discussion entitled "Today's Sport Of Show Jumping, Tomorrow's Challenges" with presentations from Spooner, Kursinski, Solem, Kirsten Coe, Hardin Towell, DiAnn Langer and Dr. Geoff Vernon.
"What the USHJA has done here is extraordinary to give these young riders this opportunity, and I'm not talking about with me but the opportunity to work with everyone. It's one thing to just come and take a riding lesson with me, that's just my opinion," Spooner said. "But to be able to spend three or four days getting some things from me and then hear from a vet and horse care experts and farriers, that's hard to find and I think that it's really a step in the right direction for these kids."