April 28—Lexington, Ky.
As dressage leader Marilyn Little was warming up for cross-country at the Land Rover Kentucky CCI****, her groom alerted her that RF Scandalous had a small amount of blood on her lip.
"I immediately wanted someone else to have a closer look, so [U.S. Performance Director of Eventing] Erik Duvander came over to help and noticed a cut on the outside of her bottom lip below her nose," said Little. "We found Dr. Duncan Peters, who examined her and was in agreement that she had bitten the edge of her bottom lip. I asked that he call the official vet delegate and said that I did not want to go out on course unless I was sure that Kitty was 100 percent OK. Everyone was comfortable with her continuing. The Ground Jury was notified, and I headed out of the start box believing that all the procedures and rules were followed."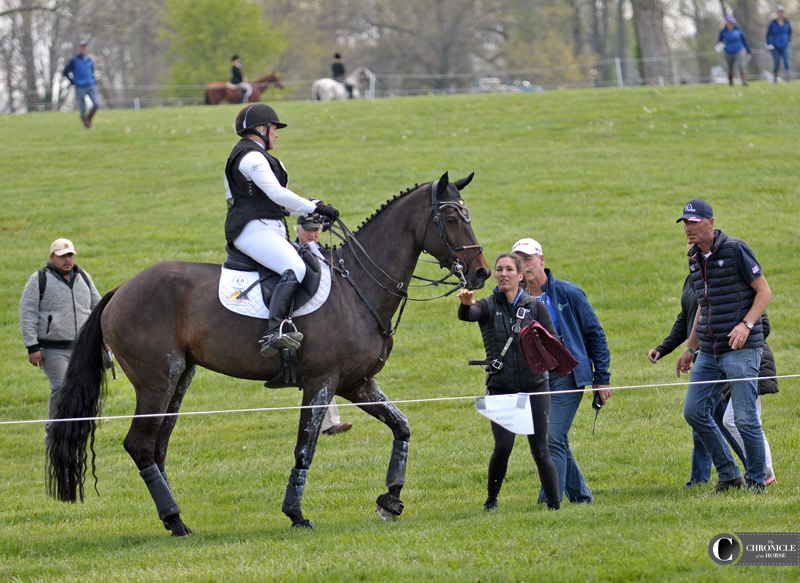 Little said the mare then smacked the front of her nose after a little stumble on the landing from fence 3, the Double Brush. At some point on course "Kitty" started bleeding once again. The pair finished clean and 20 seconds over the time to sit sixth. When she finished the course, her groom ran up to grab the mare and could be seen wiping the mare's mouth with a towel.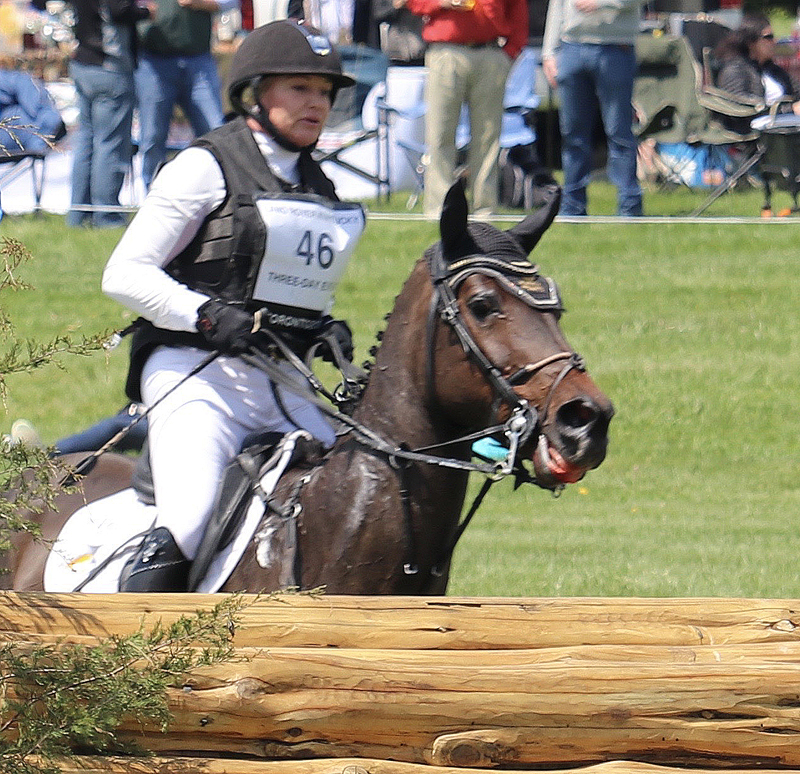 Officials released this statement. "At the warm-up Marilyn and the groom went to official veterinarian Duncan Peters to have it checked because there had been some blood that was wiped clean. The vet noticed a small cut inside the lip away from the bit. It had stopped bleeding, which said to the vet that the horse had bitten herself. The bleeding stopped, the ground jury was informed, and there was no report of blood at the finish."
The Fédération Equestre Internationale rule regarding blood on cross-country is as follows:
526.4 Blood on Horses
Blood on Horses must be reviewed case by case by the Ground Jury. Not all cases of blood will lead to elimination. In minor cases of blood in the mouth, such as where a Horse appears to have bitten its tongue or lip, or minor bleeding,  after investigation in consultation with the Veterinarian, the Ground Jury may authorise the Athlete to continue. The cases indicating Abuse of Horse will be dealt with according to the provision of Art. 526.2 (Abuse of Horse – Warnings and Penalties).
"I am so proud of my horse's performance today," said Little. "She is happy and well tonight, and I am looking forward to tomorrow's show jumping."
Little responded to the public outcry following the event.