Oct. 1—Devon, Pa.
Last night Ireland's Judy Reynolds continued to make history just a week after her Grand Prix and Grand Prix freestyle CDI wins at the Rolex Central Park Horse Show (N.Y.) by becoming the first Irish rider to win the Grand Prix CDI class at Dressage At Devon.
With Vancouver K, she scored a 75.66 percent, ahead of Arlene "Tuny" Page on Woodstock (73.36%) and Megan Lane on Caravella (71.98%).
Reynolds, who competed at the Olympics in Rio de Janeiro, Brazil, was invited to the CPHS and decided to stay for Devon before returning home to her base in Germany.
"It's a lovely show. It reminds me actually of the Royal Dublin Horse Show at home," she said.
Reynolds thought her test was an improvement over her performance in New York. "I was really happy. A couple of little things like always. I'm never happy!" she said with a laugh. "I always come out and go, 'Oh, I wish that was better,' but I think that's what makes us improve and get better. Overall I'm really happy with it. There was one change, I think in the one tempis he changed together maybe once behind, but overall I was really happy with him."
The dreary, damp weather didn't bother Reynolds or Vancouver K. Thankfully the rain had cleared up and the puddles had largely disappeared by the evening start time.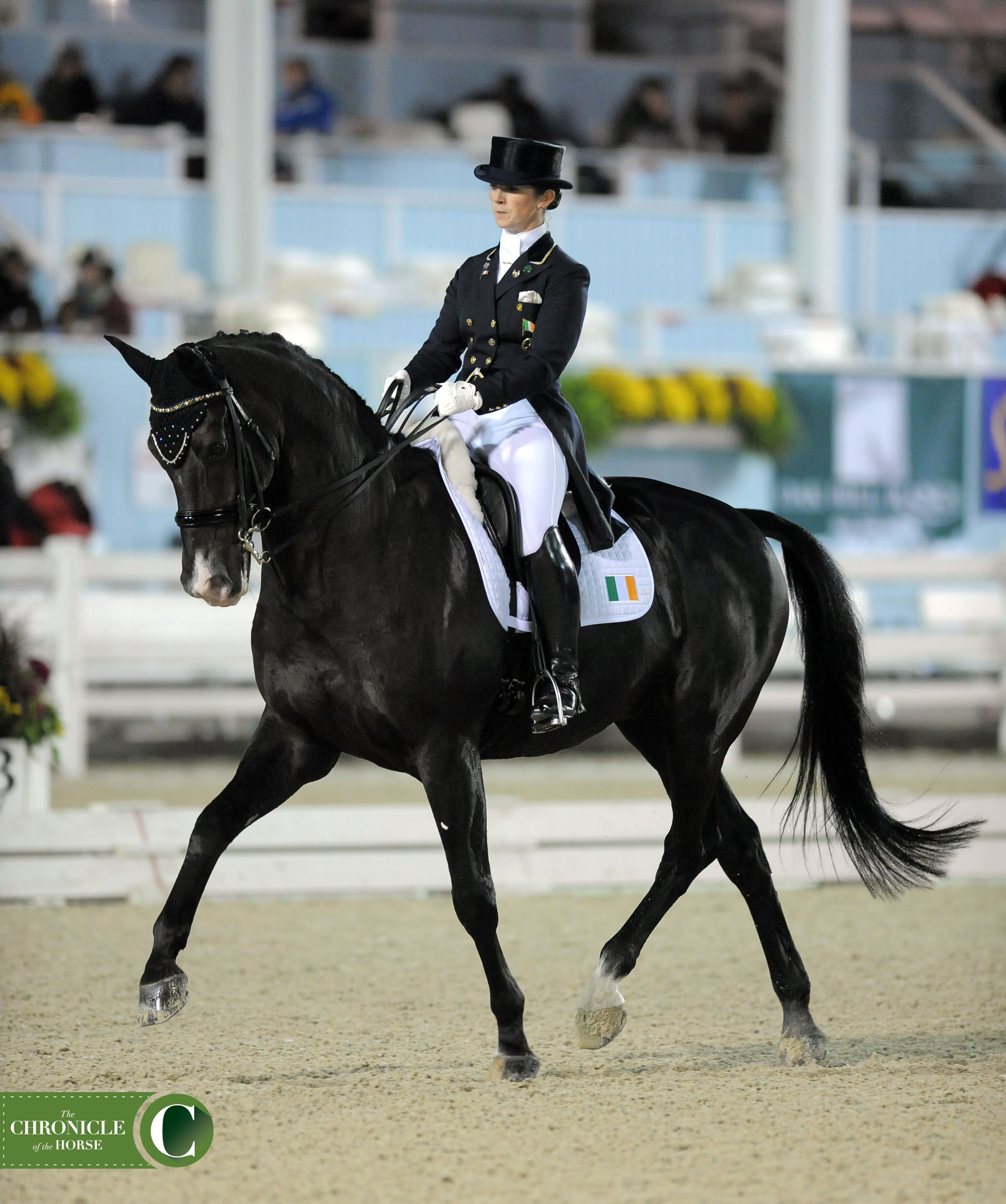 Photo by Lindsay Berreth.
"I put a post on Facebook this morning showing people [at home] the weather, and I was told it was a grand soft day!" she said. "So that shut me up and get on with it. But to be fair, the ground has improved hugely over the day, and the ground this evening was absolutely fine. Well done to the crew who maintain it and work hard to keep it in the condition it is."
"JP" had no problems either with the chilly weather. "If anything, he's actually a little bit fresher here because the weather has come a little bit cooler, and he was clipped this week as well. He was better to ride," she said.
Check back at coth.com later today for more from Devon, and make sure to tune in to the live stream tonight to see if Reynolds can top the Grand Prix freestyle.
Full results can be found here.
Want more from Devon? We'll have much more in our Oct. 17 print issue!