Carolyn Lavin settled down in front of her computer and pulled up the live stream for the 2013 Pessoa/USEF Hunt Seat Medal held at the Pennsylvania National Horse Show. Though Lavin had hung up her boots while studying at Babson College (Massachusetts), as she watched rider after rider enter the Farm Show Arena in Harrisburg, the memories from her junior years came flooding back.
With them, she couldn't help but wonder what had happened to her old equitation horse, Lex Luther. Lavin couldn't shake the curiosity, so eventually she typed the familiar registration number into the U.S. Equestrian Federation online database.
Since she sold him in 2007, "Lex" had a handful of riders before his record ended in 2010. But her search didn't stop at that dead end.
"I was determined to find him," she said. "I sent out messages to every person I could find on Facebook with names that appeared in his show record. The problem—I was looking for Lex Luther, but his name had changed to Royal Flush along the way."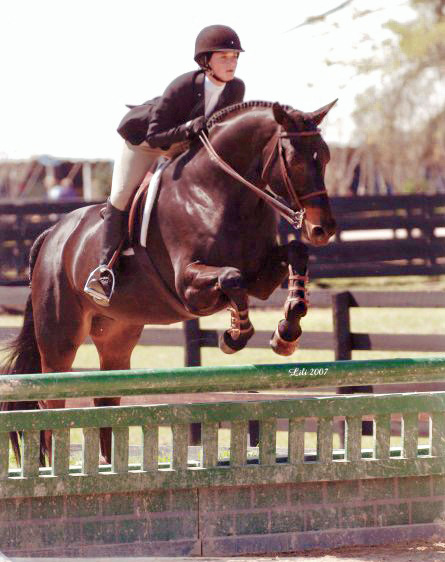 Lavin first crossed paths with Lex in December 2003. Then 13, she was searching for the perfect horse to transition from the pony ranks. The beautiful 16-hand Oldenburg (Grand Step—Gelona II) was the first horse she tried.
"He was a dream to sit on," she recalled. "He had every trick in the book. He was the ideal equitation horse. Although I really enjoyed competing, what I loved the most was the time I spent with him. He was my best friend. In fact, Lex was my first true love."
At 17, she ultimately decided to sell Lex in order to focus on chasing the USEF Show Jumping Talent Search Finals (New Jersey).
"Back then there was no social media. Once you sold your horse there was no way to keep track of your dear friend," said Lavin. "The process of letting him go was crushing. He was family to me, but I knew that if I wanted to attend the USET East I would need to move on to a new mount. I hoped that he would be happy bringing his next rider up through the ranks, but it was still tough."
So Lex was sold, and Lavin went on to compete at the finals. But she never forgot about Lex, and she kept photos and special ribbons she won with him, however it wasn't until that day in 2013 that she tried to locate him.
"I reached out to so many people," she said. "I will never forget—finally an email response. A woman who said she owned Lex. And he was local! It turns out Lex had made his way from Florida back to Massachusetts."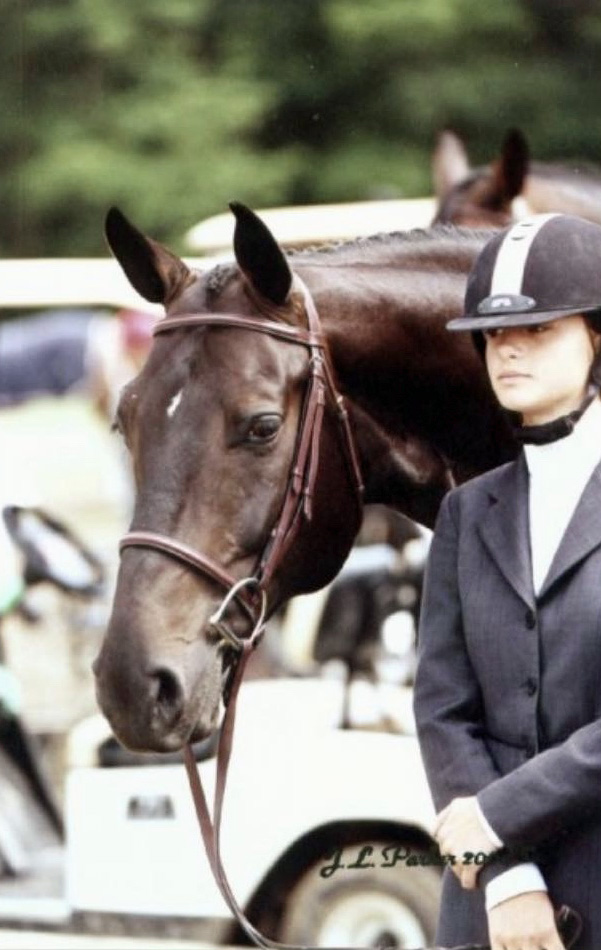 The following October, nearly a year after she began her search, Lex's new owner agreed to meet so that Lavin could reunite with the horse she hadn't seen in seven years.
"I was so nervous," Lavin said. "I didn't know what to expect. I got out of the car and saw Lex turned out in a field. I walked toward the paddock and called out to him by name. A name he hadn't heard in many years. I couldn't believe it; Lex picked his head up and immediately came trotting over to me. I was so excited to see my old friend," said Lavin.
But the reunion was bittersweet; Lex had lost his right eye to an infection several years before. "In that moment, seeing Lex with only one eye, I knew I was never going to leave him again," she said.
After that drizzly day in October, Lavin started taking weekly lessons on Lex, something she described as "the best part of my week." About four months later his owner approached her about buying back the then 17-year-old horse for $15,000.
"I remember thinking what a kind and generous offer, but being a business strategist, I knew that I was working towards saving for a life together with my husband, and it just wasn't something that financially made sense.
"I ended up going back to the owner and telling her that I would buy him back for $1,000. I promised that I would be his final owner and would make sure that he would have the best, happy life." To her surprise the owner accepted. "I was never so excited to hand someone money," she said with a chuckle.
Though Lex hadn't shown since he lost his vision five years prior, Lavin decided to have one last hoorah with him.
"Although he lacked depth perception, I still trusted him. He was the best partner I had ever had, so we gave it a shot," said Lavin.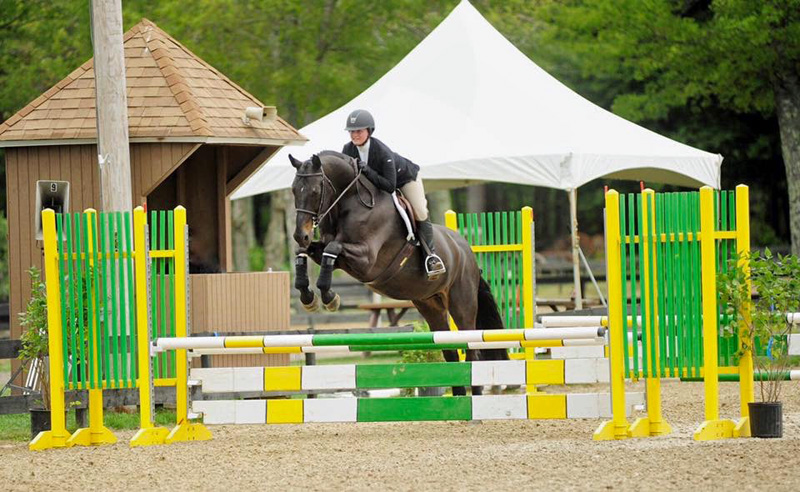 She competed him three times before she decided he needed a lighter job. Lex now lives at the Dana Hall School in Wellesley, Massachusetts, teaching young riders on the flat and over cross-rails.
"It works out great because I still get to ride him, but he doesn't have to do my workload of prepping for finals year-round," she said. "Now he gets to do 30-minute flat/cross-rail lessons, and you should see him—he absolutely loves it. The horse that once required spurs and crop now needs none of that!"
In 2018, as Lavin was preparing for the Massachusetts Horsemen's Council adult medal championship, she learned Lex was going to be honored with the Massachusetts Horsemen's Council Lifetime Achievement Award for his accomplishments in and out of the show ring. "It was really special because the MHC is an organization that I have really dedicated myself to as a junior and now as an adult," she said. "Lex brought me much success there and to see him recognized for his lifetime commitment to his riders was truly touching."
And on the day Lex received that honor, Lavin went on to win the MHC Adult Medal, 18-30, Championship.
"It was sort of ironic because I had told my friends the night before that despite the championship outcome I felt I had already won—my horse of a lifetime was to be honored with this special award and anything on top of that was just icing," she said. "To win that championship and be able to hug him afterwards made me cry."