When Travis Atkinson saw Don Darco for the first time, the bay gelding had been hanging out in a pasture at a trainer's farm for at least six months.
And while the Zweibrucker gelding's (Damarco—Gong Lee, Gamant) grandsire Darco was a leading producer of show jumpers, no one had much success with the then-8-year-old, who had developed a lot of bad habits.
It would turn out that Atkinson, 37, of Lehi, Utah, who rode race horses as a teenager and spent 10 years as a professional bull rider, was just the person to stick with "Darco," now 13, and bring out his potential as an event horse.
In five years together, the pair have moved up the levels from novice to intermediate in a part of the country where intermediate-level horses are rare enough that they often compete against a handful—or fewer—of other entries. Last weekend, in one of the rare western shows with double-digit intermediate entries, the pair finished fourth at The Event at Rebecca Farm (Montana). Just a few weeks earlier, they jumped clean around the intermediate course at Summer Coconino 1 Horse Trials, held July 1-3 in Flagstaff, Arizona.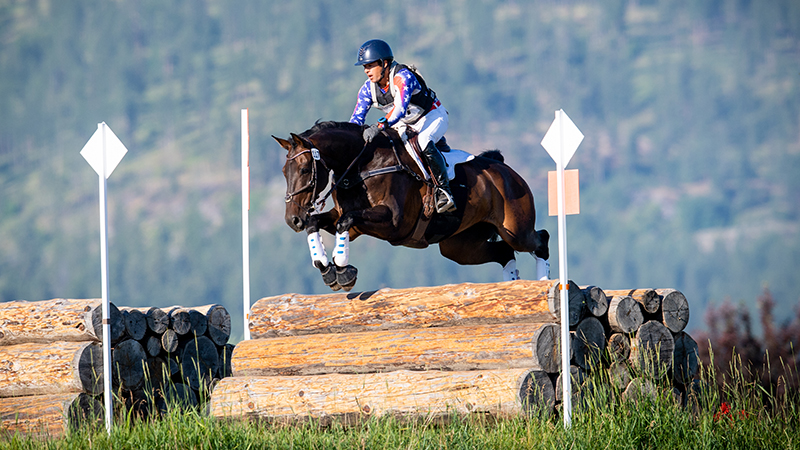 While going from the professional rodeo circuit, where he spent an average of 175 days a year riding bulls, to eventing might seem worlds apart, Atkinson said his background gave him a leg up.
"Everything in the past prepared me a little bit for eventing," he said.
Atkinson grew up in Lehi, where rodeo was part of the culture. One of 11 siblings, he started riding bulls and exercising race horses when he was about 13.
"In a weird way, they kind of complemented each other; the balance and strength I had from riding race horses helped me in riding bulls," he said.
It seemed natural to continue riding both bulls and race horses through high school, despite the risks involved. 
"Early on, I probably got hurt more riding race horses than bulls," he said. "I got in a lot of accidents on horses, and you kind of learn how to wreck and how to hit the ground. Riding bulls, I stayed more on the lucky side; I didn't have any real extreme injuries."
Atkinson raced at tracks in Utah, Idaho, Wyoming and Southern California, and he'd hoped to continue riding race horses but knew he wasn't going to be able to maintain the weight required to be a jockey. At 17, he was naturally 145 pounds but would need to get down to 104 pounds to race. 
Upon stepping away from the track, he began riding bulls professionally at 18 and went on to win titles across the United States and Canada. 
"I think it's all relative," he said. "Riding bulls is what I knew and what I was used to, so it didn't seem as extreme to me—not that there weren't nerves involved."
It was staying fit to ride bulls that eventually brought Atkinson back to horses. During the last five years of his rodeo career, he no longer rode practice bulls between competitions. Instead, he would jump horses bareback to stay fit—the action of a horse jumping was like the motion of a bull bucking. His wife, Carly Atkinson, who grew up riding, suggested after one such training session that he "put on a saddle and try jumping for real."
From there, Carly took Travis to a schooling jumper show and then convinced him to try a pairs pace event. 
"I was kind of sold after that," he said. "It fulfilled the thrill I knew I was going to miss from riding bulls."
Travis was drawn in particular to eventing because of the partnership with a horse that training for the three phases fostered. 
"Growing up on the track, you can form some relationship with your horses, but it's nothing compared to the relationship you have with a horse in eventing," he said. "There's such a different trust involved."
Finding A Mentor 
Travis was introduced to U.S. Equestrian Federation "S" course designer James Atkinson (no relation) early and went on to work and travel with him for five years, starting in 2016. Travis was a blank slate when it came to eventing and absorbed everything James taught him, he said.
"I think what was really helpful for him was that he worked with me a lot, building courses and designing courses," James said. "And just that exposure to the industry in general allowed him to more quickly have the right picture in his brain of what we were trying to do."
James brought Travis out on courses he'd designed where the two talked about the reaction horses had to certain jumps and combinations.
"That really expedited his understanding of the sport and allowed him to become an eventer more quickly," James said. "He really is a super guy and really motivated."
Travis started eventing with a little roan mare named Ginger Punch. She wasn't built for the sport, but she was successful because of the way Travis rode her, James said. 
"The horse just liked him," James said. "He doesn't interfere; he just supports their decisions. He knew he didn't know a lot about it, so he just tried to prepare her and set her up for the jump and stay out of her way, and this horse wanted to do the job for him."
Travis gained further knowledge riding some upper-level horses that James had in his barn. 
"When he was going to do his first intermediate and lateral work was tough for him, I had a horse I put him on so he could feel it and understand it rather than muddle through," James said. "I personally believe that is something we should be using much more in our sport. I think every competitive event barn should have a semi-retired dressage horse they all ride."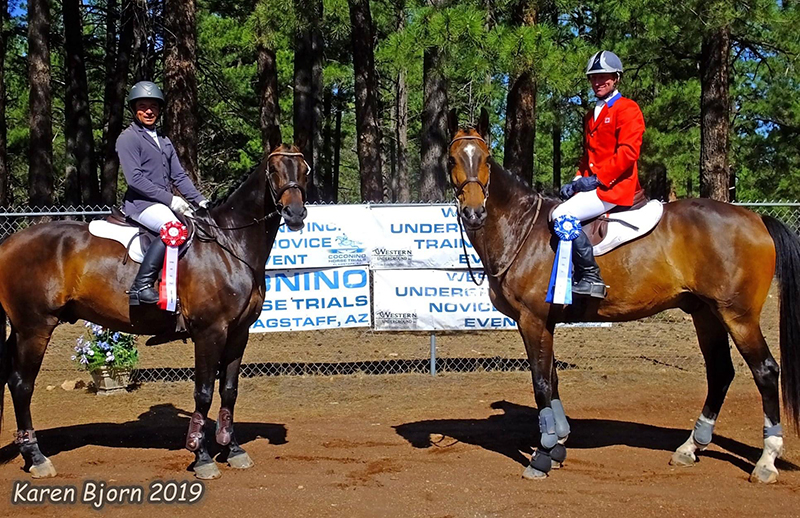 The two then talked about how Travis could optimize his farm in Lehi, Utah, as his home base and training facility. Travis and Carly established their business, Dynamic Equestrian, on the small farm in 2013, adding a gallop track, water jump and schooling cross-country jumps over time. They have between 20 to 25 students who travel and compete with them, and about 100 students in their lesson program.
Building A Partnership  
By the time Travis met Darco, the gelding's previous owner had realized he wasn't the right horse for her, and he'd moved to a trainer, who also hadn't had much luck with him. 
"I always say, when people import horses, they think they wanted a Ferrari, but they really want a Honda Civic, and that was kind of Darco's situation," Travis said. "He was a little more than people were expecting."
Darco had adopted some defense mechanisms, which could make him seem a bit mean, and he often bucked when he was asked to go forward. He had potential, but his transformation to event horse wasn't straightforward. 
"It was tricky because he was a very dominant type of personality, and he created a lot of bad habits by being able to walk all over people and be in control," Travis said. "It took a while to work my way in. There had to be some boundaries set between him and me."
While his background riding bulls helped him with the horse's episodes of bucking, his experience riding race horses helped as he worked to forge a partnership with Darco. 
"I was always that rider that people went to if they had a troubled horse; I've always had a bit of a knack for trying to figure out how to get along with horses and figure out what they need," he said.
Teaching the gelding the skills needed to navigate a cross-country course was a challenge.
"He didn't know how to gallop at first; I'd never experienced that with a horse before. At the first few events I took him to, he bucked most of cross-country because he wasn't comfortable going forward," Travis said. "Early on, he was really difficult to jump. He would melt down, he had a lot of baggage, and it took a while to build his confidence."
As Darco's training as an event horse continued, so did Travis' as an event rider. He's come to enjoy dressage but says he still finds show jumping the most challenging:  "I really thrive on cross-country, but finding that middle ground in show jumping and understanding how to be careful and accurate, it's still, out of the three, the one I tend to put the most focus on."
There was a thoughtful give and take as Travis and Darco moved up the levels together, and there were times he would move up a level and then back down to make sure his horse stayed confident. The approach paid off as the pair finished second in the preliminary rider division at the 2018 USEA American Eventing Championships (Colorado), the same year Travis was named the Area IX preliminary rider of the year.
For James, watching the pair progress was rewarding.
"I remember his first FEI show. Even though he has really strong competitive experience from the bull riding, for his first intermediate, he was nervous and his first FEI show, he was nervous," James said. "I think that nervousness comes from the feeling of responsibility for doing the right thing for the horse. We really do hold their confidence in our hands 100 percent of the time."
In 2021, Travis and Darco moved up to intermediate and placed second in the open intermediate division at Rebecca Farm. His long-term goal is to complete a CCI4*-S with Darco.
"He's coming a long way; he's turned into quite the horse," he said. "I don't know exactly when the complete turnover was, but we reached a point where we were both on the same page. I feel like he's pretty much always on my team."