The U.S. team of impressive jumpers might have won the evening in the $100,000 FEI Nations Cup, but for many spectators, the true equine star on Feb. 27 was much smaller.
As Nations Cup mascot, Peeps, a dwarf miniature horse, was decked out in patriotic attire complete with a custom cooler, leg wraps and a colorful hairdo detailed with ribbons. She was the U.S. team's biggest fan during Week 8 of the Winter Equestrian Festival (Fla.) and raised the spirit of spectators to an even higher level as they crowded around to give her a pat, or kids a hug.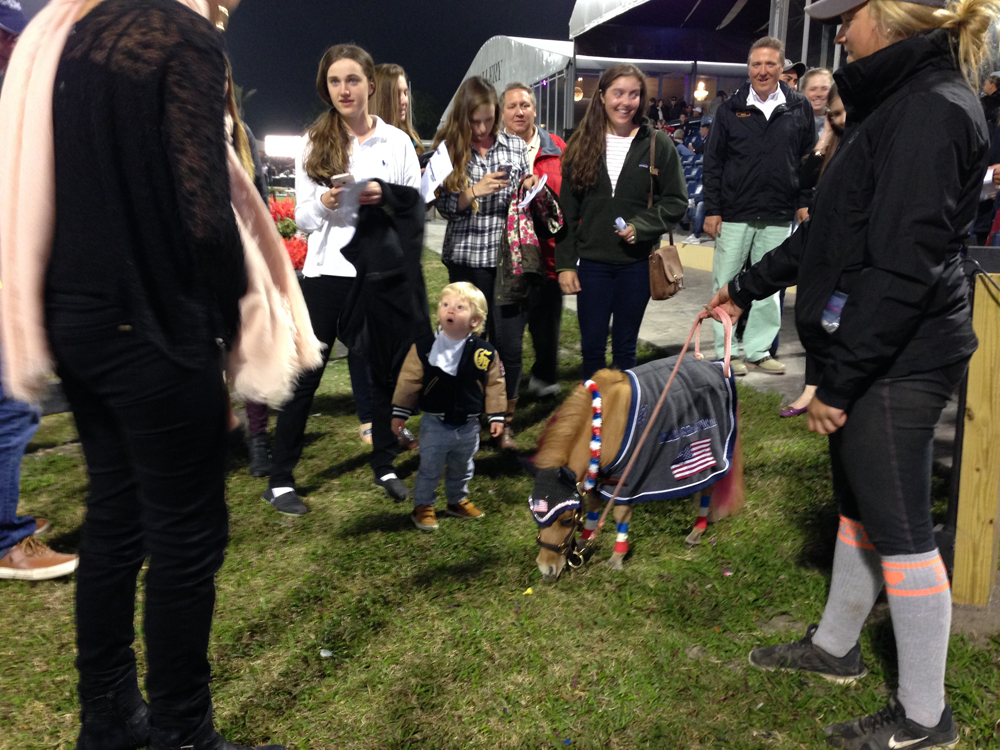 Peeps and her fans.
Show jumpers Josh Dolan and Alex Granato lead the friendly mini around to greet spectators and get the lay of the land. While it's not so out of the norm to see a pony or miniature horse accompanying a big-name star to the ring as a companion, Peeps found her way to WEF a different way thanks to Dolan and Granato. She was rescued from a dire situation.
Dolan and Granato rent a barn in Palm Beach Point East, near the show grounds, from Catherine Pasmore and own several minis, in fact. So how did two grand prix show jumpers wind up with the tiny crew?
Granato's business, Mad Season LLC, is based at a farm they rent in Lexington, Ky., for half the year with a group of their friends and fellow young professionals. Last May, they were bringing some of their young horses to get experience at a local show, the Split Rock Jumper Tour. But on their way, they spotted some minis in need.
"Two doors down from [the show], there's a miniature horse farm—or it used to be. Now it's in really bad condition," explained Dolan. "I actually saw Peeps walking through the field and I knew she was a dwarf because I know a little bit about miniature horses."
Dolan was interested in Peeps but something else about the farm struck him. The driveway was gated and chained shut. Dolan and his brothers went to check it out.
"I called [the number on the sign]," he said. "It was a disconnected number. So we went down the neighbor's driveway and there were probably 60-plus minis in this one field. It was unbelievable. Where a round bale used to be, there was one just laying by itself. We thought it was dead or super sick. So Alex jumped the fence to go and check it out. Then he wandered to the barn, which was in the middle of the field, and walked in and there was a dead—starved to death—miniature horse in the aisle. A 2-week-old foal wandered up, and no mother to be found.
"The back door was open to the house," he continued. "There was no water. There was no grass."
They immediately called the police and Animal Control, plus dozens of local rescue organizations, in hopes of helping the situation. And in the meantime, gave the minis fresh water.
"The police came and couldn't find anybody on the property," said Dolan. "They couldn't enter the property. So when they found it wasn't in their jurisdiction they turned it over to the county's jurisdiction, but nothing happened. We came back four days later and another [mini] had died. So it was a really, really bad situation."
Dolan left a note for the owner in the chain link fence that lined his driveway, and to his surprise, he got a call back that night.
The Round-Up
"He tells me he'd sell them for a really good price," said Dolan, 27. "So we go back the next day and we buy 19 minis the first time. We only had a 20-stall barn, with 16 horses in it. And the next day we go over to catch these horses. We have two trailers and they've never been touched in their life. They were completely feral, starving to death."
They got a herd of foals—some with their mothers, others not—all the way up to 20-year-olds. The owner of the farm said he'd been in the breeding business, and showed them a scrapbook of former national champions that were still alive in his field. But the neglected business had obviously collapsed, and they were trying to get the minis out as quickly as possible.
Dolan headed up the project to build temporary stalls for the minis, as they couldn't go outside on the lush grass for long, having never tasted it in their lives. Peeps was just a yearling and moved with her mother, and Dolan's barn crew contacted friends who wanted minis and offered them a good home.
"It literally was like watching an episode of Animal Cops," said Granato. "They all lived on this 30-acre farm all wild and together—stallions, herds of mares. Some of them had horrible wounds. Their feet were terrible. When we first got Peeps, she couldn't stand on her hooves; she was on her ankles because her feet were so horrible. And hers were in good shape compared to some of the others."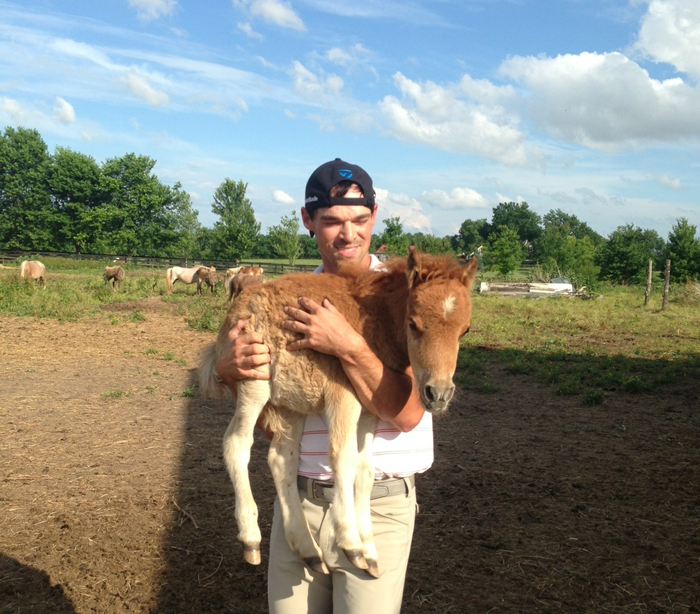 Dolan just after he'd caught Peeps for the first time.
Dolan, who'd trailered out a total of 35 miniatures, found homes for many of them and kept five, including Peeps, for himself and his barn crew.
Peeps' personality came out as a fun-loving little bucking bronco after some nourishment, although she could hardly trot due to the poor condition of her feet at first. She took to the paddock eventually and became Dolan's grand prix horse, SLF Annie Lennox's, best friend.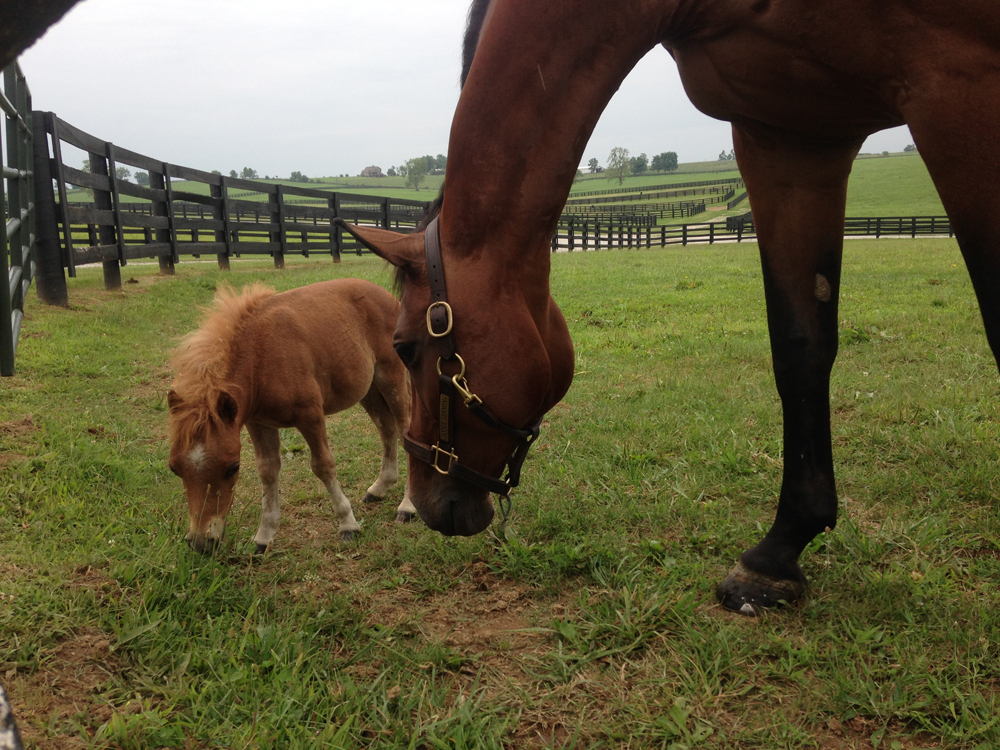 Peeps and SLF Annie Lennox
But after a month, Peeps started acting off, like she was colicking. Their veterinarian scanned her abdomen while looking into the problem and diagnosed her with Rhodococcus equi, a type of pneumonia caused by inhaling dust particles laden with a virulent pathogen. It's sometimes caused by dry, dirty environments and is common in foals.
"Most foals don't make it through this disease," said Dolan. "So she lived in a stall for four months with no sunlight, on antibiotics. She couldn't go out on the grass because she couldn't handle it. She was sad, and she used to be a funny horse—always running and bucking. It was the saddest thing, because you're doing this for the good of the foal, but it was just horrible."
After four depressing months of stall rest, there was minimal improvement. Even in Kentucky it snowed in November as Dolan, Granato and their barn crew were getting ready to make their annual pilgrimage to Wellington.
"So I said, 'If she might not make it, the horse is coming with us,' " said Dolan, who's determined to give her the best life. "So we made a whole suite for her on the trailer with heaters and everything—her own box stall with a friend. It was so worth it. We couldn't leave her. Ever since then she just improved and she's finally at an age that her body can actually fight the disease. So she's off the antibiotics and sassy as ever! She is hilarious."
Since then, Peeps has become a huge part of their barn family, and accompanies them to the horse show as a cheerleader for big events.
"You could not walk five feet [at WEF]," said Dolan with a laugh, noting that they get stopped by kids and adults alike.
Dolan, Granato and their friends are currently looking into ways to help spread awareness about animals in need of rescue—especially miniature horses, who often don't have long life expectancies and not as many potential jobs as other athletic horses.
"We haven't talked enough about what to do next, how to go about it, how to start a non-profit, but that's for sure our ultimate goal," said Dolan. "The ultimate idea that we have for Peeps is to start a foundation for her, to be able to help other miniature horses do the same thing. Unfortunately, even though we rescued 35, the guy still has 30 plus. It was a sad situation but we could only do so much, so I really hope that some have made it through the winter and when we go back [to Kentucky] we'll get more."
So the next time you're at WEF for a big class, keep your eye out for Peeps. Her Instagram account @mylittlepeepers is also adorable and tracks her great progress from a weak yearling to the life of the party.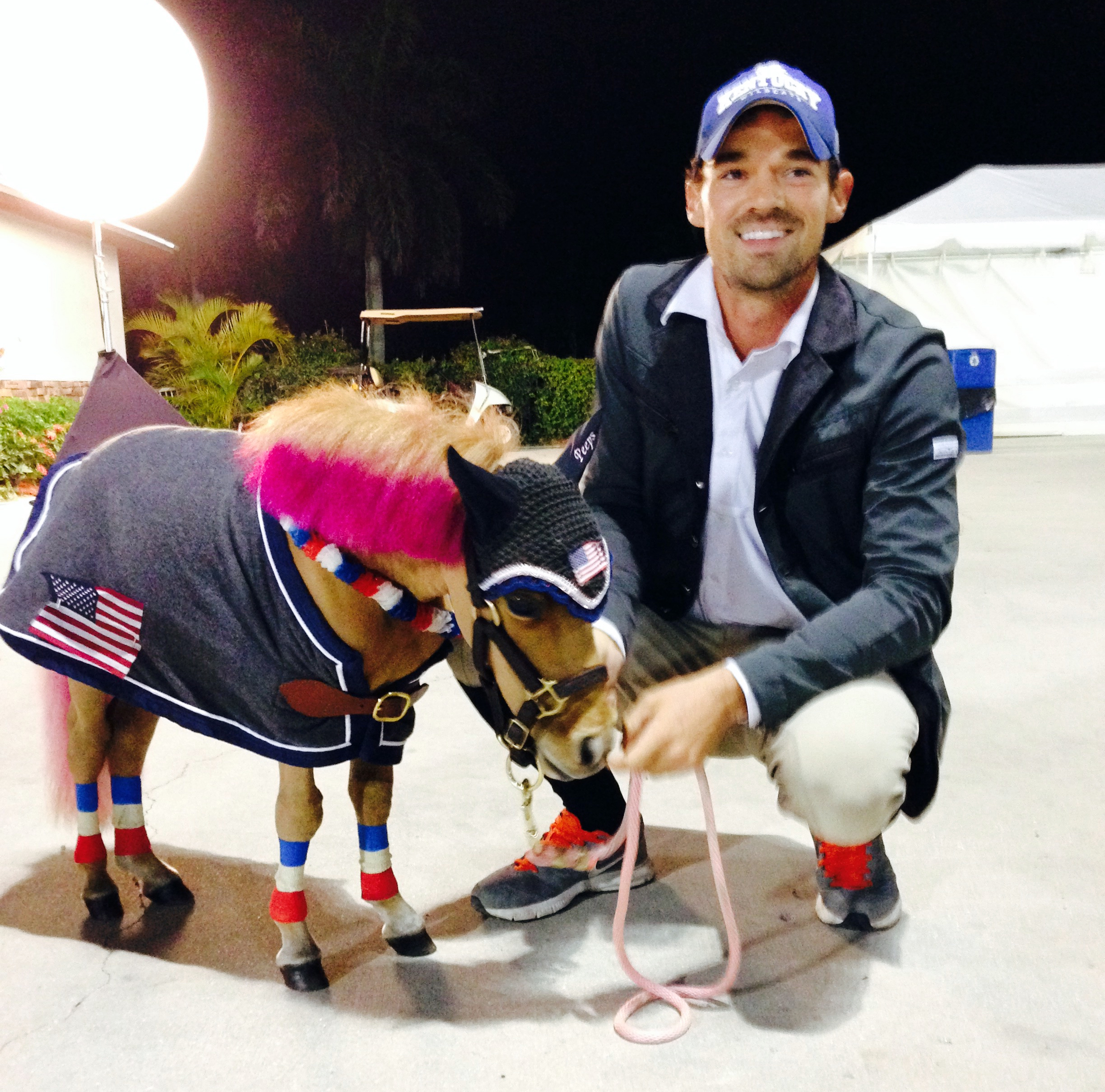 Peeps and Josh Dolan