If you caught a glimpse of 11-year-old Alexa Anastasio's living room this Christmas Eve, you might assume from the nine stockings hung on the mantel that she hailed from an enormous family. And the way she sees things, you wouldn't be wrong.
To Alexa, the six rescue dogs whose names take up the majority of the mantel space are nothing short of family.
"This one is named Peek, like Peek-a-Boo," Alexa said, as one dog leapt in her lap while we talked. "She has this little underbite, so she looks like a gremlin. She acts like a puppy, even though she's not."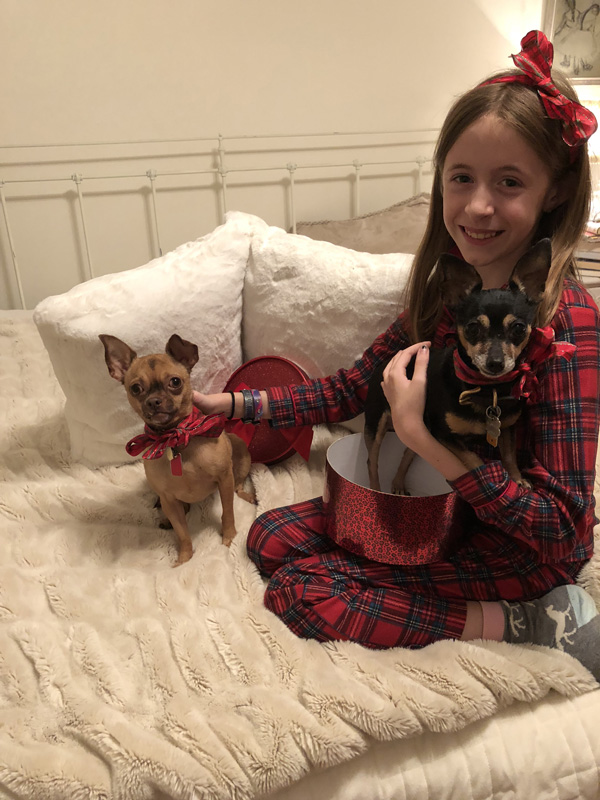 Alexa lives in Wayne, Illinois, with her parents, Ann and Mike Anastasio. Peek is the newest member of the Anastasio family, where rescuing dogs has been a passion for as long as Alexa can remember.
Their first exposure to animal rescue services came 10 years ago. Ann owns both a human resources firm, The Wellington Group, and an American-style restaurant, Fiora's, in downtown Geneva, Illinois. The restaurant is closed on Sundays, and when she heard that a local shelter 4 Paws 4 U 4 Ever wanted a place with weekend foot traffic to get exposure for their dogs, she volunteered Fiora's front lawn.
"I told them, 'Come on. You can use the entire space, anything you need, and we'll be there to support you,' " Ann said. "So they started bringing their rescue dogs out on Sundays. That's how we got our first one."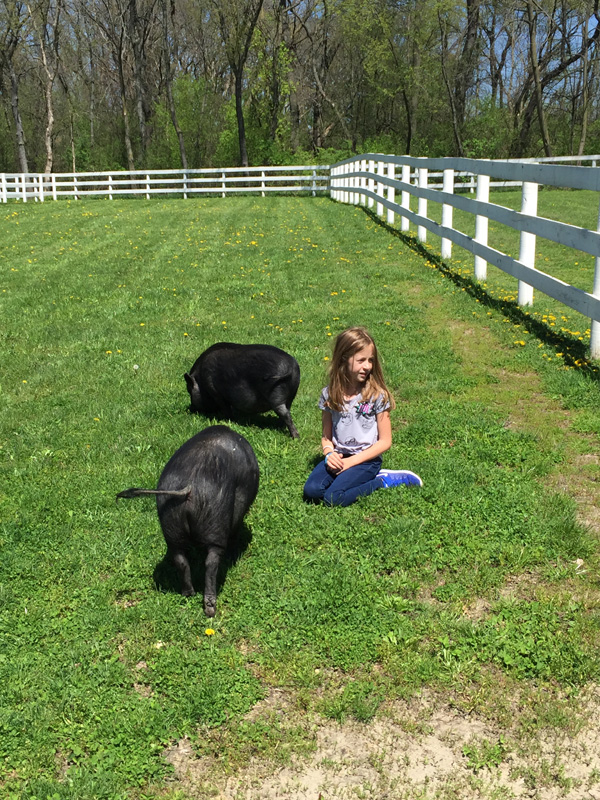 Even though Alexa was only 5 when they adopted their first dog from 4 Paws, she and her mom decided they weren't interested in finding the cutest or the friendliest or the one requiring the least amount of work. In fact, based on their first dog, Chippie—an older, mixed breed who needed all his teeth removed—they seemed to be looking for the exact opposite.
"Alexa has been great about that," Ann said. "We really have always gone with the ones that we thought would have more difficulty getting a home—senior dogs especially."
"Like Violet," Alexa explained. "She was abandoned and had bite marks all over her. And she had infections and bugs in her ears. She kept hiding under the table when we saw her. She wouldn't lift her head."
Violet, like all of the Anastasios' hard-luck cases so far, eventually blossomed into a sweet and happy pup. And the more dogs they helped, the more invested they became in the project of rescuing animals—first through donations (Ann out of her salary; Alexa from her allowance), then as volunteers, both in their community and beyond.
"4 Paws really opened our eyes to the problem of abandoned and abused animals," Ann said. "Through them we learned about the Animal Recovery Mission, which is a group that goes into illegal slaughter houses and gets footage of what's going on there. That's been very eye-opening. We started out by sponsoring a pig with them. When they first rescued him, he was way overweight, maybe 400 pounds. He couldn't walk. He couldn't open his eyes. Last year we went and saw them; he was running around completely healthy and happy."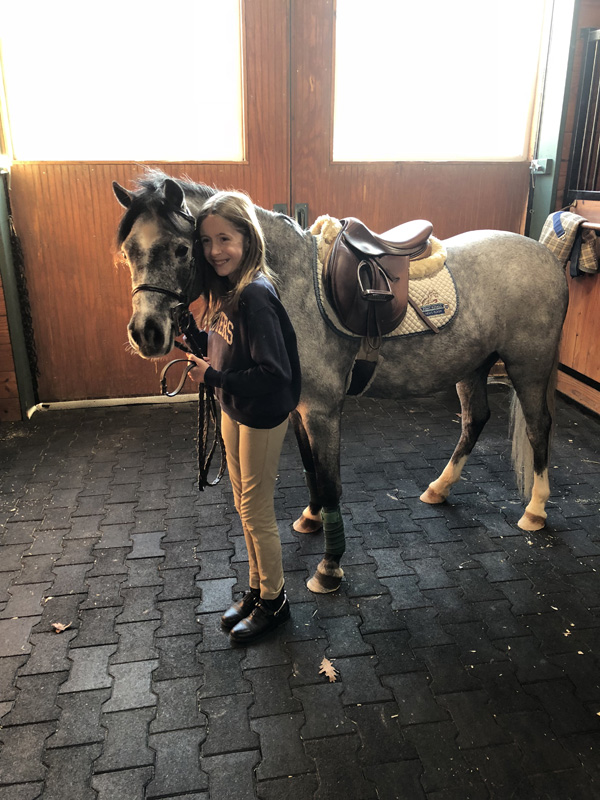 Visiting ARM at its Miami base is convenient for Alexa and Ann, who in recent years have traveled to Wellington, Florida, for the Winter Equestrian Festival. Ann showed there as a young rider and loved the event so much that she named one of her businesses, The Wellington Group, after it.
This year, Alexa will compete in the small ponies under the instruction of Katie Kappler, who also taught Ann in her youth.
"I might get on every now and then just for fun, but these days it's all about Alexa," Ann said with a laugh.
For the past two years, Alexa has split her time in Florida between riding one of her show ponies and volunteering with ARM, where she assists with the rehabilitation of everything from cows and horses, to pigs, peacocks and goats.
"We knew from the get-go with Alexa that she had an instinctive way with animals," Ann said. "Animals that are usually very, very shy and afraid of people, they go up to her and let her touch them. The last time we were in Wellington, there was this baby cow they couldn't get near that had been abused, and Alexa showed up and within five minutes it came up to her. They started videotaping it because they couldn't believe it. It's amazing how these animals react to her."
Generally shy, Alexa connects with the animals as easily as they receive her. When she's not volunteering, she's helping take care of the farm at home, which in addition to the dogs includes two retired horses and two pigs—Charlotte and Wilbur—whom she adopted as piglets. Charlotte and Wilbur's antics, which include rolling over for belly rubs and sitting on command to get their food, moved Alexa to become a vegetarian at age 10.
Now 11, she knows exactly what she wants to be when she grows up.
"A veterinarian," Alexa said. "So I can help the animals."
"She actually told me that two years ago," Ann added. "She came to me and said she wanted to be a veterinarian and go work for ARM. She even had a college picked out that she'd researched online."
Between the dogs, pigs, horses, her daughter's competitive riding schedule and the two businesses she owns and runs, Ann might be forgiven for pumping the brakes on her daughter's altruistic spirit as she heads toward her teenage years. But she's determined to continue matching Alexa's commitment.
And if she can do it, she believes others can, too.
"If you can make a positive impact, do it, whatever it is," Ann said. "We are very, very busy, but we've made it work for six dogs, and if we can do that I think every family out there could potentially save just one. There are millions in need of help. They need love; they need food; they need shelter."
Alexa chimed in, "And you can have a friend!"