North Salem, N.Y.—Aug. 4
There was only one thing that could have made Callie Jones' final appearance at the Adequan/FEI North American Youth Championships better after she won the individual young rider gold, and that was winning the USDF North American Young Rider Freestyle championship. 
Jones was a silver medalist in the freestyle in 2018, but this year she and Don Philippo earned scores as high as 78 percent (from judge Susan Hoevenaars) for a total score of 74.71 percent.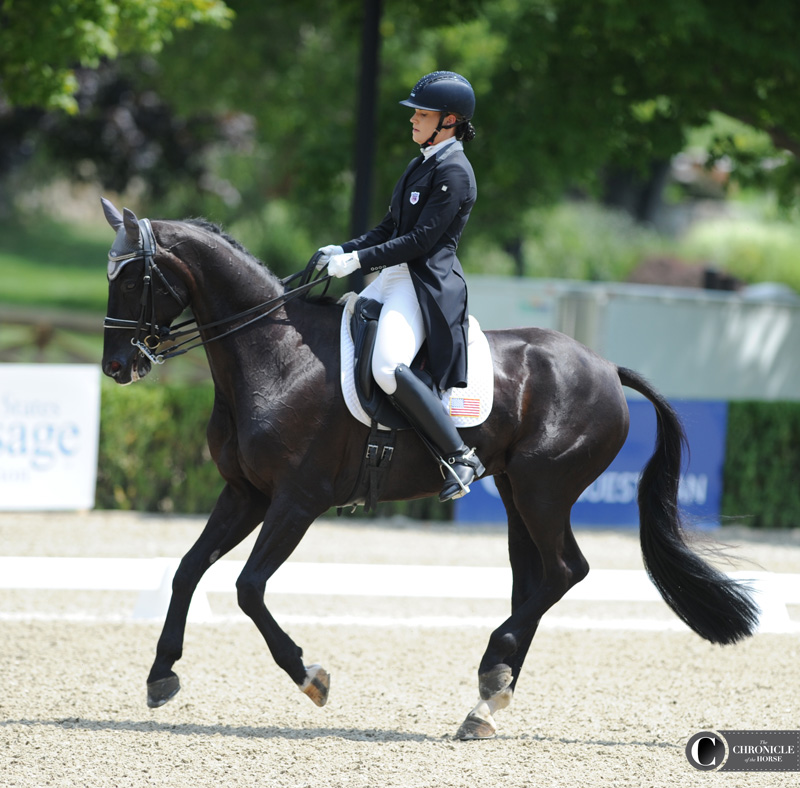 "It's truly a bittersweet moment," said Jones, 21, Henderson, Kentucky. "It's the last time I'm going do that freestyle. I was just really happy and so proud of my horse; he gave me his all this week." 
Cynthia Thomas designed Jones' freestyle, which wasn't as flashy as some, but has the potential to pay off big if done perfectly. 
"I debated changing it, but I ended up not," said Jones. "I learn so much from doing this freestyle each time. I just always strive to do better. The choreography is not the most difficult, but I know if I can nail each move, then I'm going to be rewarded for it. I always have so much fun riding it and love the music." 
Jones had some advice for other young riders with NAYC dreams. 
"Stay open-minded," she said. "I think it's really good to have goals, but don't put unnecessary pressure on yourself. Take every moment to learn, watch other people and make friends. It's just a wonderful experience."
Kayla Kadlubek and Vanessa Creech-Terauds also duplicated their placings from the individual young rider championship, winning another silver and bronze respectively.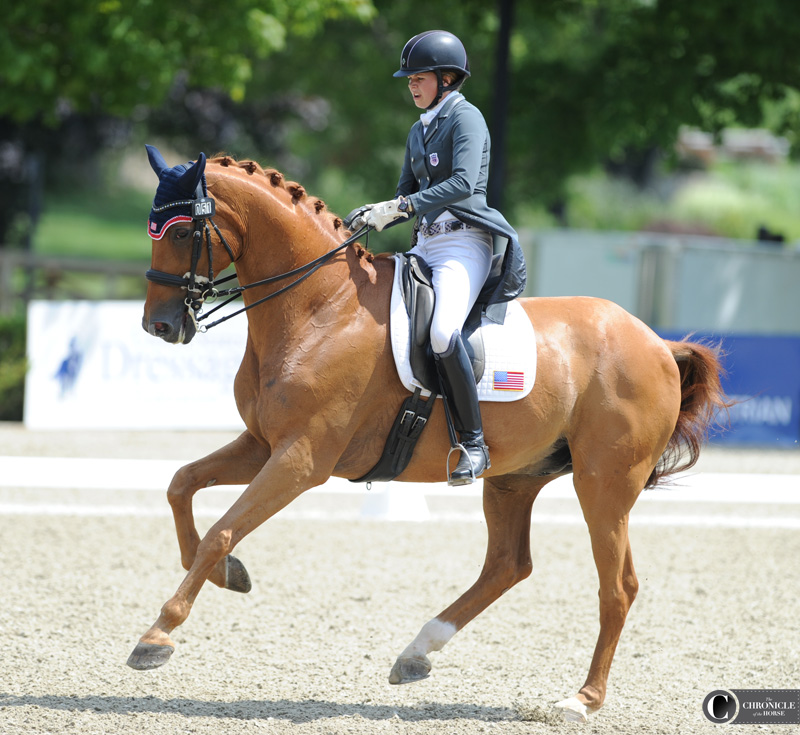 "I was extremely happy with my test today," said Kadlubek, 19, Fairfax Station, Virginia, of her ride on Perfect Step. "There were still a couple bobbles in there, but he was so much more energetic today. I went in there with the mindset of, 'I'm just going to have fun and go for it.' This freestyle means so much to me. I made it myself and it's from 'The Greatest Showman.' The lyrics mean so much to me." 
Creech-Terauds, 19, Caistor Centre, Ontario, had never taken the same horse to NAYC twice before Fleur de Lis L. She said the challenge of a new horse kept her on her toes, but she also enjoyed having a strong partnership with "Fleur." 
"It's been a really long and hot week and she's dealt with it really well," Creech-Terauds said. "I was just so proud of her, of how she went in the last day and still gave everything she had."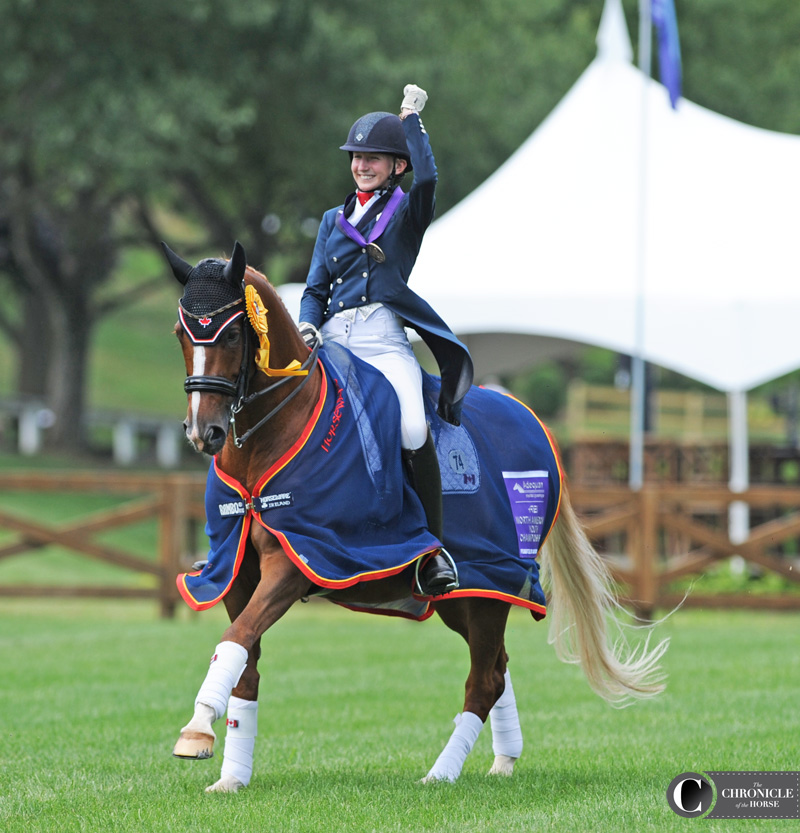 Klepper Keeps Her Cool For Junior Freestyle Gold 
Shannon Klepper cannot sit still while she watches her daughter, Annelise Klepper, compete. 
"Unfortunately I find myself dancing and prancing right along with her," she admitted. "I just can't help myself! I think it's probably because [Annelise] is so young and hasn't had much CDI experience. I hope I won't be quite as bad by the time she's doing the U25."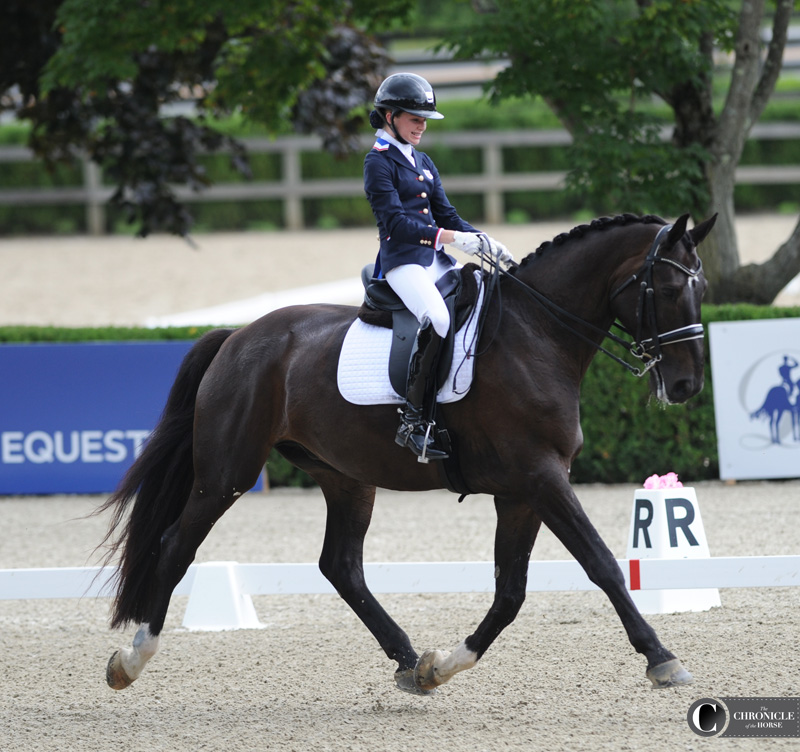 Annelise doesn't usually share her mother's nerves once she's aboard Happy Texas Moonlight, and the pair scored 73.25 percent in the USDF North American Junior Rider Freestyle, earning gold over Jori Dupell on Fiderprinz (71.62%) and Dennesy Rogers and Chanel (71.25%).
"I just try to ride the best test I can," said Annelise, 14, McCutchenville, Ohio, who also won individual  junior gold.
"I'm really proud of my horse. He saved me a few times. Since this is my first time in this division we tried to make [our freestyle] more conservative. Next year we'll amp it up a little bit." 
Shannon credits Annelise's success to her bond with Happy Texas Moonlight, who they have owned for less than a year. 
"We weren't in a rush to start showing him at this level but things just progressed so beautifully and naturally on him," Shannon said. "She hasn't had him very long, but you can tell he absolutely knows she's his person and he is seriously a saint. She's never without a smile when riding him."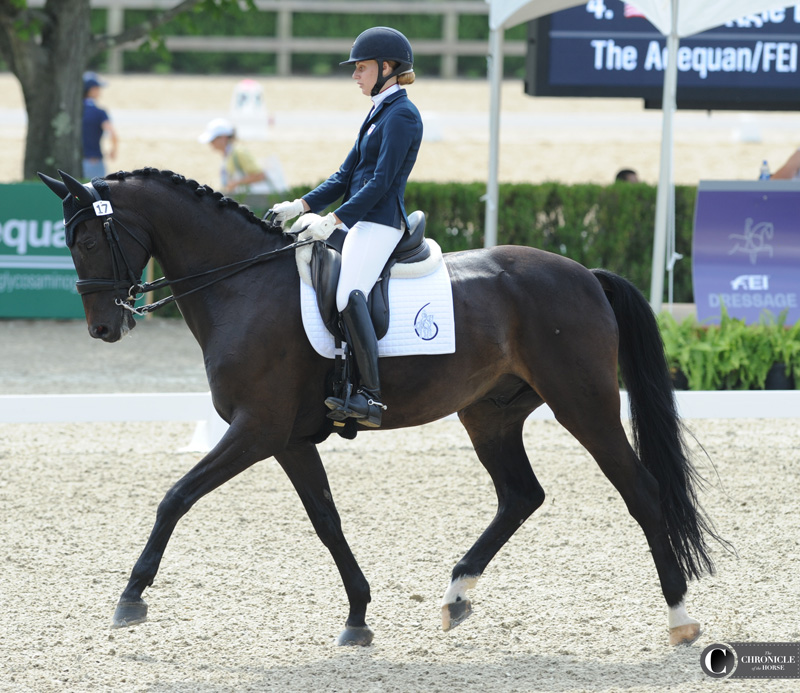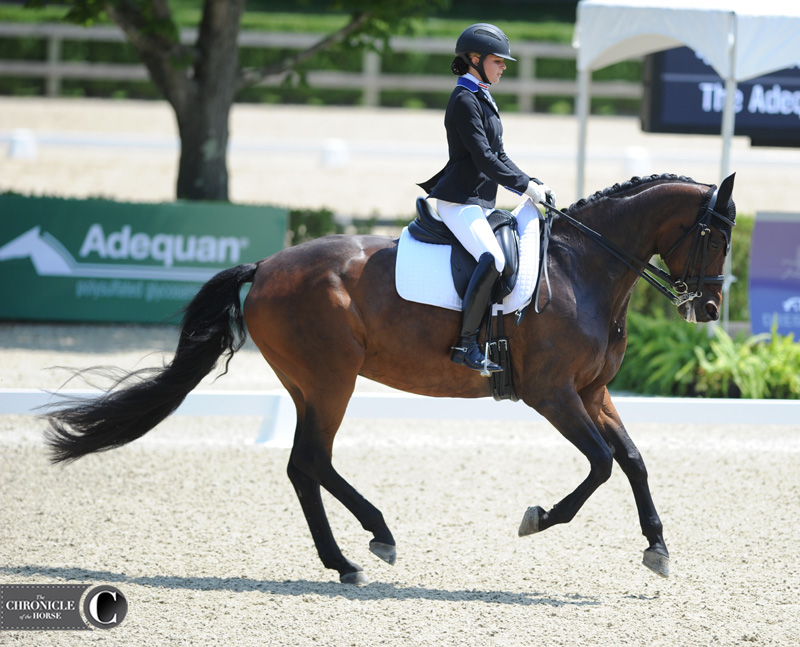 Catch up on all the action from the 2019 NAYC here, and stay tuned for more features, photos and tidbits that will run exclusively in the August 19 issue of The Chronicle. What are you missing if you don't subscribe?