Michael Mahoney took the saying "never look a gift horse in the mouth" quite literally. His family agreed to give Remonta Haron a home without knowing anything at all about the horse.
It was at a Virginia truck stop just off Interstate 95 in November of 2010 that the Mahoneys first met Remonta Haron. Michael's mother, Ann, met a tractor-trailer headed for Florida, and Remonta Haron stepped off. "The truck driver pulled out a piece of paper, had me sign it, pulled out a bay horse, and put it on our trailer, and off we all went. It didn't take more than five minutes," she recalled.
"He also gave me an envelope, and in it were the name of the farm the horse came from, his [U.S. Equestrian Federation] number, his name, and then the information about what he'd been fed and all that. We brought him home and looked his USEF record up, and it was like, 'Oh my gosh, we have a really nice horse!' "
How did this odd transaction come about? Michael, now 18, had started riding with trainer Ibrahim Barazi, who worked for Joe Fargis. "The horse Michael had at the time had kind of reached his limit. In a lesson, Ibrahim came to me and said, 'There is a horse in New York that I'd like Michael to have,'" Ann said.
"I thought, 'I'd probably like that too, but I'm sure it's too much money.' " The Mahoneys, who keep their horses on their Haymarket, Va., farm, have a limited budget when it comes to showing. The Mahoney children take care of their own horses at home and at the shows, and wintering in Florida isn't part of the showing itinerary.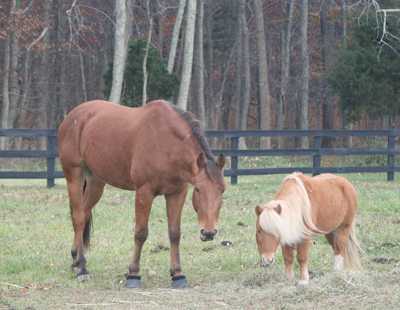 Remonta Haron and his mini friend
at the Mahoney's farm.
"Ibrahim said, 'If you agree to keep him forever, he is free. Joe says he is a nice horse.'
"I said OK, we'll take him, but inside I'm thinking, 'Oh my gosh, what am I doing?' But I figured I have four kids who ride, one of them should be able to ride him," Ann said. "We didn't hear anything for like two months, but then Ibrahim calls and says, 'They are shipping the horses to Florida. Do you still want the horse?' I said yes, even though we knew nothing about him, age, color, nothing. All we knew is that he wouldn't be a grand prix horse, Joe said he was nice, and he was free. I was thinking, 'He's got to be decent if they want a forever home. He's probably not dangerous.' "
Remonta Haron had been owned by Christian Wolffer's estate after Wolffer, of Sagaponack, N.Y., passed away in 2008. Federico Sztylre had ridden the horse of unknown breeding up to the level 5 classes, but "Haron" had also competed briefly in the junior jumpers with Reed Kessler and various other classes with other riders. He needed a job.
At first, Haron and Michael had some kinks to work out. "The first time I jumped him, I fell off a couple of times," Michael said. "It's been a work in progress ever since. He stopped at the jumps, and I'd fall off. He doesn't want to take a long distance at all, so I had to learn how to ride to the deeper distance." Haron and Michael developed a rapport over smaller jumps in 2011, then moved up to the high children's division in 2012. They won the children's jumper classics at Upperville (Va.), the Cavalier Classic (Va.) and the Chagrin Valley Classic (Ohio).
The trip to Ohio to show at Chagrin Valley was an anomaly for Michael, since the Mahoneys primarily show in Virginia to keep expenses lower. They made a special exception because it was to be their last show training with Barazi, who was moving. When Michael was bathing Haron at the washrack, his former groom recognized him and told Michael stories about him. Then Sztyrle found Michael and related his own memories of Haron. "Then Michael and Haron won the classic; it was like a Disney story with Joe, Ibrahim and Federico there to cheer him on. It was perfect," Ann recalled.
By virtue of all their good placings in 2012, Michael and Haron qualified to compete at the inaugural U.S. Hunter Jumper Association Children's and Adult Amateur South Regional Jumper Championships, held at the Atlanta Summer Classic II on June 20-23. Ann wasn't sure they'd be able to afford to send them, but the Virginia Horse Shows Association stepped in to help pay for Michael's expenses.
"Usually when [Michael and his sister Michelle] go to shows, they don't even get a hotel room; they sleep in the peak of our gooseneck trailer. But for this one, we thought, 'Atlanta's going to be really hot,' so we splurged and got them a room. It was going to be expensive, but you don't know how many chances you'll get to do these special classes. There aren't many team opportunities for these kids, and it was a great opportunity," Ann said.
It all paid off when Michael and Haron claimed the individual children's gold medal after an intense five rounds of jumping in the team and individual competitions. They didn't have a single rail and finished tied for first with Gabby Hensley. Both Hensley and Michael had rails in the jump-off for gold, but Michael and Haron were more than 6 seconds faster to claim the top spot.
Michael's clean rounds also helped the Alabama/South Carolina/Virginia children's team he was on take the silver medal. "I thought it would be fun to be part of a team and have that experience. It's not something you can do a lot of at this level," said Michael, who now takes lessons from Dorna Taintor. Tracy Magness was the chef d'equipe for his team in Atlanta.
Michael, who graduated from high school this spring and plans to attend the University of Virginia in the fall, hopes to move up to the low junior classes before the end of his last junior year. "Haron has taught me a lot; he does a lot of good flatwork, so I'm trying to learn how to do better flatwork to prepare for jumping. My other horses never really did flatwork well," he said.
Read more about the USHJA Children's and Adult Amateur Jumper South Regional Jumper Championships, including how two adult amateur gold-medalists juggle full-time work with showing, in the July 8 issue of the Chronicle.