Allentown, N.J.—May 9
When Buck Davidson missed his stride to a combination early on cross-country at the Rolex Kentucky CCI**** with Ballynoe Castle RM two weeks ago resulting in a runout, he immediately pulled up, knowing his longtime four-star partner didn't need to prove anything by finishing the course with 20 penalties in the mud and rain.
But with "Reggie" fighting fit, Davidson decided to reroute to the Jersey Fresh International CCI*** and it's paid off this weekend as Reggie earned the top dressage score (41.6) and jumped a double-clear cross-country round today over John Williams' revamped track.
"Kentucky was my problem. There's nothing wrong with the horse. We had him checked out," said Davidson. "He's a superstar. He looks after me and always gives 110% and I just feel bad at Kentucky that I didn't do my part for him. I was glad to be able to have a good round today and he did it easily and I was able to just cruise home. Knock on wood, he looks awesome after the cross-country and we'll see how tomorrow goes."
Williams' course has a different feel this year with a newly renovated second water jump, several new jumps built by Morgan Rowsell, and a more flowing track.
Davidson, who won the CCI*** last year on Copper Beech, had been critical of the course in the past, but enjoyed his trip on Reggie, a 15-year-old Irish Sport Horse gelding owned by Carl and Cassandra Segal.
He admitted the tracks for both the CCI** and CCI*** might have been a little soft this year, but were much improved.
"There's a lot of galloping at the end," he said. "I thought the arena fence [11 and 12ab] was a good fence. If I could change one thing, I wasn't so keen on how many boxes were at the out of combinations. I thought that was a little risky, but I don't want to harp on the negative. It's always better to come back and go, 'Gosh, I wish it was a little harder,' than to come back and wish it was easier.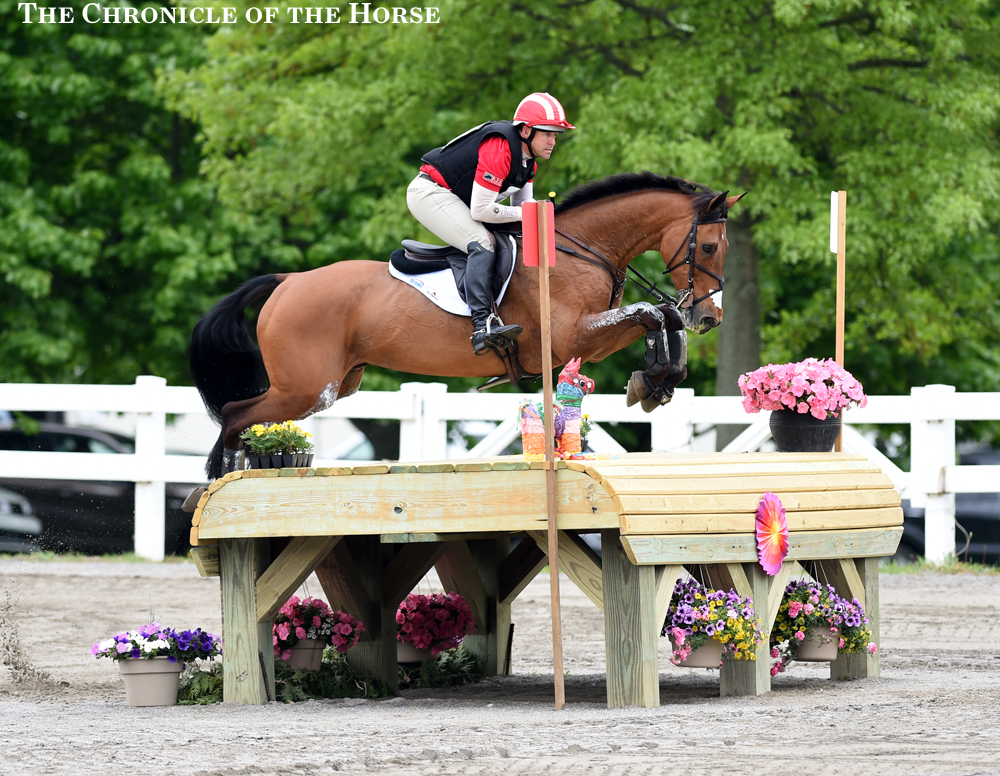 Buck Davidson and Ballynoe Castle RM lead the CCI*** at Jersey Fresh. Photo by Lindsay Berreth.
"I said to John that I thought it was a way different and way better course than last time," he added. "It had a lot more flow and wasn't so congested where you fly back and forth over the same jumps. They really are trying here. It's not an easy piece of property to make a course. They're working towards that and the courses are by far the best they've ever been."
The event offered tailgating again by the main water complex, dubbed the Jersey Shore, and CCI*** riders went through twice, eliciting lots of cheers.
"The crowd was great," said Davidson, Riegelsville, Pa. "I definitely had to make sure I kept kicking myself. I listened to [announcer Brian O'Connor] and every time I galloped by, people are cheering and you can hear Brian revving everybody up."
Lauren Kieffer kept her second placed (42.0) on Marie Le Menestrel's 8-year-old Thoroughbred cross homebred mare Meadowbrook's Scarlett (All In Black—Bliss).
The pair won the CIC** at Jersey Fresh last year, as well as the Jaguar Land Rover Bromont CCI** (Quebec), and this is "Scarlett's" first CCI***. Kieffer has brought her along from a 4-year-old.
"She pretty much ruins you for all other horses because that's how she's been her whole career," she joked. "Every step she hasn't put a foot wrong. You'd have no idea it was her first three-star out there. She's only run a couple advances and she just cruised around and super fit at the end. She's got a great gallop anyway and I couldn't have been happier with her."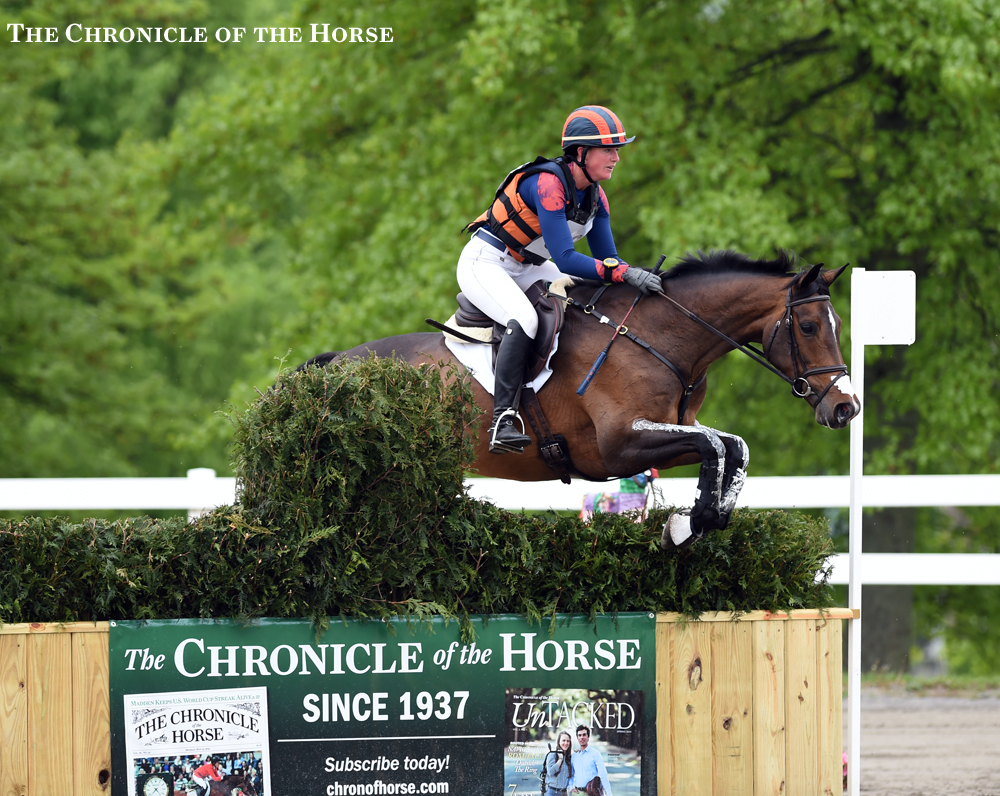 Meadowbrook's Scarlett is in second place after cross-country with Lauren Kieffer. Photo by Lindsay Berreth.
Tidbits
- In the CCI***, eight pairs made the time of 21 starters and three had jumping faults. Phillip Dutton suffered a dramatic fall over the corner at fence 26b with I'm Sew Ready when the gelding hung a leg. They were both up and walked back to the barn.
- Michael Pollard and Cyrano lead the CCI** on their dressage score of 36.9 ahead of California rider Tamra Smith on Mai Baum and Smith on Fleur De Lis. Thirty four of 38 pairs to start cross-country completed, with only three pairs picking up 20 jumping penalties on course. Seventeen pairs made the time.
- Savannah Fulton and Captain Jack were having a great round until the gelding slipped after fence 23 and they fell. They were both up.
- Marley Stone Bourke fell from Kilrodan Ambassador before the trakehner at fence 8, but was up quickly.
- Jessica Phoenix was the second out on course this morning and suffered a serious fall from Exultation at fence 6, a log with a steep drop into the woods that's been on the course before. She was transported to the trauma center at Robert Wood Johnson University Hospital in New Brunswick and is in stable condition. She broke three ribs, her clavicle and her sacrum in the fall.
For more from Jersey Fresh, visit our hub page.
The CCI divisions conclude tomorrow with the first horse inspection at 8:30 a.m. and show jumping, which starts at 10:30 a.m.