Ocala, Fla.—March 22
Before she headed into the ring for the second round of the HITS Equitation Championship, Addison Reed knew she had to focus on one thing: making sure she had the right canter.
The 14-year-old from Mechanicsville, Virginia, qualified for the feature equitation class of the HITS Ocala Winter Circuit last year but ran into trouble in the second round.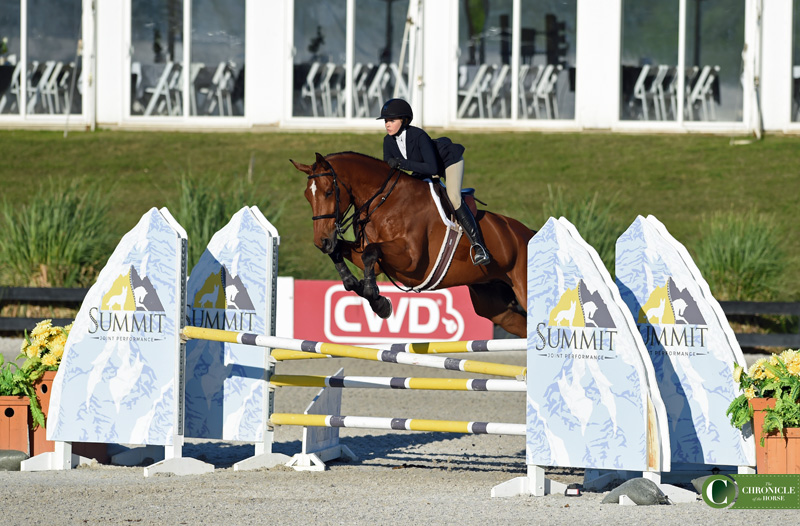 "The first round was pretty good and then I was slow to the first jump in the second round, so he knocked it over, but it was not his fault, it was definitely mine," she said.
"After last year I was like, 'I better get a better canter to start with,' " she continued. "I always don't start with enough canter so I need to get more, so if I need to I can slow down. If I don't start with a good canter and I slow down, he shortens so well that I get on such a short step that there's nothing there."
She didn't have to worry about making that fatal mistake this year, earning scores of 82 and 86.5 for a 168.5 to take home the win aboard Bridget Phillips' Dreamland. C. Blair Spencer rode Wassini to second, and Alexia Rule took third on Cronos Du Leon.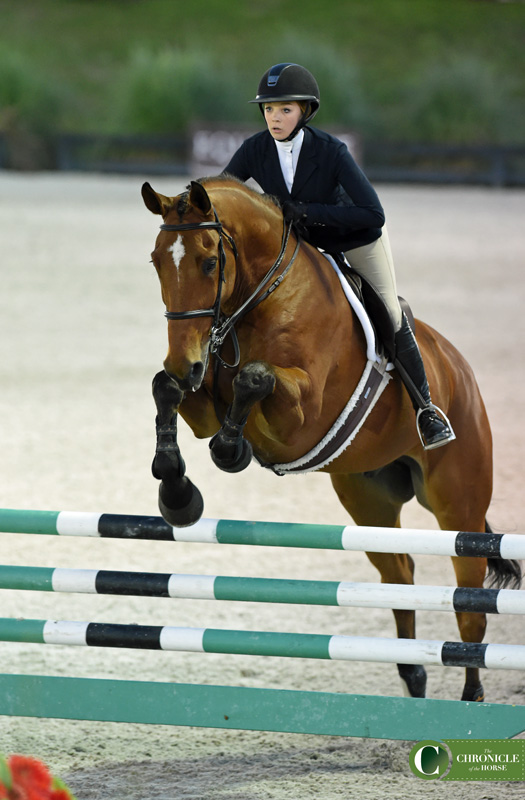 The 29 competitors had plenty to contend with, they were responsible for walking the course and schooling by themselves, with their trainers taking on the role of spectators. Evening shadows played a factor for several of the later competitors, and the three trot poles to a fence proved to be one of the more difficult challenges with horses knocking rails and losing their rhythm.
"To be honest my trot poles were a little rocky," said Reed. "They weren't out of rhythm, but he stepped over two of them at the same time. They were really short. Walking them they were like two and a half feet long, so everyone was having trouble."
Reed first showed "Robbie" in a 1.10-meter jumper class to prepare him for last year's championship, and she's only started showing him consistently this winter. Typically the 11-year-old Dutch Warmblood (Landlord—Pamela) shows in the low adult jumpers with Phillips, but he's proven to be a jack of all trades.
And for Reed, he's so special that it often turns her speechless. "He's so amazing. He's so awesome," she said.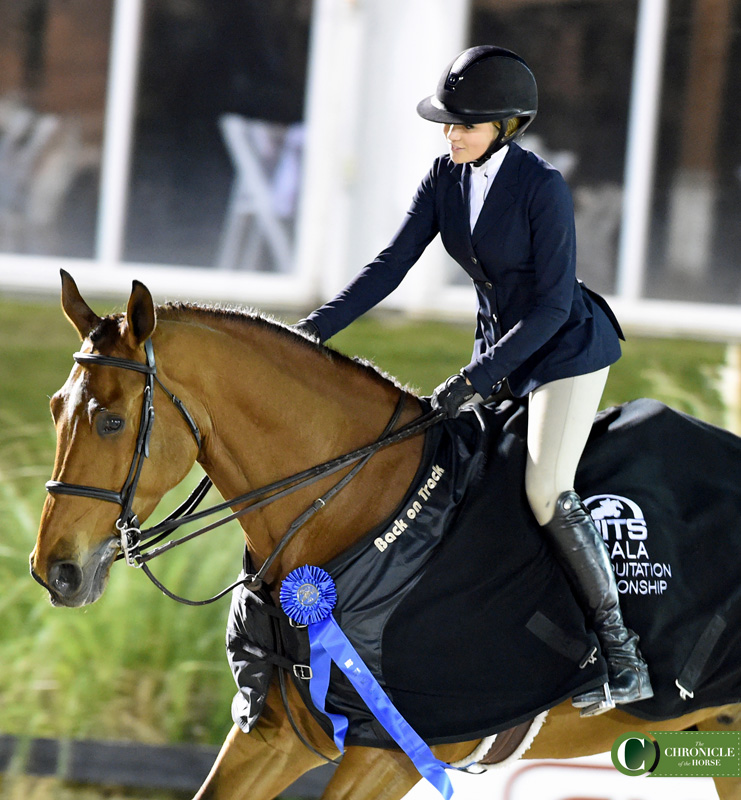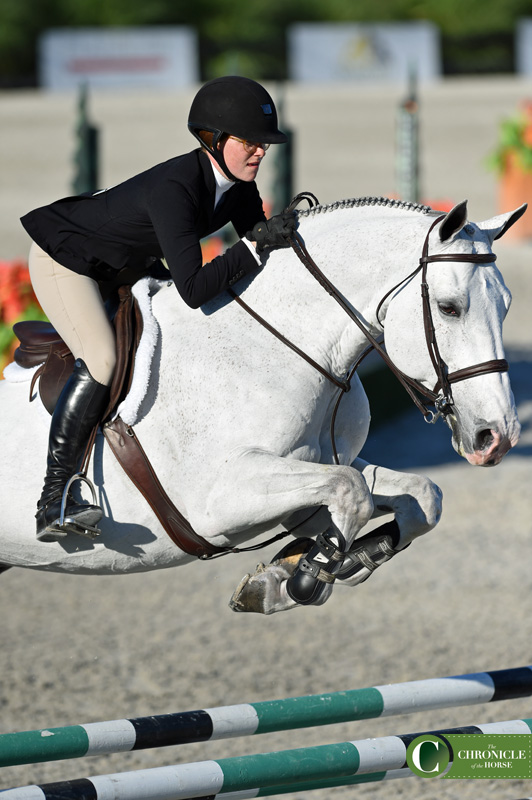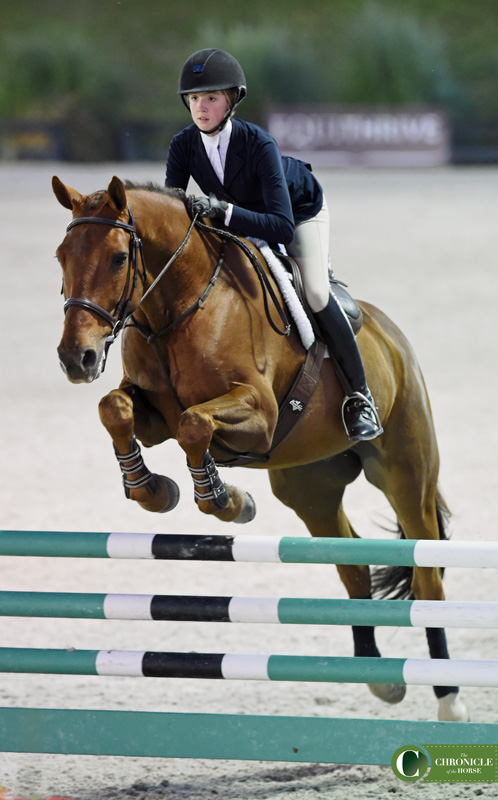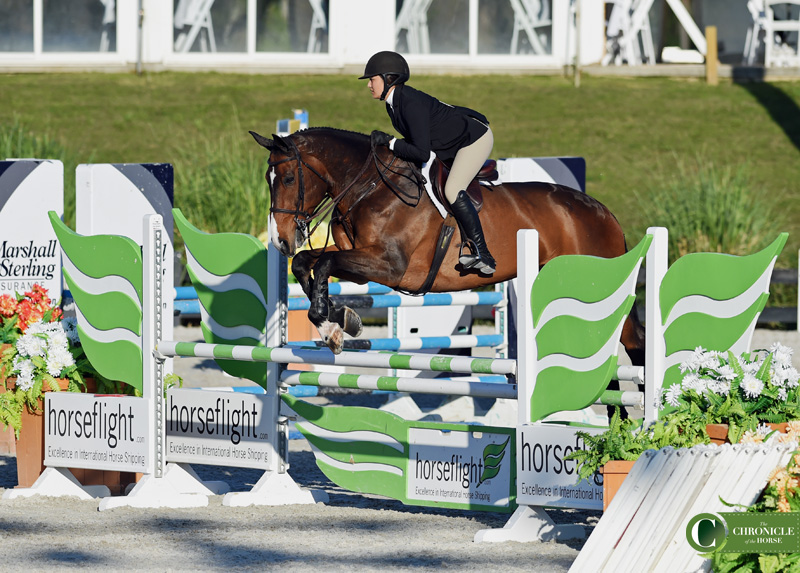 We're on site at HITS Ocala all week covering the feature classes during the final week of competition. Don't forget to check back for more beautiful photos and article on the big winners. Be sure you're following us on Facebook, Twitter and Instagram @chronofhorse. Plus pick up the April 8 issue of The Chronicle of the Horse magazine. What are you missing if you don't subscribe?
Show results can be found here.