Tallahassee, Florida—March 9
Thirty-five riders completed their dressage today in the Red Hills International CIC***, the first major international competition of the year in the United States.
Riding under the new Fédération Equestre Internationale scoring rule that drops the 1.5 multiplier and matches the national scoring system, the scores looked a bit different on paper.
Leading the way is Marilyn Little on RF Scandalous, who scored a 25.6. Jordán Linstedt and Revitavet Capato are in second with a 29.5 and Jessica Phoenix and Pavarotti are third with 29.8. Boyd Martin was the only other rider to score in the 20s, earning a 29.9 on Tsetserleg.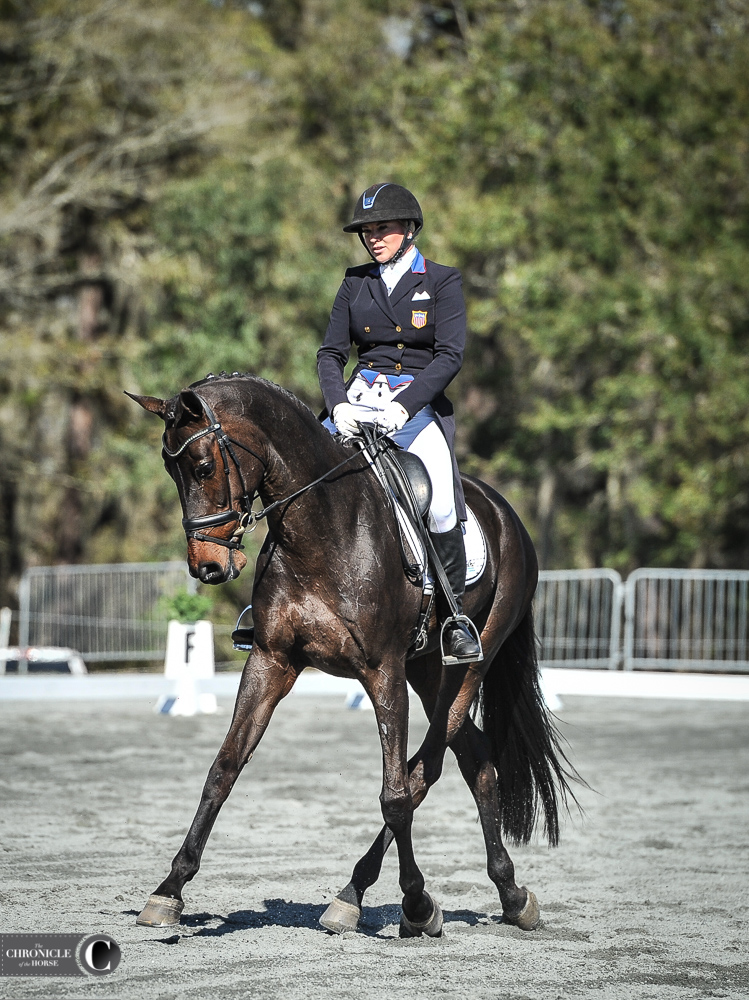 Little is riding with an injured foot. She broke several metatarsal bones and tore ligaments in her left foot when she hit it on a cross-country jump while riding "Kitty" at the Ocala Jockey Club International CIC*** (Florida) in November.
"God bless adrenaline," Little joked, saying she completed the course. "I've been riding the whole time."
She wears a boot to protect it and give it support.
"It's really annoying, I've got to tell you," she said. "I'm ready to get rid of it. It doesn't bother me when I'm riding. It's healing. It's been slow, but I'm trying to be diligent about it. I get off the horse and right into it."
She's planning to have it fused in the fall after the big competitions.
Kitty ran once in the intermediate at the Ocala Horse Trials in February, and she has mostly been competing in dressage and show jumping in Wellington, Florida.
"She gave me a great feeling," said Little. "She's been super happy since she arrived here. The last time I rode her here was in 2015 leading up to the Pan Am trials, so it feels great to come back here with a more experienced horse. It was a bit of a conservative test. She was very excited at Ocala, which was just an abnormal week for us, really from A to Z. I was hoping to have a quiet, calm, conservative test where she left feeling very zen. She gave me everything I was hoping for."
When asked about what she thinks of the scoring system, Little said it was a bit too soon to tell how it would change the placings, and admitted she'd only recently learned about it.
"From a training standpoint and a strategy standpoint, you're still going to go out there and put in the best test you can. We'll see," she said.
Little did her first intermediate at Red Hills in 2011, and she's excited to see the changes.
"I had been eventing for six months, and I came here and was terrified because everyone said it's notoriously difficult," she said. "It's one of the things that got me hooked on eventing. I remember watching the CIC***, and I think I was watching Boyd, and was like, he's so fast! I still have all the pictures from it. I was a total Red Hills groupie! It's fun for me to come back here."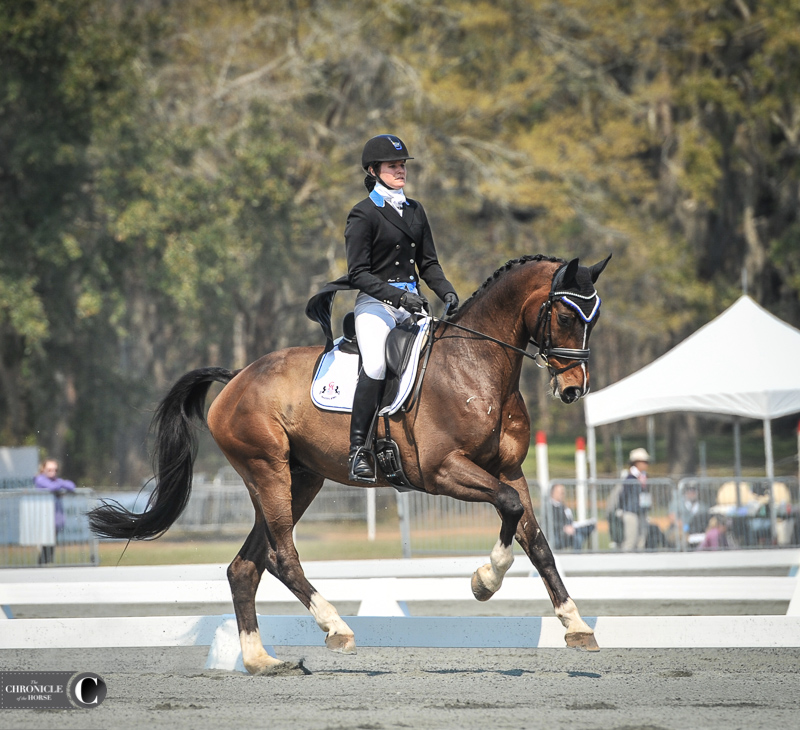 Linstedt is making her first trip to Red Hills. Based in Washington, she spent four months on the East Coast last year competing "Capato" and she's basing in Ocala this season to prepare for either the Land Rover Kentucky CCI**** or the Mitsubishi Motors Badminton Horse Trials CCI**** (England).
"It's been a change," she said. "I have eight horses out here with me. Normally I just bring Capato and one or two aspiring ones. This has been a big undertaking and really fun. The only run I've had was at Rocking Horse [Florida,] and he put in a really nice test. There's a lot of atmosphere [here,] so he got a little bit up and spooky with me, which he hasn't done quite as much. Last year I thought I'd gotten him over that because he used to be a very spooky horse. He could get tense and goofy in the ring. I think I trust him so much more now. Once he got in the ring that subsided quickly. I don't think I went all out, but I wasn't conservative either."
Phoenix and Pavarotti are eyeing the Jersey Fresh CCI*** (New Jersey). "It's always so much fun competing him at this level," she said. "He went in, and he's been so relaxed all weekend, and he was so excited to get in the ring. The changes were beautiful—the best they've ever been. His trot work was awesome as per usual."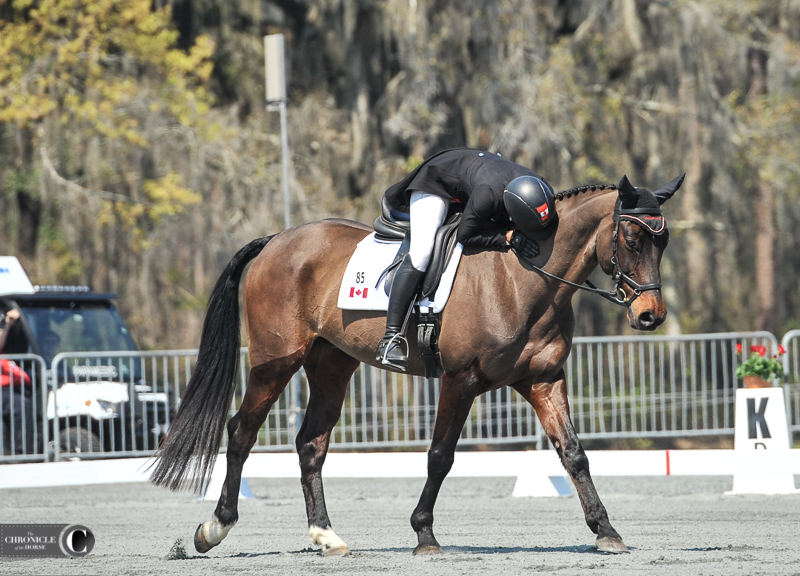 All three riders agreed there's a lot to do on Mike Etherington-Smith's cross-country course tomorrow.
"It's really beautiful," said Little. "Whenever you're walking around a course and you feel like you can't wait to get out there and jump it, it's really exciting. I think everything is very well-presented. It's got a great flow to it, which historically for many years was why I was always concerned here, but they've done such a beautiful job maximizing what the property has to offer. There's some super galloping lanes that are going to be useful for the horses preparing towards [Kentucky] or their spring CCI. I'm happy to see them. In Wellington we don't have the opportunity!"
"I've never been here, so I don't know how it all runs, but I thought it was big and bold, and I think for him a really nice course," said Linstedt. "Everywhere there's questions and a lot to see. He's a really good cross-country horse, and it's big and bold, which just makes him jump better. I think it's a good prep for the next thing coming up in the spring."
Click here for full results.
2018 Red Hills International - Friday
Lindsay Berreth / Mar 9, 2018 1:19 pm