We won!
OK, no that sort of thing only happens in the movies.
We finished! We got a nice little powder blue completion ribbon showing that we finished the novice three-day long format. I successfully kept Cairo between myself and the ground, and we had a blast with fun fences and good friends.
And if proving a horse has endurance is part of the goal of the classic three-day, then Cairo had that in spades as she cheerfully proved today at the trot-up. She wasn't just sound, she danced a jig all the way to the jog and all the way back. And the ground jury complimented me for the nice way we matched the red "I think I might like to kick you" ribbon in her wildly swishing tail to the red flowers on my dress.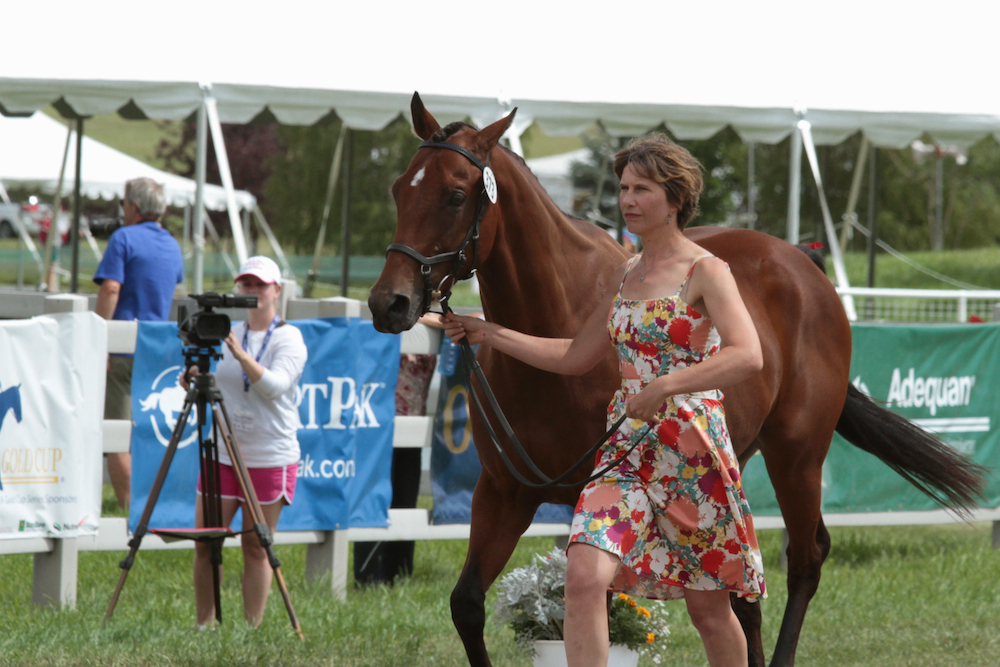 Cairo containing herself at the trot-up. Photo by Alexandria Gray
Doing the long format was a fantastic experience—I learned about how to get a horse fit (apparently that was the easy part with Miss Sassypants, as I call Cairo)—I learned about timing; I learned that doing something a little bit intimidating is really fun with the right attitude.
I learned I could actually get better at braiding because I had to do it so many times. (I have never quite decided which thing I hate more: braiding or doing studs, and I'm still not sure. It just feels like a like of time spent doing something that requires fine motor skills when I'd rather by stewing over my courses or tests). In all, I probably learned a lot more than that doing the classic format but as always Cairo has more stamina than I do, and I'm a bit tired!
I'm also really proud that I never once threw up from being nervous.
Today went quickly after I managed to sleep in till 7 a.m., by hiding my head under my sleeping bag when the sun came shining through the doors of Meika's horse van where I was sleeping. I even managed to snooze through the daily 6:45 a.m., test of the speakers with a cheerful "Good morning campers!" by the announcer. I can't tell if he's sarcastic or not. Who is that happy at 6:45?
Sadly for me, my trainer Meika's cross-country run was around noon in the one-star, which was pretty much the same time as my trot-up, but I did get to see her big smile after, when her OTTB Cochlear (aka Lear, aka Weird) was a really good boy over a tough course. He can be a little ditchy and refused the coffin the first time, but he went the second time with no hesitation after he figured it out. It was probably the most difficult ditch he'd ever been asked to jump.
Lear was phenomenal over some tough questions, and Meika was just thrilled. A lot of the pros had some hard rides today in the upper levels and the courses made for some thrills and spills for the spectators who were all over Rebecca Farm's lovely hills. I'm guessing that the event attracts as many horse newbies as it attracts horse lovers, based on the people who thought Cairo's red tail ribbon was a decorative touch rather than a warning.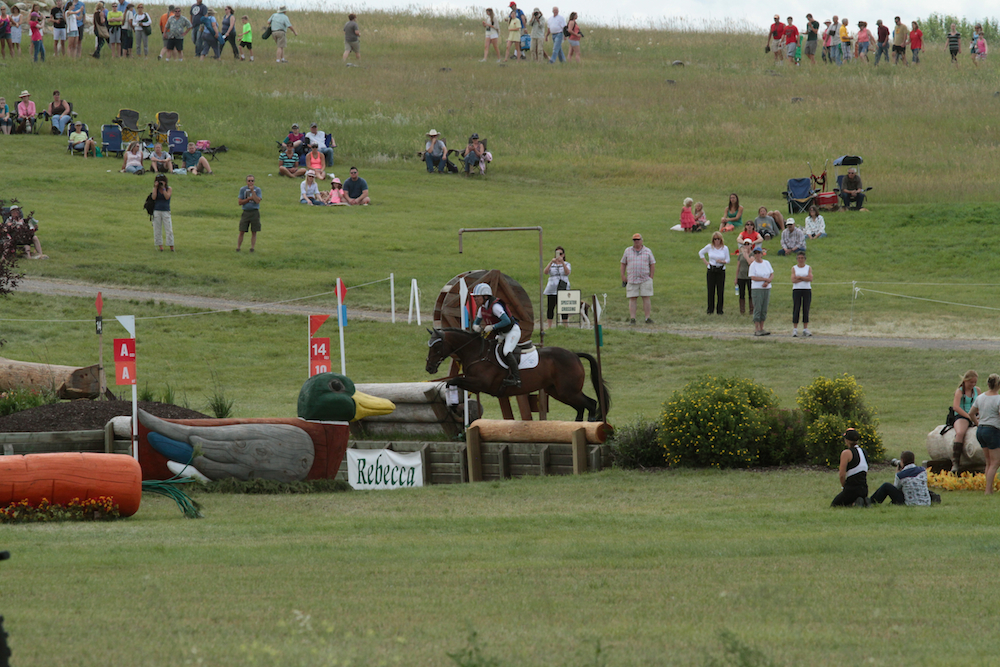 Meika on her cross-country ride in front of all the spectators. Photo by Alexandria Gray
As we sat around our camp at the trailers at the end of the day, Meika kind of summed up how I've been feeling—she pointed out that no matter what your level, everybody's in the same boat, you have to find a way to be positive about your ride. I think for me it's easy to be positive because I just adore Cairo and despite her quirks, or maybe because her quirks make me laugh, she's good for me. She's brave to the fences and more than happy to do her job (as long as her job isn't solely dressage).
So speaking of being positive, let's talk about our stadium round! We rode late in the day so I got to watch some other rides. At our course walk, one of the outside lines heading back to the in-gate walked a solid six strides… and a half. We initially thought a bouncy seven would be the right ride in order to ensure the vertical stayed up, but as we watched some of the rides, the six went better.
If you've been reading about Cairo's enthusiastic attitude this week then you will be unsurprised to learn that the almost-seven rode for Cairo in an unplanned (by me) easy five. She's kind of like Tigger with her tops made out of rubber and her bottom made out of springs. Her legs just seem to stretch, and forward is her happy place.
In other news, Meika has now gently suggested a slightly stronger bit than our little loose-ring French snaffle.
Cairo warmed up well, albeit on the muscle. I was like, how is she this strong? And Cairo was like "Hey mom, I thought we were here to party!"
Earlier at the trot-up, as she bounced around, one of the officials smiled at me and said something nice about Cairo being the type who was bred for stamina. I figure she either thought Cairo was a Thoroughbred or even my favorite incorrect guess on Cairo's breed, part-Arab (she has a cute little muzzle, which makes people think Arab).
In Cairo's case the ¼ Irish draft does nothing to slow her down. The draft pretty much only shows up in her bushy mane, and when I tell strangers she's got draft in her and is an Irish sport horse, some of them will give me this sympathetic look like, "Oh you poor thing, you got taken."
Cairo bounced happily into stadium with her "JUMP ALL THE THINGS" look in her eye and glared at the judge for being slow with the buzzer (slow in her world, trust me, the judge had a fast trigger finger on that buzzer today) while I attempted to nod and salute in the right direction and Cairo drew a bead on all the fences she wanted to zoom at.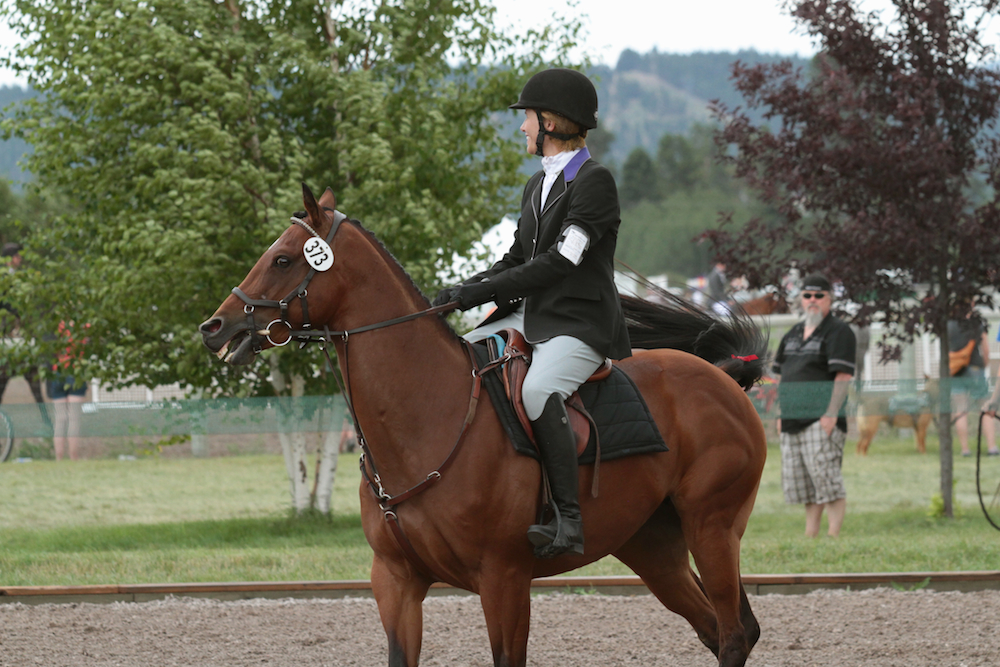 Cairo barely restraining herself on our opening circle before we jumped. Photo by Alexandria Gray
The night before, in addition to walking my course, I had carefully sussed out where the judge would be stationed because at my last show I was distracted by Cairo's happy dance, and I managed to salute the medics sitting by the arena under a tent before figuring out where the judge was.
Cairo headed for the first fence with glee and sailed over it. Fence 3, a little wall out of a short corner, was a problem. Unlike some other horses, Cairo didn't spook at it, she charged at it, and sadly I held so she had what I call an "an anger rail" where I swear she kicks the rails down as we land because she's mad I held her back. When she gets chargy I hold, instead of letting her flow through the turns, and Cairo is not a fan of being held back. Our scores and the innocent rails bear the brunt of her rage.
Our second rail at an oxer was more of "Umm, maybe we should have slowed down for that" rail rather than an anger rail, Since she didn't actually MEAN to take that rail, Cairo was indignant and proceeded to jump the rest of the fences as if we were going at least prelim instead of novice and we finished with no more faults—and certainly not time faults!
She even let me back her off in the two-stride instead of trying to do it as a one-stride. After she gave me a heart attack at a jump lesson at home by jumping a bounce as if it was an oxer I've gotten pretty good at ensuring she respects combinations!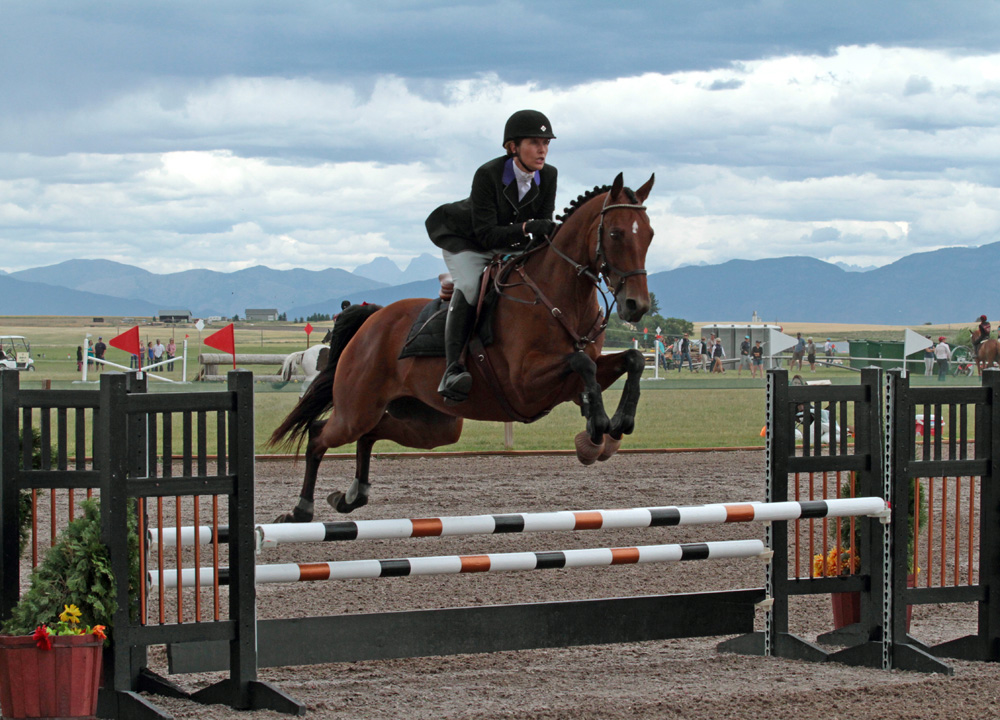 Cairo jumping in her usual "enthusiastic" mode. Photo by Alexandria Gray
Letty on Panamint had her trouble at Fence 2 with a refusal. She rode well, but after that she told Panda that no was not an option and rode phenomenally well. She had no more rails and issues and finished with only the 4 faults and no time faults.
Letty finished at lucky number 13, and Cairo and I moved up one whole spot in our division into 12th, which—given I was dead last after dressage—I'm feeling pretty good about!
Oh! And we DID win! Sort of.
Letty and I signed up to be on a novice three-day team: Rebecca Farm offers team competition at all levels and groups of people sign up and are ranked on their combined finishing scores. Our team—Letty and me and two other riders—were dubbed "The Roads and Tracks Gurus" by someone who clearly is better at math and reading maps than I am when it comes to road and tracks, and we won the team competition for the novice classic three-day.
I have a sneaking suspicion it was some sort of victory by attrition and that people on other teams just fell off or something, but there it is: teamwork.
On Sunday, the "big kids" at the FEI levels finished and Meika did her stadium. Cairo's job was to hang out in her stall, go for some walks and graze and let me stuff treats in her before we loaded up for the 12-hour or so trailer ride home. When we get back I'm going to give her a couple days off. I'm not entirely certain if she will consider the rest a reward or a punishment.
I haven't told Cairo yet, but her actual reward is that I put my big girl panties on and signed up her at training level for our next event later this summer: BIGGER things to jump!
I'm dirty after days of camping, Cairo is clean after days of braiding and bathing and I'm still laughing because she tries her heart out for me.
Camilla Mortensen is an amateur eventer from Eugene, Ore., who's made the trek to compete in the novice level three-day. She's sharing her weekend with us with some great blogs! Want to follow along with how she's doing? Here are the live scores—she's in the A division of the novice three-day.